(**) Disclosure: This post may contain affiliate links, meaning our company, JCHQ Publishing will get a commission if you decide to make a purchase through the links, but at no additional cost to you.
This is a guest post written by Kristina White 
While smart home technology appears to be a bit futuristic, it is already in a massive adoption phase. It shall be a standard feature shortly in almost all electrical household products. Statistics reveal that by 2026, the smart home market is anticipated to be worth US $48.15bn, exhibiting a CAGR of 11.24 percent from 2022 to 2026.
Like site-built homes, modular & manufactured homes have evolved and added a ton of cutting-edge technology. However, for some, the prospect of beginning to automate their mobile home with the newest technology may seem overwhelming.
Nevertheless, it is not necessary to be this way. Increased automation through the application of smart mobile home technology could be an exciting undertaking that, with time passing, brings about several advantages for mobile homeowners.
Eventually, without having to move a chair, our homes will be able to comprehend our habits and routines and react to our demands, thanks to the Internet of Things.
So here is a comprehensive guide covering every aspect of automating your mobile home with smart technology to make the most of your time while on the move. 
How Does a Smart Mobile Home Work?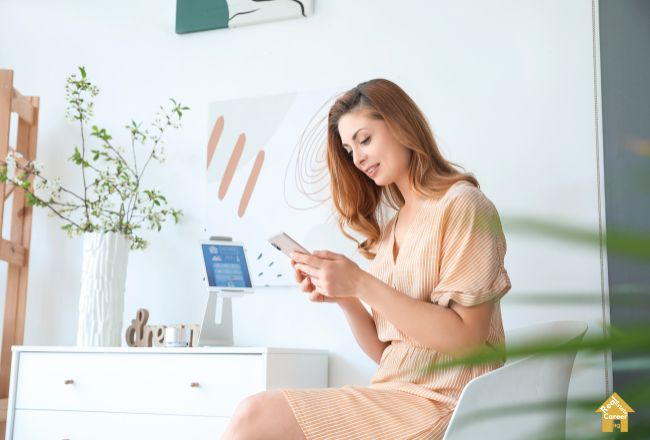 A home that has wirelessly connected devices is said to be a smart home. Each linked device can handle itself and the incoming data and notify any issues to a centralized hub or control system, which may subsequently take the necessary action.
A wireless communication setting is fundamental to smart mobile homes to make installing smart devices manageable. Just imagine how difficult it would become for us if there were additional wires to take care of and find a plugging point. 
The smart home employs numerous wireless radio technologies, including Bluetooth, Wi-Fi, Z-Wave, and others. They enable prompt communication among our smart home gadgets and the internet or the cloud.
While a few smart home accessories communicate directly using a hub that fits the necessary radios inside, many depend on the cloud to interpret commands, store the data, and transmit it back to the cloud using Wi-Fi.
An app, usually accessed through a smartphone or tablet, is required for almost all devices' configuration and control. The primary method of interaction with the device is through the app, which also allows you to connect it to your preferred smart home network and set up routines and automation for all of your mobile home's smart devices.
How Can I Automate My Mobile Home With Smart Technology?
We, as mobile homeowners, always keep looking for ways to make our voyage more convenient and time-saving without burdening ourselves with loads of expenses. It is precisely what smart technology adoption for our mobile homes offers us while we are on the move. 
Here are the top seven smart home technology solutions currently available that can be deployed in our mobile homes to make our lives simpler and more efficient.  
1. Smart Locks
Smart locks have completely revolutionized how we enter and move out of our mobile homes. They make it much more uncomplicated and safer to let guests or service providers like babysitters or cleaners get in. Instead of using your keys to enter your home, you can use your smartphone, biometric, or a code.
I often contacted a close relative or acquaintance to double-check that I had closed the door after leaving for work or shopping. But now, everything can be handled with the touch of a finger on a smartphone, making the process much more convenient. 
One can also provide outsiders this sort of electronic access and then withdraw it when one no longer desires them to use it, a much more affordable solution than switching locks and needing to hide the keys under the doormat or flowerpot.
Moreover, Smart locks can communicate with heating and lighting systems in your house, for example, to turn off everything when you depart, lock up, and switch it on when you enter and come back inside.
2. Voice Assistants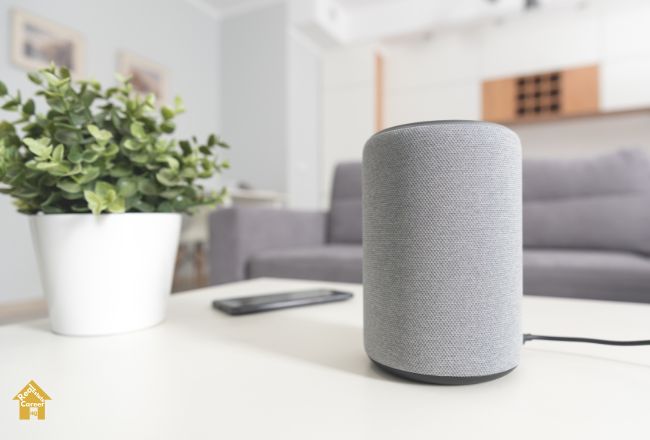 Implementing voice assistance technology is simple. All you need is a virtual assistant device or smartphone integration from top service providers like Google, Amazon, Meta, or Apple, and give hundreds of commands every day without the need to stand up or involve yourself individually.
For instance, when I am preparing for the day ahead and want to get the latest updates about the weather or the traffic on the way to my office, book a cab to the movie theatre, or call a colleague, I simply ask the assistant, and everything is taken care of within seconds. 
Nowadays, most smart home tech solutions come integrated with built-in virtual assistant features.
3. Smart Appliances
These days, it's common to see mobile homes equipped with smart appliances, like refrigerators, dishwashers, washing machines, and dryers. These gadgets frequently support Wi-Fi, allowing us to control them anywhere.
Notably, advanced smart refrigerators are in high demand in California mobile homes for sale today.
In addition to showing you what's kept inside your refrigerator without even opening it and synchronizing your grocery lists across several smart devices, different kinds of smart fridges can also link to music streaming apps.
We can utilize our smartphone to control several smart appliances to schedule start times and automatic shutdowns after use.
4. Smart Lighting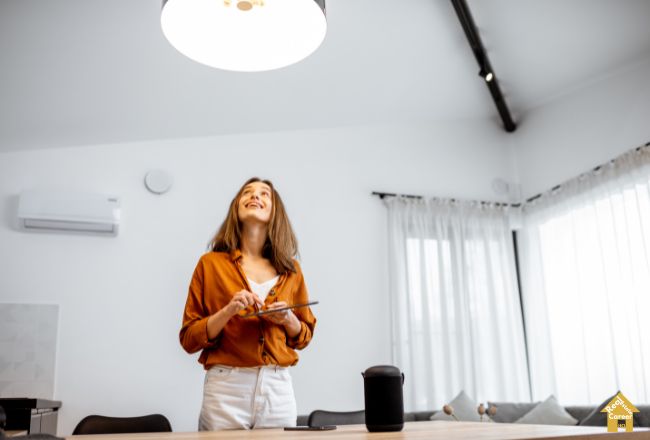 Smart lighting adds many options to our home's lighting design and is the most efficient and straightforward way to begin automating your mobile home. It's practical, saves energy consumption, and looks extremely beautiful to have lighting that we can control with our voice, on a schedule, or in response to a door being opened or closed. 
You can play with lighting to alter the ambiance and vibe of the place by using an intelligent lamp with customizable white light and color-changing features.
Another easy method for linking existing lights in a room by using smart switches, which also offer remote & voice control, scheduling, and dimming functionality. 
We can even link the lighting system with a smartphone app. We can program timers for lights to turn off when we go to bed or out for work. Also, integration with virtual assistants offers immense convenience. Suppose you want to switch off the washroom or kitchen lights; ask Google Home or Alexa to do it for you. 
Smart plugs are also one alternative solution you might consider. These can transform a conventional lamp or lighting fixture into a smart light that can be app or voice-operated. This equipment plugs into your existing outlet.
5. Smart Heating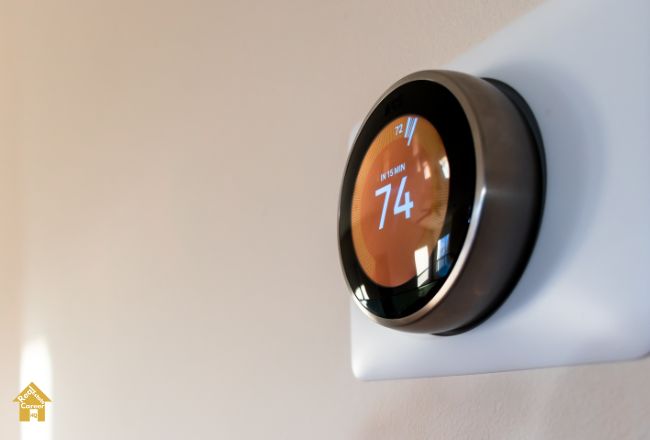 We can conserve a considerable amount of energy without putting extra comforters by leveraging intelligent heating management technology. Smart thermostats can automatically alter the temperature by just a few degrees to conserve energy when you are home or away.
This equipment utilizes proximity sensors, geolocation from smartphones, and data from other connected devices like door locks to figure out whether you are in the vicinity of the home or not.
A connected thermostat also interacts with other devices in our mobile homes, such as smart blinds, door and window sensors, and online weather data, to determine when to optimize the heat.
I often utilize this system during the winters and during times when the monsoon renders the surrounding areas too chilly. On such occasions, we love to play board games in the living room as a family, while sipping on refreshing yet delectable hot drinks.
To save the utmost energy, you could also operate your thermostat remotely. It's a brilliant approach to gradually reduce energy bills by discovering areas where you consume excessive power.
6. Smart Security Systems
Nowadays, every home has an intelligent camera installed as it's an efficient yet wise way to maintain the safety of our mobile homes and even to view the stream in real-time.
These simplistic, easy-to-install, wifi-compatible security gadgets use motion-activated recordings and provide smartphone access to live or recorded streams. So they can be placed inside or outside our homes to notify us of any issues. 
Although useful for security, this type of surveillance may also be handy in keeping watch on your pets, older children, or elderly relatives while at work. You can also opt for a specialist to monitor your security system.
When connected to security cameras, this service verifies an alarm's activation, which may speed up the response time in an emergency.
7. Smart Entertainment Systems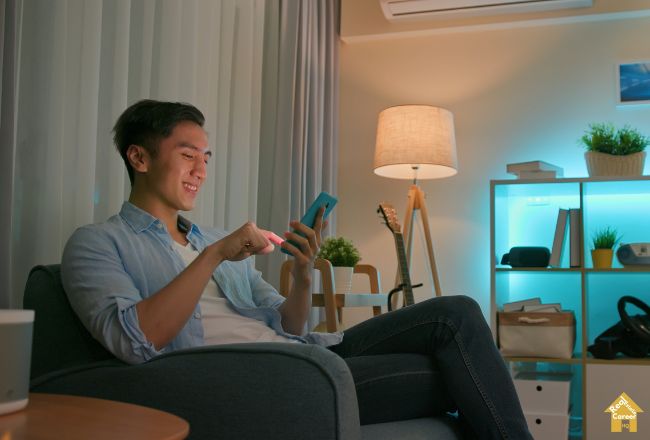 Smart TVs and smart speakers are now quite mainstream in our homes.
The current smart home revolution is fueled by smart speakers and their AI-backed digital assistants, which can do anything from playing an album you wish only with just a few phrases to linking to your smart TV, so you don't have to have to look for the remote control.
Your speaker can call someone you want, inform you about the weather forecast, set a kitchen timer, find you a high-rated restaurant, read news headlines, and operate any interconnected smart home devices.
Key Takeaways
The benefit of a mobile home equipped with smart technology is that it's designed to serve us in a way our life becomes much more convenient, cozier, stress-free, and secure.
Thus we enjoy every moment while relaxing with our family at home. Moreover, easy access & control through smartphones and the energy and cost-saving elements that come with leveraging this technology make it even more captivating to deploy.
Hence, focus on those time-consuming aspects of your day and deploy the most suitable and relevant smart devices and tech solutions discussed in this guide to achieve automation of your mobile home to the highest degree feasible.
(**) Affiliate Disclosure: Please note that some of the links above are affiliate links, and at no additional cost to you. Our company, JCHQ Publishing will earn a commission if you decide to make a purchase after clicking on the link. Please understand that we include them based on our experience or the research on these companies or products, and we recommend them because they are helpful and useful, not because of the small commissions we make if you decide to buy something through the links. Please do not spend any money on these products unless you feel you need them or that they will help you achieve your goals.
Disclaimer: The information in this post is for general information only, and not intend to provide any advice. They are subjected to change without any notice, and not guaranteed to be error-free. Some of the posts on this site may contain views and opinions from individual not related to JCHQ Publishing. They do not necessarily reflect our view or position.