Before we go through the resources, I would like to disclose that most of the links on this page are affiliate links. So I'll get paid if you make a purchase, but there's no extra cost to you. However, I suggest these providers are not due to their affiliate commission. Rather, I genuinely believe they are great resources and could be helpful to my readers.
So I get this off my chest now, let's check out these providers.
Learn How to Run a Successful Home Staging Business from the Staging Diva
There's no better way to excel in the home staging business than to learn from the best in the industry and replicate their success formula.
Debra Gould, who is also known as The Staging Diva, she has been in the home staging business for many years. She took all her knowledge about home staging, marketing, and being your own boss, and launched the Staging Diva Program in late 2004.
Since then, she educated over 30,000 students in 23 countries. Many of her graduates are happy about the training, and that they can apply the techniques and strategies to their home staging business.
Debra Gould has also been featured on many media such as HGTV and CNNMoney.
Free Course: 10 Tips to Become a Home Stager
To give you a taste of the training experience, Debra is now offering a FREE course. You'll learn the following important concept:
How to be a home stager, even if you already have a job
How much income you can make in staging
Why you don't need to buy any of your own inventory
How to create a portfolio even before you have clients
Where you'll find home staging clients
How to prepare for your first staging consultation
What a stager does and doesn't do
How to choose paint colors and furnishings
How to avoid doing free estimates
The truth about home staging credentials
And more!
Click here to access to the free course. (**)
Learn to Stage Any Home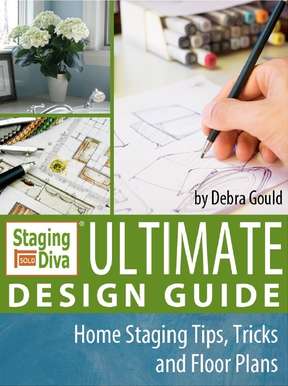 Don't worry if you don't have any formal interior design training.
Here's is a practical Design Guide, where you'll learn everything Debra picked up through years of experience in running her own home staging company and staging hundreds of clients' homes.
Debra will share with you all of her design tips and tricks, illustrated with detailed photos and floor plans so you can visualize what to do in any home staging situation.
Click here to learn more about this design guide. (**)
Home Staging Consultation Checklist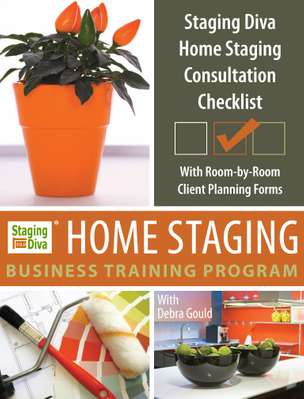 Rather than trying to reinvent the wheel every time you are working with a new client, you need a systematic approach that is working and is repeatable. 
Here's the Staging Diva Home Staging Consultation Checklist that could help you:
Prepare for a meeting so you'll know exactly what to do when you get there.
Be more confident and professional with checklists for every room.
Save time on drafting and designing paperwork. 
Click here to learn more about the consultation checklist. (**)
(**) Affiliate Disclosure: Please note that some of the links above are affiliate links, and at no additional cost to you. Our company, JCHQ Publishing will earn a commission if you decide to make a purchase after clicking on the link. Please understand that we include them based on our experience or the research on these companies or products, and we recommend them because they are helpful and useful, not because of the small commissions we make if you decide to buy something through the links. Please do not spend any money on these products unless you feel you need them or that they will help you achieve your goals.