(**) Disclosure: This post may contain affiliate links, meaning our company, JCHQ Publishing will get a commission if you decide to make a purchase through the links, but at no additional cost to you.
Home inspectors in Montana make an average annual income of $58,652. The earning typically ranges between $43,529 and $66,012. Top earning Montana home inspectors make over $76,535. (*)
Montana home inspector income depends on several factors such as experience, geographical location, size of the property, the inspection type, and the number of inspections that can be completed.
Home inspectors in Montana who have been in the business for several years can expect to earn more than those just starting out. Inspectors who work in areas with a high real estate transactional volume can also expect to make more than those who work in other parts of the state.
(*) source: ZipRecruiter (Sept 20, 2022)
Table of Contents
Income Distribution of Home Inspectors in Montana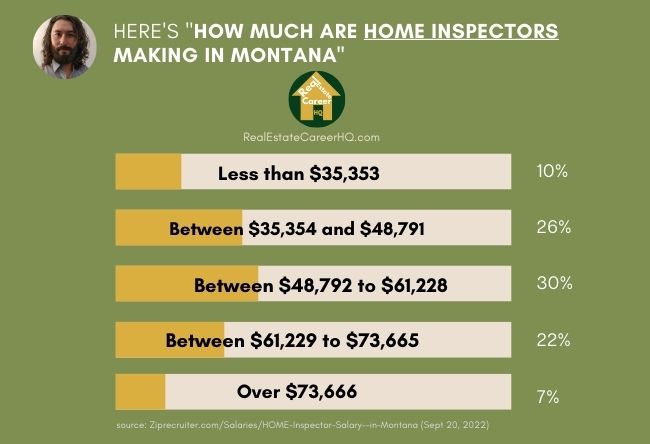 How much do home inspectors make per inspection in Montana?
Home inspectors typically charge per inspection, and the inspection fees are generally paid at the time of the inspection. But some home inspection companies may require a deposit to be paid upfront.
According to ProMatcher, the average fee of a home inspection in Montana is $300.20 and it typically ranges between $250.17 – $350.23. This is for a house with 2,000 square feet.
Typically speaking, the greater the subject property, the higher the fee.
| Top Cities in Montana | Average Home Inspection Fee |
| --- | --- |
| Billings | $311 |
| Missoula | $332 |
| Great Falls | $332 |
| Bozeman | $323 |
| Helena | $324 |
| Kalispell | $319 |
| Havre | $323 |
| Miles City | $322 |
Data source: manta.com
However, as I checked with numerous home inspection companies in Montana, their home inspection fees are significant higher than the above. There are different factors that could affect the amount of home inspection fee you can charge and size of the property is one of them.
To give you an example, below is the pricing table I found from Worthy Inspections, a home inspection company located in Eureka.
| SQUARE FEET | Home Inspection fee |
| --- | --- |
| 0-1,000 | $400 |
| 1,001 – 2,500 | $425 |
| 2,501 – 3,500 | $450 |
| 3,501 – 4,500 | $500 |
| 4,501 – 5,500 | $550 |
| 5,501+ | Call for quote |
Data source: .worthyinspections.com/prices
As you can see, the greater the subject property, the higher the fee.
Besides the size of the property, its age could also be a pricing factor. Typically speaking, the home inspection fee would be more expensive for older houses. Also, if extra testing is needed (i.e., pool and spa, termite inspection, radon, water), there will be extra charges.
But some home inspector companies may offer discounts when multiple inspection services are ordered at the same time.
Different data sources report different Montana Home Inspectors Income figures
| | ZipRecruiter | Salary.com | Indeed |
| --- | --- | --- | --- |
| Average annual income of home inspectors in Montana | $58,652 | $48,666 | $137,212 |
Most of the data in this article are obtained from different sources such as ZipRecruiter, Salary.com and Indeed. As you can see, there is quite a discrepancy among various sources.
Perhaps, it really depends on the home inspectors in the sample. For example, the income figure reported on Indeed is extremely high. As I was reviewing their website, it is based on only 4 salaries reported.
Also, a home inspector's experience, productivity level, geographic location, and the real estate niche they specialize in could all be determining factors that influence their income.
And to have a better understanding on the home inspector salary situation, I reviewed figures from other different sites (i.e. glassdoor, indeed, LinkedIn, SimplyHired, Google). Below is one I found, which may give you a clearer idea..
| Job Title | Income Range | Employer | Location |
| --- | --- | --- | --- |
| Home Inspector | $350-$1,000 a day | A Buyer's Choice Home Inspections | Billings |
| Home Inspection | $55 to $60 per hour | Aa1 Home Inspection | Eureka |
| Home Inspector | $55 to $60 per hour | Pillar to Post Home Inspection | Helena |
| Home Inspector | $55 to $60 per hour | Mountain Home Inspections | Red Lodge |
Tips to Increase Your Income as a Home Inspector in Montana
Bring on more business through referral partners with real estate agents. You may connect with them by attending local events or workshops put on by real estate offices, or join the Montana REALTORS
Focus on areas with large real estate transaction volume. (i.e., Gallatin, Flathead, Jefferson and Park)
Rather than reinventing the wheels for each case, have a systematic and standardized approach throughout the entire business process. This includes how you take on orders, a checklist for inspection, and a template for generating a home inspection report. 
Invest in good home inspection software that can streamline the business process. It should automate tasks such as prefilling clients' info into the report (i.e., name and address), scheduling appointments, generating an invoice, and an option to send out a standardized email with the inspection report.
How do salaried home inspectors get compensated? and what about self-employed?
As a salaried home inspector, you could enjoy a stable salary. In addition to the base pay, I have seen companies offering 401k, health and dental insurance to their employee. But as you can imagine, you need to continue to demonstrate your productivity by completing the required volume of inspections.
On the other hand, if you run your own home inspection business, you are able to set your own work schedule and run the business the way you want. Your income is going to be dictated by the number of inspections you are able to complete. In other words, if you don't work, you don't get paid.
Rather than just inspecting homes, you also need to prospect for new businesses, make connections with referral partners and handle business administrative duties.
Although you may keep the entire inspection fee as a home inspection company, there are also different business expenses you need to account for – for example, advertising& marketing, surety bond, insurance, E&O, home inspecting equipment, business software, accounting and legal fees.
But as your business expands, you may be able to take on other home inspectors and make it a scalable business.
There are pros and cons to both salaried and self-employed positions, so it really depends on what is important to you and what you want to achieve.
Other Helpful Resources:
(**) Affiliate Disclosure: Please note that some of the links above are affiliate links, and at no additional cost to you. Our company, JCHQ Publishing will earn a commission if you decide to make a purchase after clicking on the link. Please understand that we include them based on our experience or the research on these companies or products, and we recommend them because they are helpful and useful, not because of the small commissions we make if you decide to buy something through the links. Please do not spend any money on these products unless you feel you need them or that they will help you achieve your goals.
Disclaimer: The information in this post is for general information only, and not intend to provide any advice. They are subjected to change without any notice, and not guaranteed to be error-free. Some of the posts on this site may contain views and opinions from individual not related to JCHQ Publishing. They do not necessarily reflect our view or position.
Reference:
ZipRecruiter – Home Inspector Montana (

source

)

Salary.com- Home Inspector Salary in Montana (source)
Indeed – Home inspector salary in Montana (source)
Promatcher – Montana Home Inspection Costs & Prices (source)
manta.com – 2022 Home Inspection Montana Costs (source)
Worthy Inspections – Prices for Home Inspection (source)