(**) Disclosure: This post may contain affiliate links, meaning our company, JCHQ Publishing will get a commission if you decide to make a purchase through the links, but at no additional cost to you.
There are a lot of different careers to choose from these days, and it can be tough to figure out which one is the right fit for you. So, is being a plumber a good career?
As a plumber, your role would be to install, repair, and maintain pipes, fixtures, and other plumbing equipment. It's a physically demanding job that requires a lot of skill and training, but it can be very rewarding.
On the plus side, plumbing is a very in-demand trade, so there are plenty of job opportunities out there. And it's also a relatively easy field to get into – you don't need a college degree, and most employers will provide on-the-job training.
Believe it or not, even Mr. Wonderful, Kevin O'Leary from Shark Tank said in an interview with CNBC, "Be a plumber, they get rich … Everybody has to have a plumber, even in a recession."
But for some people, plumbing can be unpleasant and dangerous work, so not everyone is cut out for it. 
Being a plumber can be a good career for those who enjoy hands-on work and are interested in the technical aspects of plumbing. Plumbers can get an early career start because they typically do not need to go through years of college or university. Rather aspiring plumbers will get paid while working as an apprentice. 
There is some degree of job security since there will always be a demand for their services. Also, knowing you have helped someone with a problem they couldn't fix on their own could be quite satisfying. 
The downside to being a plumber is that it can be a hygiene issue and physically demanding.
So overall, is being a plumber a good career for you? To help you make your decision, I've put together a complete guide to plumbing as a profession, including what plumbers do, the skills they need, the job outlook, and more. So read on to find out everything you need to know.
Table of Contents
Infographic: Statistics on the Plumbing Career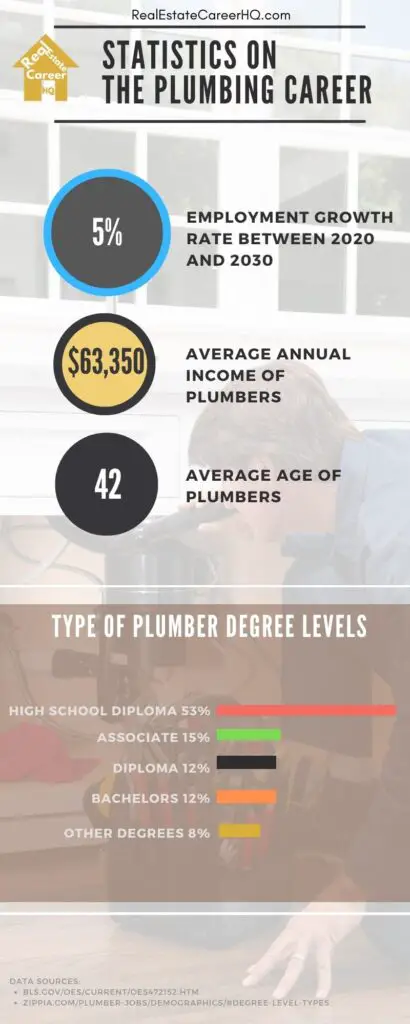 What does a plumber do?
A plumber's job is to install, repair and maintain pipes, fixtures, and other plumbing equipment. This can include anything from fixing a leaky faucet to installing a new water heater.
Plumbers also sometimes have to do maintenance work, such as checking for clogs or leaks in the system. And when there's a new construction project, plumbers will often be called in to do the installation work. (If you want to know more about plumbing installation, here's a guide for you.)
Plumbers typically work in both residential and commercial settings. Residential plumbers might work for a plumbing contractor, or they could be self-employed. Commercial plumbers, on the other hand, usually work for a specific company or corporation.
No matter where they work, though, plumbers typically have to do a lot of physical labor. They might be lifting heavy pipes or working in tight spaces. And because plumbing is an essential service, plumbers often have to work long hours, including nights and weekends.
Career outlook of plumbers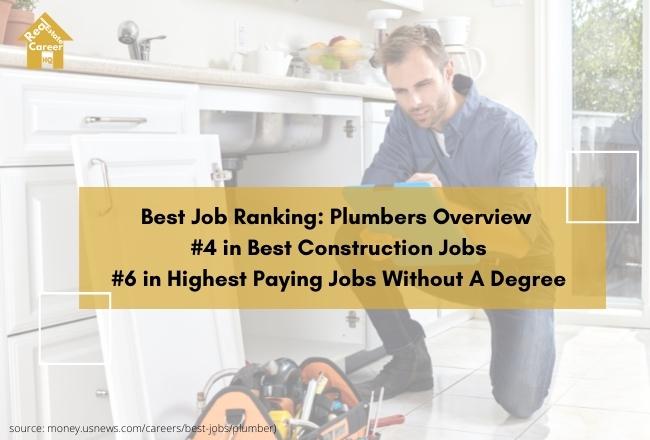 The career prospects for plumbers are generally good as there is always a demand for plumbing services.  According to the US Bureau of Labor and Statistics (May 2021), the job outlook for plumbers is projected to grow by 5% from 2020 to 2030, and there are 417,620 plumbers nationwide. 
As I'm reviewing the data on CareerOneStop, (a site sponsored by the US Department of Labor), they have an even more optimistic view of the plumbing profession. They projected the employment growth for plumbers between 2018 to 2028 to be 6%!
Let's hear what did Mr. Wonderful said about being a plumber
How much do plumbers make?
Plumbers have an average annual income of $63,350 ($30.46/hour), and they mostly earn between $45,590 to $77,890. Top earning plumbers are making over $99,920. The earning difference attributes to the type of plumber license (i.e., apprentice, journeyman, master), experience, construction activity, and geographical location.
Experienced plumbers can often command higher fees and may have the opportunity to start their own businesses. 
Can plumbing make you a millionaire? Although it is unlikely that all plumbers will become a millionaire, as I was researching I found an inspiring case where a plumber built his plumbing business and earned millions of dollars.
"When Charlie Mullins was a child, he was inspired by a visit from a local plumber who was popular around town and had plenty of money to spend. At 15, Mullins dropped out of school and became a plumbing apprentice. In 1979, the British entrepreneur started his business, Pimlico Plumbers…

How Plumbing Brought In Millions

Today, Pimlico Plumbers is the biggest plumbing business in London with more than 400 employees, and Mullins might be the wealthiest plumber in the world. He attributes his success to hands-on management and basic fundamentals. He rode to success on the little things: showing up on time, making pricing transparent and honest, and cleaning up after himself when the job was done."

Quote from GOBankingRates – 13 Blue-Collar Jobs That Turned People Into Millionaires
What is a typical day for a plumber?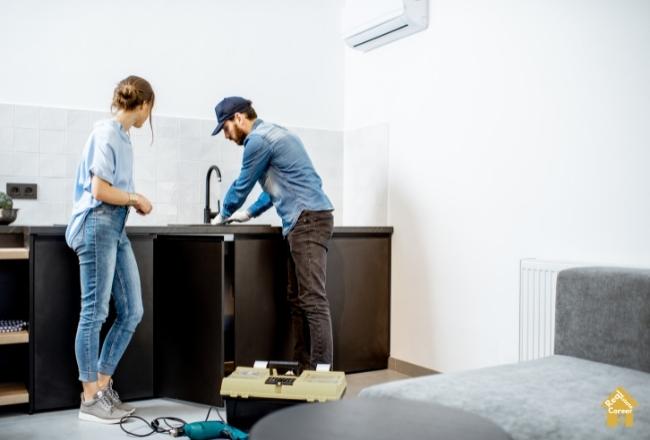 A typical day of a plumber usually starts with going to different job sites. The plumbers will then assess the problem and give an estimate of how long it will take to fix it.
After that, they'll get to work fixing the problem. This can involve anything from unclogging a drain to replacing a broken pipe. Once the job is done, the plumber will clean up the area and make sure everything is working properly.
However, not every quotation would land on an actual business. Awhile my kitchen sink was clogged, I contacted three different plumbers to inspect the problem. 
The first one tried to outsell me an expensive water softening system that are unrelated to the clogging problem, the second plumber inspected the pipe but did not have a snake long enough to unclog it, so I ended up using the third plumber, which charged me a reasonable price and could fix the problem.
Although I didn't hire the first two plumbers, they charged me an inspection fee to compensate for their time. But I'm okay with that since the fee was disclosed to me clearly before they came to my house.
Do plumbers work long hours?
Plumbers often have to work long hours, including nights and weekends. This is because plumbing is an essential service, and people can't always wait until regular business hours to get their problems fixed.
Imagine if your toilet was overflowing during the weekend, and you had to wait until Monday morning to get it fixed. That would be a nightmare! So plumbers need to be available when people need them.
That said, not all plumbers work long hours. If you're working for a plumbing company, they could assign pre-scheduled shifts to employees. 
In that case, you would likely have more regular hours. But if you're self-employed and running a one-man band, your work hours really depend on the needs and urgency of your clients.
What are the working conditions like for a plumber?
Plumbing can be hard on the body as plumbers often have to lift heavy pipes and other materials, and they might have to do a lot of bending, squatting, and other physical activities. This can be especially challenging when working in tight spaces such as under the kitchen or bathroom sink cabinet.
To reduce the risk of injuries, plumbers need to be careful and use proper lifting techniques when handling heavy objects. They should also take breaks as needed to avoid getting too tired.
In addition, plumbers typically work in both residential and commercial settings. This means they might have to deal with a wide range of people, from uncooperative customers to irate business owners. So it's important to be able to handle these situations in a calm and professional manner.
Is being a plumber a dangerous job?
There are some risks associated with being a plumber, but these can usually be avoided with proper safety precautions. For example, plumbers often have to work with sharp tools and hot water, so it's important to be careful and use the proper safety gear.
Also, they might come into contact with bacteria and other germs while working on people's plumbing. This is why it's important for plumbers to wash their hands thoroughly after each job. Wearing masks and gloves can also help to protect plumbers from these risks.
In addition, some chemicals used in plumbing can be dangerous if they're not handled properly. So it's important to follow the manufacturer's instructions and take necessary precautions.
How to become a plumber?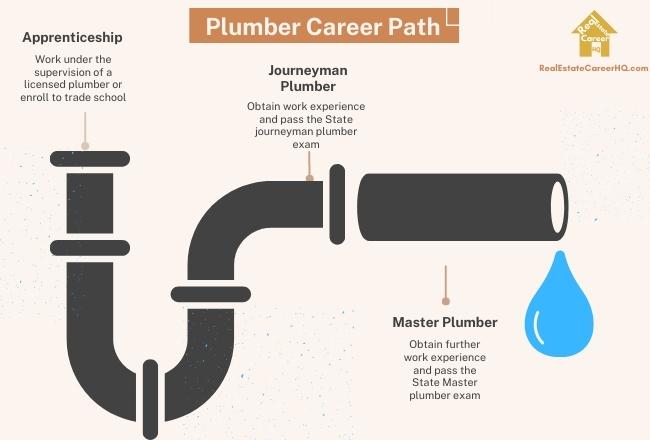 In most states, you need to obtain a plumber license from the state licensing board to work as a Journeyman Plumber.
To become licensed, you do not need a college or university degree because a high school diploma is good enough. However, you do need to complete an apprenticeship program, which typically takes two to three years to finish.
During your apprenticeship, you'll receive on-the-job training from experienced plumbers as well as classroom instruction. This will give you the skills and training necessary to work in this trade. 
You may find the apprenticeship program through a local union, technical school, or community college. Alternatively, you can also contact the state licensing board to find an accredited program near you. 
Many people prefer the apprenticeship program. Because, unlike a traditional college/university degree which could result in a huge pile of student debts, you could get paid while working as a plumber apprentice.
After completing your apprenticeship, you'll need to pass a state licensing exam to get your Journeyman plumbing license. This is to test your knowledge of plumbing code and theory. Once you have your journeyman's license, you will be able to work as a plumber for an existing plumbing company.
If you wish to start your own business or hire other plumbers, you'll need to upgrade to a Master or Contractor license. This may require additional years of plumbing work experience, and you also need to pass the exam associated with the specific license.
However, each state has its own license requirement. You should check with your state licensing board.
What are the skills a plumber needs?
Plumbers need to have a wide range of skills to be able to do their job properly. These skills include:
Physical strength and endurance: Plumbers often have to lift heavy pipes and other materials, and they might have to do a lot of bending, squatting, and other physical activities.
Manual dexterity: Plumbers need to be able to use their hands to fix pipes and other plumbing fixtures.
Problem-solving skills: Plumbers need to be able to diagnose problems and figure out the best way to fix them.
Customer service skills: Plumbers need to be able to deal with customers in a professional and courteous manner.
Math skills: Plumbers need to be able to do basic math in calculating the amount of material they need and figure out how long it will take to do a job.
Pros and Cons of Being a Plumber – Summary Table
| Pros of being a plumber | Cons of being a plumber |
| --- | --- |
| Constant demand for plumbing services | Physically demanding |
| Ease of entry: Does not require college/university degree | Occupational risk of getting injured |
| Getting paid while working as an apprentice | Could take years to obtain the Journeyman or Master license |
| Does not bear a huge load of student debts | Work schedule can be unpredictable |
| Chances to interact with different people | Working condition could be dirty and have bad odor |
| Sense of achievement in fixing people's critical daily problem | Deal with waste and could be expose to chemical gas |
| Great for people who enjoy hands-on work | Work under pressure |
Video – Is Being a Plumber the Right Career for You?
(**) Affiliate Disclosure: Please note that some of the links above are affiliate links, and at no additional cost to you. Our company, JCHQ Publishing will earn a commission if you decide to make a purchase after clicking on the link. Please understand that we include them based on our experience or the research on these companies or products, and we recommend them because they are helpful and useful, not because of the small commissions we make if you decide to buy something through the links. Please do not spend any money on these products unless you feel you need them or that they will help you achieve your goals.
Disclaimer: The information in this post is for general information only, and not intend to provide any advice. They are subjected to change without any notice, and not guaranteed to be error-free. Some of the posts on this site may contain views and opinions from individual not related to JCHQ Publishing. They do not necessarily reflect our view or position.
Sources: