(**) Disclosure: This post may contain affiliate links, meaning our company, JCHQ Publishing will get a commission if you decide to make a purchase through the links, but at no additional cost to you.
If you're new to the world of real estate, you may have heard the term NMLS thrown around but not necessarily know what it means. 
NMLS stands for National Mortgage Licensing System. It is a database system that provides the public with information about mortgage loan originators (MLOs), and helps ensure compliance with licensing requirements, and streamlines the licensing process for MLOs.
As a consumer, you can use NMLS to verify whether or not your potential lender is licensed and registered to do business in your state. Knowing this information can give you peace of mind as you go through the home buying process or refinancing your property. So, if you're looking for a mortgage, be sure to ask your lender for their NMLS id number.
Before we start, I want to give a brief disclaimer. This post is not intended as legal advice or state/federal real estate training. It is for general information only. Always follow your State Laws and best practices.
Here's what the NMLS database looks like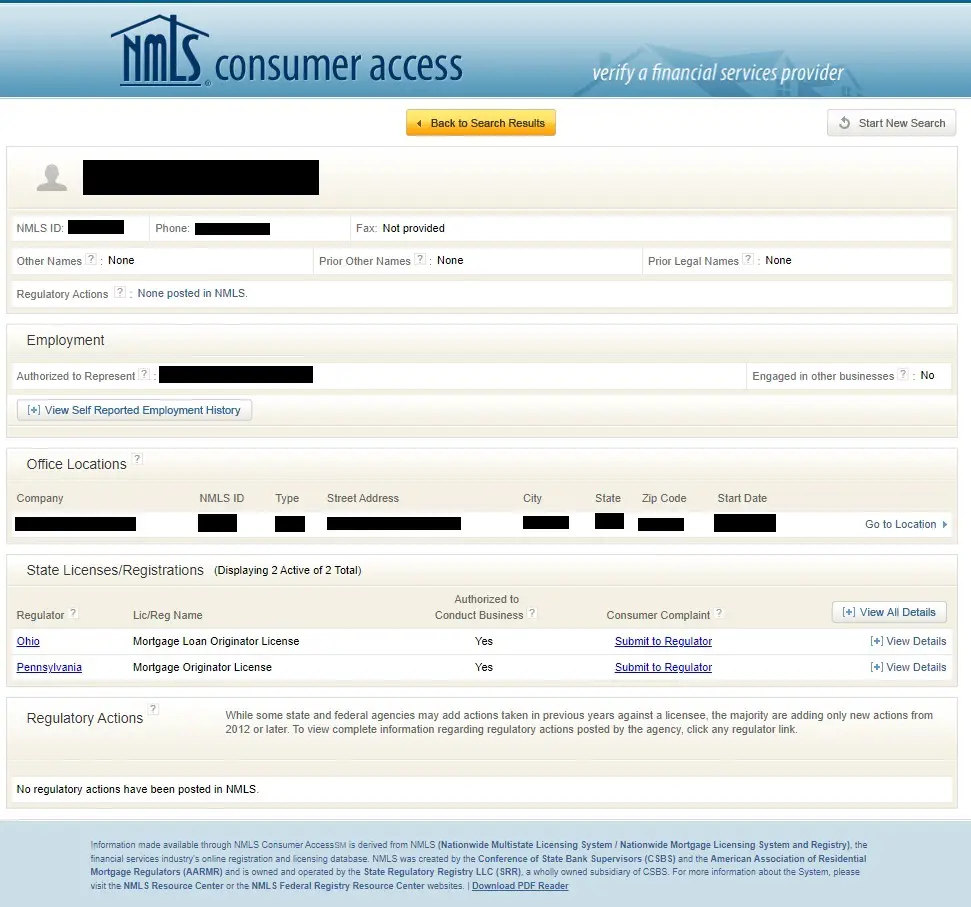 NMLS also offers industry-wide solutions that enable all financial services providers to participate in a single, nationwide system to track their employees' licenses, maintain compliance, and complete ongoing education requirements.
In order to become licensed or registered through NMLS, an individual must submit an application and supporting documentation as well as pass a background check. Each state has different requirements for licensure, so applicants should check with their state regulator for specific instructions.
The NMLS Resource Center is a great place to start if you're interested in learning more about the licensing process or finding out which licenses are available in your state.
What is the Purpose of the NMLS?
I remember back in the days before 2008. It was super easy to get a mortgage. There was very little regulatory oversight. The borrower just needed to place their signature on the mortgage document, then the loan will be funded.
This created a severe problem when the interest rate was raised. People that should not be qualified for a mortgage in the first place were unable to afford the increased loan payments. As a result, loans were default and there was a massive financial meltdown that led to a Great Recession in 2008.
In response to the subprime mortgage crisis, Congress passed the Secure and Fair Enforcement for Mortgage Licensing (SAFE). The goal is to improve future accountability and transparency in the financial services industry.
This is why the NMLS was launched. It helps by tracking the professional history of MLOs, bad actors will be weeded out of the industry, and consumers will have more confidence in those who help them obtain a mortgage.
In addition, the NMLS provides a central location for complaints about MLOs, which can be helpful for both regulators and consumers.
The NMLS is overseen by state banking regulators and the Conference of State Bank Supervisors (CSBS). The CSBS is a non-profit organization representing state banking regulators from all 50 states.
On a separate note, if you want to learn more about subprime history, I strongly encourage you to watch the movie "The Big Short." It was played by many outstanding actors and actresses such as Steve Carell, Ryan Gosling, Christian Bale, Brid Pitt, Marisa Tomei, and Margot Robbie. You should be able to find it on Netflix.
Check out these short clips that explain subprime:
How does the NMLS Protect Clients?
The NMLS offers a few different ways to protect clients: The first is by making it easier for state regulators to track the professional history of MLOs. This includes any disciplinary actions that have been taken against them.
The second is by providing a central location for complaints about MLOs. This allows regulators to identify patterns of misconduct and take action accordingly.
Lastly, the NMLS requires all MLOs to complete ongoing education courses on topics such as ethics and consumer protection. This ensures they are up-to-date on the latest industry developments and best practices.
NMLS ID# doesn't equal being licensed
This is what many people find confusing. All loan officers need to have an NMLS id# but do not necessarily need to be licensed.
For example, direct lenders such as banks or credit unions would require their employed loan officers to be registered on the NMLS database, but they may not need them to be licensed.
On the other hand, loan officers who work for a mortgage broker (not a direct lender) must hold a Mortgage Loan Originator (MLO) license and an NMLS #.
Should I put my NMLS number on my resume?
If you are a licensed mortgage loan originator, then you should include your NMLS number on your resume. This will show potential employers that you are a licensed professional and have met all the requirements for licensure.
Including your NMLS number on your resume is also a good way to build trust with potential clients. If they see that you are licensed and registered, they will be more likely to do business with you.
How do I add NMLS to LinkedIn?
If you are a licensed mortgage loan originator, you can add your NMLS number to your LinkedIn profile. To do this, go to your profile and click on the "Licenses & Certifications" section. Then, click on the "+ Add License or Certification" button and enter your NMLS information.
Adding your NMLS number to LinkedIn is a good way to demonstrate to your potential employer that you're one step closer to doing business for them.  
Disclaimer: The information in this post is for general information only, and not intend to provide any advice. They are subjected to change without any notice, and not guaranteed to be error-free. Some of the posts on this site may contain views and opinions from individual not related to JCHQ Publishing. They do not necessarily reflect our view or position.
(**) Affiliate Disclosure: Please note that some of the links above are affiliate links, and at no additional cost to you. Our company, JCHQ Publishing will earn a commission if you decide to make a purchase after clicking on the link. Please understand that we include them based on our experience or the research on these companies or products, and we recommend them because they are helpful and useful, not because of the small commissions we make if you decide to buy something through the links. Please do not spend any money on these products unless you feel you need them or that they will help you achieve your goals.
Sources: