(**) Disclosure: This post may contain affiliate links, meaning our company, JCHQ Publishing will get a commission if you decide to make a purchase through the links, but at no additional cost to you.
Technology is changing the way we live and work. There are already a number of apps and websites that provide home value estimates. Will appraisers be replaced by new advancements in real estate technology?
If you have been following the real estate industry news, you probably have heard about the term AVM before. AVM stands for Automated Valuation Model. It is a computer algorithm that estimates the value of a home based on publicly available data and algorithms.
The output of an AVM is either a dollar amount or a range. Some argue it can be more accurate while providing quicker results than traditional appraisers and require less work.
If you are thinking about whether to start the appraiser career or someone already in the field but concern your work could be replaced by technology, this is the post for you.
Not only that I've done extensive research on this topic, but I also talked to multiple real estate appraisers about it. I'd love to share my findings with you so you can have a better idea of the future of the real estate appraisal industry.
Why do some people prefer AVM over appraiser?
1. Faster: AVM takes much less time to generate the value of a property compared to an appraiser, which could take days for them to finish.
2. More Convenient: Appraisers need to go on-site and inspect the house before they can give an accurate assessment of its value. With AVM, you can get the estimated value of a property without having to leave your desk.
3. Cost-effective: AVM is much cheaper than hiring an appraiser, especially in cases where you don't need a full appraisal.
4. Access to more data: AVM takes into account many more data points, including factors like neighborhood comps and housing market trends. The data are updated in real-time from multiple sources.
I came across a Forbes article: "Everything You Need To Know About Automated Valuation Models (AVMs) In Real Estate." It was written by Nils Kok, the Chief Economist at GeoPhy (NY) and Associate Professor in Finance and Real Estate at Maastricht University (NL). In there, he talks about some of the benefits of using AVM, such as how it can eliminate human error and bias. 
Despite these advantages, there are some drawbacks to AVMs compared to appraisers.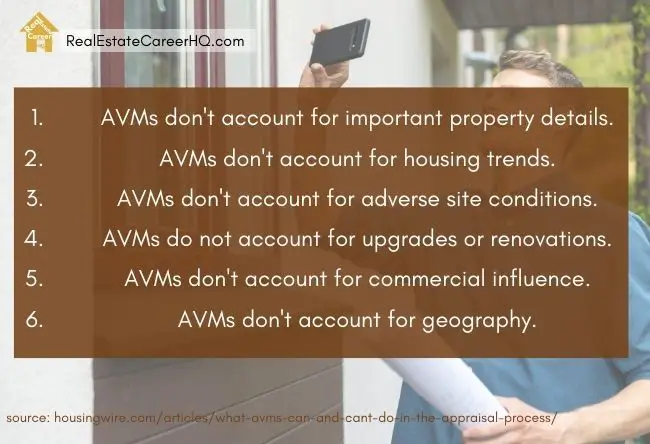 1. Limited Information: AVM can only access the data that is publicly available and doesn't consider any unique features of a property, such as special renovations or upgraded amenities.
2. No Expert Opinion: Since an AVM is not a real person, it cannot provide an expert opinion about a property. Appraisers provide more than just a value estimate – they also give their professional opinion on details such as upgrades, renovations, solar panels, landscaping, patio, barn, detached garage, and other things that may contribute to real estate value. 
3. Limitations in Valuation Range: AVM is limited by the range of comparable properties used in its algorithms and may be inaccurate if there are not enough similar properties available for comparison.
Do real estate appraisers think they will be obsolete?
A few appraisers expressed that with CU and ANSI requirements, it seems that Fannie is trying to move as much as they can in the AVM direction.
On the other hand, some are not as pessimistic. They believe that CU will not be sustainable without appraisers feeding in new data regularly. So there's still a place for real estate appraisers.
However, some have been looking beyond the lending space and into prospecting for more private work.
(On a side note, if you also want to obtain private work for your appraiser business, here's a post for you. In there, you'll find how a CG appraiser transitioned his appraisal business into over 80% private work.)
There's a Certified General Appraiser from Kansas that shared his take on it. They said that people should not confuse an appraiser's job with who the "better calculator" might be. 
He explained that we do not have independent real estate appraisers because we can run a better statistical analysis on a square footage adjustment than a computer. 
We have an independent appraiser because, until recently, the market desired to have an independent party that could be held accountable for their independence to make that analysis. 
He further explained that federal agencies and those with agendas to circumvent independent, honest decision-making are currently trying to convince everyone that a computer valuation means detached "unbiased" analysis, but until somebody starts licensing the analysts that program the data and algorithms, it will be extraordinarily easy to manipulate these systems, and no one will actually even know that it has been manipulated because who is going to check or review it? 
He also made a very good comparison that technology has done a lot of wonders in the sports world, but we would not be comfortable removing all of the referees from the field and just letting a computer decide all of the penalties and fouls. 
He believes that there needs to be a human being accountable for the valuation. Though computers are wonderful tools, they should not be the ones making the final decision. 
Taking high-quality appraisal courses allows you to keep up with the best practices and remain competitive in the industry. When choosing a real estate school to complete the CE requirement, selecting one with an excellent reputation is important. VanEd is a trustworthy real estate education provider. You may click here to see the appraisal courses offer in your state. (**) 
The Verdict on Appraisers vs Technology
Despite the advantages of AVM, it is not capable of replacing human appraisers entirely in the foreseeable future.
Appraisers are still needed for certain types of complicated appraisal assignments, such as divorce settlements or estate appraisals, which require more than just estimating the value of a property. After all, I'm unsure how AVM can replace an expert witness appraiser when it comes to testifying in court.
Besides, there will always be a need for on-site appraisal and inspection, especially in complex property transactions. While some automated home valuations could be a quick starting point in research, they don't take into account certain factors that a human appraiser can consider when giving an estimate.
This includes things like the condition of the building, upgrades, renovation, or even the scenic view of a neighborhood. And all these could contribute value to a property.
In conclusion, technology is revolutionizing the real estate industry and making it easier for appraisers to do their jobs.
While technology may be able to provide an estimate, human expertise will always play an important role in determining an unbiased opinion of a property's value. With that said, appraisers must be open to learning new technology-based skills in order to stay competitive and make the most of their profession.
For the time being, unless technology can tell that 20 cats are living in the subject property, I'm confident that appraisers will be staying here in the long haul.
(**) Affiliate Disclosure: Please note that some of the links above are affiliate links, and at no additional cost to you. Our company, JCHQ Publishing will earn a commission if you decide to make a purchase after clicking on the link. Please understand that we include them based on our experience or the research on these companies or products, and we recommend them because they are helpful and useful, not because of the small commissions we make if you decide to buy something through the links. Please do not spend any money on these products unless you feel you need them or that they will help you achieve your goals.
Disclaimer: The information in this post is for general information only, and not intend to provide any advice. They are subjected to change without any notice, and not guaranteed to be error-free. Some of the posts on this site may contain views and opinions from individual not related to JCHQ Publishing. They do not necessarily reflect our view or position.