(**) Disclosure: This post may contain affiliate links, meaning our company, JCHQ Publishing will get a commission if you decide to make a purchase through the links, but at no additional cost to you.
As a real estate agent, you are always on the go. You never know when you will need to show a house to a client or what their needs may be for that day. It is important that your car is stocked with everything you might possibly need so that nothing holds you back from doing your job.
The things a real estate agent should have in the car may include a roadside emergency kit, car jumper box, measuring tape, shoes' cover, water bottle, healthy snack, pet hair removal brush, stain remover pen, electric shaver, and light bulbs.
In this post, I'll go over the rationale a real estate agent should have these items in their car and my personal experience in using some of them.
Things to fresh off your car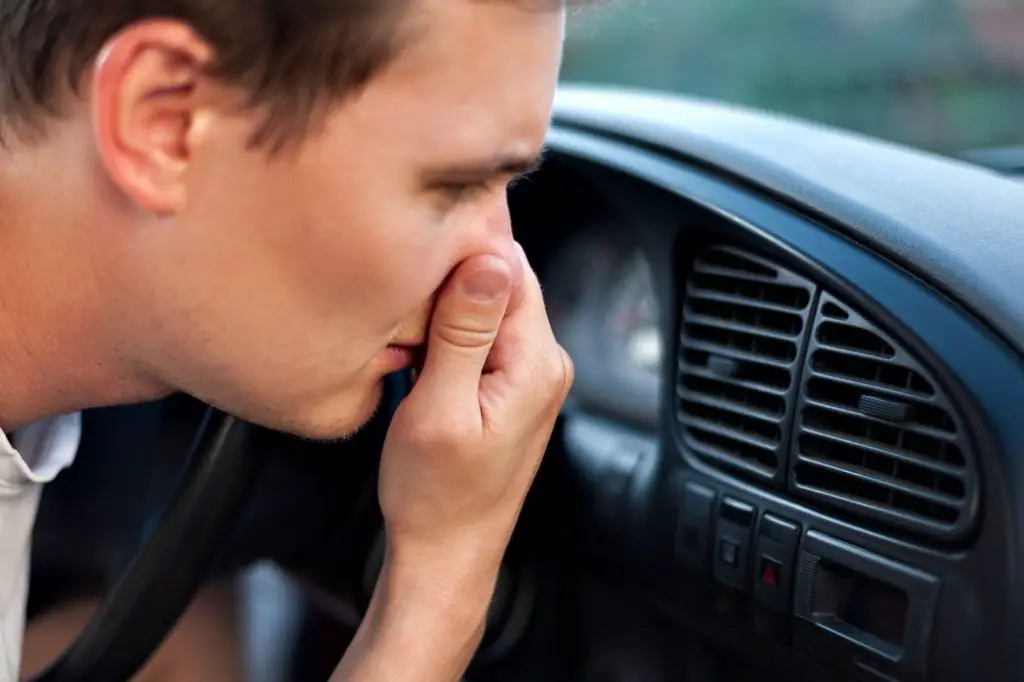 Many people don't think about the bad odor that can come from a car. But if you will be driving potential home buyers to property tours, bad odors such as old coffee, cigarettes, or leftover foods in your car are a major turn-off. This is especially true when you're living in a warm climate.
Many people will carry an air freshener such as Febreze in their car. I personally like using lemons instead. Simply cut up some lemons and place them around the inside of your vehicle for an hour or two before removing them. You'll be amazed at how fresh it smells! It's more organic, less chemical. (Well, I'll also use them for compost afterward.)
Things real estate agents could use during a roadside emergency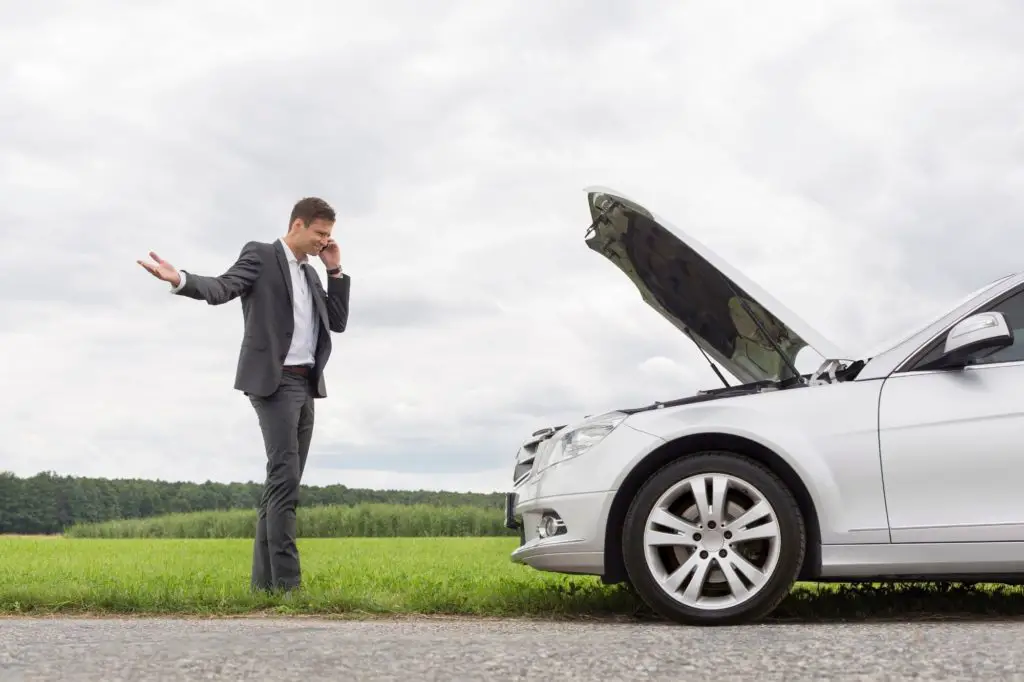 Roadside emergency kit
Many different things could go wrong on the side of the road. It could be a flat tire, dead battery, or something else. Since we all don't know what exactly would happen, rather than buying each gadget separately, It's better to get a roadside emergency kit with as many practical tools as possible.
Here's an emergency kit I found on Amazon. (**) It consists of 72 items such as a First Aid Kit, jumper cables, tow rope, reflective warning triangle, flashlight, raincoat, safety vest, work gloves, and other multifunctional roadside assistance tools.
Car jumper box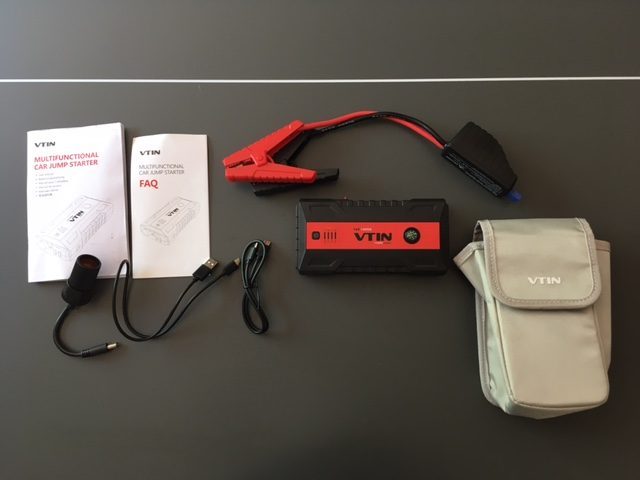 The old way to jump-start a car requires connecting with another vehicle. But with a car jumper box, you can easily do it yourself.
Just a couple of months ago, I bought the one in the above photo to jump-start my car. It is just a bit bigger than a cell phone, and it's very easy to store. The one I used has a USB port, so I just charged it just like a cell phone. Once it was fully charged, it took me less than 30 seconds to get my car running again.
This is such an amazing life-savings device. Nowadays, I always keep one in my trunk.
You may click here to view the different models of car jump starter on Amazon. (**) However, you should check with the manufacturer whether their jumper box is compatible with your car and read the instruction manual carefully. Also, don't forget to recharge it after usage.
Emergency tools for cold winter
Some real estate agents are working in an area with snowy winter. Although most would remember bringing an ice scraper or snow brush to clean the car's windows, many forgot to bring a shovel and warm blanket.
I remember once I was meeting a client during a heavy snow day. I parked on the roadside. By the time I finished the meeting, the local government's snowplow has buried my entire car with snow. Luckily, I have a shovel in my truck, so I could still shovel my way out.
As for the blanket, it is for warmth if you get stuck on the side of the road. So make sure to bring a thick one. Especially if you are in a rural area, you could be waiting for hours before someone arrives to help you.
On a separate note, I wrote another post which covers some safety tips for real estate agent. I hope you'll find it helpful.
Things real estate agents can use on-site
Measuring tape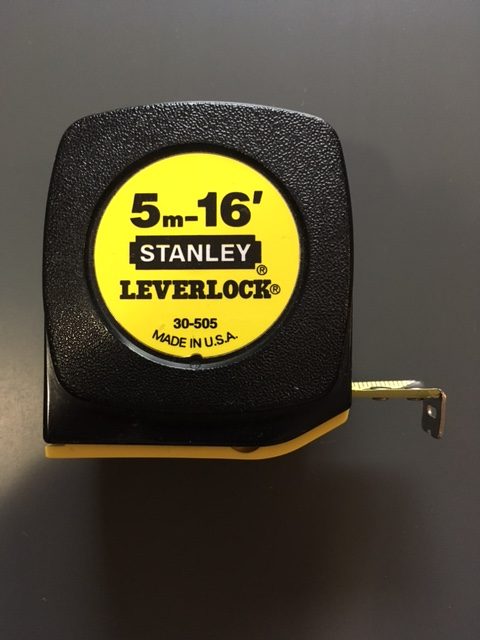 Although the dimensions of the house are usually on the property listing page, it probably won't have all the tiny details for each room. Having a measuring tape allows potential buyers to get an idea of the type of furniture or appliances that could fit the property. 
There are different types of measuring tapes. The most common one is the retractable steel measuring tape. However, this could be a problem if the height is too tall, then you might need to climb up. 
Alternatively, you can get a laser meter device. You can easily measure distance with just a few clicks. It is especially helpful when you take measurements on hard-to-reach corners.
Here's a review of the different measuring tapes used by real estate appraisers. Be sure to check it out. 
Shoes' cover
Some agents prefer to keep their shoes on to protect their feet against dirt, dust, and other debris on the properties' floor. But this could bring dirt from outside to the house. Especially during the rain or snow melting time, your shoes could get really messy.
One solution is to bring along a shoes' cover. This way, you can still protect your feet without ruin the property's floor.
For ladies who wear heels, a shoes' cover might not be suitable as you might get tripped by it. Alternatively, you could bring an extra pair of flats. Consider one that is foldable.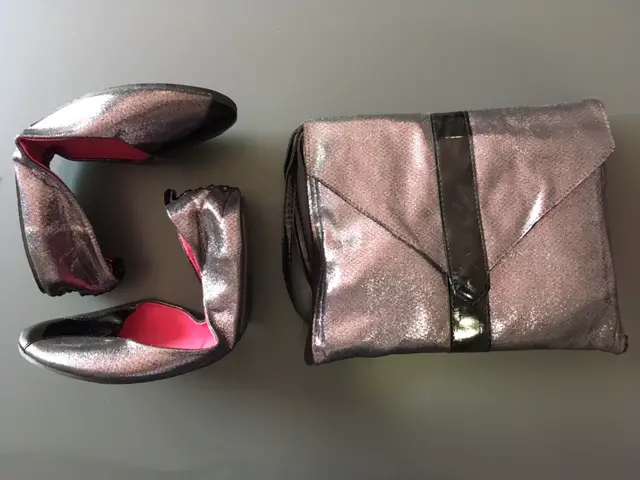 Light bulbs
I'm sure you've heard that the lighting of a house is of the utmost importance in creating a nice impression for potential buyers. It will be such a turnoff if the lightbulb burns out while during a property showing. Therefore, always carry a few extra ones in your car so the show can go on!
Something for kids
Yes, kids are cute, but they can also be a huge distraction if you don't have anything to keep them occupied. Some could constantly look for attention, running around and screaming at the top of their lung.
Consider bringing coloring books and crayons, the ones with the popular cartoon characters. (I'm guessing kids should love Marvel heroes, Pegga Pig, Paw Patrol). However, avoid bringing permanent markets or anything that cannot be erased. Else, you can expect colorful graffiti from these little artists.
Things to keep the subject property clean
Although the listing house should be properly staged and cleaned, dust and debris can still be built up – especially for vacant homes. You may bring along paper towels or Lysol wipes.
But for a quicker and thorough cleaning, I prefer a portable vacuum.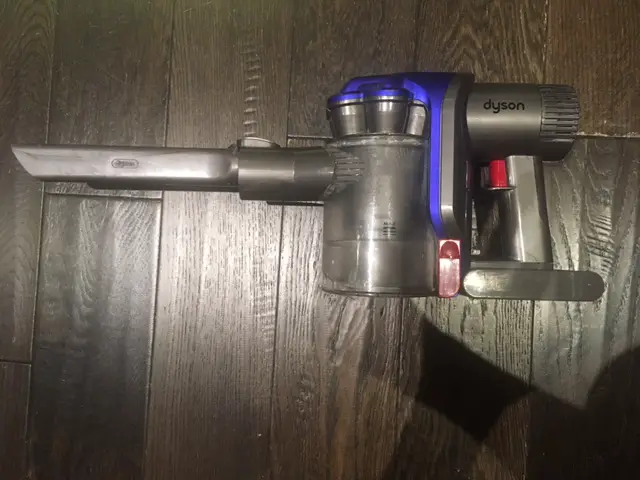 This is a Dyson vacuum that I have been using for years. It's cordless and easy to carry around. I'm not sure whether you can still get the same model as mine. But you may click here to check the available model on Amazon. (**)
Things to recharge yourself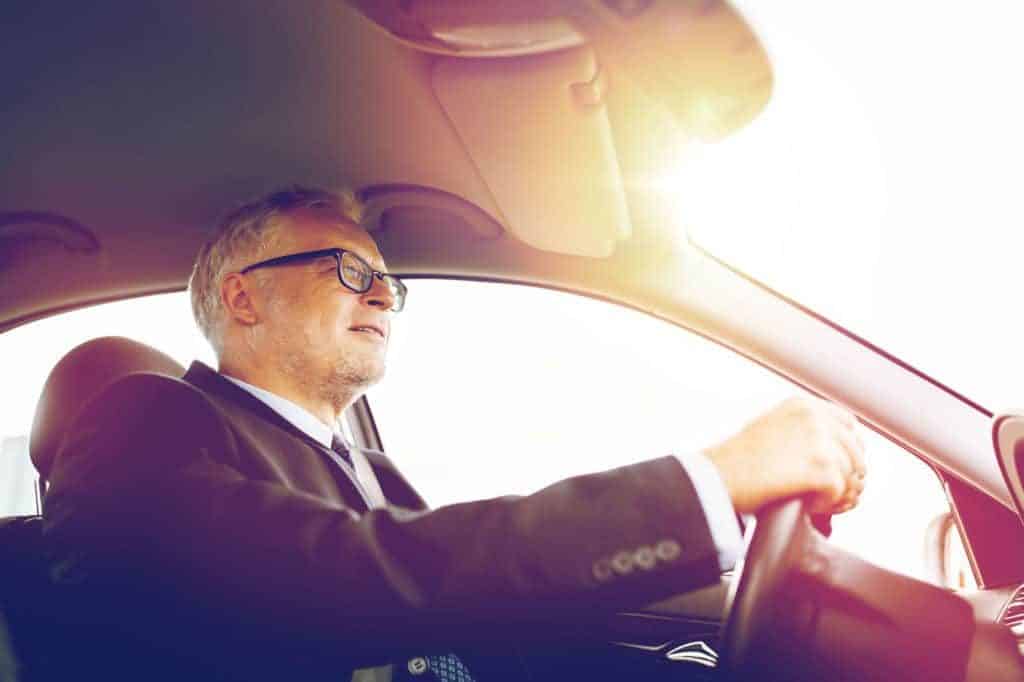 Water
Hydration is important to keep your body functioning properly. It will help you avoid headaches, fatigue, muscle cramps and flush out toxins from the system. 
But rather than constantly creating plastic waste, it's better to have a water bottle where you can reuse it. In fact, you can customize one with your business logo printed on it and give them to your clients as a promotional items. I'm sure your clients will appreciate that you are a socially responsible business person. 
Healthy snacks
Rather than eating junk foods from a fast-food restaurant, you may pack healthy snacks that can bring you energy – for example, I like boiled eggs, fruits, avocado, tomatoes, salad and energy bars. (Just make sure you or the people that you'll be seeing are not allergic to any of those. Some people could have a very strong reaction.) 
If you have hot weather in your area, you may need to bring a mini-freezer to the car. 
Audiobook /podcast
Since you will be on the road, why not make good use of the time. Audiobooks and podcasts are a great way to equip your professional knowledge when you're driving. You could be listening to industry news and updates, learning new business skills, and sharpening your sales technique.
Your clients will be impressed that you are eager to stay sharp in the real estate industry and respect your desire for constant improvement.
But of course, since you are on the road, your number one priority is still road safety.
Things to keep you looking clean
Pet hair removal brush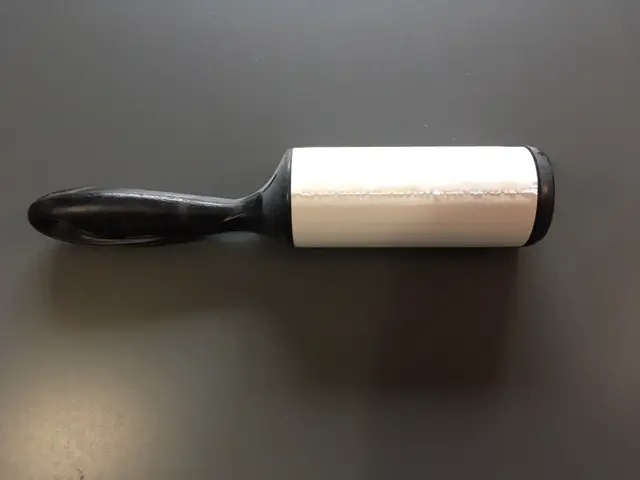 I'm a cat person, so whenever I visit a home with cats, they just love to play with me. As a result, my clothing and pants will be covered with their hair. 
This might not look so good for my other clients, especially when some are allergic to animal hairs. So I always have a pet hair removal brush in the car. 
Stain remover pen
I always keep a Tide-to-Go pen in my office. From coffee stains on white shirts, to food stains on blazers, or wine spills on carpets, it's been a lifesaver. Use this at your next open house so you don't get any complaints about dirty carpet!
Things to keep yourself fresh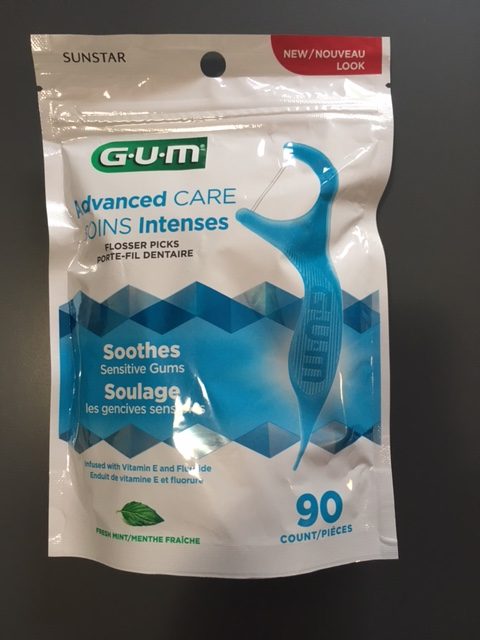 I love coffee. (well, you can probably get it from my profile photo.) I like its taste, and it helps to keep me sharp and focus on my work. However, coffee breath can also turn people off. 
Many people like taking breath mints, but I prefer a deeper cleaning. I usually keep a pack of disposable toothbrushes and mini flossers in my vehicle.
As a self-employed real estate agent, you might not have dental benefit from your brokerage firm. So you should really look after the health of your teeth. They also eliminates the embarrassment of having leftover spinach on your teeth while talking to clients. 
(I like using the Flosser Picks in the photo. The handle allows me to easily slides into position under the gumline and then removes the dental plaque not removed by regular toothbrushing.)
Electric shaver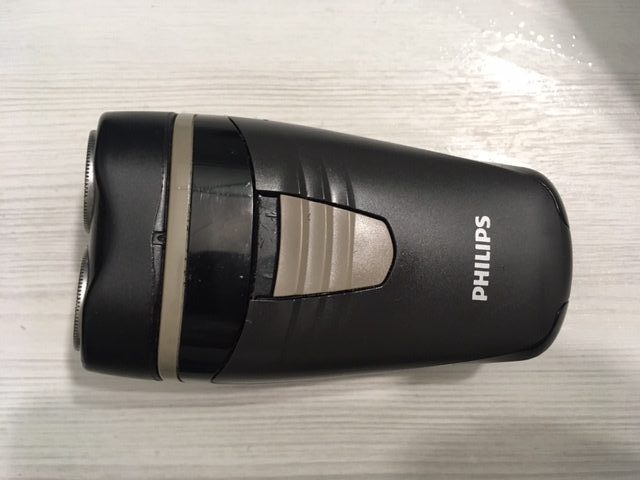 Although I shave every morning, it will start growing back by late afternoon. Having a rough appearance may not be the best look when meeting with prospects face-to-face. Even if you only have five minutes in your car between home showings, an electric shaver can put on a smooth face for your clients.
Above is the one I have been using for years and it uses AA batteries. The next time I'm getting an electric shaver, I'll probably one that can be recharged. (Perhaps, one that can be solar powered?)
This is still not a complete list of things a real estate agent should have in the car!
There are other ones such as sanitizer, sunglasses, umbrella, sunscreen, phone charger, marketing brochures, business cards, spare tire, toilet paper. But those are more obvious, so I didn't dwell on them.
Since every real estate agent's work habit is different, the things you'll bring to the car could vary from others too. Besides, as technology evolves, the things you'll need could change too.
Many years ago, I needed a large suitcase with wheels because I have tons of paperwork. But since most documents can be electronically signed these days, all I need now is just a tablet or a laptop. Just that I need to make sure I have internet access. But that's fine with me, as I have a data plan on my cell phone, which can always connect to my laptop through the hotspot.
So as a real estate agent, what are some items you are bringing to your car? Please share with us in the comment section below!
Disclaimer: The information in this post is for general information only, and not intend to provide any advice. They are subjected to change without any notice, and not guaranteed to be error-free. Some of the posts on this site may contain views and opinions from individual not related to JCHQ Publishing. They do not necessarily reflect our view or position.
(**) Affiliate Disclosure: Please note that some of the links above are affiliate links, and at no additional cost to you. Our company, JCHQ Publishing will earn a commission if you decide to make a purchase after clicking on the link. Please understand that we include them based on our experience or the research on these companies or products, and we recommend them because they are helpful and useful, not because of the small commissions we make if you decide to buy something through the links. Please do not spend any money on these products unless you feel you need them or that they will help you achieve your goals.
When choosing a real estate school to complete the CE requirement, consider one where you can take the courses online. This way, you could study at your own pace whenever and wherever. McKissock is a trustworthy real estate education provider. You may click here to see the CE courses offer in your state. (**)