(**) Disclosure: This post may contain affiliate links, meaning our website, JCHQ Publishing will get a commission if you decide to make a purchase through the links, but at no additional cost to you.
I like to browse around the MLS.com to get a sense of the recent trend in the real estate market. One thing that strikes up is there are always listings that say 2+1 bedrooms. So does the house have two bedrooms? Or three bedrooms? Therefore, I did some research and found out that the +1 could be rooms that are not up to the standard requirement.
What does a room need to be considered a bedroom? A room can only be qualified as a bedroom if it meets the minimum size, ceiling height, egress, and other requirement stated in the International Residential Code (IRC).
The International Residential Code (IRC) is a building standard for single-family-houses, two-family houses (duplexes) and building consisting of 3 or more townhouse units. The code is adopted in 49 states, the District of Columbia, Guam, Puerto Rico, and the U.S. Virgin Islands. Although each state could amend the guideline according to its local laws, I'll still use the IRC as the main reference to determine in this article since it is widely used and recognized. In this article, you'll learn the actual requirement for a room to be qualified as a bedroom.
Here are the 6 Requirements for a Bedroom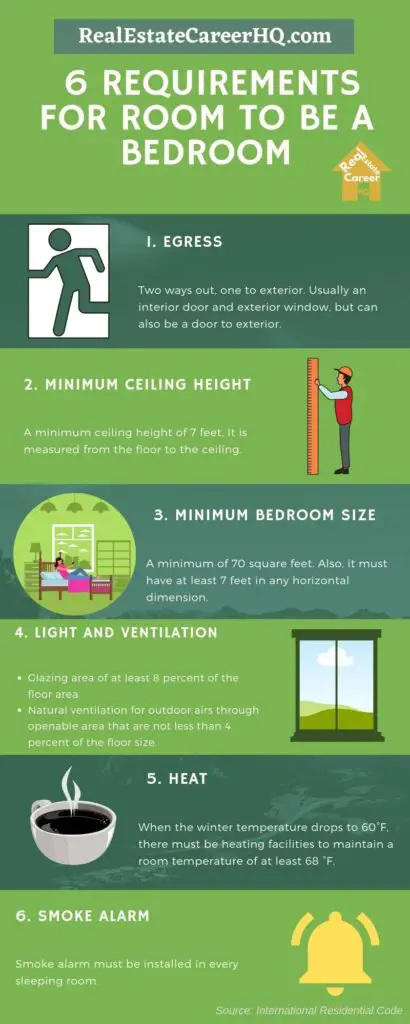 1) Minimum Bedroom Size
A room cannot be too tiny. It must have decent size for a person to sleep comfortably in it. According to the R304.2, a room requires a minimum of 70 square feet. Also, it must have at least 7 feet in any horizontal dimension. So a line of tiles with 70 X 1 square feet would not work.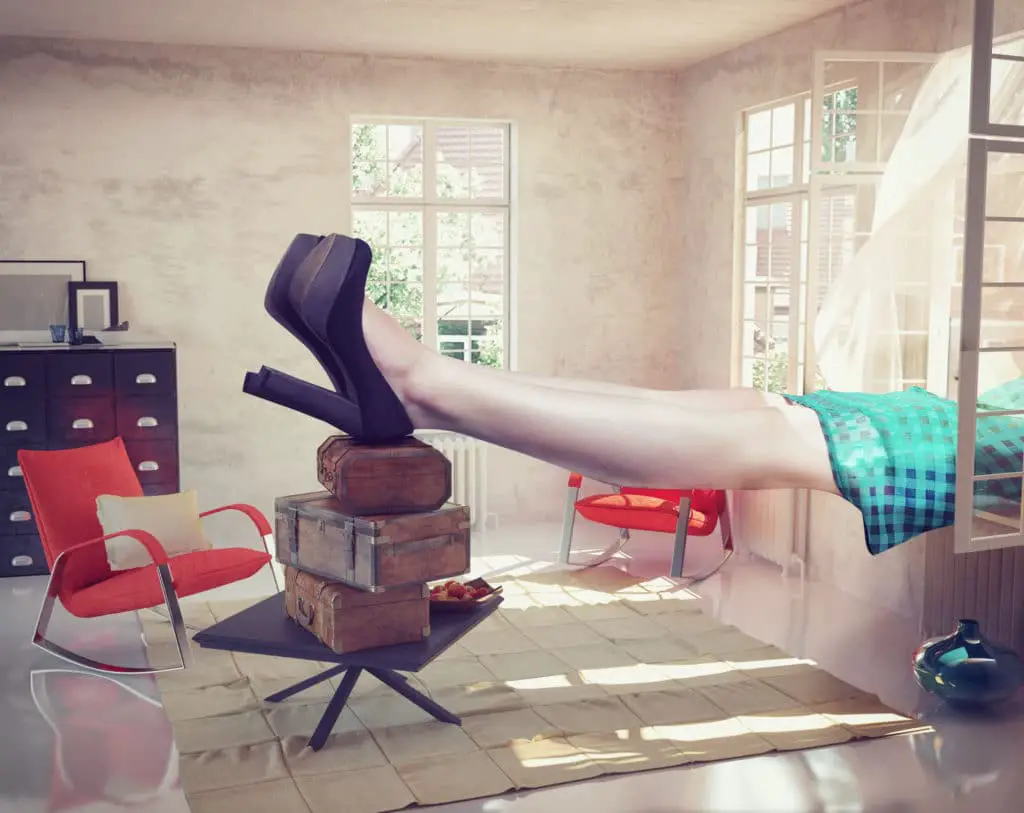 2) Minimum Ceiling Height
According to the R305.1, for a bedroom to qualify as a habitat space, it needs a minimum ceiling height of 7 feet. It is measured from the floor to the ceiling. Some bedrooms have a sloped ceiling or other obstruction (i.e., beams), but as long as more than 50% of the required floor area has or over 7 feet of ceiling height, then it would be fine. Keep in mind that no portion of your room should have a ceiling height of fewer than 5 feet.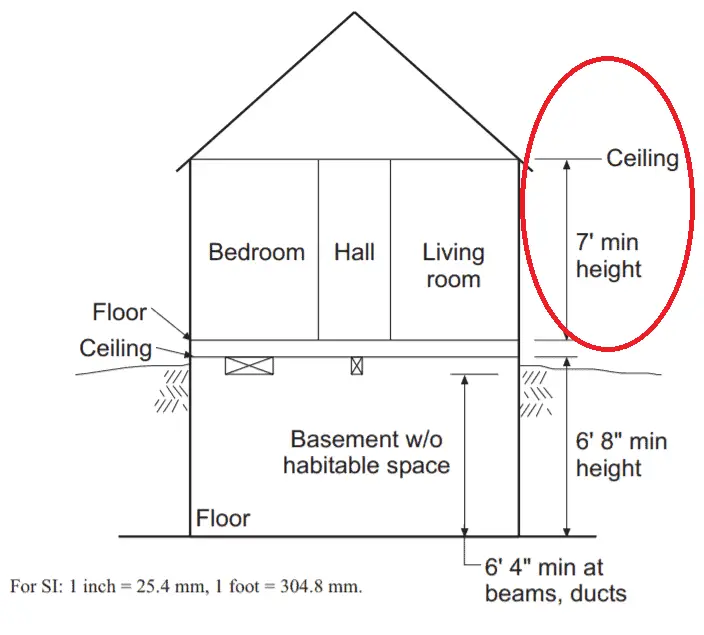 Most bedrooms would have a ceiling height of over 8 feet nowadays, so even if Shaquille O'neal were to enter the room, he should not need to bend his knees.
3) Emergency Escape and Opening
Many people wonder does a bedroom have to have a window? The short answer is yes. This requirement is really for safety purposes.
According to R310.1, besides the entrance door, a bedroom must have a direct exit to the public way or yard. Imagine there is a fire in the house, and you are unable to exit the room with the entrance door. At least, there is an alternative escape route. However, not all windows are up to the safety standard. Below are the specific requirements stated in the code.
Operational constraints: When there is hazard within the house, obviously, you would want to leave the premise asap. Therefore, the bedroom window must be able to open from inside the house without any keys, special tools or knowledge.
Minimum opening area: Since the window is for escape purpose, obviously, it cannot be too small. According to R310.2, the window needs to have a minimum of 5.7 square feet for the opening with a measurement of no less than 24 inches in height and 20 inches wide.
Window sill height: The bedroom window can be no more than 44 inches (1118mm) from the floor. Else, it would be too difficult for people to exit through this route. I'm 6 feet tall, so 44 inches high would be about the height to my stomach.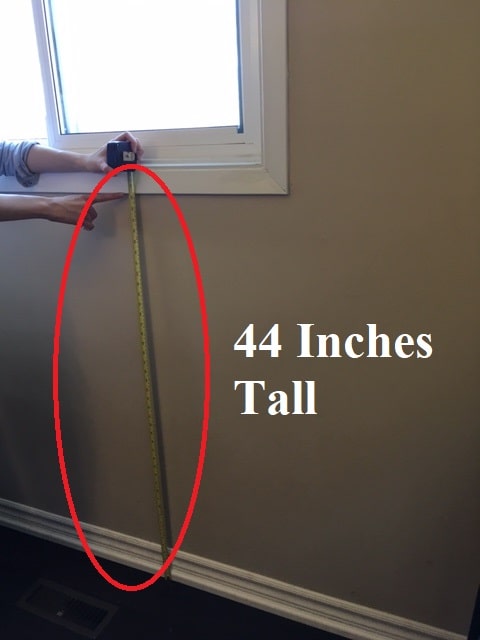 4) Light and Ventilation
I once worked in an office room where there is no window. There was absolutely no view to the outside and no fresh air coming into the room. I would have no idea whether it was raining, sunny, or turned dark outdoor. It was designed more like a storage room rather than an office.
This is not acceptable for a habitable room according to the IRC standard. According to their code R303.1, a habitable room needs to have
Glazing area of at least 8 percent of the floor area
Natural ventilation for outdoor airs through windows, skylights, doors, or louvers. This openable area should not be less than 4 percent of the floor size.
5) Heating
Winter can be extremely cold in some part of the country. If you are staying in a room without heat, not only you cannot sleep in there comfortably, it could also be harmful to your health.
To address this issue, the code R303.10 clearly states that when the winter temperature drops to 60°F, there must be heating facilities to maintain a room temperature of at least 68 °F. However, the bedroom cannot rely on a portable space heater in doing so.
6) Smoke alarm
When you are asleep, you might not realize there is a fire within the house. Since excessive inhaling of smokes could result in suffocation, you need to be alerted as soon as there is smoke. Therefore, code 314.3 requires that a smoke alarm must be installed in every sleeping room.
Hud Requirements for a Bedroom
So are there any differences between the IRC and HUD standard? I briefly reviewed the HUD handbook, and it seems that its requirements for a bedroom are very similar to the IRC's. For example, it also requires an egress to outdoor, and the window cannot be higher than 44 inches.
"Bedroom Egress: All bedrooms must have adequate egress to the exterior of the home. If an enclosed patio (solid walls) covers the bedroom window, it is possible that the bedroom won't qualify as a habitable bedroom. Security bars are acceptable if they comply with local fire codes. Occupants of a bedroom must be able to get outside the home if there is a fire."

– Quote from HUD Handbook
I talked to several lenders. Most "deal breakers" of FHA loans are bedrooms without windows or doors. Since there is no egress in the event of a fire, they constitute serious safety issues that cannot easily be corrected.
Does a Bedroom Have to Have a Closet?
No, a bedroom does not need to have a closet. I reviewed throughout the International Residential Code, and the HUD Handbook. There is nowhere I could find that a closet is required in a bedroom. I also confirmed with numerous appraisers, and they agree a closet is not a bedroom requirement.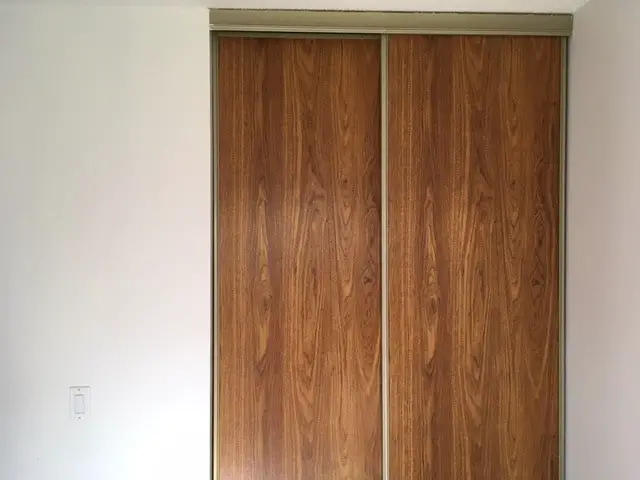 In fact, some of them have appraised old homes that were built a hundred years ago. Back then, bedroom closets were not as common as nowadays. (Actually, they were called "wardrobe" back in the days)
The next question is will bedroom without a closet have lower appraised value? Technically speaking, if a room fulfills the IRC requirements and the local code, then it would still be listed as a bedroom even if it has no closet. However, the truth is it really depends on the expectation from the market.
If the overall market expects there should be closets in bedrooms, and most other comparables in a similar neighborhood also have it, then you might need to consider whether an adjustment would be appropriate. After all, it would cost the buyer some money to install a closet if the room doesn't have one.
Summary of IRC's bedroom requirement
According to the International Residence Code (IRC), for a room to qualify as a bedroom, it needs to meet the following requirement.
Minimum bedroom size 70 square feet (R304.2)
Minimum horizontal dimension 7 feet (R304.3)
Minimum ceiling height 7 feet (305.1)
Heat source capable of maintaining 68 degree (R303.1).
Meet ventilation and lighting requirements. (R303.1)
Egress (R310, R311). 2 ways out, 1 to exterior. Usually an interior door and exterior window, but can also be a door to exterior.
Smoke alarm in each sleeping room (R314.3)
Each state could have a slightly different legal bedroom requirement, there could be exceptions to the code. Therefore, it is essential to confirm with the State building code for bedroom definition.
Most of the codes I'm referring to in this post are from the 2018 International Residential Code. There could be a more updated version. You could check out on the International Code Council website. I'll include a link at the reference session.
To have a clearer perspective on what is considered a bedroom, I talked to an experienced real estate appraiser in Tennessee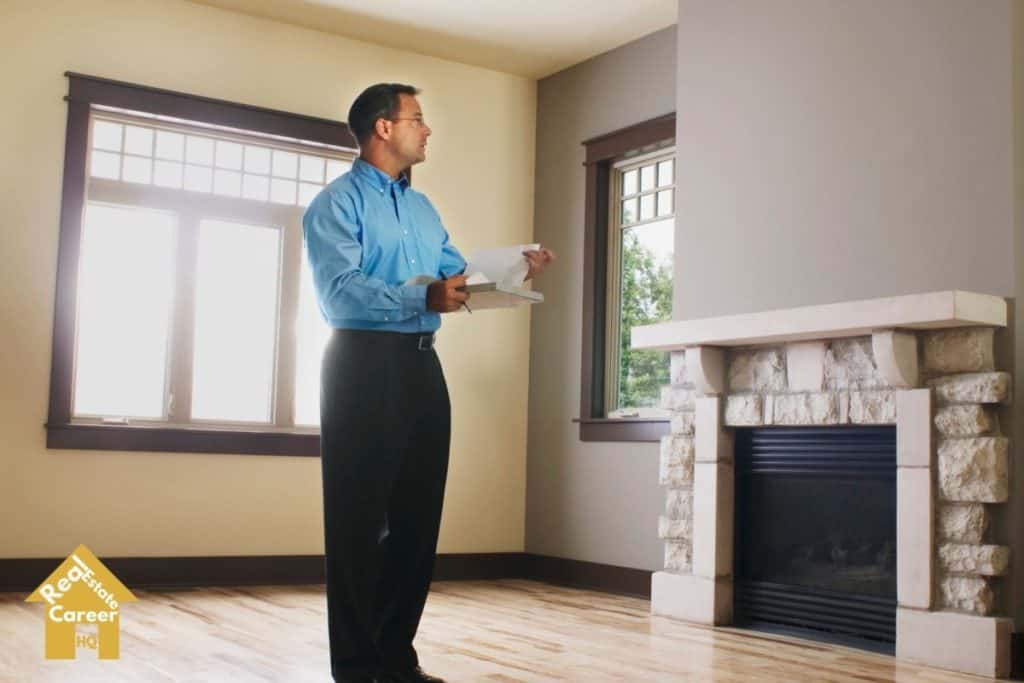 This is just a stock photo, not the appraiser that I talked to.
He suggested referring to the building code that your city/county subscribes to, as they may have different requirements.
An example would be bedroom window size. We all know a bedroom has to have an egress window(as with a basement bedroom), but not all windows meet the required size, especially in older homes.
His local county and city planners have a minimum size requirement for new construction or replacement windows, but they will not require a retrofit on an older home.
Does that mean a bedroom in a 1950's house is not a bedroom? In his opinion, it is subjected to whether the market recognizes it.
For years, he heard people saying for a room to be a bedroom, it had to have a closet. But there are homes from the early and mid-1900s with bedrooms that used freestanding closets. (Some older folks call them a Chifforobe). If that was the design, then the market could recognize it.
Same with bedroom size, many older homes have smaller bedrooms because space was allocated to have a larger living room and dining room.
Although some basics apply across the board, like having heat and a door plus a window, this real estate appraiser believes one must consider a 1960's house cannot compare to the ones built-in 2020.
So did I miss anything? What else does a room need to be considered a bedroom in a house? I welcome you to share your input in the comment session below.
Disclaimer: The information in this post is for general information only, and not intend to provide any advice. They are subjected to change any notice, and not guaranteed to be error-free. For full and exact details, please contact the Appraisal Board in your state and refer to the specific requirement from your lenders. Some of the contents on RealEstateCareerHQ.com may contain views and opinions of the interviewees. They do not necessarily reflect our view or position.
Reference: