(**) Disclosure: This post may contain affiliate links, meaning our company, JCHQ Publishing will get a commission if you decide to make a purchase through the links, but at no additional cost to you.
For those who are new to the field of property management, it's important to know where to post rental ads. Not only will this help you find quality tenants faster, but it will also help you stay organized and keep track of all your leads. 
Different demographics require different approaches. For example, if you're targeting college students, then Instagram might be better than Facebook. If you want to target baby boomers, then Facebook would be more appropriate. So be sure to find out what platforms work best for your area and prospective tenants. 
There are many websites that offer advertising services, and they all have their own rules and regulations regarding how they advertise properties. Some require that you pay a fee before posting an ad, while others don't allow any paid advertisements at all.
In this blog post, I'll go over some great ways to advertise your rental ads and how they can be helpful to your property management business. Keep reading to learn more! 
Why it's crucial to post an ad to online renting listing sites?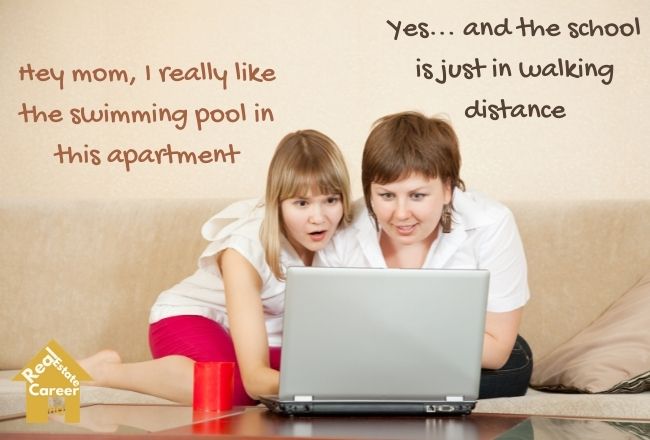 The internet has become the most dominant way to connect with people these days, and with so many great online tools. Hence, there's no really reason not to use them when marketing your rentals.
According to Apartments.com, a popular website dedicated to helping landlords and renters find apartments, their site generated 10 million more leads in Q1 2021 than Q1 2020. This is an astounding increase of 64 percent of potential renters!  
By using online listing sites, you can reach a wider audience and get more results. The good thing about them is that they provide a lot of flexibility. You can choose which platform works best for your needs and budget.
They also allow you to customize your ads to attract the type of tenant you're looking for. This makes it easier to find qualified candidates. 
Here is a list of the most common rental listing sites:
The above are the ones that are highly recommended by numerous sources. I'll also write another post in reviewing each of them.
Are rental listing sites really that effective? Let's hear from an actual user!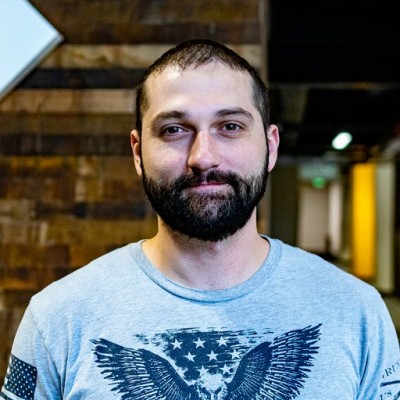 "I almost exclusively list on Zillow. They then cross-post to a bunch of other sites. My units have always rented so fast that I've never needed to post elsewhere. I only need one week usually to rent an apartment. I list them on Wednesday usually and line everyone up on Saturday to view/lease it. Then I pull the ad down.
But as with anything with real estate, it's probably contextual to where you are. Our units are in high-demand rental areas. One is a B area, and one is a C/D area. We never have a shortage of people that respond to our ads. The real work is just filtering them."
– Anthony Russell, Author of Leadership for Landlords
Can I put my advertisement on multiple websites?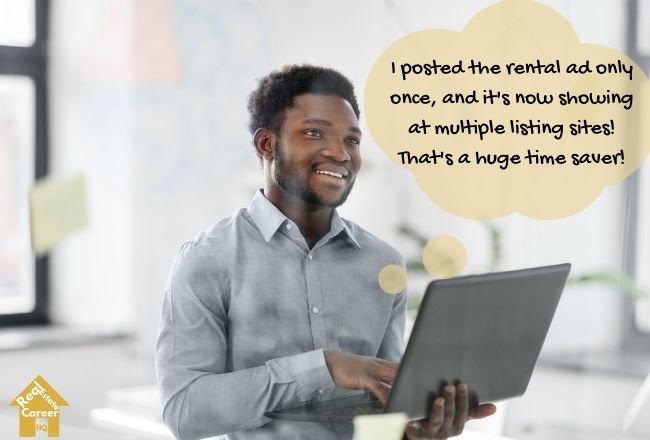 Yes! You can advertise the same rental listing across multiple sites. It indeed gives greater exposure to a broader audience, so you may rent out your unit sooner.
In fact, there are property management software that allows you to syndicate rental listing across different platforms.
Buildium is a reputable cloud based property management software. They've teamed up with the leading online rental listing sites such as Apartment.com, Apartment List, Dwellsy, Lovely, Zillow and Zumper. So that you can set up and share your vacant units with millions of prospects in just a few clicks. Click here to find out more about Buildium. (**)
List it for rent on social media
If you've already posted your ads on online listing sites, then you should consider adding your listings to social media too. This is because social media gives you access to another large pool of potential tenants.
In fact, more and more renters will look up information about a property on social media before making a decision. But there are plenty of social media platforms – Facebook, Twitter, Instagram, LinkedIn, Pinterest, YouTube, Snapchat, so which one should you choose?
Back in 2020, RentCafe did a survey with 2,500 respondents. They found that Facebook and Instagram are the most popular ones among renters.  
An interesting find is younger renters (Gen Z) tend to use Instagram more (36%), while senior tenants (Baby Boomers+) prefer Facebook (61%). 
I talked to several property managers. A few also confirmed that Facebook has been the best source for them. Some almost find every tenant through FB Marketplace.
Besides the FB Marketplace, you may try to reach out to potential renters through Facebook groups. For example, suppose you have a rental unit in New York City that is great for young families, then you may search for "parents groups" in that area.
However, each group has its rules on what you can or cannot post. So make sure you follow them or check with their admin first.
Is Facebook really that useful for rental ad listing? Let's hear from a real estate professional!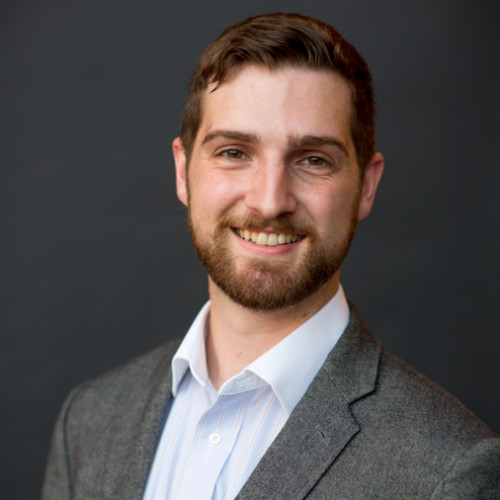 "Facebook has been the best source for me. I use TurboTenant, which pushes out the ads to major listing sites but I find almost every tenant through FB Marketplace and sharing that to local community pages."
– Paul Gilsdorf, Multifamily Investor Director of Operations at FOCUS Real Estate in Boston, MA
Leads from previously submitted rental applications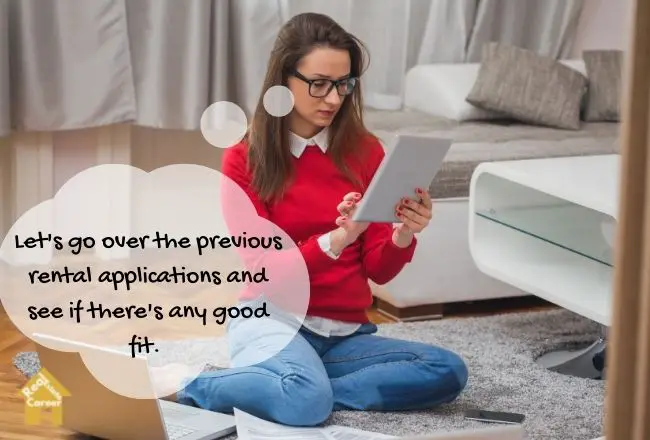 Typically speaking, you should receive multiple rental applications for each listing. But you can only rent the unit out to one chosen applicant. For the others, they might not necessarily be bad tenants. Sometimes, it's just their overall profile is not as suitable as the selected ones.  
So when there are new rental listings available, it's a good idea to contact them. After all, they already showed interest in finding rental units, and the best is you don't need to pay advertising fees to reach them. 
With their consent, you may include them in your emailing list. Of course, you want to send them only the irrelevant listings. 
It's better to categorize into different lists. For example, you can create a list based on the number of bedrooms and bathrooms or a list based on a particular region. 
Aweber has the perfect tool to segment your email subscribers. Rather than sending out emails one by one, you may reach all of them with just a click of a button. It truly scales your communication with clients and saves your time tremendously. You may click here to find out more (**)
Advertise in Your Neighborhood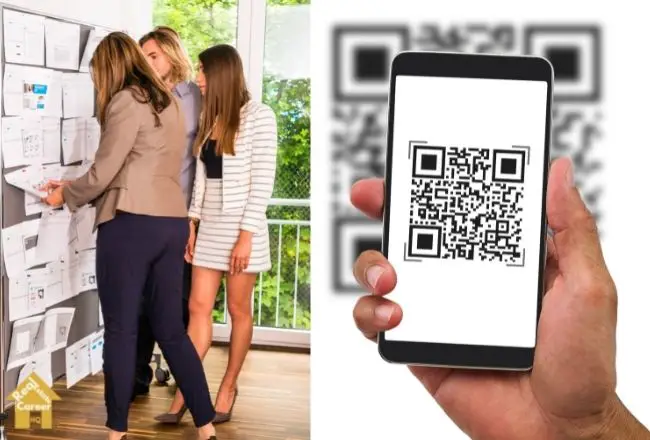 You can advertise your rental units on local bulletin boards. It's free and very effective. However, you must be careful with what kind of messages you put up. If you're going to use the "For Rent" sign, make sure it's clearly visible. Don't place it at an obscure location.
Consider placing it in high-traffic locations such as local libraries, community centers, colleges/universities, restaurants, bus stations, and the subway.
Most people no longer rip off the contact info from the posting. A better way is to use QR codes. These are small square images that contain links to websites. This allows prospective tenants to scan the QR code using their smartphones. Then they'll be taken directly to your website to view the listing. 
Another tip is to include photos. Photos help prospective tenants see if the apartment looks clean and well maintained. Though, you might need a color printer to make the posting stand out. 
Post the rental listing on your company's website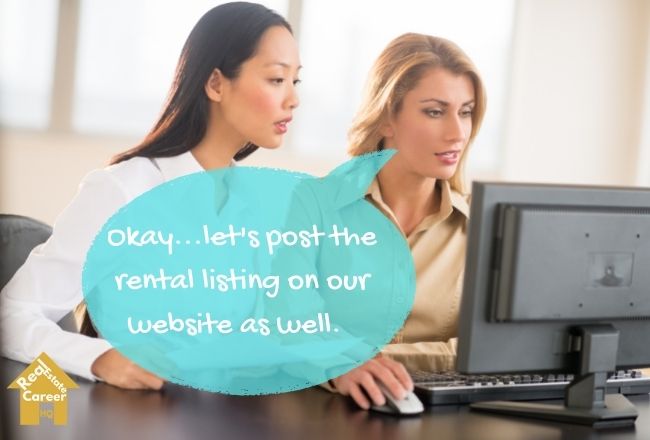 There is no question that many rental listing websites such as Craigslist and Zillow pull in millions of views to their listings every month, attracting thousands upon thousands of renters!
But you should also post the rental listing on your own website. After all, it is much less competitive than other sites, and your listings will not get lost in the crowded space. Since it is your own website, you can decide on the format, style, and customize it the way you want. 
Furthermore, mobile searches account for a significant portion of all online searches today, and Google even ranks mobile-friendly websites higher than those that aren't. So it makes sense to have a responsive site. 
To ensure that your site is mobile-friendly, you can check the Core Web Vitals report in the Google Search Console. 
Aweber has the push notification feature to send out messages to site visitors. The best is they do not even need to provide you with an email address. With just a simple click of consent, you can send them the notification regularly. Click here to learn more about Aweber. (**)
What to include in your rental listings?
Before you start putting up your rental listing, you should know what information you need to provide. Here are some of the most important things:
Location details
Rent price
Availability
Number of bedrooms and bathrooms
Size in Square footage
Parking availability
Available amenities
Proximity
Features of the property
Contact information
Here's another post I wrote on Writing a Compelling Rental Ad that Attracts High Quality Tenants. Be sure to check it out.
(**) Affiliate Disclosure: Please note that some of the links above are affiliate links, and at no additional cost to you. Our company, JCHQ Publishing will earn a commission if you decide to make a purchase after clicking on the link. Please understand that we include them based on our experience or the research on these companies or products, and we recommend them because they are helpful and useful, not because of the small commissions we make if you decide to buy something through the links. Please do not spend any money on these products unless you feel you need them or that they will help you achieve your goals.
Disclaimer: The information in this post is for general information only, and not intend to provide any advice. They are subjected to change without any notice, and not guaranteed to be error-free. Some of the posts on this site may contain views and opinions from individual not related to JCHQ Publishing. They do not necessarily reflect our view or position.
Reference: