(**) Disclosure: This post may contain affiliate links, meaning our company, JCHQ Publishing will get a commission if you decide to make a purchase through the links, but at no additional cost to you.
So you are new to the property management game, and you've finally landed on clients who allow you to take care of their rental listing. Now it's time to start marketing it!
It can be tough to know where to start when advertising rental property. How do you make sure that your ad catches the attention of potential tenants? It's crucial to make sure your ad catches their attention and also accurately reflects what your property has to offer.
To write an effective rental ad, property manager must:
Identify the targeted audience
Come up with a catchy ad title
Write a detailed property description
Describe the neighborhood
Take professional photos
Produce a video tour
List out rental's terms
Provide instruction to apply
In this blog post, I'll give you some tips on how to write an effective rental ad that will help you find the perfect tenant for your property. Once you've completed these steps, you'll be ready to publish your ads!
But before we start, I want to give a brief disclaimer. This post is not intended as legal advice or state/federal real estate training. It is for general information only. Please always follow your State laws and best practices.
So let's start and read on now!
Step 1: Identify the targeted audience of your rental ad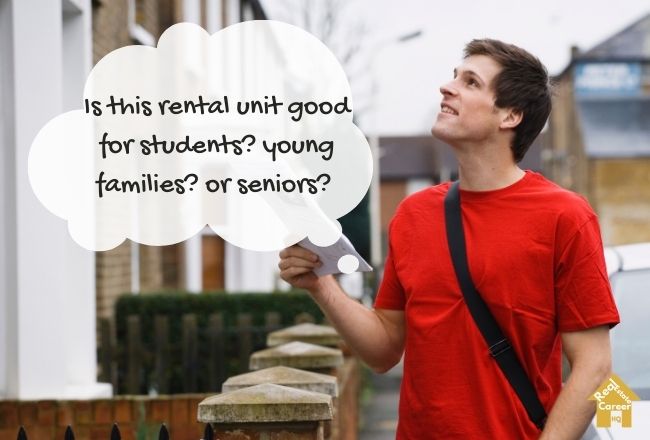 You should always have a clear idea of who you want to rent out your property to. If you don't, how will you know what to write in the ad? 
Keep in mind that a feature that could be appealing to a particular group of renters may be totally irrelevant to another. For example, college students may prefer rental units close to their college campus while entertainment such as shopping malls, cinemas, cafes, or pubs nearby could be a huge selling point.
On the other hand, families with children may not want these entertainment facilities to be too close to their homes. Some may prefer a more quiet neighborhood with schools, libraries, parks. Rental units with baby-proof features such as a stair gate and playset in the backyard could also be huge perks.
The point is: You need to think about who you want to attract before you begin writing your ad. This way, you'll be able to tailor your ad specifically to these individuals.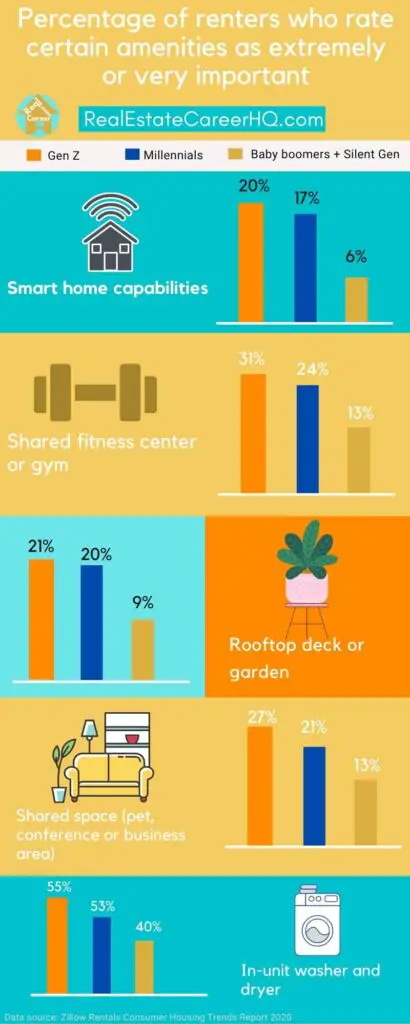 Step 2: Write a Catchy Rental Listing Title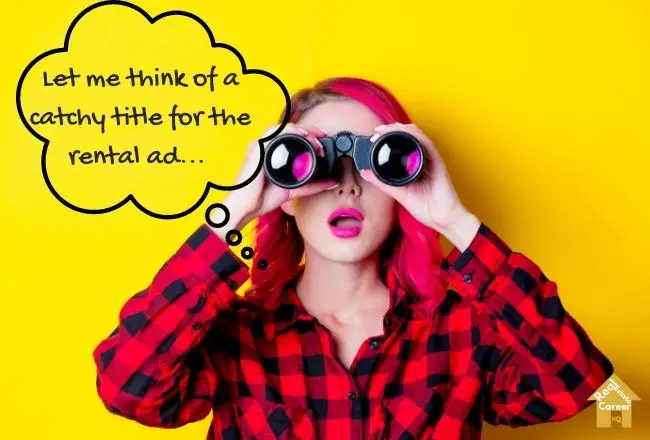 The first thing that will catch the eye of potential renters is the title of your listing. It should be catchy enough to get people clicking on your listing, but not so long or complicated that they don't want to read more about what you have available.
Here are some tips for writing a compelling rental listing title:
Include a location in your title. If possible, include the city name, state, and zip code. This makes it easy for renters who live nearby to see if there are any listings near them.
Make sure your title includes all of the information that potential renters need to know about your property. For example, if you're renting out a house with four bedrooms and two bathrooms, then your title should say something like "4 bedroom 2 bathroom detached house located at 123 Main Street."
Keep it short! Your title shouldn't be longer than 50 characters. Anything longer than that might confuse readers, making them less likely to click through to your listing.
After spending hours reviewing hundreds of rental listings, below is the format that I believe would be effective for drafting the title.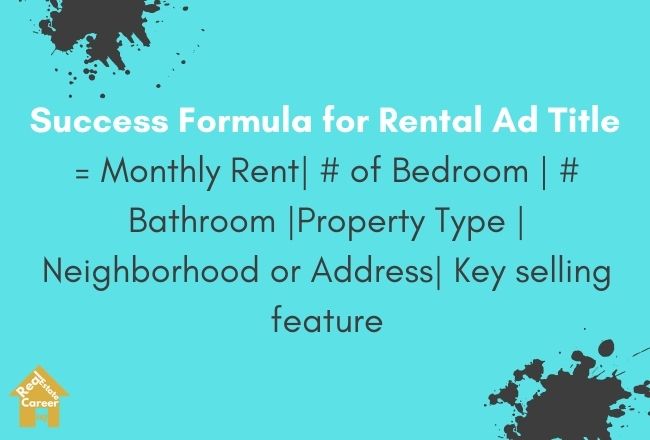 Here are some examples of rental listing titles I found on Craigslist:
$2,095 / 4br – 4BED, CAT FRIENDLY IN WOODLAWN!! 6210-16 DORCHESTER (Woodlawn)
$1,565 / 1br – Pet friendly unit with 24hr gym, sundeck, granite counters (Gold Coast)
$1,831 / 2br – 1000ft2 – Large Windows, Walk-In Closet, In Unit Laundry (Glendale Heights)
$1,390 / 2br – 900ft2 – Fully renovated spacious 2-bed, 1-bath, garden apartment (West Town)
As you can see, not every title would have the same order as I described, and they may not include all the details in the formula. But that's okay. As long as the ad viewer can have a clear idea about the core element of the property, then it's good enough.
By the way, most rental listings sites such as Zillow, Trulia, realtor.com, already require you to input the price, the number of bedrooms, bathrooms by default. This info will appear automatically in the headline. 
So you may focus your creativity on the enticing description. You can use descriptive words such as "newly renovated" or "gorgeous kitchen." Or you can add a personal touch by including something fun, like "perfect for couples" or "great for pets."
Step 3: Write a Detailed Property Description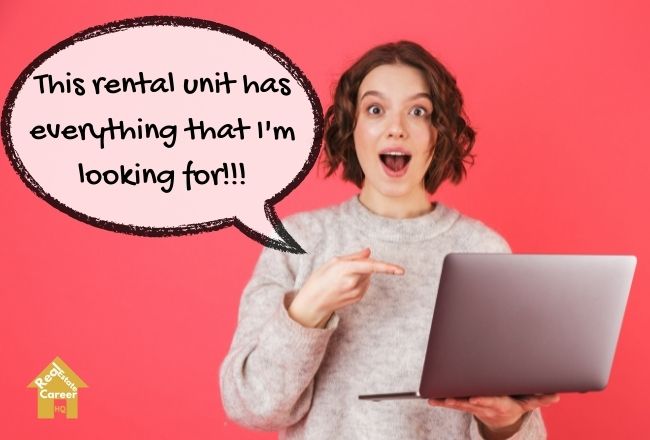 A good property description tells prospective renters everything they need to know about your listing without being too wordy. Here's what you should include:
Location – If you're advertising your property in a local newspaper, then this information should be included in the headline. However, if you've listed your property on websites like Craigslist, Zillow, Trulia, etc., then you can list the address here instead.
Size – In addition to describing the size of your property, including the number of rooms and square footage.
Features – Describe the features of your property, such as whether it has a pool, garage parking, or laundry facilities, security, property management services. Furthermore, more and more people are becoming more environment friendly these days. Renters would want the rental units to be highly energy efficient. This is especially important if they will be responsible for paying the utilities. (Here's an article on the type of green features people are looking for in a home and how to get the Green Designation.)
Amenities – Tell potential tenants what amenities are offered, such as Wi-Fi access or cable TV.
Price – The price of your listing should be clearly stated here. Also, include the amount of rent you charge per month.
Availability – This section lets potential renters know how many days or weeks you have left to rent your property. If you're renting a vacation home, then you probably want to leave this section blank.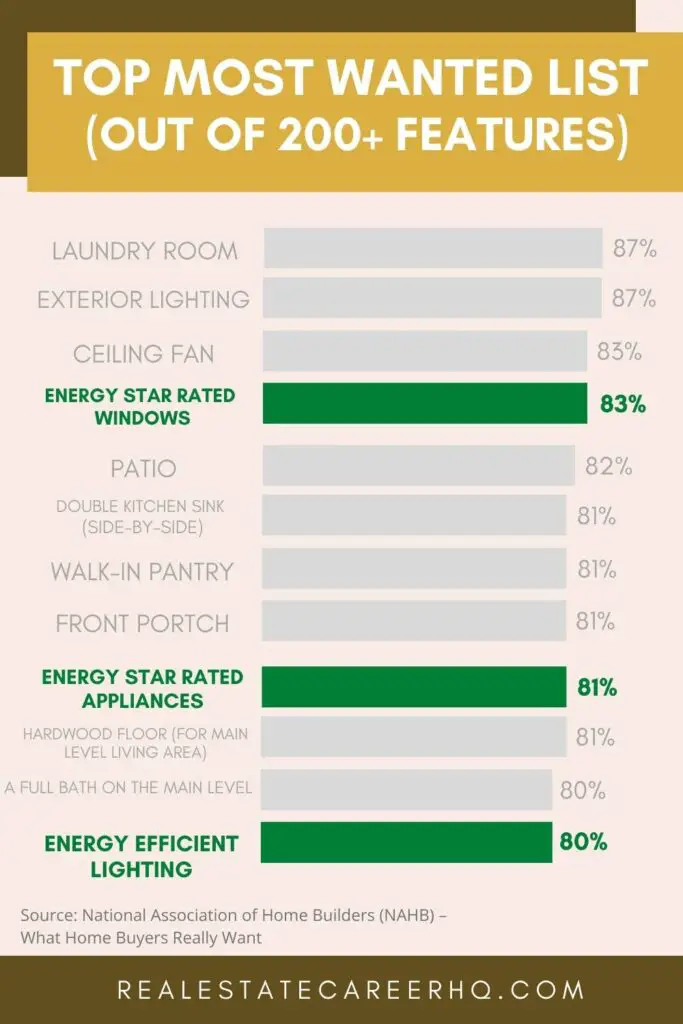 Step 4: Describe the Neighborhood
When prospective tenants are looking for a new place to live, they obviously want to know what kind of neighborhood they'll be moving into. Are there good schools in the area? community center and gym? medical clinic? pharmacy? grocery store, bank, post office, and library?
Will there be any public transportation? Or is the highway close to the property? What about entertainment, restaurant, and shopping options? 
Here are a few examples:
"Your location provides access to many eateries', shopping, entertainment and more. If you are a NYC commuter, this apartment is just a few short blocks to the Seastreak Ferry. Also close to bike trails, walking trails, beaches and more. "

Quote from Zillow.com
"Located in midtown Sacramento, Ca were everything is within walking distance or just a short bike ride away. We are also the home of 3 fantastic local businesses, Magpie Cafe, Orchid Thai, and Temple Coffee… There are ride share options including a Zip car station and bike rentals on 16th street.

We are located directly across from Fremont Park, minutes from our State Capitol, and walking distance to local markets, restaurants, and shops. Our community is growing and we are adding new amenities and features exclusive to 16 Powerhouse Residents." 

Quote from homes.com
Multiple rental listing sites would display neighborhood scores so prospective renters could better understand what they could be getting into. When posting your rental ads, consider one with such a feature.
Here's one from trulia.com.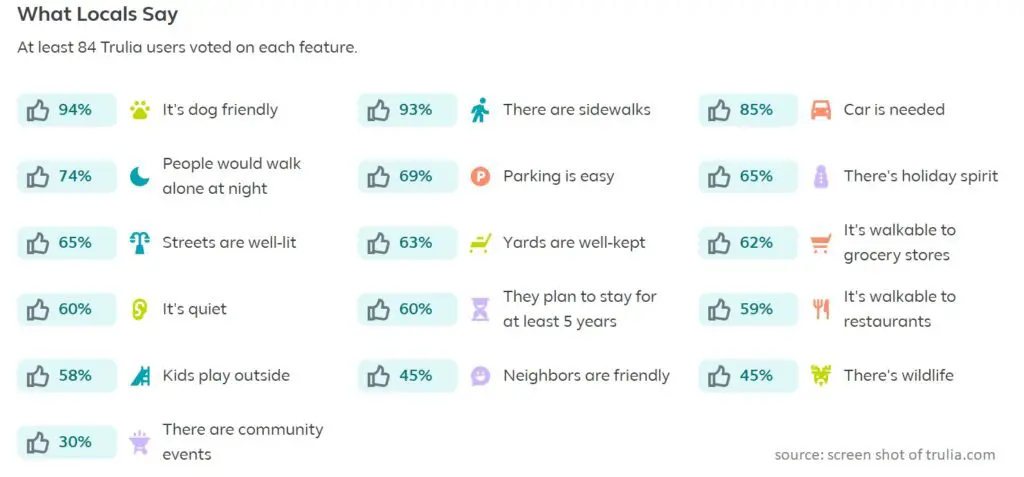 Buildium is a reputable cloud-based property management software. It allows property managers to receive rental applications automatically and post rental ads across multiple platforms all at once. If you want to streamline your property management business, be sure to check out Buildium. (**)
Step 5: Take beautiful photos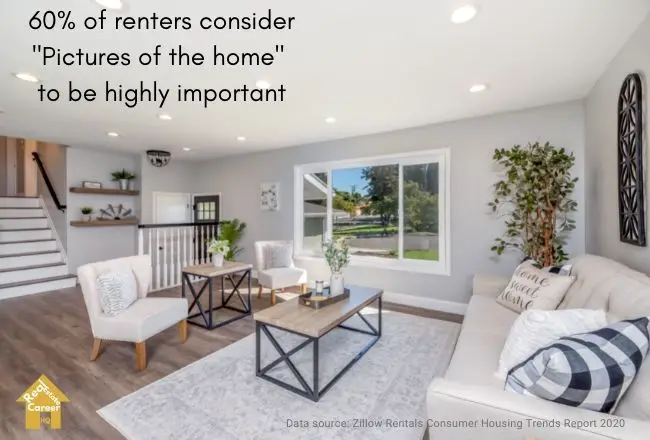 Photos are great ways to make your rental ad stand out, among others. You don't necessarily need professional photography equipment to take great pictures. All you really need is a camera with an autofocus function and a tripod.
Here are some tips for taking great photos:
Open blinds and curtains. Use natural light whenever possible as it gives off the best results.
Make sure your subject isn't blurry. Try using a wide-angle lens to capture more of the scene.
Don't forget to shoot from different angles. Some people prefer one side over another.
Take lots of shots. Tenants will love seeing multiple views of your property.
Mirrors should be avoided since they can create a confusing view. Also, double-check to see whether you or other people are in any photographs.
Keep your settings simple. Choose between a few basic settings, including shutter speed, aperture, ISO, white balance, and exposure compensation. Make sure your photos have a minimum of 300 x 500 pixels: 600 x 800 is even more preferable.
Add text to your photos. It helps readers understand what's going on. For example, "This could be your kitchen, where you cook and bake for your family."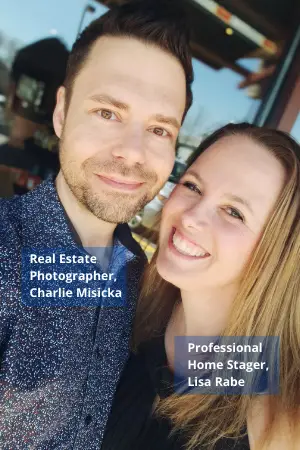 Photo tips from real estate experts
"A living room really needs to feel comfortable but also fashionable.  Remove all clutter from surfaces and add softness to your chairs and couches by putting fresh pillows and throw blankets out with a pop of color." – Lisa Rabe, Real Estate Girl Guru.
"Lighting is a very key point in photography and can sometimes make or break a shoot… I will use natural light anytime I can as it makes photos look 100X better than a flash, but I supplement the natural light when needed with flash." – Charlies Misicka, Real Estate Photographer
If you want to know how to prepare awesome real estate photos, here's exclusive an interview you cannot miss! In there, Lisa and Charlie will share with you their hands-on experience and practical tips to take beautiful photos for a property.
How to take photos when the property is occupied?
If the property is currently being rented, you might want to wait until after the tenant moves out. That way, you won't disturb anyone while you're snapping away.
However, sometimes property owners may want to shorten the vacancy period and get a head start in finding the next tenants. So the photos would need to be taken while the rental unit is occupied.
In such a scenario, you should give proper advance notice to the current tenants in scheduling the photos shooting. It's better to ask them to declutter the house. For privacy reasons, store away any confidential or sensitive items such as bank statements, credit cards, or family photos if they do not want to appear on the rental listing. 
Admittedly, this could require some preparation from the tenants. So a gift card as a token of appreciation would be a good idea. 
What if the property is vacant?
An empty property may not look good in photos. To give the ad viewers a sense of what living in the rental unit would be like, sometimes, it's better to display some furniture.
However, unlike selling a property that involves a lot of money in the transaction, staging a rental might not make economic sense. 
An alternative way is to do a virtual staging. With that, you may add furniture such as bed, sofa, cabinet, TV to make the place look lived-in. You may also add a picture frame, a lamp, and a plant that makes the place feel inviting. 
Some states may require you to disclose that the property is being virtually staged, so make sure you comply with the state laws accordingly. 
(If you want to know more about virtual staging, here's another blog post for you.)
Step 6: Videos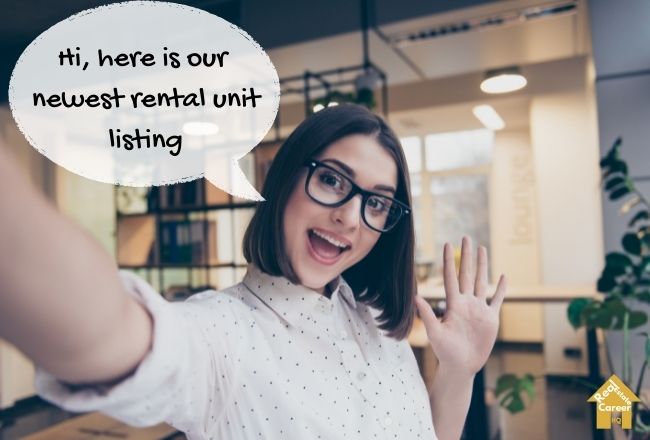 Videos are also very effective at attracting attention. People love watching videos online. In fact, according to Google, YouTube gets 2 billion unique visitors each month.
There are several components your video should capture for rentals:
Exterior of the property: This can include the front door, windows, garage, driveway, lawn, pool, and backyard. You may also use a drone to capture aerial images of the property. Or you can use an HD camera mounted on a tripod to show how the home looks from above.
Interior of the property: This includes the living room, bedrooms, bathrooms, kitchens, laundry rooms, etc. Describe the layout of the house, the size of each room, the condition of appliances included, and the key features of the rental unit. 
Rather than having a boring clip with no human interaction, you can start by filming yourself walking through the house. Then, add additional footage as you go along.
If you are uncomfortable going in front of the camera, at the very least, you should include narration. 
Showcasing the neighborhood:
You can film yourself driving down the street, exploring the surrounding areas like parks, restaurants, shops, libraries, grocery stores, schools, banks, post offices, medical clinics, community centers. 
You don't need to produce a new one for each rental property. If you have been a property manager for some time, chances are many of your managing properties would be from the same neighborhood. 
So just simply link all the videos for the rentals to the neighborhood-specific clip when appropriate. 
Step 7: List out terms and restrictions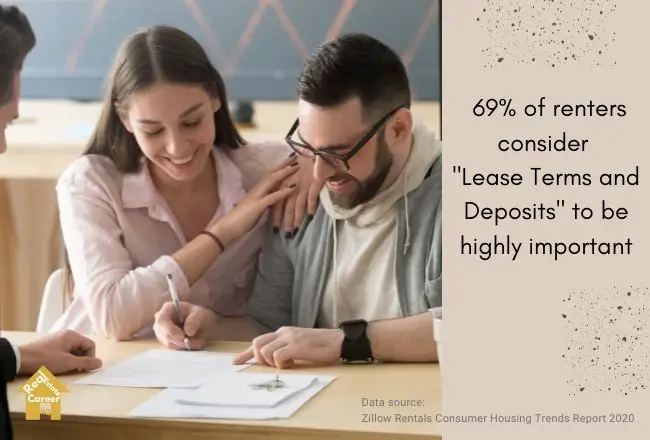 You don't want to attract any tenants but rather those who fit into your criteria. Therefore, it is best to list out the terms and conditions beforehand. Of course, you wouldn't be able to list out every term of the lease agreement on the rental ad. 
But you should list the common ones that are crucial to most prospective tenants – for example, the lease duration (when is it available?), the monthly rent (when and how will it be collected?), renters' insurance, security deposit, application fee. 
You should also specify any restrictions:
No pets allowed.
No smoking inside.
No loud music after 10pm.
No parties.
No illegal activities.
Although listing out some of the key terms can help filter out unfitted candidates, make sure they do not violate the Discrimination clause in the Fair Housing Act. 
The Fair Housing Act prohibits discrimination in housing because of:
Race
Color
National Origin
Religion
Sex
Familial Status
Disability
Step 7: Instructions to apply
Now, some prospective tenants could show interest in the property. The next step is to provide instruction on how to submit a rental application. 
You could provide them with a link to fill out the rental application, and they can provide information such as name, occupation, income, references. 
You may charge them an application fee since you will likely check their credit report, which requires an additional fee. 
But there could be state laws restricting the amount you charge. So make sure you specify whether it is refundable or not if they are not selected.
Some viewers could be skeptical about the validity of the rental ad. You may also include your name, company, phone number, email address, and website URL in the last paragraph of your property description. This way, they can have more reassurance that they are dealing with a legit property management company. They can also contact you for any inquires about the property. 
After you receive rental applications, it's time to carefully review them one-by-one. Here's another blog post with the steps in selecting the RIGHT tenant.
Infographic: Helpful Word Choices that Make Your Rental Ad STANDS-OUT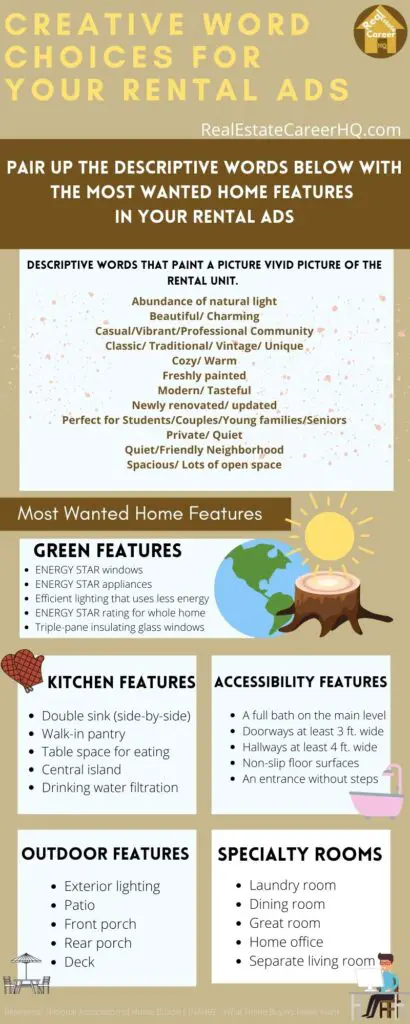 Here are more incredible resources to fill your vacant units QUICKLY:
Buildium is an ALL-in-ONE property management software that allows you to manage rental applications, maintenance requests, payment collections, tenant screening, showings coordination, property inspections, renter insurance, and many more. It also provides you with a professionally designed website so you can effectively build your brand. If you want to streamline your property management business, you must click here to check out Buildium. (**)
(**) Affiliate Disclosure: Please note that some of the links above are affiliate links, and at no additional cost to you. Our company, JCHQ Publishing will earn a commission if you decide to make a purchase after clicking on the link. Please understand that we include them based on our experience or the research on these companies or products, and we recommend them because they are helpful and useful, not because of the small commissions we make if you decide to buy something through the links. Please do not spend any money on these products unless you feel you need them or that they will help you achieve your goals.
Reference: