(**) Disclosure: This post may contain affiliate links, meaning our company, JCHQ Publishing will get a commission if you decide to make a purchase through the links, but at no additional cost to you.
It's no secret that the environment is a hot topic these days. The EPA has declared climate change to be one of the most pressing environmental issues we face today! Government across many different countries are implementing policies and allocating great resources to reduce carbon footprint. If you follow investment news, you will see the term "Social Responsible Investments" appearing everywhere.
According to the Environmental and Energy Study Institute (EESI), residential and commercial buildings are responsible for almost 40 percent of U.S. carbon dioxide emissions – this includes energy consumption on lighting, heating, cooling, and appliance operation.
So we all know that going green is important in various ways – from water conservation, recycling, energy efficiency, and more! With this in mind, many real estate professionals are wondering whether or not they should become a green real estate agent and how a green approach comes into play?
A Green Real Estate Agent holds the Green Designation issued by the National Association of REALTORS and is also an active member of the Green REsource Council. The role includes educating homebuyers about the benefits of going green. This way, clients are well informed when making decisions on renovations or purchasing new homes, which can positively impact their carbon footprint and reduce energy bills!
In this blog post, I'll focus on exploring:
Why does a green property good for homeowners?
Is going green good for your real estate business?
How to obtain the Green Designation?
Ways to incorporate green into your daily business activities
Ideas to make a property eco-friendly
Why is green real estate good for property owners?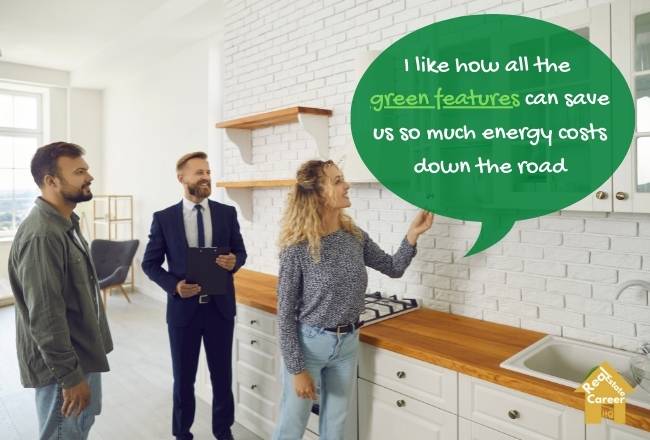 The LEED certification is a voluntary rating system that assesses the design and construction of high-performance green properties.
According to the U.S. Green Building Council (USGBC), LEED-certified homes could use 20% to 30 % less energy than non-green homes. Some homes saving could be even up to 60%!
Furthermore, LEED-certified homes are designed to provide clean indoor air and maximize the usage of natural light and safe building materials to ensure the comfort and good health of residents.
If you rent out the property, these cost savings and health benefits enhancement could be very appealing to the tenants. So you could attract more high-quality tenants, have lower vacancies, and may even be able to charge a premium on the rents.
Well, you may be wondering, will building a LEED home be more costly than non-green ones. Actually, with proper planning, LEED homes can be built for a similar cost as non-green homes.
The reason is many government programs are offering tax breaks and other incentives for green properties. So if you take them into account, the building cost may not necessarily be higher. In fact, some insurance companies are offering discounts for LEED homes!
Though there may not be extra building costs, in many markets, green-certified homes are now selling faster and for a greater price than comparable non-green homes. This is wonderful news for homeowners who might want to sell or refinance their properties down the road.
Do homebuyers really demand a green home?
Yes, green homes have many benefits, but do home buyers really desire them? Let's look at the report, What Home Buyers Really Want 2021 Edition, conducted by the National Association of Home Builders.
In this study, they did a nationwide survey with 3,247 recent and prospective home buyers.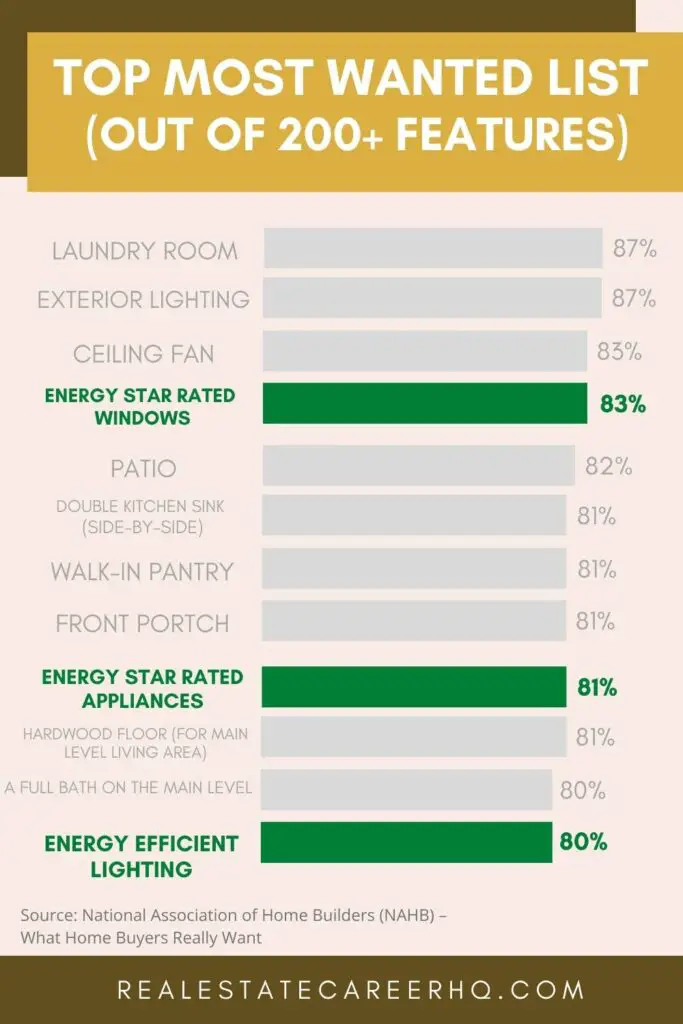 Out of 200+ features, there were 12 that most respondents said to be essential or desirable. And of which, 3 of them are related energy-efficient:
ENERGY STAR rated Windows 83%

ENERGY STAR rated appliances 81%
Energy-efficient lighting 80%
If we narrow the list to the top 5 most wanted green features, besides the above, you'll also find the following to be essential/must have/desirable:
ENERGY STAR rating for whole-home 79%
Triple-pane insulating glass windows 73%
Actually, exterior lighting (87%) is on the top of the most-wanted list, but somehow it isn't included in the Green Feature list. 
I'm guessing although exterior lighting can save the lighting costs and keep the house warm during the winter. But one may need to turn on air condition more often during the summer as exterior lighting could really heat up the house. (Well, this is what has been going on at my home.)
Yes, going green is great, but are home buyers willing to pay a premium for it?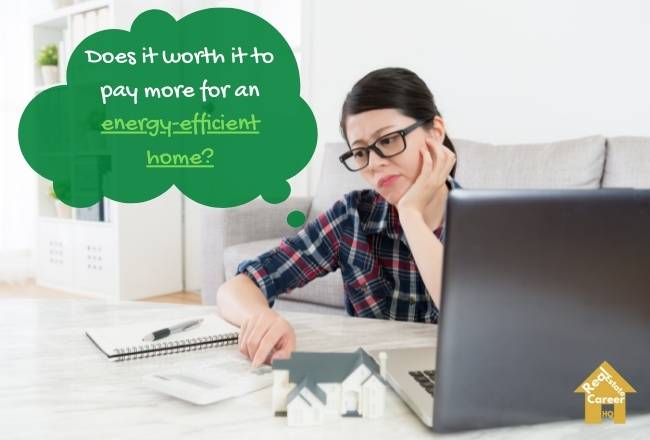 Well, this is just a guess because this is what is going on at my home. 
In the same NAHB report, 78% of buyers showed concerns that their building has on the environment, but only 15% are actually willing to pay more for a home to be "environment friendly."
In other words, although the green concept is fantastic, it needs to be justified by actual cost savings. According to the study, 57 percent of homebuyers are willing to pay $5,000 more over the home's price in order to save $1,000 each year on utilities.
Also, not all home buyers are aware of the different green home certification programs. ENERGY STAR is the most widely recognized program known to 73% of buyers (73%).
Here are some professional insights from a Certified Residential Real Estate Appraiser on Green homes.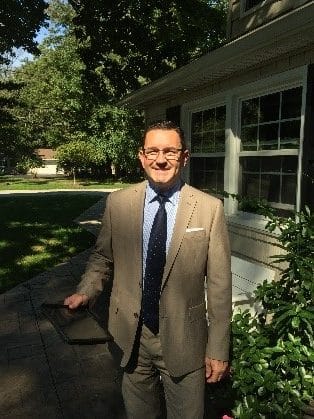 "I have appraised some homes where there having a "Green" certification has made a difference. I have also appraised homes where I didn't see any major contributory value. There are several types of certification programs. For instance, there is LEED and ENERGY STAR.
I have appraised homes that had certifications from these two. I think it often depends on the market and what is important to prospective buyers. When it comes to value, there is a lot to consider including short term vs. long-term return on investment.
Sometimes, it takes many years to see a return on the investment for spending the additional money to build a "Green" home or to convert an older home into one.
When appraising "Green" homes, there are a lot of things to consider. HVAC systems, insulation ratings and other building materials including windows and doors as well as mechanical systems.
When it comes to solar panels, it is important to know the type of panels they are, how they operate and if the solar panels are being leased or are they owned by the owner. There's a lot to consider when it comes to homes that are "Green" rated.
Due to the rapid rise in energy prices, I do believe that there is a growing trend towards the desire to buy energy efficient homes. I have noticed a growing number of homes that offer energy efficient ratings."
– Jamie Owen, Certified Residential Real Estate Appraiser at Aspen Appraisal Services
(On a separate note, here's an interview I had with Jamie, where he shared how he started in the real estate appraisal field and his view on the outlook of this profession.)
The NAR's Green Designation can be helpful to your real estate practice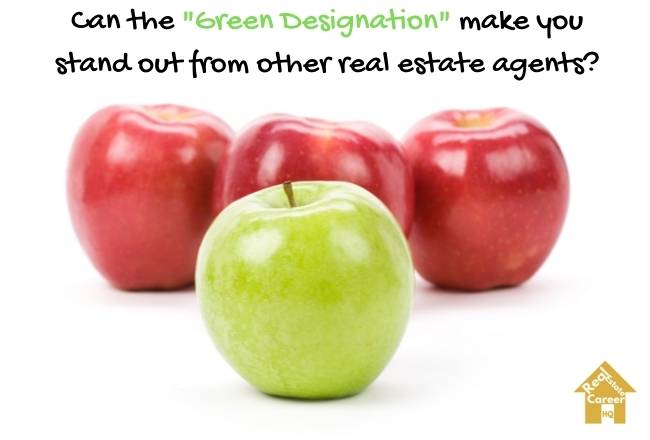 The National Association of REALTORS offers a Green Designation to its members. It equips you with the knowledge that helps clients make informed choices about energy efficiency, performance, and the value of green features of the homes they live in, sell and buy.
Once you obtain the NAR's Green Designation, you'll automatically become a member of the Green REsource Council. This membership will grant you access to ongoing education, up-to-date green resources, and professionally crafted marketing tools that you can share with your clients. So your clients can immediately think of you when it comes to finding green homes.
According to the Bureau of Labor Statistics, there are 518,800 real estate sales agents and brokers in the U.S. But as I checked in the Green Designee directory, there are only 4113 green designees.
Although I don't think clients would pay extra commission in hiring a Green REALTOR, having the green knowledge and designation certainly set you apart from the competition, thus leading to more business opportunities.
After all, would you choose a REALTOR that has gone through professional training and is able to show you how to make a home more energy efficient? Or just a random sales agent in a newspaper ad?
You will not be seen as a salesperson who only closes sales, but someone who offers valuable advice to clients.
NAR green designation is a certification program that helps real estate agents get their clients to buy and sell environmentally friendly homes. It's a great way to stand out from your competition, increase your client base, and earn more money. Here is the 2-courses bundle in getting the Green Designation. (**)
How to obtain the Green Designation?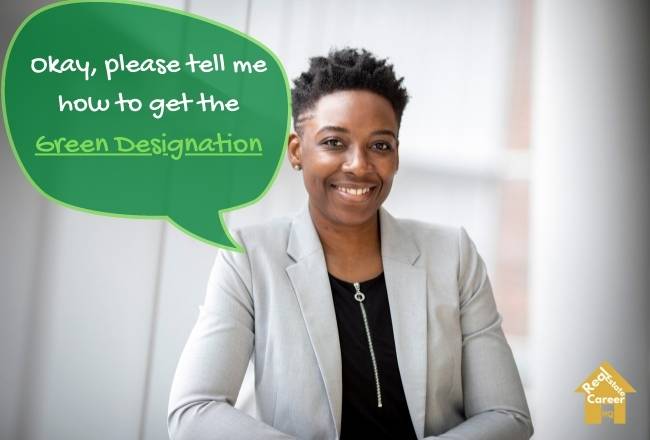 To obtain the NAR's Green Designation, you must complete the two one-day courses, be an active member in good standing in Green REsource Council and NAR.
The two courses are:
NAR Green Day 1: The Resource-Efficient Home

Day 1 defines resource-efficient home features, smart home technology, and green home certifications like Energy Star or LEED. You'll also examine how homeowners can improve the resource efficiency of their home—from low-cost fixes to big-budget remodels—and the value REALTORS® can bring to the design and build teams of new-construction green homes and existing properties.

NAR Green Day 2: Representing Buyers and Sellers of Resource-Efficient Homes

Day 2 provides practical ways to apply your knowledge of green housing trends in your local market; explores how green lifestyles and values—such as affordability and walkability—impact consumer decisions; and shows you how to build an effective team of experts to help you better represent buyers and sellers of green homes." Quote from Green.Realtor – Green Course Overview

Quote from

Green.Realtor – Green Course Overview
The two courses include a one-year membership fee of the Green REsource Council and will start once you complete the courses. The annual renewal fee is $98.50.
Click here to learn more about the NAR Green Courses. (**)
An infographic with helpful tips to make a property more eco-friendly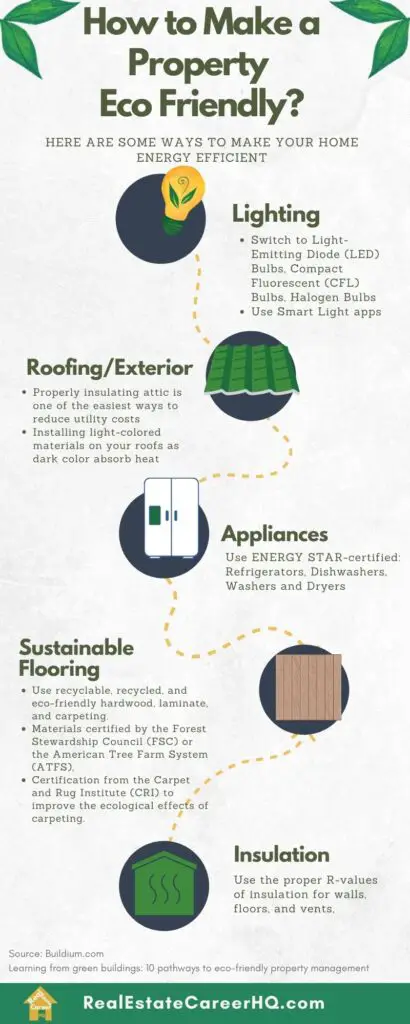 I found the above tips from Buildium, a cloud-based property management software company, in their article: Learning from green buildings: 10 pathways to eco-friendly property management.
In that piece, they also talked about energy savings ideas related to HVAC, windows, foundation/site, water fixtures/faucets, renewable energy.
Anyway, I'll leave the link to the article in the reference section, so you may check it out if you want.
What else can you do
to make your real estate practice "greener"?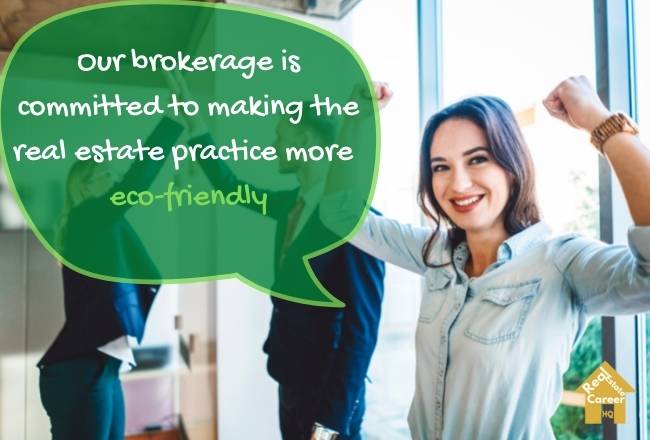 If your clients are looking for green homes, it's reasonable to assume that many of them are keen on the concept of becoming environmentally friendly. You don't want to be seen as a hypocrite, educating clients on the importance of protecting the environment while generating a load of carbon emissions during the sales process. 
Here are some ways you can make your real estate practice greener:
Adapt with digital documents

Rather than wasting paper in printing out documents, you can share and store all of them electronically. Many sales agents are already using apps such as DocuSign for their clients to review and sign contracts.

Opt for e-statements

This includes statements for your bank account, credit card, insurance policy, utilities bills, property tax, phone and internet.

Conduct virtual meetings whenever possible

Platforms such as Cisco WebEx, Zoom are popular ones, and you may even do screen sharing with your clients.

Use online marketing campaign

Advertising on traditional printed media consumes tons of paper, and many of them just end up in the recycling bin. If you are looking for a more strategic and environmentally friendly way to target your audiences, you may consider online ads on Facebook, Google, YouTube, or email marketing.

Partner with like-minded professionals

Other professions are also gradually adapting to the green concept – for example, mortgage brokers, eNotary, real estate attorneys, appraisers. It's great to work with other real estate professionals who hold the same value to protect the environment.

Drive an eco-friendly car

As a real estate agent, you will be on the road a lot. The next time you're getting a new car, consider an electric one, a hybrid, or at least one that uses less fuel.

Electronic greeting

With all the smartphones and tablets, many people no longer hang a paper calendar at their homes. If you want to stay on top of your client's minds, consider keeping in touch with e-newsletters. Rather than mailing out holiday and thank you cards, sending them a quick 10 seconds personally recorded video will just be as memorable.
Looking to succeed in the real estate industry? Subscribe to our exclusive email list today and gain access to expertly curated real estate guides from industry leaders, as well as discounted CE courses and the latest industry updates. From marketing strategies to virtual staging techniques, our handpicked resources cover everything you need to know to stay ahead of the game. Click here for more details!
Reference:
Buildium – Learning from green buildings: 10 pathways to eco-friendly property management (

source

)

World Green Building Trends 2021 (source)
Environmental and Energy Study Institute (EESI) – Buildings & Built Infrastructure (source)
USGBC
Building Codes Building Communities – Home Buyer Demand for Energy Codes (source)
National Association of Home Builders (NAHB) – What Home Buyers Really Want (source)
NAR's Green Designation (source)
realtor.com – What is a Green Real Estate Agent? (source)
Bureau of Labor Statistics – Real Estate Sales Agents and Brokers (source)
Spokanecity – Indoor Conservation (source)
(**) Affiliate Disclosure: Please note that some of the links above are affiliate links, and at no additional cost to you. Our company, JCHQ Publishing will earn a commission if you decide to make a purchase after clicking on the link. Please understand that we include them based on our experience or the research on these companies or products, and we recommend them because they are helpful and useful, not because of the small commissions we make if you decide to buy something through the links. Please do not spend any money on these products unless you feel you need them or that they will help you achieve your goals.
Disclaimer: The information in this post is for general information only, and not intend to provide any advice. They are subjected to change without any notice, and not guaranteed to be error-free. Some of the posts on this site may contain views and opinions from individual not related to JCHQ Publishing. They do not necessarily reflect our view or position.