(**) Disclosure: This post may contain affiliate links, meaning our company, JCHQ Publishing will get a commission if you decide to make a purchase through the links, but at no additional cost to you.
So you're thinking about becoming a real estate agent? That's fantastic! It could be a fulfilling career where you get to meet different people and see different properties all the time.
But do you know how much do real estate agents make on average? After all, we get bills to pay and need to fulfill financial responsibilities to our family.
Before you begin, you need to evaluate whether the time and effort you are going to invest can be justified by the earning potential of running a real estate business.
We feel for you, so we took the time to conduct in-depth research, hopefully, could give you a better insight about the real estate career.
In this article, we will uncover the real estate agents salary info, how will you get paid as a real estate salesperson, and what are the factors that could significantly affect your earning.
When choosing a real estate school, I prefer one where you could take the courses online. This way, you could study at your own pace whenever and wherever. The CE Shop is a trustworthy real estate education provider. You may click here to see whether they offer pre-licensing course in your state. (**)
How do Real Estate Agents Get Paid?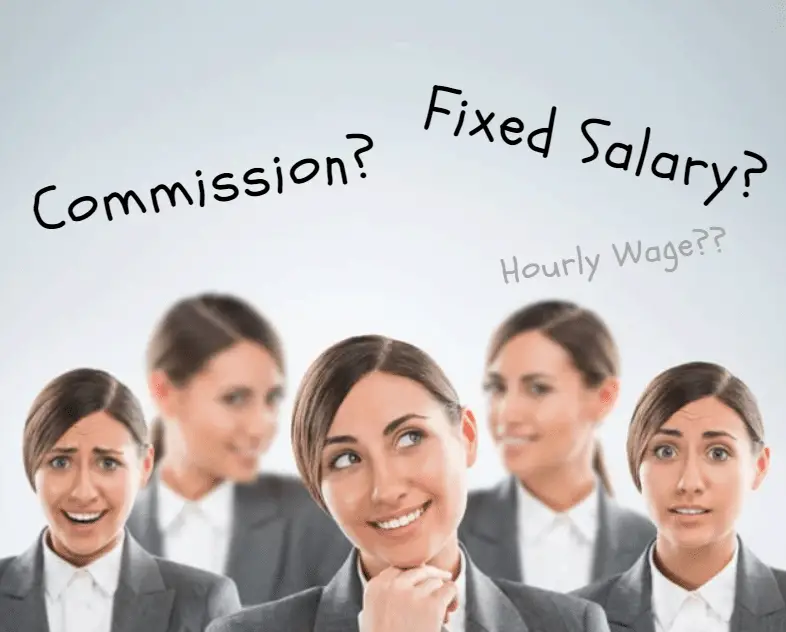 Before we jump into how much a real estate agent can make, let's go through what is the actual payout model in this industry first.
Just to clear off, unlike being a 9 to 5 employee, you won't receive a fixed salary in being a real estate agent.
Real estate agents are compensated with a commission for every successfully completed real estate deal. The commission will be based on the value of the property, the split between brokerages and your real estate broker.
(But for easier reading, we will use the word "salary" throughout the articles, but what we really mean it's the sales agent income generated from commissions.)
[Read: Do Real Estate Agents Get Benefit?]
Illustration on the Commission a Real Estate Agent Could Make in a Deal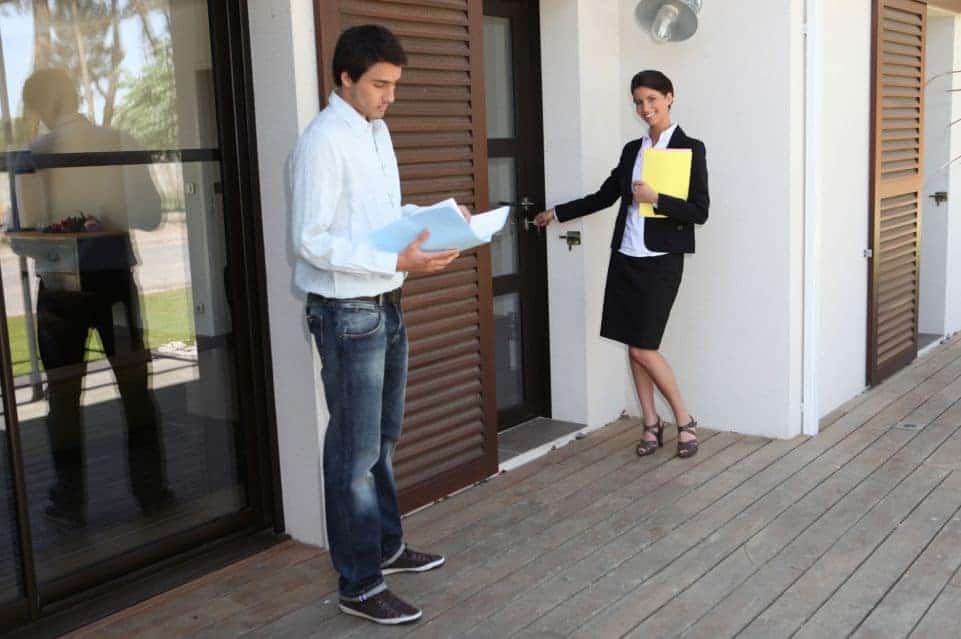 To give you an example, suppose you sell a house for $1,000,000, and the agreed upon commission rate is 6% from the sellers, then the total commission generated will be $60,000.
It is a pretty good chunk of money for just one deal. However, the reality is you only get to keep a portion of it.
Commission Sharing Between Real Estate Brokerages
Typically speaking, the buyer's agent brokerage will get half of it. This is to compensate for their work in bringing in the qualified buyer, which leave ($60,000 divided by 2=) $30,000 on the table.
Commission Split Between Your Real Estate Broker
Then you would need to split the remaining with your real estate broker because they have been providing support to you (i.e., admin, training, marketing, etc.)
Suppose your split is 50/50, then you'll end up with ($30,000 X 50%=) $15,000 of commission.
Every Real Estate Transaction Would Incur Expenses
There would be expenses on every deal — for example, the advertising fees to market the property, transportation costs to the house and meeting clients.
Depending on how you negotiate with the client, in some instances, you might need to take care of part of the home staging costs. All these could add up to a few hundreds or even thousands of dollars.
However, even if you allocate $5000 into a deal like this, you'll still leave with $10,000. If you can close one deal like this per month, then you'll be earning six figures of income.
What is a Typical Commission Split for Real Estate Agents?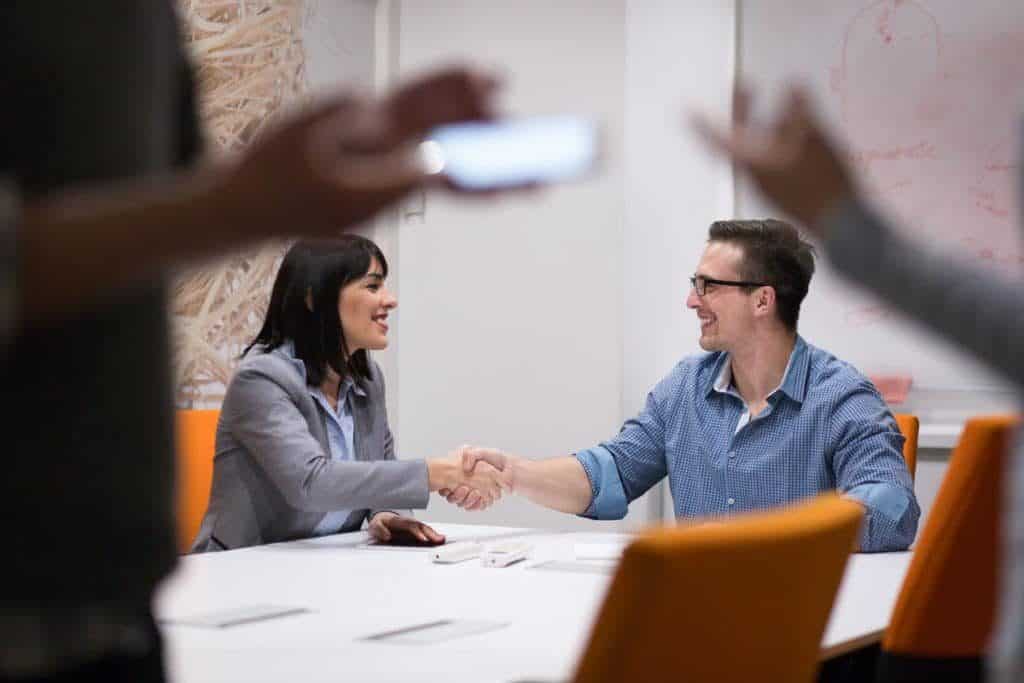 Some agents may start off with 50/50 split, and then the ratio would improve when you meet a certain sales volume.
The commission split also depends on the level of services your broker is providing to you, and whether you find it worth it. Therefore, the splitting is negotiable between you and your broker.
Keller Williams Realty, a reputable and highly recognizable franchise real estate firm. The splitting schedule with 70/30, where you'll receive 70% as the sales agent. In addition, they will charge a 6% franchise fee (up to $3000) for each transaction.
What is the Average Annual Income for a Real Estate Agent?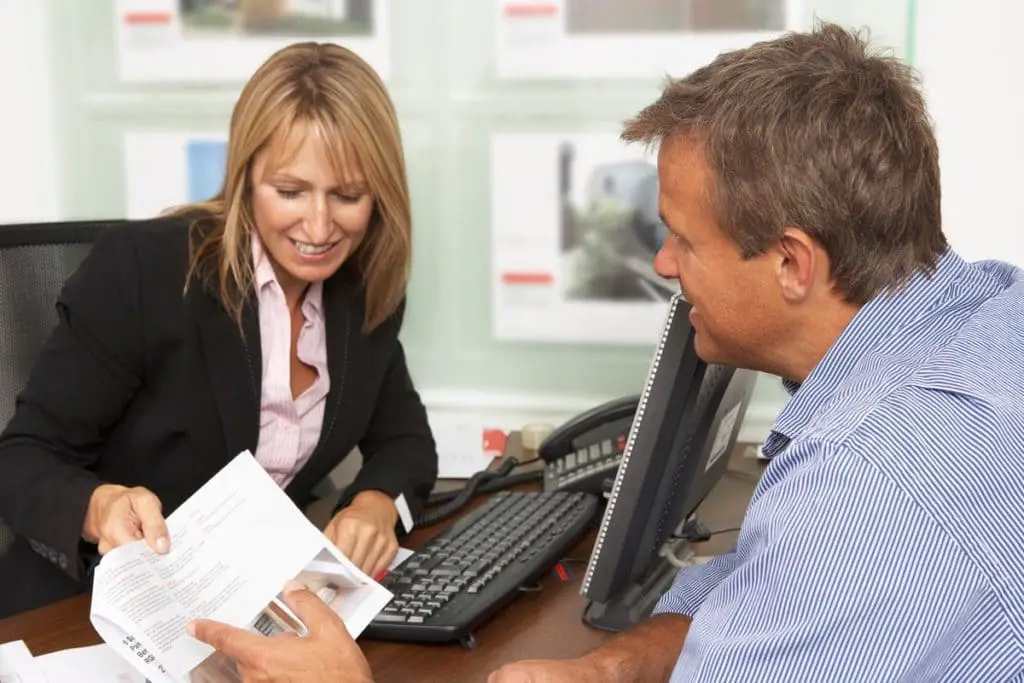 According to the Bureau Labor of Statistics (May 2017), real estate agents have an average salary of $59,630. There are 147,960 real estate sales associate across the US.
Real Estate Agents Average Salary in Different States
| State | Annual mean wage | Number of Employed Real Estate Agents | Employment per 1,000 jobs |
| --- | --- | --- | --- |
| Alabama | $55,960 | 860 | 0.449 |
| Alaska | $71,030 | 200 | 0.629 |
| Arizona | $62,690 | 3340 | 1.236 |
| Arkansas | $41,660 | 780 | 0.650 |
| California | $68,860 | 10380 | 0.622 |
| Colorado | $63,320 | 4050 | 1.584 |
| Connecticut | $45,230 | 630 | 0.382 |
| Delaware | $46,670 | 520 | 1.174 |
| District of Columbia | $68,140 | 620 | 0.881 |
| Florida | $57,520 | 17750 | 2.108 |
| Georgia | $46,220 | 11170 | 2.596 |
| Hawaii | $72,470 | 280 | 0.441 |
| Idaho | $55,790 | 730 | 1.061 |
| Illinois | $59,010 | 3630 | 0.612 |
| Indiana | $43,230 | 2340 | 0.777 |
| Iowa | $49,900 | 790 | 0.515 |
| Kansas | $46,640 | 740 | 0.542 |
| Kentucky | $47,220 | 1900 | 1.012 |
| Louisiana | $54,100 | 1120 | 0.589 |
| Maine | $60,220 | 300 | 0.505 |
| Maryland | $57,470 | 2430 | 0.913 |
| Massachusetts | $61,670 | 2540 | 0.721 |
| Michigan | $46,880 | 2150 | 0.503 |
| Minnesota | $48,250 | 1910 | 0.673 |
| Mississippi | $50,110 | 760 | 0.677 |
| Missouri | $50,400 | 2060 | 0.740 |
| Montana | $42,010 | 420 | 0.902 |
| Nebraska | $46,340 | 660 | 0.685 |
| Nevada | $59,240 | 1630 | 1.242 |
| New Hampshire | $48,530 | 310 | 0.480 |
| New Jersey | $58,690 | 2340 | 0.585 |
| New Mexico | $53,240 | 1000 | 1.250 |
| New York | $102,310 | 4960 | 0.539 |
| North Carolina | $61,580 | 5170 | 1.203 |
| North Dakota | $57,060 | 350 | 0.846 |
| Ohio | $41,650 | 5980 | 1.113 |
| Oklahoma | $49,380 | 3670 | 2.333 |
| Oregon | $55,500 | 640 | 0.350 |
| Pennsylvania | $66,550 | 5890 | 1.019 |
| Puerto Rico | $59,790 | 450 | 0.510 |
| Rhode Island | $70,450 | 150 | 0.308 |
| South Carolina | $52,070 | 4500 | 2.238 |
| South Dakota | $57,110 | 340 | 0.800 |
| Tennessee | $45,960 | 1660 | 0.570 |
| Texas | $72,480 | 15770 | 1.327 |
| Utah | $62,050 | 1600 | 1.134 |
| Vermont | $47,990 | 80 | 0.265 |
| Virginia | $64,290 | 6880 | 1.816 |
| Washington | $59,590 | 7800 | 2.449 |
| West Virginia | $45,220 | 410 | 0.592 |
| Wisconsin | $54,820 | 1580 | 0.560 |
| Wyoming | $64,500 | 160 | 0.584 |
As you could see in the data, New York has the highest average salary for real estate salespersons ($102,310), followed by Texas ($72,480), then Hawaii ($72,470).
Florida has the most employed real estate sales agent (17,750), followed by Texas (15,770), and Georgia (11,170).
While Georgia, Washington, and Oklahoma have the greatest concentration of sales associates.
(By the way, you could use the sorting features of the table, or use the search box to find the state you want to get the license. When you click on the link on the State Name, it will direct you to the page with the info about the real estate career in that specific state.)
What is the Hourly Wage for a Real Estate Agent?
The average hourly wage for a real estate agent is $28.67. But as explained before, you won't be receiving a fixed hourly payout. Rather this figure is calculated by taking the average annual commission divided by the number of work hours.
Your business activities are not limited to just completing real estate transactions. You also need to account for the time you spend on prospecting clients, networking with referral partners, training, and taking continuing education classes.
Earning Gap Among Real Estate Agents
The earning differential of Real Estate Sales Associates is gigantic. Some agents are making only a few thousand dollars per year, while high producers could be earning over $250,000.
| | | | | | |
| --- | --- | --- | --- | --- | --- |
| Percentile | 10% | 25% | 50% | 75% | 90% |
| Annual Wage | $23,130 | $31,180 | $45,990 | $71,950 | $109,490 |
To give you a better understanding, let's take a look at another report conducted by the National Association of Realtor (NAR) in 2018.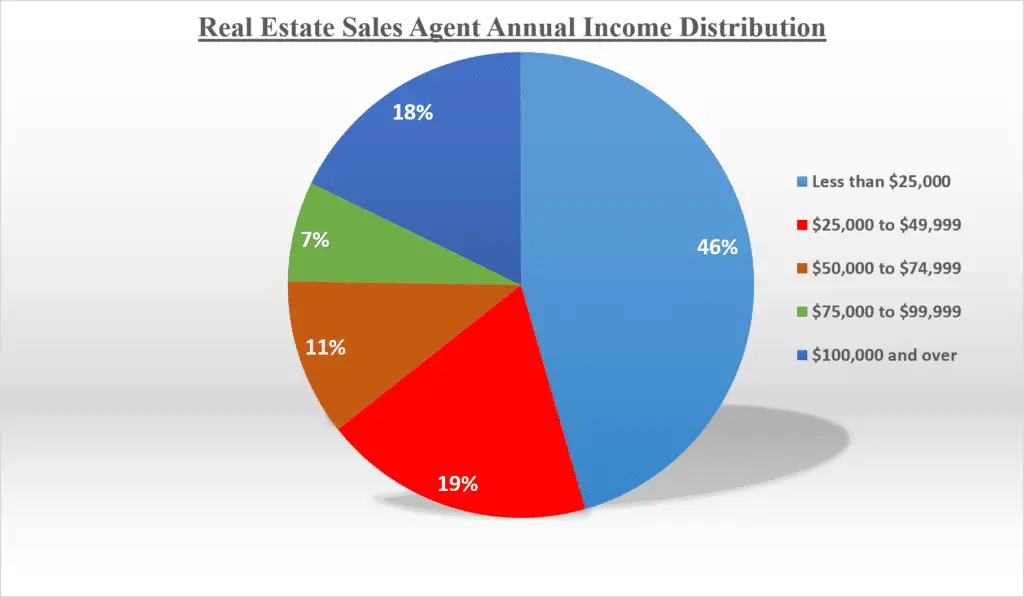 There are 18% of real estate sales agents who are making a handsome six-figure salary, which aligns with the 80/20 rule in many industries. However, nearly half of the sales associates are earning less than $25,000.
So what attributes to such a massive earning discrepancy? Let's go over some of the variables one at a time.
Do Experienced Real Estate Agents Earn More?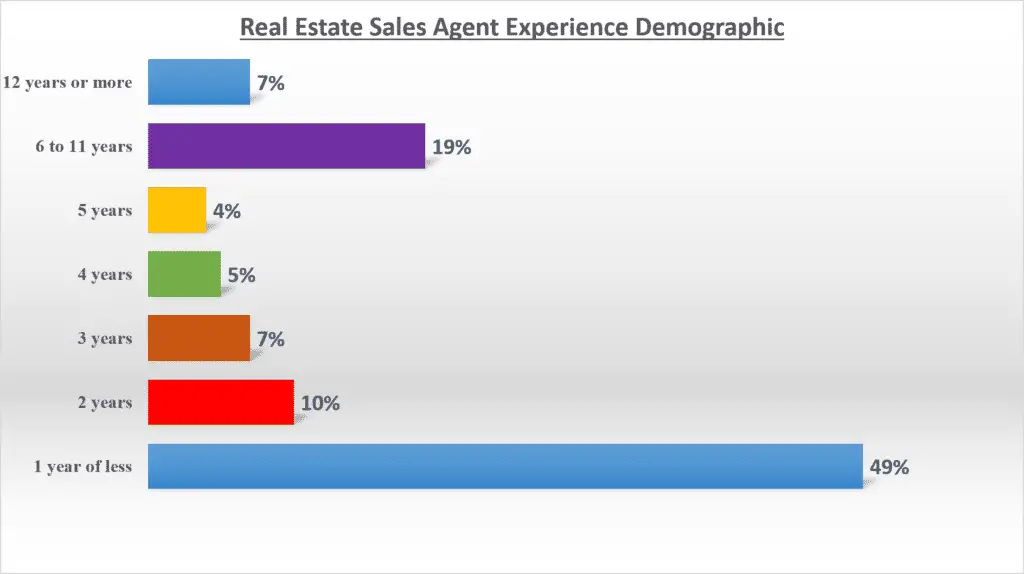 In this bar graph, you could see that almost half of the real estate agents do not even have one year of experience. We believe the majority of them are the ones that are making less than $25,000/year.
This is a reasonable assumption. At the early of your real estate career, it's likely that you have not established a solid client base. It does take time to build up trust with your clients, network with referral partners and also equip yourself with the necessary business skills.
Below are two graphs that could illustrate our points.
For REALTORS that earn less than $10,000, 72% of them has 2 years or less experience. Whereas there is only 2% of REALTORS with so little experience can earn $150,000 or more.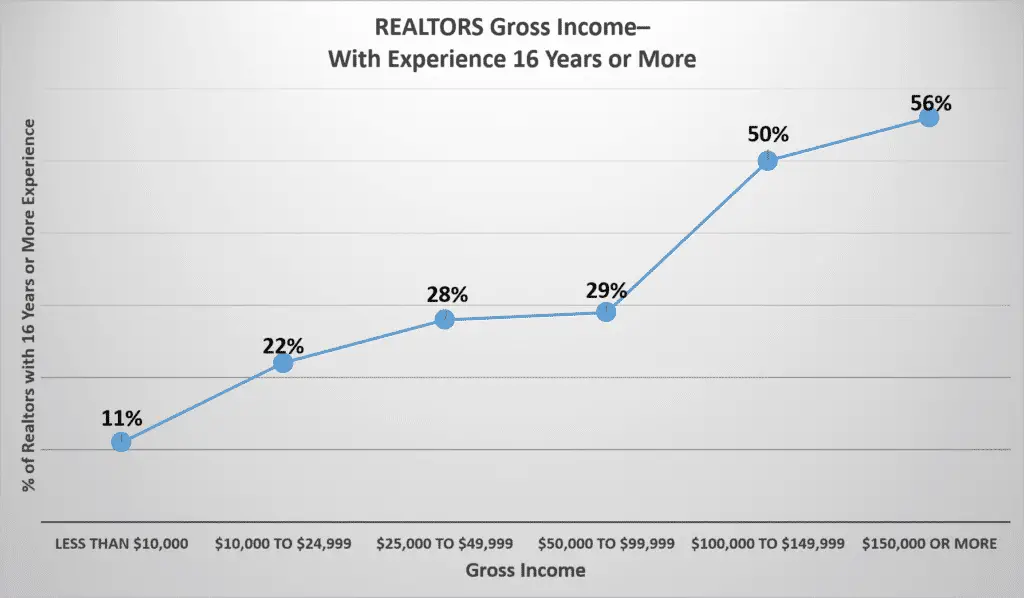 On the other hand, for realtors that have 16 years or more experience, it is unlikely (only 11% ) that they would be making less than $10,000.
For realtors with annual income $150,000 or more, more than half of them have been working in the real estate industry for over a decade.
When you have been working in the real estate industry long enough, you will gain practical experience of knowing what is working for your business and what is not. This leads to a more efficient way of conducting your real estate practice, and greater profitability.
Also, you would have more leads in the pipeline so that you could focus on the ones that are qualified and serious referrals.
This could be difficult to happen at the initial stage of your real estate career, as a significant portion of your activities is prospecting for clients.
On a separate note, not all REALTORS are real estate agents. REALTORS are members of the National Association of REALTORS (NAR), which consists of real estate sales agents, brokers, and appraisers.
Therefore, the above graphs are not an actual representation for real estate agents only.
However, according to the 2018 member profile, 65% of its member are real estate sales agents. So that it is reasonable to conclude your earning ability as a real estate sales associate is correlated to the years of experience.
Will Real Estate Agents Who Work Longer Hours Have Higher Income?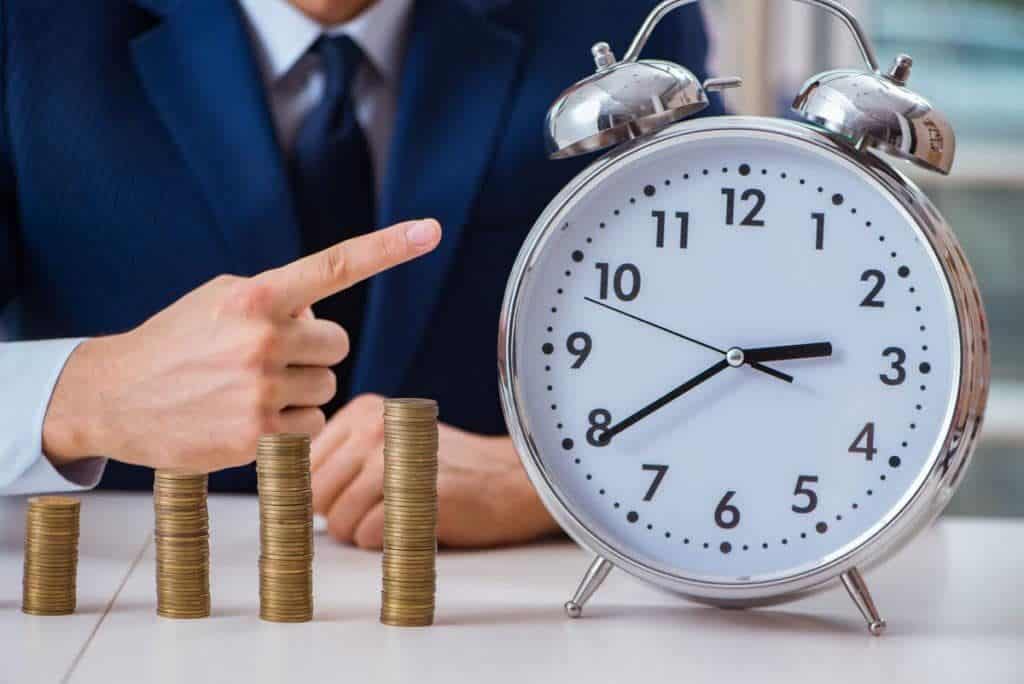 It's a common understanding that hard work would eventually pay off. But would this concept also apply to the real estate career? Let's take a look at how many hours do real estate agents work per week.
| | |
| --- | --- |
| Working Hours | % of Real Estate Agents |
| Less than 20 hours | 18% |
| 20 to 39 hours | 36% |
| 40 to 59 hours | 36% |
| 60 hours or more | 10% |
Source: The 2018 National Association of REALTOR Member Profile
18% of real estate agents are part-timers. We strongly believe a big part of that group is earning low income in their real estate business.
Whereas nearly half of the sales agents are working over 40 hours/week. So will their effort translate into business revenue? Here's another graph with more info.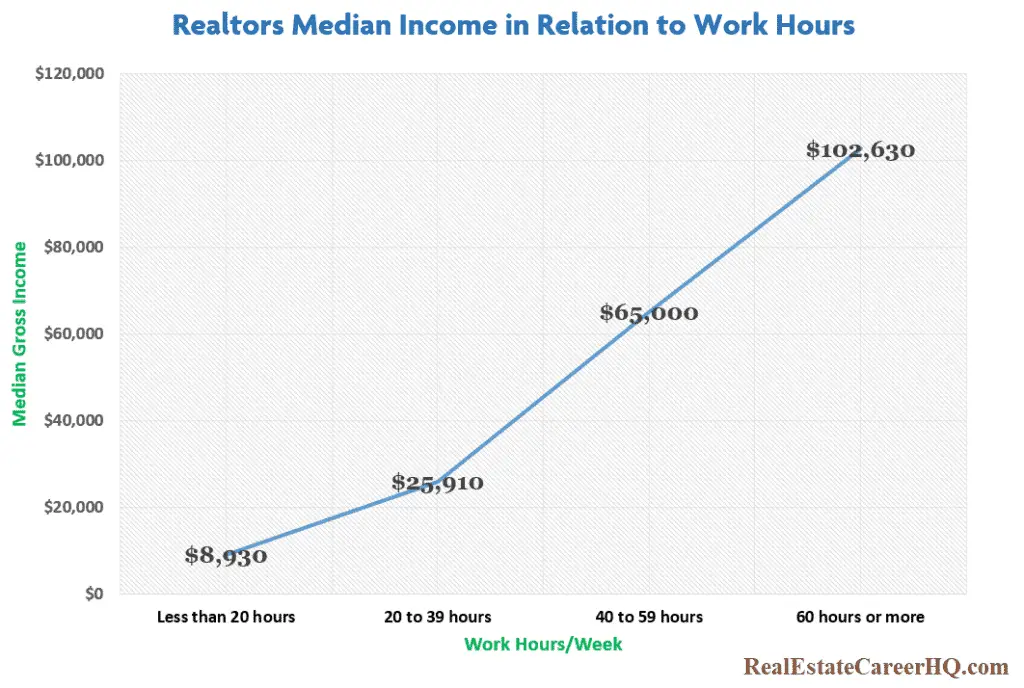 As you could see, there is an apparent relationship between your earnings and the number of hours you work per week. Top-earning realtors tend to work 50 hours per week, while the average work hours of real estate sales agents is only 35/week.
Once again, although not all REALTORS are real estate agents, the above figures clearly evidence that the more effort you put into the business, the bigger your financial reward.
The more time you put into the real estate business, the more people you could prospect, and the more potential deals you could close.
However, successful real estate agents do not get exhausted by working on every single task on their own. They would delegate some of the tasks to other team members such as assistants, administrative personnel, or marketing campaign manager.
Will Real Estate Agents with Higher Education Earn More?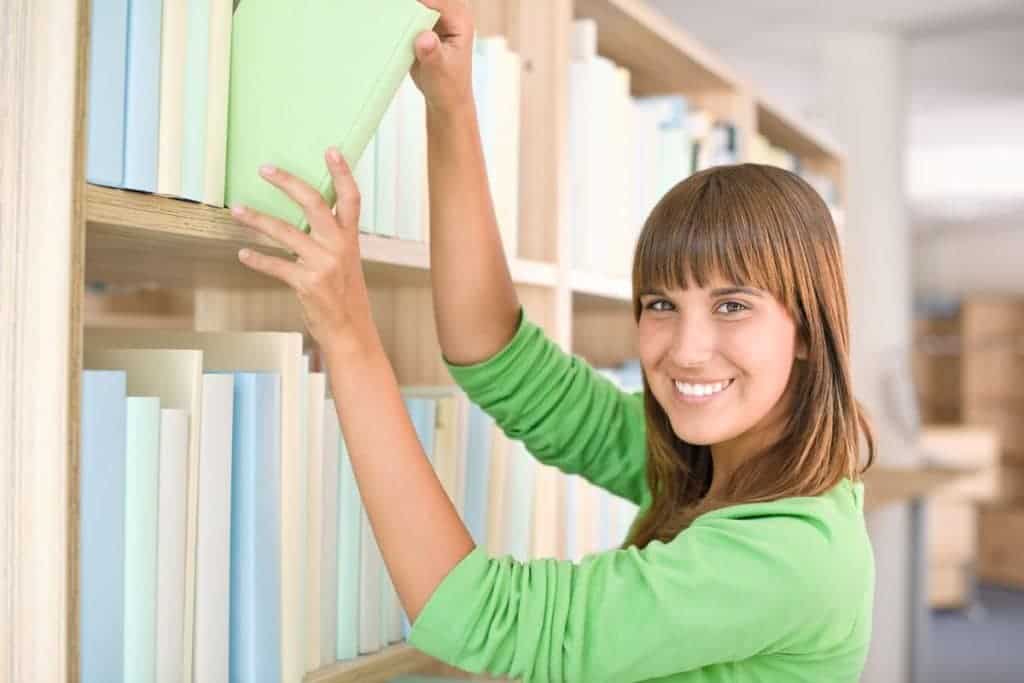 When we are reading the NAR 2018 report, we see that approximately 50% of all realtors have a bachelor's degree or higher. This is for realtors across all different income ranges.
To obtain a real estate agent license, most states only require you to have a high-school diploma and not a college-level education. Therefore, we do not see any relevancy between your earning and post-secondary school education.
However, you do need to have in-depth knowledge about the regulations, laws and other real estate related topics. In order to add value to your services, it is important to constantly equip yourself with industry updates and changes.
Does Having Repeat Customers Increase Real Estate Agents Salary?
In almost every industry, the cost to acquire a new client is always greater than getting repeat business from your existing client base.
It takes a potential client to see your advertisement seven times to realize the existence of your business and countless interaction to develop a trusted relationship with them.
All these expenses could be significantly reduced when the deal is coming from a past client. Your client already knows the level of services that you can provide. If they are bringing more business to you, they must be happy about it.
Besides, since you have serviced them before, you should have some understanding of their needs and preferences.
So how much repeat businesses are realtors getting at each income range? Let's review it together.
For realtors that earn less than $10,000, no data shows that they have any repeat customers. It is unsurprising because realtors with such a low income tend to be new entrants to the real estate industry.
When you start off working as a real estate agent, of course, you wouldn't have many repeat customers. You are still at the stage of finding your first set of clients.
However, as you build up your client base, you should see existing customers bringing up more repeated businesses. In fact, over 30% of revenue for high producers are from repeat customers.
Is Dedication a Key Driver to the Enhance Your Real Estate Business Income?
If being a real estate agent is your primary occupation, will such focus lead you to a more profitable business?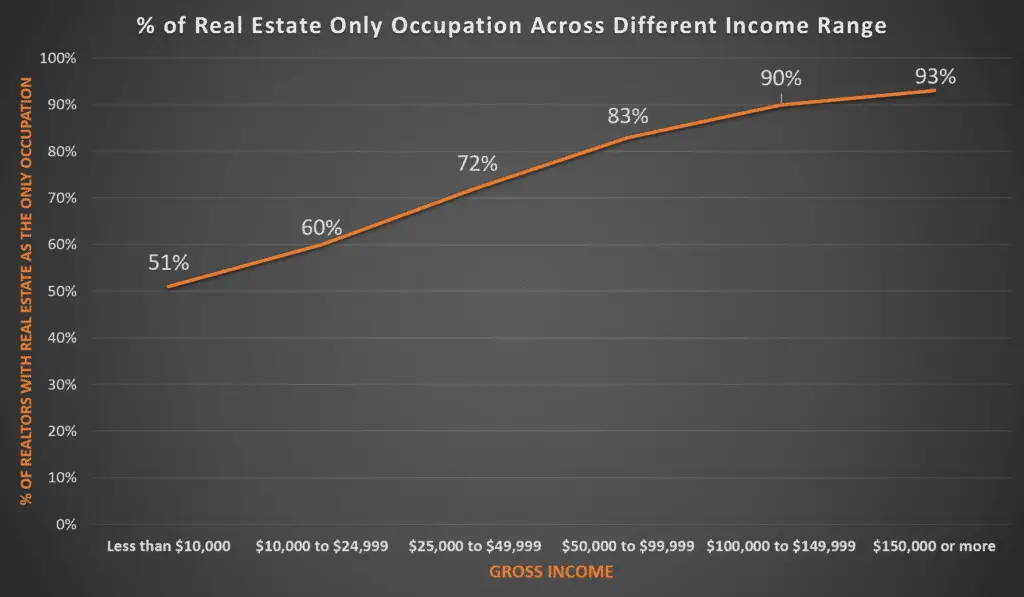 There is a clear trend that the realtors who have real estate as their primary occupation tends to run a more lucrative business.
Out of the group that is making less than $10,000, only 51% of them have real estate as their only occupation.
We believe a significant number of them are new entrants to the industry, so they are just at the very beginning phase of their real estate career.
However, not everyone could live off such a low income even if this is only temporary. Therefore, some realtors might need to supplement the shortage with another income source until their real estate revenue picks up.
As you continue to see the financial reward, you would naturally devote more time to this profession, and ultimately makes you become part of the high-producers group (salary with $150,000 or more).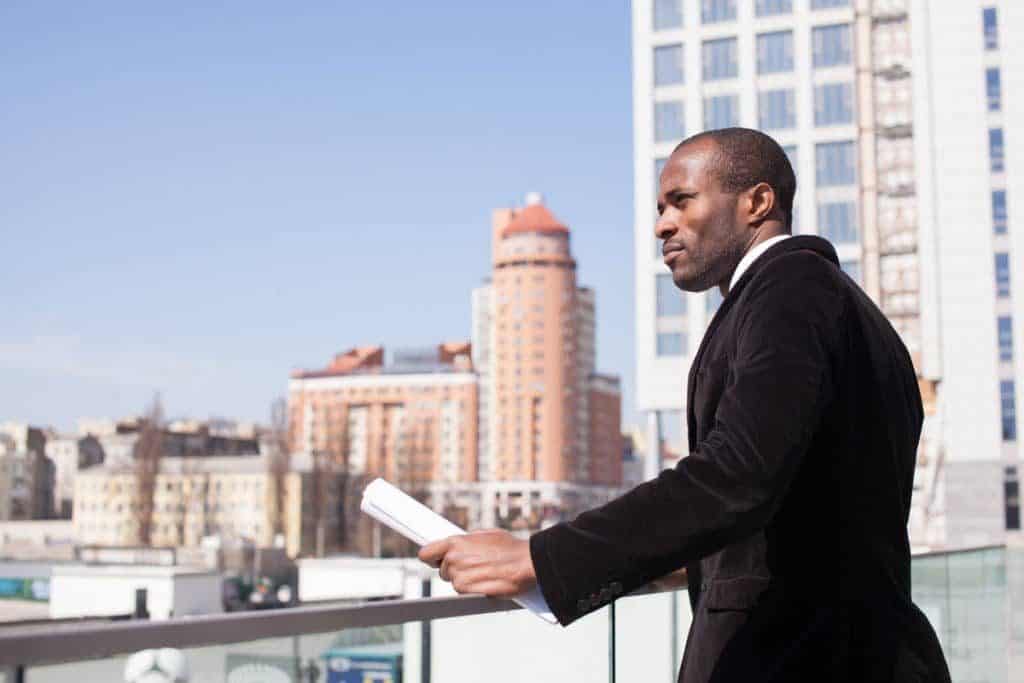 On the contrary, some realtors are in the real estate profession on a part-time basis. We have seen teachers, stay-at-home parents, retirees, government staffs and many others who are just doing the trades on the side to supplement for their income.
They often are less active in the business. In fact, many of them are not that eager in promoting their real estate business. They are happy just servicing the people in their own network.
We believe these part-timers make up a great number of the lower earning realtors groups.
If you are reading up to this point, I bet you must be interested in getting a real estate license. Your first step is to complete the pre-licensing courses. You should select one that has an excellent reputation and long-term track record of satisfying students. The CE Shop is exactly that! You may click here to check it out yourself. (**)
Final Thoughts about the Annual Salary of Real Estate Agents
Being a real estate agent could be a financially rewarding profession. But it hugely attributes to your persistence, dedication and effort you put into the business. There is just no fluke to success.
The earning could be minimal at the early stage of your career. However, as you continue building a trusted relationship with your prospects, more and more people will have greater confidence in you and eventually become your customers.
If you do an outstanding job in servicing your clients, they will come back with more repeat businesses. In other words, if you take good care of your clients, then they will take good care of you.
Along the way, you'll also get to meet other like-minded professionals (i.e., home inspectors, mortgage agents, appraisers, real estate lawyers), where some would become your valuable referral partners.
Looking to succeed in the real estate industry? Subscribe to our exclusive email list today and gain access to expertly curated real estate guides from industry leaders, as well as discounted CE courses and the latest industry updates. From marketing strategies to virtual staging techniques, our handpicked resources cover everything you need to know to stay ahead of the game. Click here for more details!
(**) Affiliate Disclosure: Please note that some of the links above are affiliate links, and at no additional cost to you. Our company, JCHQ Publishing will earn a commission if you decide to make a purchase after clicking on the link. Please understand that we include them based on our experience or the research on these companies or products, and we recommend them because they are helpful and useful, not because of the small commissions we make if you decide to buy something through the links. Please do not spend any money on these products unless you feel you need them or that they will help you achieve your goals.
Disclaimer: The information in this post is for general information only, and not intend to provide any advice. They are subjected to change any notice, and not guaranteed to be error-free. For full and exact details, please contact the regulatory commission in your state or the associated organization.
Reference: