(**) Disclosure: This post may contain affiliate links, meaning our company, JCHQ Publishing will get a commission if you decide to make a purchase through the links, but at no additional cost to you.
Real estate is one of the most competitive industries. In order to stand out, realtors and agents must have a professional website. Some people assume that it's not necessary, but this couldn't be further from the truth.
Even if you have an established client base doesn't mean you don't need your own presence on the web!
I met so many Realtors in person during business networking events. Before I contact them about their services, I always look them up online to better understand who I'm dealing with.
Real estate agents should have a website because it helps generate quality leads, create compelling branding and engage with prospective clients. In fact, it has become a standard, and customers expect to find their real estate agents online. According to the 2020 NAR Home Buyer and Seller Generational Trends Report, 93% of all buyers used online websites as information sources in their home search.
They would look at websites for home listings, such as photos, information on the listed property, and details about the home buying process. Then they would contact the agent listed on the website to arrange properties tour.
In this guide, you'll find out how having a website can benefit your real estate business, the features you should include, and affordable ways to build it.
Disclaimer: This post is for general information only. You should check with your real estate broker and state law for the best practices to advertise and market your business.
If you are looking for a trusted firm to build a customized website for your real estate business, be sure to check out AgentFire. (**) They have great tools for your real estate online marketing. You can start small or big, to capitalize on digital opportunities at your own speed.
Here's a Video Summary of this post
Here's why every real estate agent should have a website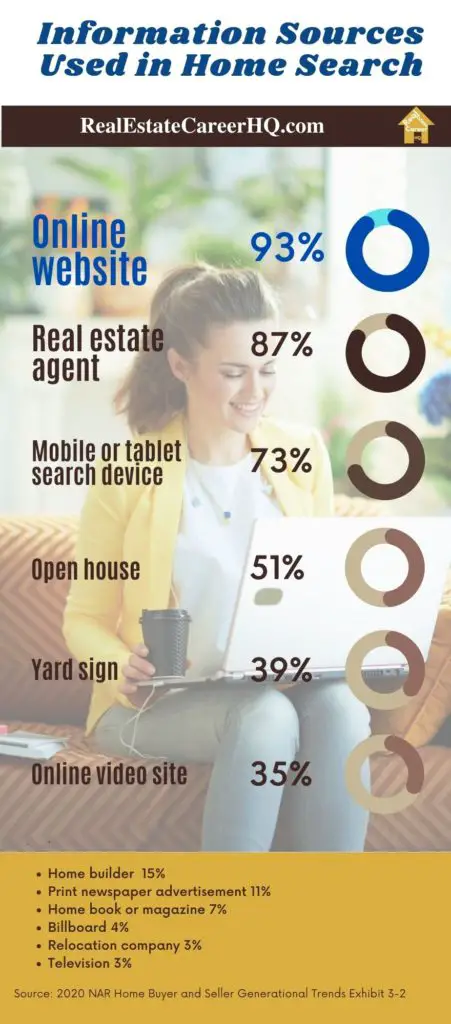 Reason#1: Create a scalable marketing strategy
How many prospective clients can you talk to every day? 10? 20? 30? Regardless of how hard you work, you can only devote a certain number of hours in the day to prospecting activities.
A website can increase your chances of getting found on search engines like Google or Bing, giving more exposure to your business. With the right marketing strategy, we could be talking about hundreds or even thousands of web visitors every day.
Through the website, all visitors can get to know your services, latest properties listing. And the best part is once everything is properly set up, all this would happen without much of your involvement!
Reason#2: Generate quality leads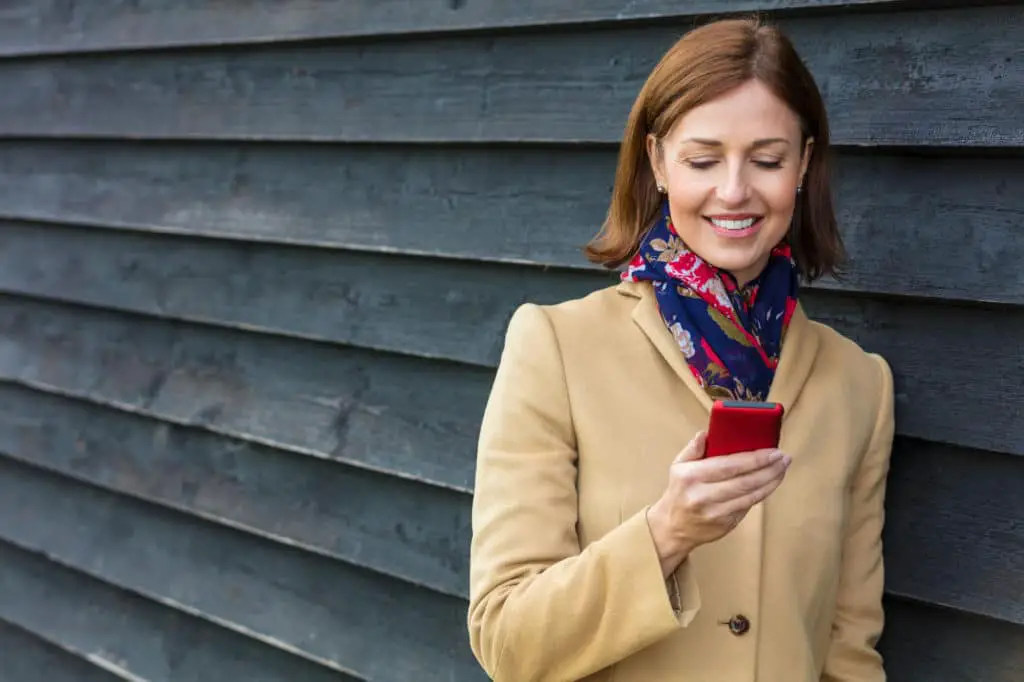 When talking about leads, the key is the 'quality.' There are many places you can buy a massive volume of leads. Although this might seem compelling (since you do not have to work for it), there is no assurance of its quality. You'll have no idea whether they are still hot or cold.
Some companies could be re-selling leads to different real estate agents, which greatly reduces your chance of closing a sale. Even if not, many leads may only contain a name and a phone number. Without the meaning details, it might not be much different from cold calling from a phone directory.
On the contrary, when you have a website, you can create funnels to filter out all the people who don't seem serious about working with you.
For example, on the website, you could have a form that inquires detailed information. (i.e., name, phone, email, budget, desired location, type of properties looking for, mortgage pre-approval status, number of household members.) The ones that are willing to provide such detailed info are a lot more likely to be serious clients.
Reason#3: Build credibility and branding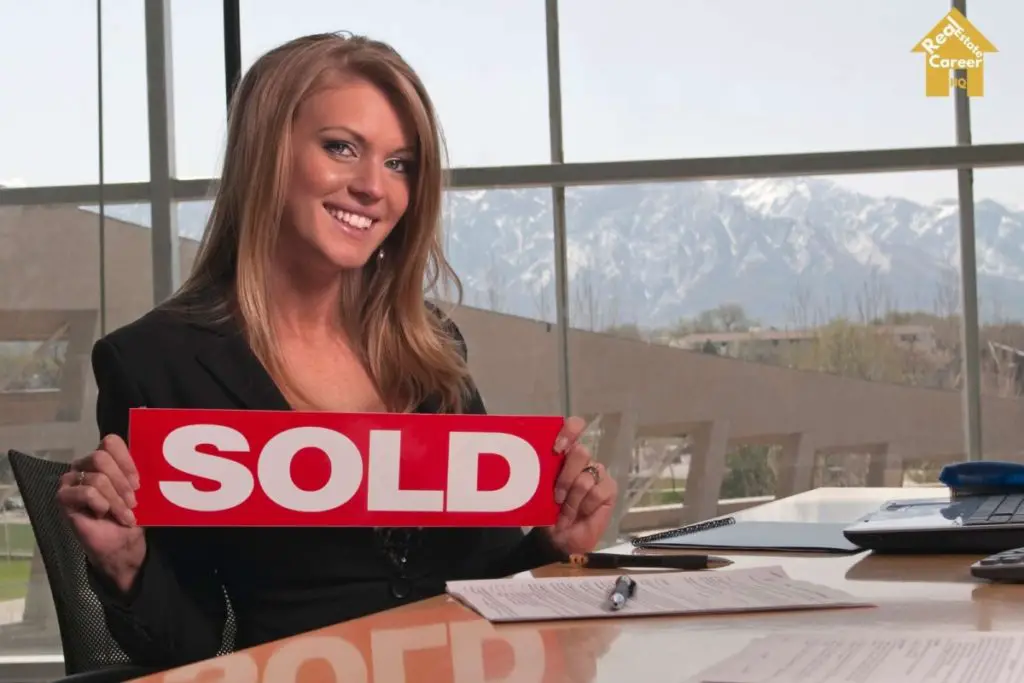 The best way to build trust is to provide value to your prospective clients even before making contact. One way is to write helpful blog posts on your website. Not only is blogging easy and low-cost, but it can also help generate quality leads and clients.
You may write "how-to," "tips," and "lists" articles that are helpful to your audiences. For example, How to prepare your home for a showing? 11 tips to stage your home with low budget; 12 essential items you'll need during a real estate closing.
According to the NAR's Real Estate in a Digital Age 2019 Report, only 9% of Realtors have a blog, 78% do not have one, and 13% plans to have one. This could be a huge overlooked opportunity.
Furthermore, to enhance your credibility, you may include photos of yourself and your team. You may also include testimonials from satisfied clients. (But of course, you must get their consent before posting it.)
On a side note, having a website allows you to have an email address in your domain name. This makes your business's branding more uniform and creates a more professional tone for your audiences.
Reason#4: Grow your contact list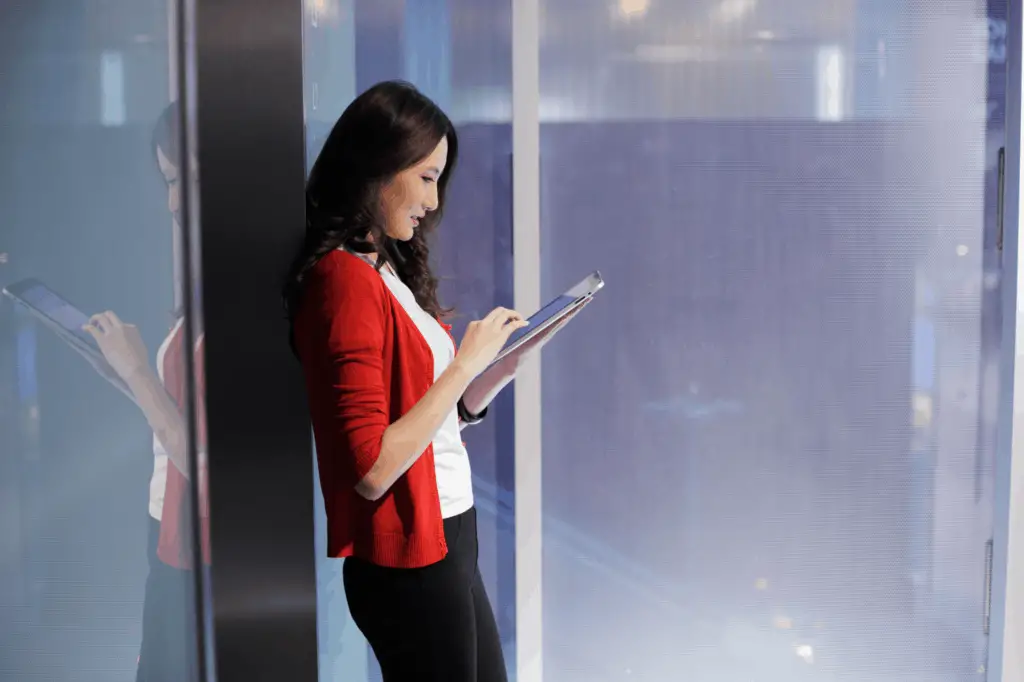 Let's be realistic. Not every one that contacts you will immediately become your client. Some web viewers could just be browsing around for some preliminary information on buying or selling a property. And some could be trying to decide which agent to work with.
Rather than having viewers exit your website without much chance of returning, you can try to keep in touch with them. On the website, you may ask them to subscribe to your e-newsletter. This way, you may keep them posted with relevant and helpful real estate updates. This is also great way to connect with your existing clients.
An even easier way is to use a web push notification. As you probably see on my website, there is a pop-up slide that asks whether I can notify you with real estate career updates. If you click "allows," then I can continue to connect with you by sending notification messages to your browser.
Aweber has both web push notification and e-newsletter features. They offer a free plan where you can try out their services. I'm also using their services and satisfy with them. You may click here to check out Aweber. (**)
Do I still need a real estate website when I'm already using social media?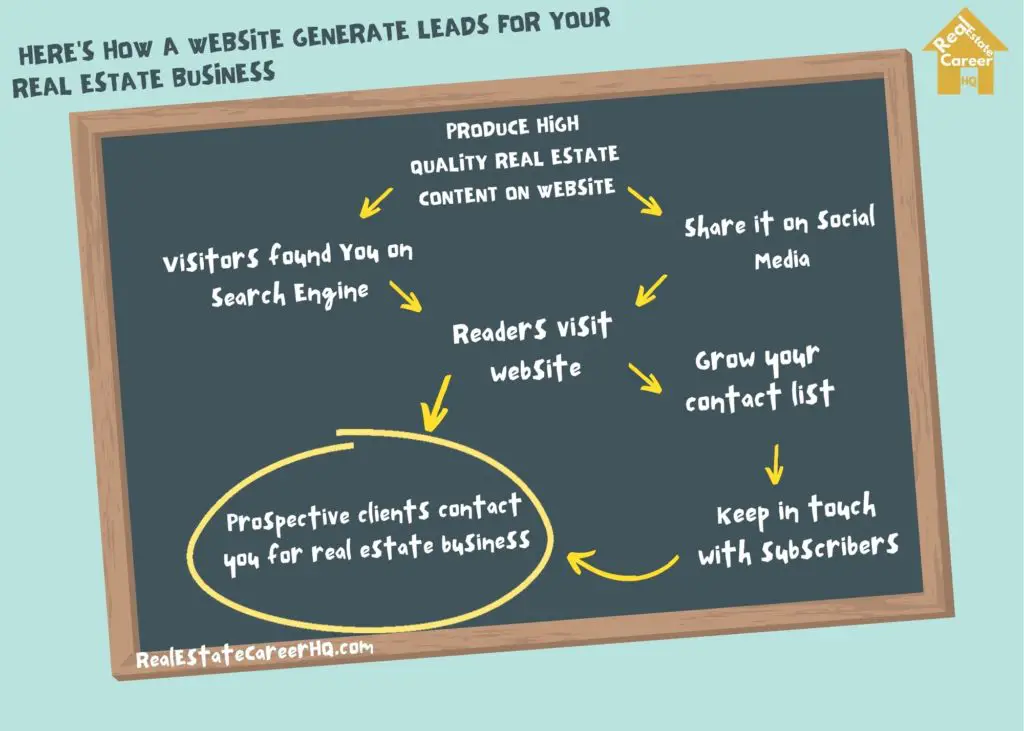 Some real estate agents may argue that they can use social media (i.e., LinkedIn, Facebook, Instagram, Youtube) to bring in leads. But having a website would serve a different purpose. 
With social media, most of your sharing happens instantaneously. Your posts may get attention for a few days, then will be buried by other new threads afterward. On the other hand, the content of your website will continue to stay there unless you remove it. 
Many social media platforms are like bulletin boards. Your followers can only get to know you pieces by pieces. As on the website, you can present the details in a more structured manner. 
The uttermost important is that you don't own the followers on social media. In the past few years, several social media channels made it more difficult for businesses to share messages with their audiences. (Well, unless you are using the paid ads option.) 
But if you build your email subscribers through a website, you actually own the list. And you may communicate with them whenever and wherever. 
However, I'm not saying this has to be one or the another. In fact, social media and a website work hand-in-hand to generate leads for your real estate business. 
What should a real estate website include?
A real estate website should include photos, floor plans, and detailed information about the properties for sale. It should also include the contact info of the real estate agent. 
Recently, I have seen many real estate agents uploading a virtual tour of their listed property. This really helps viewers to have a vivid idea of the unit. 
According to the 2020 NAR Home Buyer and Seller Generational Trends Report, 87% of buyers find photos to be "very useful." Since this is such an important element to potential buyers, you should put some effort into creating a good impression. Here's an interview I did with a professional real estate photographer and a home stager. In there, you will find with you their hands-on experience and practical tips to take beautiful photos for a listing property.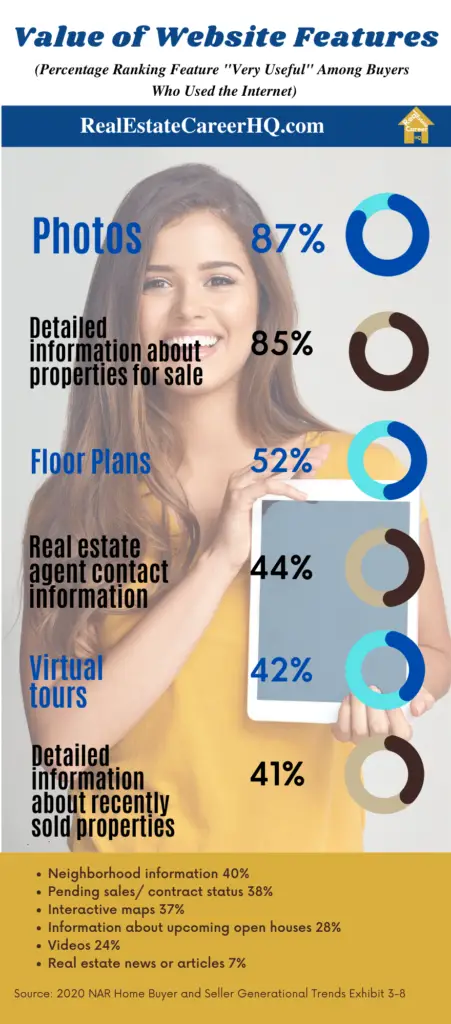 Furthermore, your real estate website should have the option to easily subscribe to your e-newsletter or notification, an "About" page that helps audiences know you better, and preferably with testimonials from your satisfied clients. Having a mortgage calculator can helps prospective buyers to find out their budget too.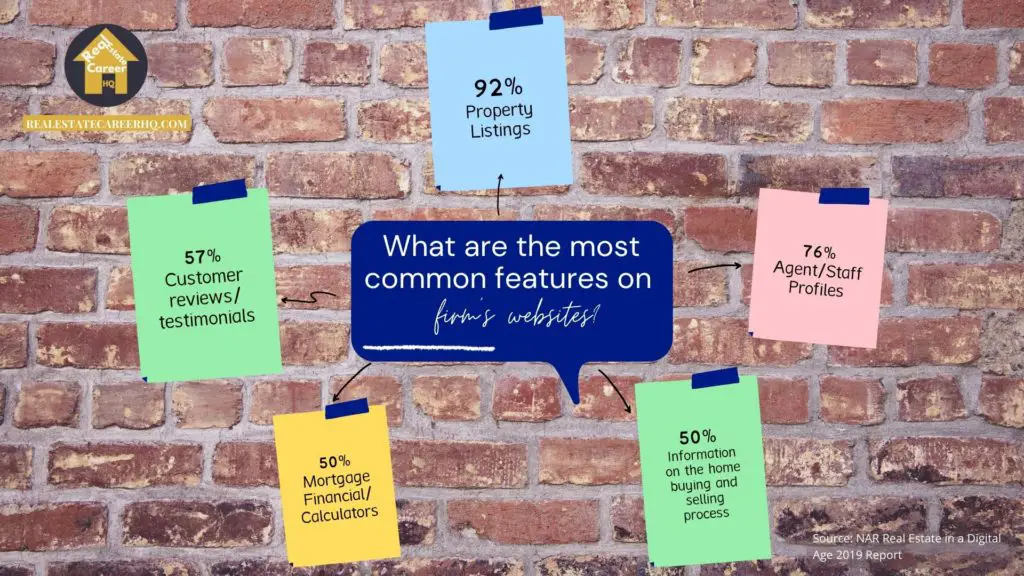 Should Real Estate Agents Custom-Build Their Own Website?
Many real estate brokerage firms already have a website built for their agents. And I have seen several ones from my Realtor's friends. Usually, their domain name would be something like (agent's name).(company's name).
Their websites have the basic functionality where they could include their contact info and property listing. However, not all have the e-newsletter subscription, web notification feature and the blogging sections. You could discuss with the web developer in your office whether they could include the features you need. 
Here's the business website of Dina Hurtado, one of the incredible real estate agents in my professional connection. I just revisited her website, and it contains most of the details a visitor would need.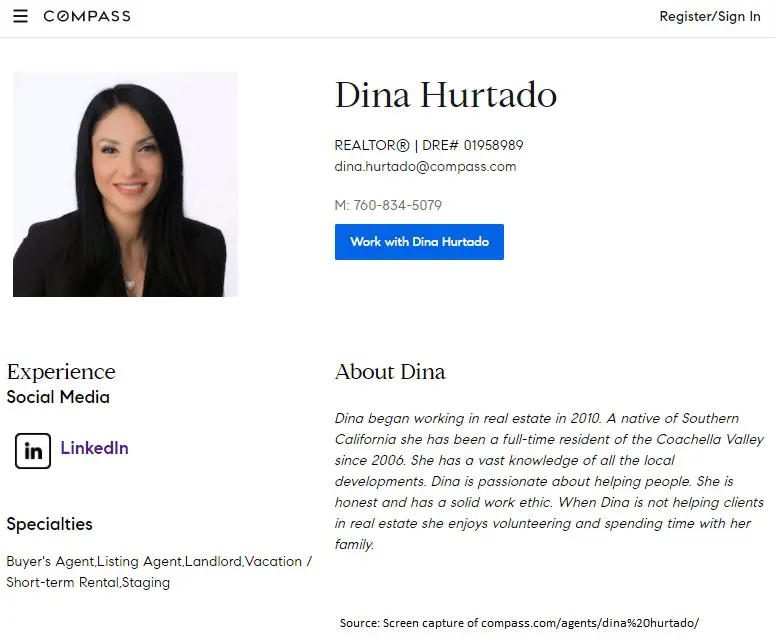 It has a short bio about her, her contact info, her current listings, and transactions. I like how she clearly states her specialties and the client testimonials. This helps web visitors to better understand her real estate services. 
There is also a link to her LinkedIn profile. (This is how I actually met her. So website works!) You couldn't see it the entire web design in the screen capture above but you may head to her website for a better view.
One issue I have with building your business with the brokerage-provided website is not just customization. Rather it's the ownership.
As we all know, some real estate agents may not always stay at the same brokerage firm. If one day you decide to switch to another brokerage, I don't think you can redirect the existing web traffic to the new website. If you're using your firm's domain for your email address, you may need to change that too. This could be a huge interruption to your business as clients already used to contact you through that email.
Furthermore, let's say your existing firm's website does have the e-newsletter feature, then it's better to find out whether you own the email list. Else, all your online hard work could be wasted upon switching to another brokerage. 
I created several polls on social media and where do real estate agents get their website. Here's the result!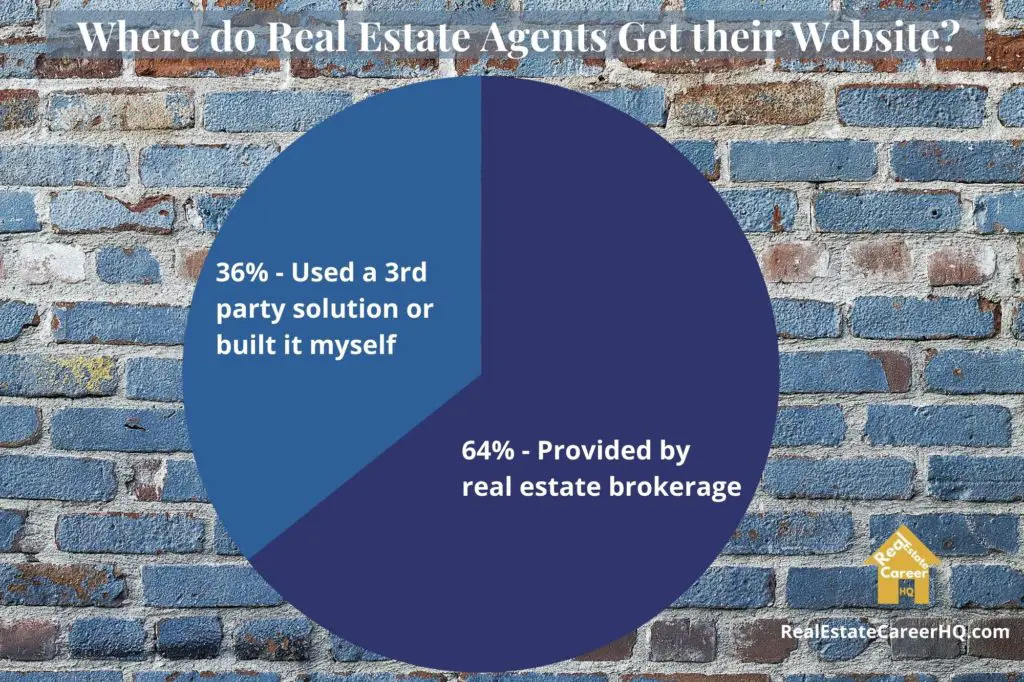 What are the options for building your own real estate website?
Hire a professional website development company
Frankly speaking, your primary role as a real estate agent is to close more sales rather than building a website. Therefore, you may consider outsourcing the website building to a third party.
AgentFire is a company that provides a full website solution. They have different design packages to suit your needs and budget. In addition to the IDX/MLS Search featured addons, I particularly like their Blog Assist Pro services, which automate blog articles for your website every week. These fresh content on your site can better engage your audience and turn them into leads.
You may click here to learn how AgentFire can create a professional and user-friendly website for your business. (**)
DIY in building the real estate website
If you would like to take matters into your own hands, you may choose a reputable and trusted company to register your domain and host your site.
A domain name is an address for your website. It's the equivalent of a street address that you give to someone when they ask for directions to your house. You should choose one that is easy to remember. Many real estate salespeople would use their name as the domain. (i.e. firstname.lastname.com)
Website hosting refers to the service of storing and displaying a site on the web. The company providing this service is called a host, and they are responsible for managing the hardware that delivers your site to visitors. Hosts also provide an online space where you can upload files to store your websites content at their servers so it can be displayed on any device without needing additional software or plugins.
BlueHost is the company I like. Their setup is easy, and it usually takes me less than 30 minutes to complete. I prefer web host that can install WordPress. This allows me to select the themes and plugins that I need. You may click here to check out their plans. (**)
Let's take a look at the RealEstateGirlGuru website!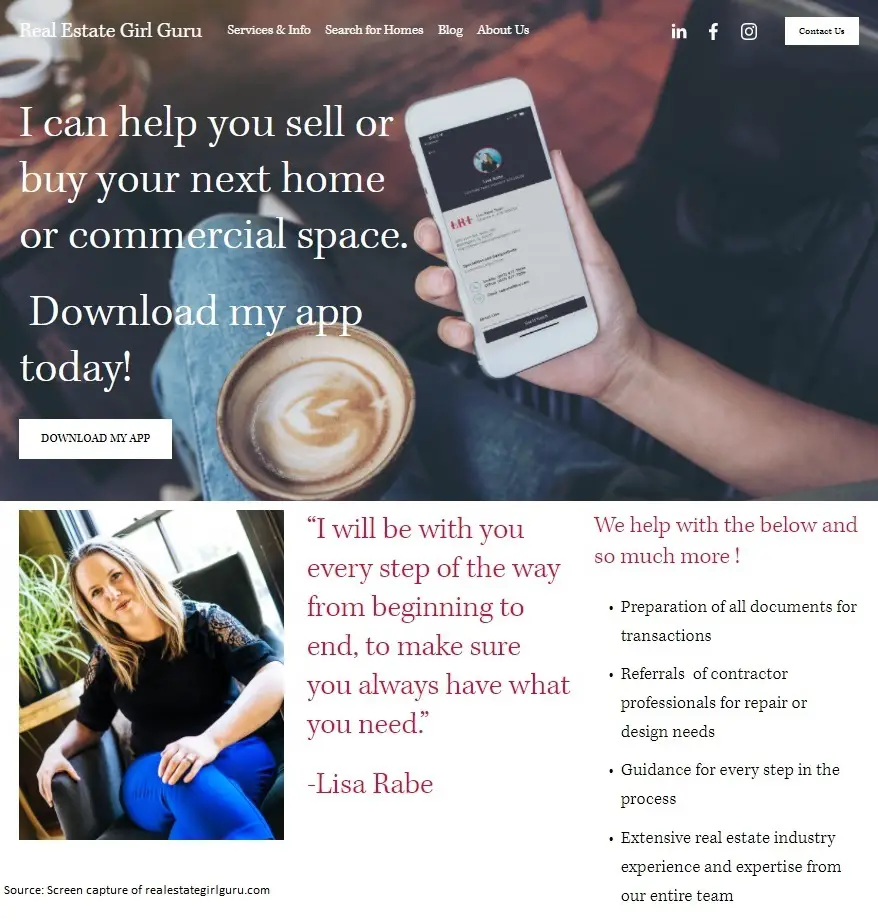 Lisa Rabe is the person behind this nicely designed website. She is a real estate broker and a home stager.
I remember the first time I visited her website. I was astonished by all the beautiful photos. Later on, when I interviewed Lisa, I realized that she has an incredible photographer, Charlie Misicka, that produces all the high-quality pictures.
I also like how she brands her website and business as the Real Estate Girl Guru. This catchy name indeed helps her to stand out from the crowd!
Furthermore, there is a blog section where Lisa shares real estate update and what has been happening in her business. This really adds a personal touch to viewers.
How much does a real estate website cost?
A DIY real estate website would cost approximately $12/month ($10/month for hosting; $2/month for domain). Although there are many free WordPress themes, some have more functionality or better design than others. A premium WordPress theme typically costs a one-time fee of $100 to $200.
However, it does take time and effort to set up and maintain a website. There are designed-for-you solutions that cost around $129/month. If the site can help you close just one more deal a year, I believe it's well worth your investment.
How do I drive traffic to my real estate website?
You can drive traffic to your real estate website by including high-quality real estate content relevant to your audiences, following good SEO practices, strategically sharing your content through social media. If budget allows, you may also use online ads to bring visitors to your site.
Here's a guide with practical strategies to promote your real estate website.
Looking to succeed in the real estate industry? Subscribe to our exclusive email list today and gain access to expertly curated real estate guides from industry leaders, as well as discounted CE courses and the latest industry updates. From marketing strategies to virtual staging techniques, our handpicked resources cover everything you need to know to stay ahead of the game. Click here for more details!
(**) Affiliate Disclosure: Please note that some of the links above are affiliate links, and at no additional cost to you. Our company, JCHQ Publishing will earn a commission if you decide to make a purchase after clicking on the link. Please understand that we include them based on our experience or the research on these companies or products, and we recommend them because they are helpful and useful, not because of the small commissions we make if you decide to buy something through the links. Please do not spend any money on these products unless you feel you need them or that they will help you achieve your goals.
Disclaimer: The information in this post is for general information only, and not intend to provide any advice. They are subjected to change without any notice, and not guaranteed to be error-free. Some of the posts on this site may contain views and opinions from individual not related to JCHQ Publishing. They do not necessarily reflect our view or position.
Reference: