(**) Disclosure: This post may contain affiliate links, meaning our company, JCHQ Publishing will get a commission if you decide to make a purchase through the links, but at no additional cost to you.
So you decided to become a real estate appraiser, that's great! But first, you will need to fulfill the qualifying appraisal courses. This is the prerequisite to get licensed as a Trainee Appraiser in most of the states.
However, with so many educational institutions out there, which one should you choose? I did extensive research and believe McKissock Learning would be a great learning center to take your real estate appraiser courses.
Top 7 Reasons Why I Like the Real Estate Appraisers Courses Offered by McKissock Learning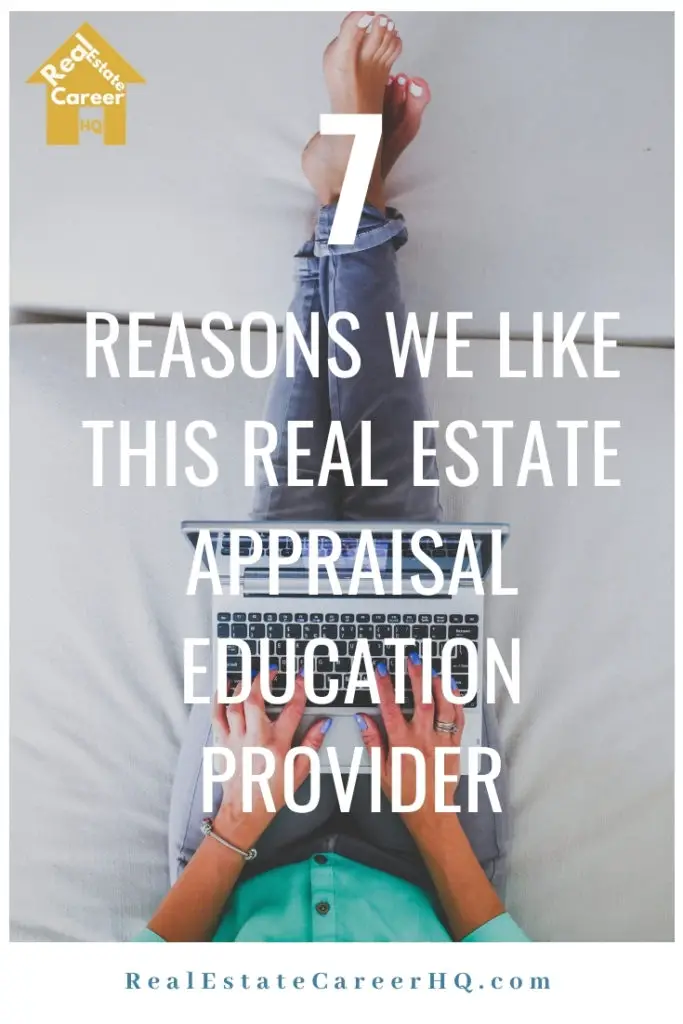 1) Education Provider Approved by the State Board
You certainly don't want to waste hours of studying and paying the tuition fee for a course where the Appraisal Board does not even recognize. For a class credit to be counted toward the qualifying education requirement, it must be administered by an approved education provider.
I checked on many Appraisal Boards' official websites, I did see that McKissock Learning is listed as an approved education provider in most of the states.
2) Company Size, Infrastructure, and History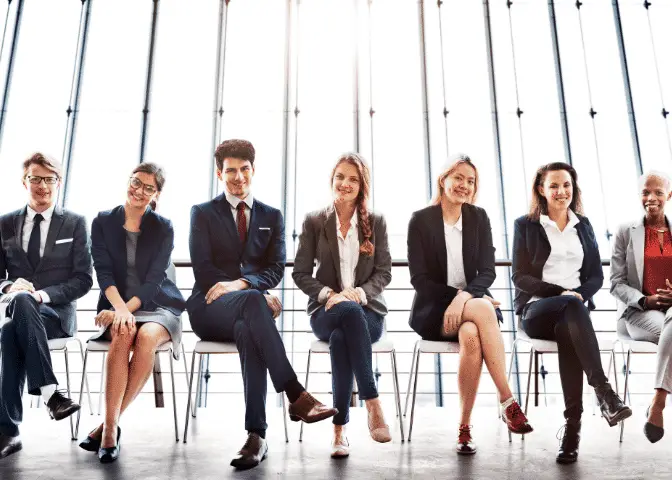 To avoid unforeseen administration problems, I prefer education providers with extensive teaching experience. McKissock has a long history in providing appraisal education. They were one of the pioneers in this field started back in early 1990.
When I read on the McKissock's team profile, they have a huge team of over 200 staffs in their company. With so many supporting staffs, I'm confident that they can provide the support you need.
With their advanced IT infrastructure, students can take their courses online whenever and whatever at their convenience. This definitely could save a lot of unnecessary traveling time.
Many students have trouble focusing in a traditional classroom setting after a certain period. The McKissock online courses could give you the flexibility in reading the course content at a different time.
I connected with a Certified Residential Appraiser from Michigan. He said that he enjoyed the classes and signed up for 28 hours of CE for renewing his license. But the next day, he accepted two appraisal assignments averaging $475 each.
Since these are online classes, it gives him the flexibility to take them after his work.
3) Specialize in Teaching the Real Estate Industry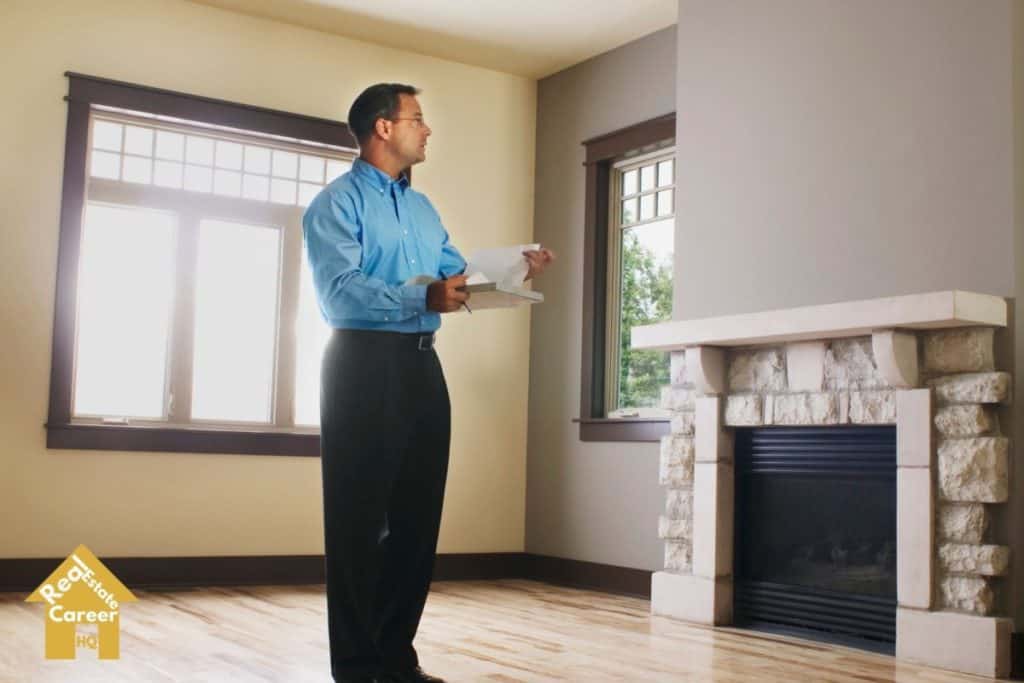 Although there are other appraisal education providers, many of them also diversified their focus and resources into other industries.
The professions in the real estate industry has become more complex and heavily regulated. It is important that an education provider can constantly keep up to date with all the new rules and regulation changes, and know the industry extremely well.
McKissock Learning specializes in providing online classes to students who want to start their career in the real estate field. For example, they have qualifying education for appraisers, real estate sales, home inspectors, and land surveyors, which are all nicely correlated to the real estate industry.
This laser focus business model should give them a competitive advantage over other learning institutions.
4) Instructors with Actual Appraisers Experience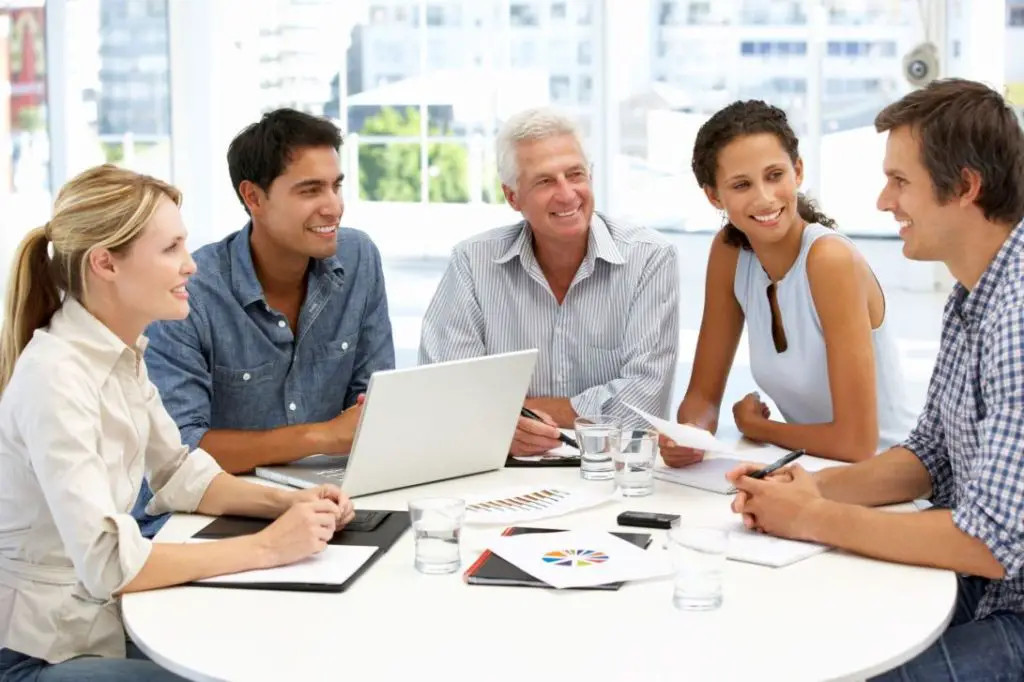 A person could memorize all the recipes to make a dish, but without the actual kitchen experience, they can never teach you how to be a good cook.
Being a real estate appraiser involves a ton of hands-on work, you do need someone with actual appraisal experience to lecture you. Or else, the course materials could be over theoretical and not be applicable in the real working world.
The McKissock instructors are not just great teachers, but they also have years of professional appraisal experience. This includes expertise in assessing for both residential and commercial real estates.
I was talking to a real estate appraiser in Pennsylvania. He had a great time taking classes from instructors Dan Bradley and Wally Czekalski.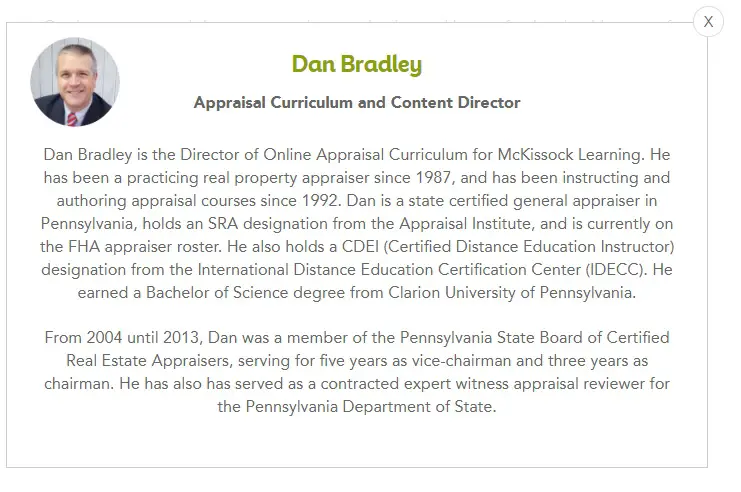 Source: Screenshot of Mckissock.com/about-us/instructors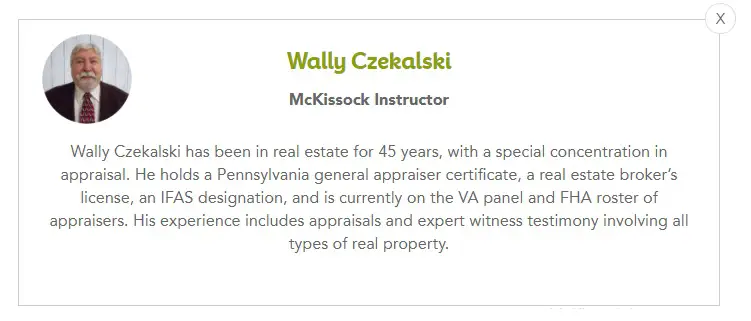 Source: Screenshot of Mckissock.com/about-us/instructors
I'm confident that you'll benefit from their real-world appraisal experience, which could assist you to excel in your career.
5) Huge Selection of Courses
When I choose an education provider, I don't like to go through the hassle of taking courses from different learning centers. This would only complicate the administrative process and end up making multiple requests for the transcripts upon license registration.
McKissock has a wide selection of qualified appraisal courses. As long as your State Board does not have any restriction for online classes, they basically have every course you'll need to obtain all your appraiser licenses. This includes the licenses to become a Trainee Appraiser, Licensed Residential Appraiser, Certified Residential Appraiser and Certified General Appraiser.
Not only they have all the pre-license classes, but they also have the Continuing Education courses to fulfill your license renewal in the future.
The first step to begin in this career is to complete the appraisal education requirement. McKissock has years of experience in providing high-quality appraisal courses. Here's the link to their online classes. (**)
6) Tuition Fees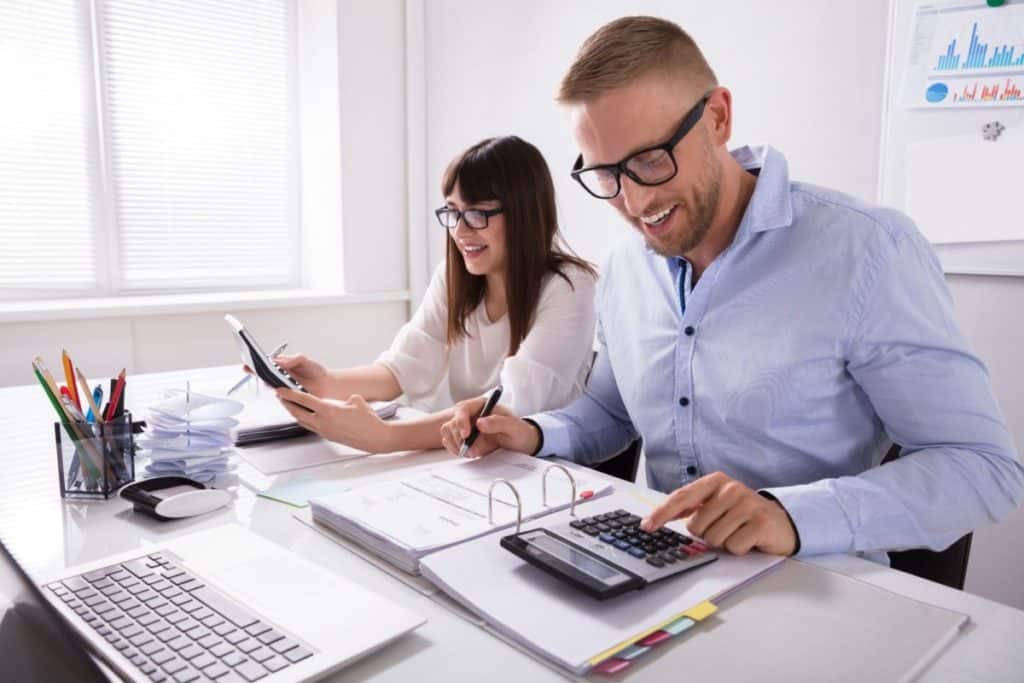 Regarding the price point of the courses, I see that it ranges from a low $200/course to a high $780/course. Typically speaking, the more course materials involved, the higher the tuition.
I believe the price is reasonable. To illustrate our view, let's do the math together. I see there is a course with 15 hours of educational content, and the price is $209.95. When you divide the price by the hours of course materials, you'll be paying only $14 for each hour of course content.
Furthermore, if you enroll the classes in a package, there would be an additional discount.
Of course, only you can tell if this is a good investment to your career or not. But the average appraisal fee for a residential property could easily be $400 to $500 these days. So the fee you'll get from just working on 1 to 2 appraisals could already be enough to cover for a course.
7) Students Satisfaction
At the time I'm writing this post, McKissock received a massive number, 474,316 of reviews. Of which over 87% were positive comments. This educational provider had an outstanding 4.3 stars rating out of 5.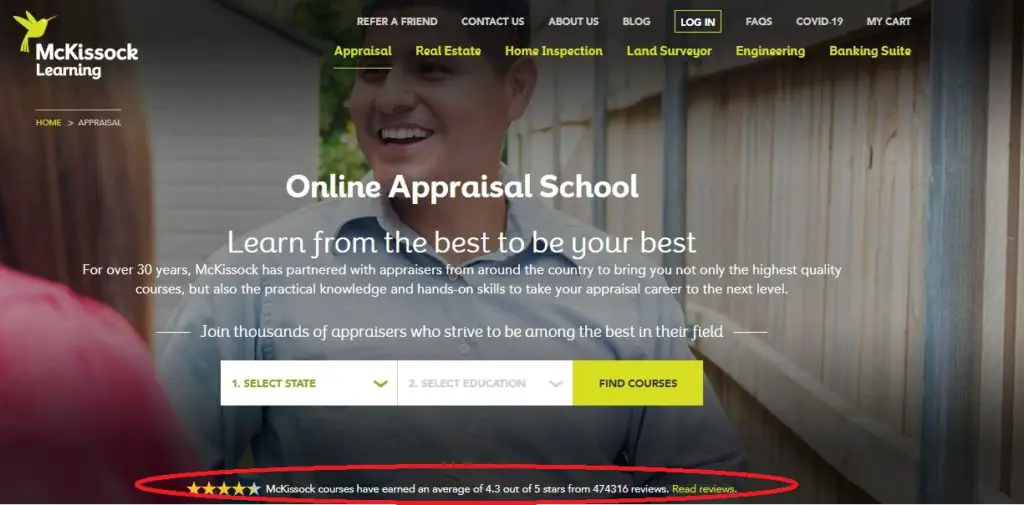 Source: This is a screenshot from the McKissock website
Many students applaud the convenience the online classes could bring. It fits perfectly into their busy lifestyle.
A student from Colorado said that the lessons were very clear, and the real world examples were helpful. The classes helped to refresh her memory on important appraisal rules and changing regulations. This gives her the peace of mind that her work is always up-to-date.
Another appraiser from Connecticut stated that the courses had greatly improved his knowledge, and now he is a lot more confident in accepting assignments he would not have felt comfortable with before.
Here are some of my findings of McKissock
I created a poll on an online appraiser professional group. I asked the members how they will rate McKissock based on their experience in taking their appraisal courses.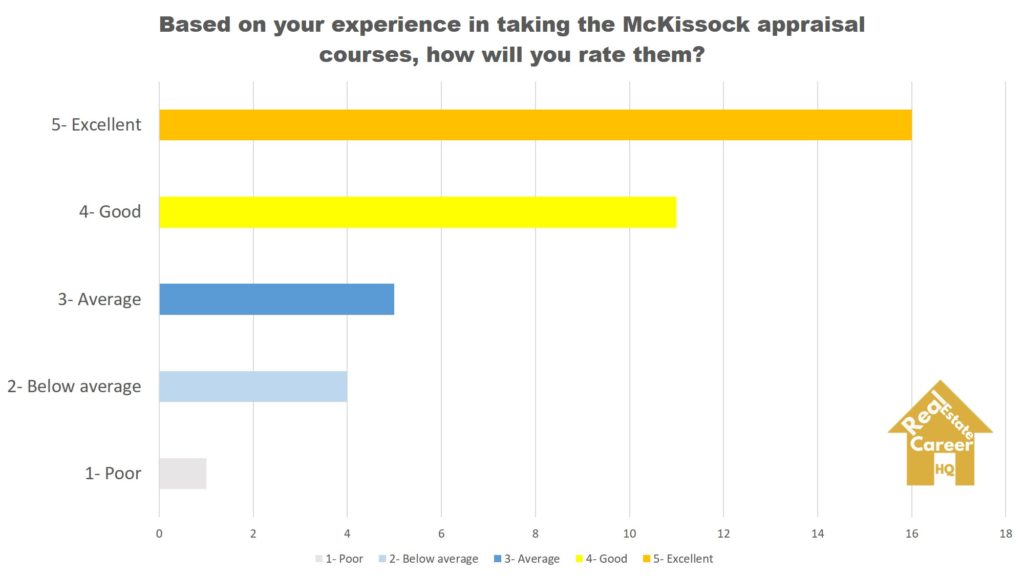 Although this is a small sample size with only 37 respondents, the result is very similar to the rating shown on the McKissock website.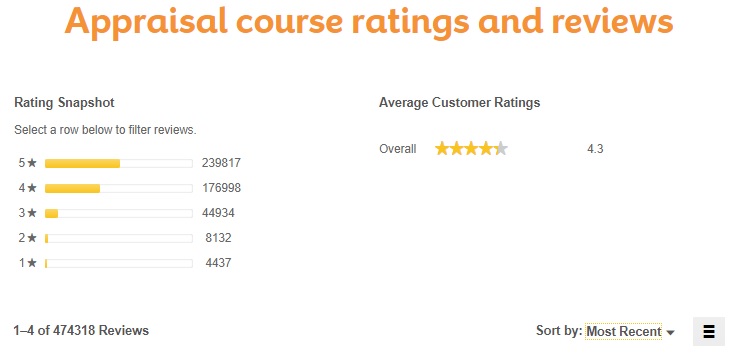 Source: This is a screenshot of the Mckissock.com/appraisal
I also directly talked to several appraisers. Many expressed that the course design is user-friendly, easy-to-navigate, and had all the necessary info. Online education can be very beneficial at times, and they like the webinars.
Some students have been taking their courses since back in the Live Class days and continue to show satisfaction with their program.
If you are reading up to this point, I bet you must be interested in the real estate appraiser profession. Your first step is to complete the pre-licensing courses. You should select one that has an excellent reputation and long-term track record of satisfying students. McKissock is exactly that! You may click here to check it out yourself. (**)
The Bottom Line
Finding the right education provider is the first step toward the success in your real estate appraisal career. When choosing one, it is important to evaluate different factors such as the company's size, infrastructure, instructor experience, selection of courses, and most importantly the satisfaction of the existing students.
Based on all the above-mentioned criteria, I believe McKissock Learning would be an excellent choice.
Once you land on their website, you can select the "state" you would like to get your license and view the course availability.
I hope you'll find this post useful and wish you all a prosperous career in the real estate appraisal industry.
(**) Affiliate Disclosure: Please note that some of the links above are affiliate links, and at no additional cost to you. Our company, JCHQ Publishing will earn a commission if you decide to make a purchase after clicking on the link. Please understand that we include them based on our experience or the research on these companies or products, and we recommend them because they are helpful and useful, not because of the small commissions we make if you decide to buy something through the links. Please do not spend any money on these products unless you feel you need them or that they will help you achieve your goals.
Disclaimer: The information in this post is for general information only, and not intend to provide any advice. They are subjected to change any notice, and not guaranteed to be error-free. For full and exact details, please contact the Appraisal Board in your state.
Reference: