(**) Disclosure: This post may contain affiliate links, meaning our company, JCHQ Publishing will get a commission if you decide to make a purchase through the links, but at no additional cost to you.
As you are thinking about a career in the real estate industry, you probably would come across the terms real estate agent and broker.
But what are the types of real estate brokers, their day-to-day duties, the requirements to obtain such license and most importantly how is the outlook in this real estate career?
We have already discussed the above topics about a real estate agent in one of our previous articles. So this time, we will go over what is a real estate broker.
A real estate broker is a licensed individual who is in the business of helping clients in their real estate transactions. They may serve their own clients or recruit other sales associates to provide the service.
Types of Real Estate Broker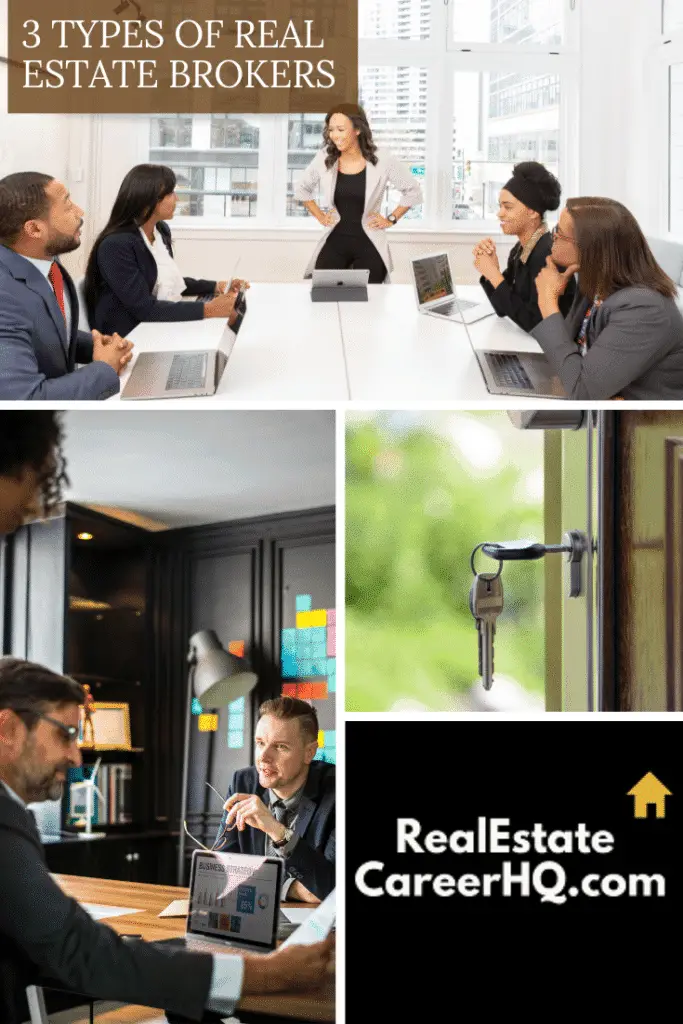 Principal or Designated Broker
Every real estate brokerage must have a principal/designated broker. They typically are the owner of the agency so that you could think of them as the ultimate "boss" of the office.
Throughout the article, we'll also use the term "broker-owner" interchangeably with this title.
They are responsible for overseeing that all the real estate business conducted in their office does fulfill the compliance requirements.
When there is any disagreement or dispute between agents from another brokerage, the principal broker would need to resolve the issue.
Although some designated brokers would still service their clients and provide support to their agents, many choose to outsource the day-to-day operational activities.
This way, they could focus on expanding real estate practice into a more scalable business model.
For every real estate transaction that is successfully completed by either their agents or brokers in the office, the designated broker would receive a share of it.
Managing Broker
Your role as a Managing Broker would be to handle the daily operation of a real estate office. It includes hiring new sales associates, provides training, marketing and sales support to your agents.
Sometimes, you may need to go on the field with your agents in helping to close deals. This is especially true when the sales associates do not have adequate experience in handling clients on their own.
Although you wouldn't be handling every task on your own, (well, a decent size brokerage should have other supporting staffs – i.e. payroll or receptionist), you do need to make sure the agency is running smoothly.
Some Managing Brokers are compensated with a base salary for taking up this job. Depending on the terms you negotiate with the principal broker, you may be able to receive a split of the commission of the agents that you are sponsoring.
But you could still work with your clients in closing some sales, which could bring you extra commissions.
Smaller agencies might not have the resources in hiring a managing broker; therefore the designated broker will take on the managerial role.
Associate Broker
You might hear the terms broker associate, broker-salesperson, or affiliate broker, which are really referring to the same title as an Associate Broker.
An Associate Broker holds the same real estate broker license, but choose to place their business with another broker.
So what is the rationale for you to become an Associate Broker?
The reasons could vary among different people. For example, even if your real estate license allows you to open your own brokerage, you might not have enough capital in hiring supporting staffs, renting office space and pay for other office expenditures.
Furthermore, even if you had been an excellent salesperson, you might not have sufficient experience in training and supporting other team members. Therefore, being an associate broker could be a great stepping stone to equip you with the necessary skills.
Real Estate Broker Career Outlook
So we now have a better understanding of the roles involved, but how much do real estate brokers make?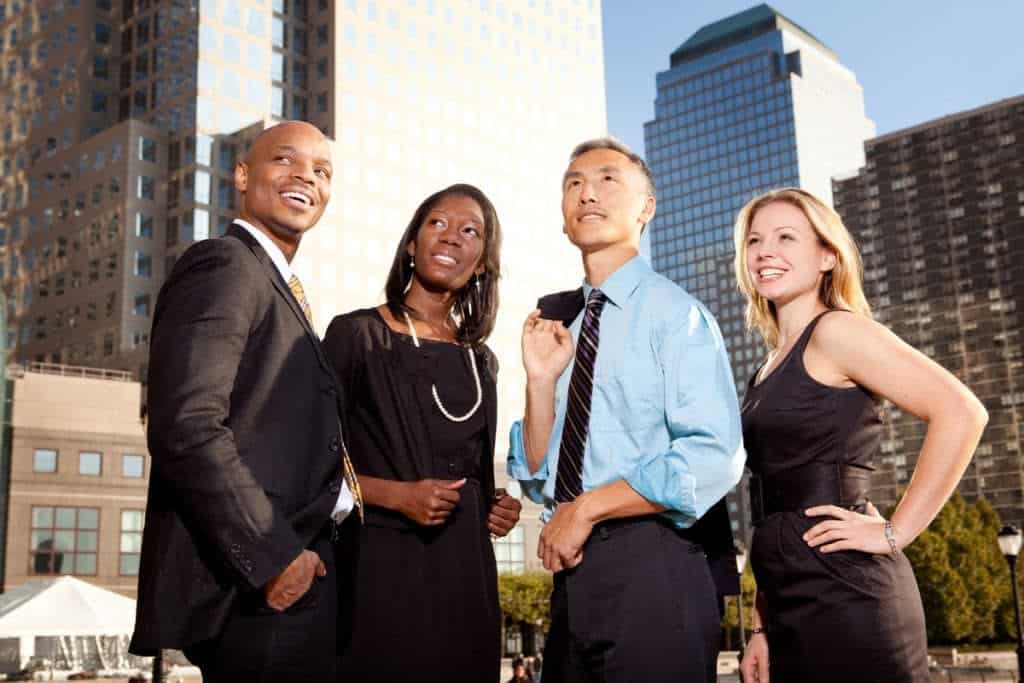 Real Estate Broker Salary
To learn about the real estate broker income situation, we read over an interesting report from the National Association of REALTOR.
Some brokers could be earning a high yearly income of over $250,000, while some are just making a low $10,000/year.
Here's a chart with a full breakdown of the income details.
| Gross Income (Before Taxes and Expenses) | Broker-Owner (Without Selling) | Broker Owner (With Selling) | Associate Broker | Manager (Without Selling) | Manager (With Selling) | Sales Agent |
| --- | --- | --- | --- | --- | --- | --- |
| Less than $10,000 | 5% | 9% | 17% | 12% | 7% | 32% |
| $10,000 to $24,999 | 7% | 5% | 14% | 6% | 3% | 14% |
| $25,000 to $34,999 | 5% | 7% | 8% | 2% | 6% | 9% |
| $35,000 to $49,999 | 3% | 7% | 11% | 2% | 7% | 10% |
| $50,000 to $74,999 | 7% | 12% | 12% | 10% | 19% | 11% |
| $75,000 to $99,999 | 10% | 12% | 11% | 24% | 15% | 7% |
| $100,000 to $149,999 | 12% | 18% | 13% | 25% | 16% | 8% |
| $150,000 to $199,999 | 10% | 7% | 5% | 3% | 10% | 4% |
| $200,000 to $249,999 | 13% | 6% | 4% | 11% | 6% | 2% |
| $250,000 or more | 27% | 17% | 6% | 5% | 12% | 4% |
| Median | $155,000 | $95,830 | $50,000 | $93,750 | $88,330 | $29,440 |
Source: The 2018 National Association of REALTOR Member Profile
We know this is a lot of numbers to swallow, but don't worry, let's us go over each part with you.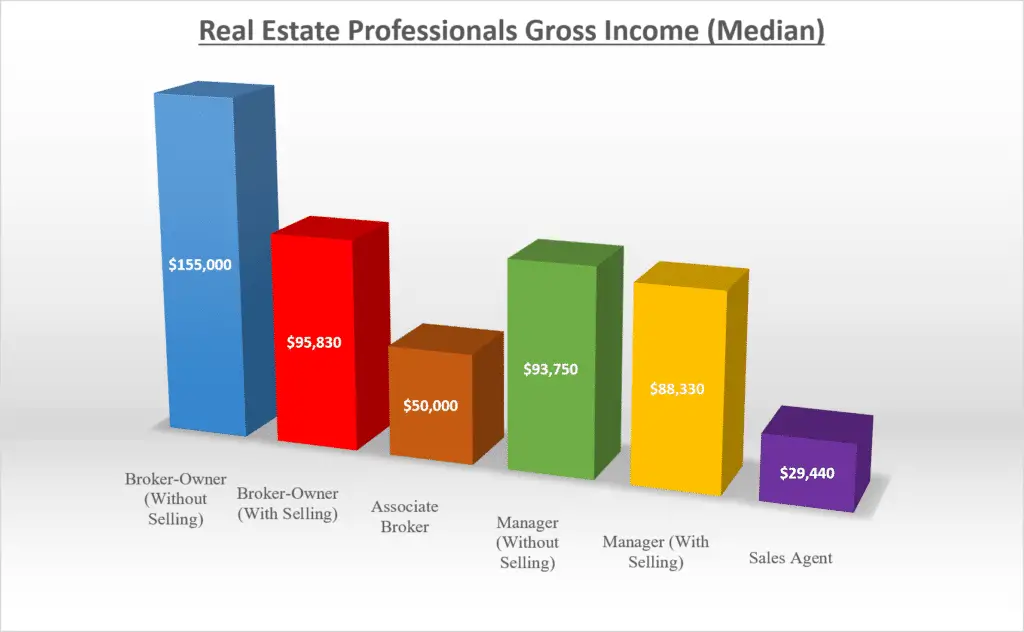 First, you should be able to notice that the median income of sales agents is significantly lower than real estate brokers.
A huge percentage (32%) of sales agents are earning less than $10,000. We believe that could be contributed to the fact that many of them are part-timers. Also, some sales associates could be new to the industry and have not established a solid client base of return customers.
Therefore, if you were a salesperson and looking to increase your income, getting your real estate broker license is certainly worth considering.
Which Type of Brokers are Earning the Most?
Secondly, out of the roles in a real estate office, Broker-Owner (Without Selling) has the highest median income of $155,000. This should not be surprising, after all, they are the owner of the agency and has the most number of people making money for them.
With or Without Selling?
However, an interesting find is that the median income of people who run their practice "without selling" is even greater than the ones "with selling."
But when you think about it, it actually makes senses. When you move to an upper management role, more time should be focused on issues that could expand the business of the entire brokerage rather than your own selling production.
This is how some brokers could operate many brokerages because they understand the importance of a scalable business model.
However, being a fan of the TV show, "Undercover Boss", we still believe it is a good practice to maintain actual servicing clients experience, or at least have frequent conversation with sales agents who are active in the field.
This way, you can stay current with the real estate market so that you can continue providing effective training and support to the agents.
What Percentage of Real Estate Brokers are Earning Six Figures (or More)?
We are all here to make a living to provide for ourselves and our family. You do need to complete hours of course work, pass the exam and invest a least a few years in the industry to become a real estate broker.
So does it worth your time to do it? Let's take a look at the chart below.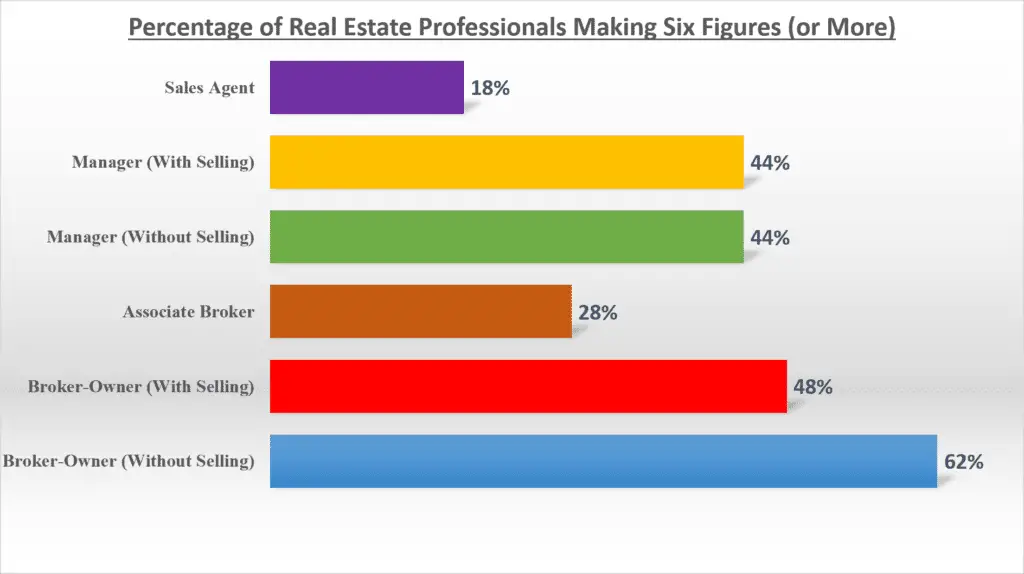 As you could see, there is a significant percentage of real estate brokers who are earning six figures or more. Especially when you are a broker-owner who do not focus on self-production, over 60% has an annual income of over $100,000.
However, even the same type of brokers could have vastly different earning.
The number of sales associates working in your agency, their experience in the industry, and the level of support you are providing to them, which are all critical factors contributing to the sales volume they could bring to your brokerage.
We believe when a real estate practice has grown to a certain level, your next step to success would attribute to how well you are building a team.
So Does Long Working Hours Lead to Higher Income?
Let's take a look at the spreadsheet below.
| | Broker-Owner (without selling) | Broker-Owner (with selling) | Associate Broker | Manager (without selling) | Manager (with selling) | Sales Agent |
| --- | --- | --- | --- | --- | --- | --- |
| Less than 20 hours | 14% | 10% | 9% | 8% | 6% | 17% |
| 20 to 39 hours | 25% | 24% | 34% | 7% | 18% | 36% |
| 40 to 59 hours | 45% | 43% | 44% | 66% | 55% | 36% |
| 60 hours or more | 15% | 22% | 14% | 19% | 20% | 10% |
| Median (hours) | 40 | 40 | 40 | 50 | 45 | 35 |
Source: The 2018 National Association of REALTOR Member Profile
As you could see, most brokers have a 40 hours work week, except for managers.
For managers without selling has the longest working hours. Their average work week is 50 hours. As you could imagine, managing a real estate office and providing support to your agents require a lot of work.
In spite of that, the long working hours do not necessarily result in them being the highest earning group. Their median income is still significantly behind the broker-owners.
After all, most managers can only handle the daily operation of one agency. But a broker-owner can hire managers to run multiple of their brokerages.
Key to Success = Work Hard + Right Strategy
However, we are comparing to the earnings and working hours among different types of brokers. Therefore, it is still possible that a broker-owner who works more extended hours could have a higher salary than another one.
Although we don't have the data to back up this point, we do believe hard work will eventually pay off. Just that you need to implement it with the right business strategy.
How Many Real Estate Brokers Own Their Firm?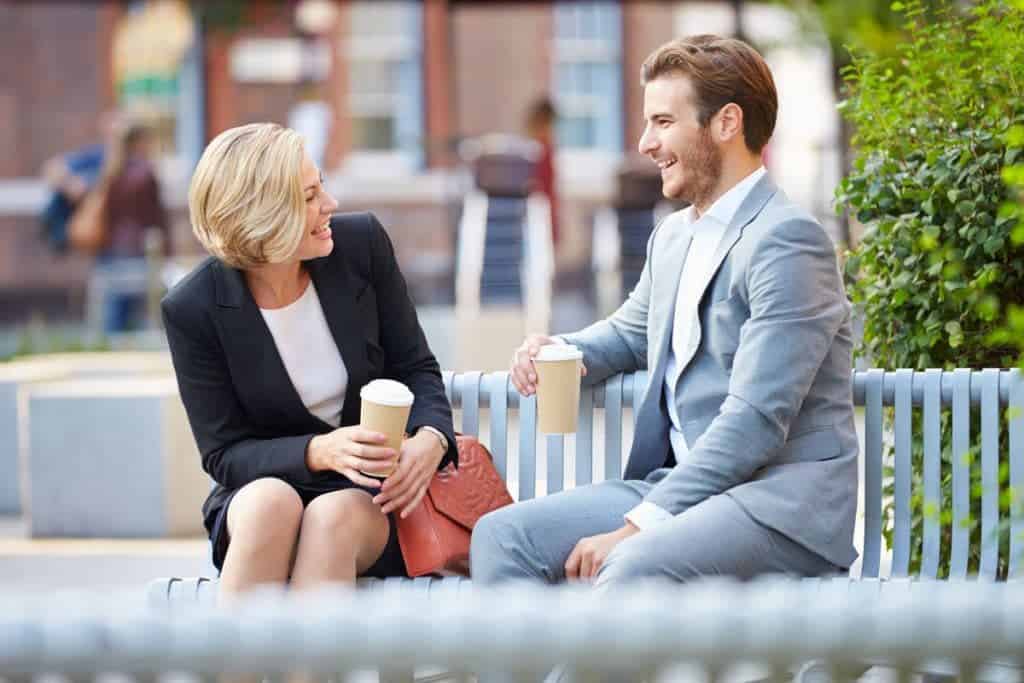 According to the 2018 report from the National Association of REALTOR, 36% of brokers have sole ownership of their firm. 46% of respondent brokers have no ownership interest, which could be the managing brokers and associate brokers.
Furthermore, of those who have brokerage ownership, only a tiny percentage (8%) are affiliated with a franchised company, while a significant number of brokers are building their running and branding their own boutique firm.
Although you could make a lucrative revenue by running a successful broker business, you should also evaluate its pros and cons.
Being a broker-owner means that you'll need to take on the business risks, and liability issues and office expenses.
Typical Real Estate Broker Expenses
Administrative expenses (office supplies, equipment, phone, internet)
Office Leases/Building Expenses (rent, management fee, property tax, utilities)
Marketing expenses (print ads, radio & TV ads online ads, email marketing)
Professional Development (continuing education courses, real estate seminars, webinars)
Technology (software subscriptions, CRM, website)
Vehicle Expenses (lease, insurance, gas, maintenance)
Staffs Salary (payroll, receptionist, assistant, managers)
How to Obtain a Real Estate Broker License?
Now, you should have a solid idea of what it is like to be a real estate broker. If you read until here, it seems that you are interested in becoming a real estate broker.
So let's take a look at what are the requirements to get you the broker license.
Take the Pre-Licensing Education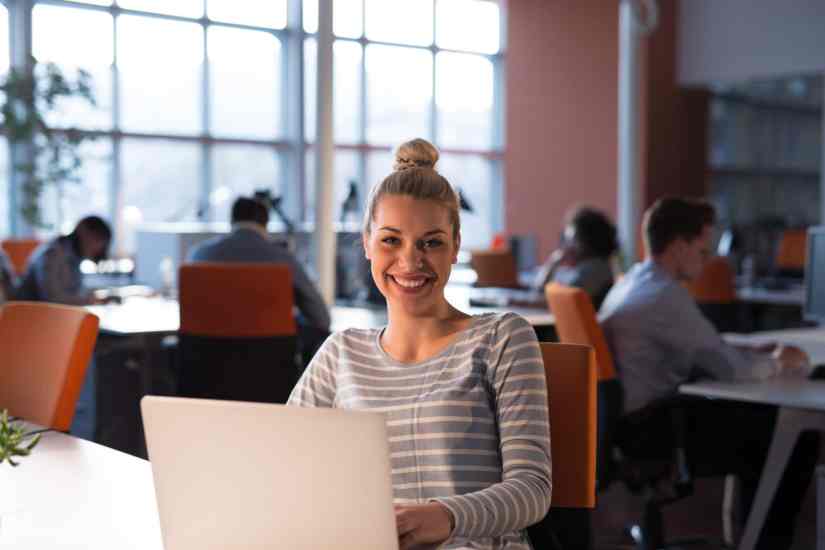 To become a real estate broker, you need to complete the pre-licensing courses from an approved education provider. Education would cover topics such as real estate finance, law, contract, ethics, and others. The course work required typically ranges from 60 to 270 hours. Check out the online real estate school that we like.
Obtain Work Experience
Another requirement is to obtain experience by working as a real estate agent. During the time, you'll be working with clients on purchasing and selling properties, or servicing their rental needs.
The real estate regulatory commission in most states would require you to have 2 to 3 years of such working experience.
So if you want to become a real estate broker eventually, you should go to the regulatory state commission and obtain their standard form to log your work experience.
Write the Real Estate Broker Exam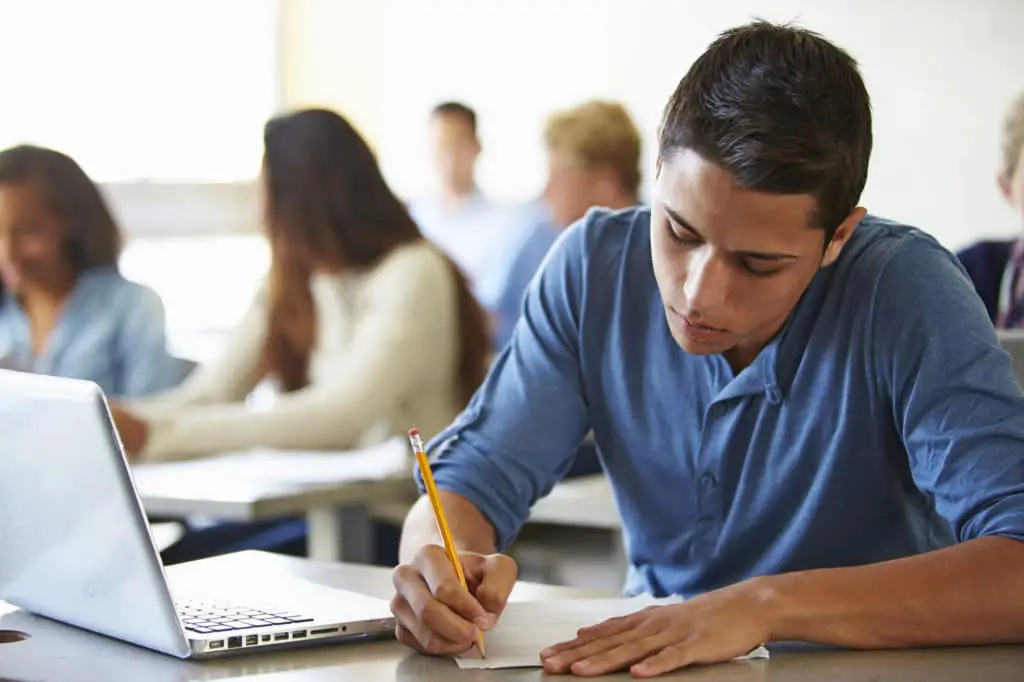 The final step would be to pass the real estate broker exam. This is to test your knowledge of different real estate related concepts.
Some states have an exam that consists of two portions. One part is to test out the national broker knowledge, while the other covers the state related topics.
To better prepare for the exam, you should work on multiple set of practice questions. Some online schools would provide pre-licensing classes along with exam preps. Make sure to choose one that is reputation and have a track record of successful students. You could find some really helpful exam prep providers on our resource page.
Also, the requirement to obtain a real estate license could be different among states. You could click here to find out the licensing requirement in your state.
Final Thoughts about Being a Real Estate Broker
Having reviewed all the above figures, the income prospects of being a real estate broker indeed is attractive. We think it does justify the amount of work and effort involved.
Furthermore, we all only have 24 hours in a day, and there is really so many clients you could take on when working by yourself. We believe building your team of sales agents would be a sensible way to create a scalable business model.
But keep in mind just because other agents are bringing in business for you does not mean you are totally hands off.
Your role as a broker is to make sure your team could have the tools and support they need to remain competitive in the real estate industry.
So that's all we have to share for now. We hope you a prosperous future in the real estate career. What do you think of this article? If you like it, please share it with your friends and colleagues!
Disclaimer: The information in this post is for general information only, and not intend to provide any advice. They are subjected to change any notice, and not guaranteed to be error-free. For full and exact details, please contact the regulatory commission in your state.
Reference: