(**) Disclosure: This post may contain affiliate links, meaning our website, RealEstateCareerHQ.com, will get a commission if you decide to make a purchase through the links, but at no additional cost to you.
To thrive in the home staging business, you must continuously upgrade your decor skill set, expand your network, and streamline your process to deliver services to clients. 
If you have been working in the home staging industry for some time, I'm sure the thought of whether to be a certified home stager would cross your mind. 
So what is a certified home stager? A certified home stager is a professional that went through training and courses that are provided by a home staging industry association or education provider. 
In this post, you'll find out whether it is necessary to become certified in the home staging business. What are the benefits and considerations to go through a certification program? I'll also show you certificate providers with a good recognition. 
Do You Need to be Certified to be a Home Stager?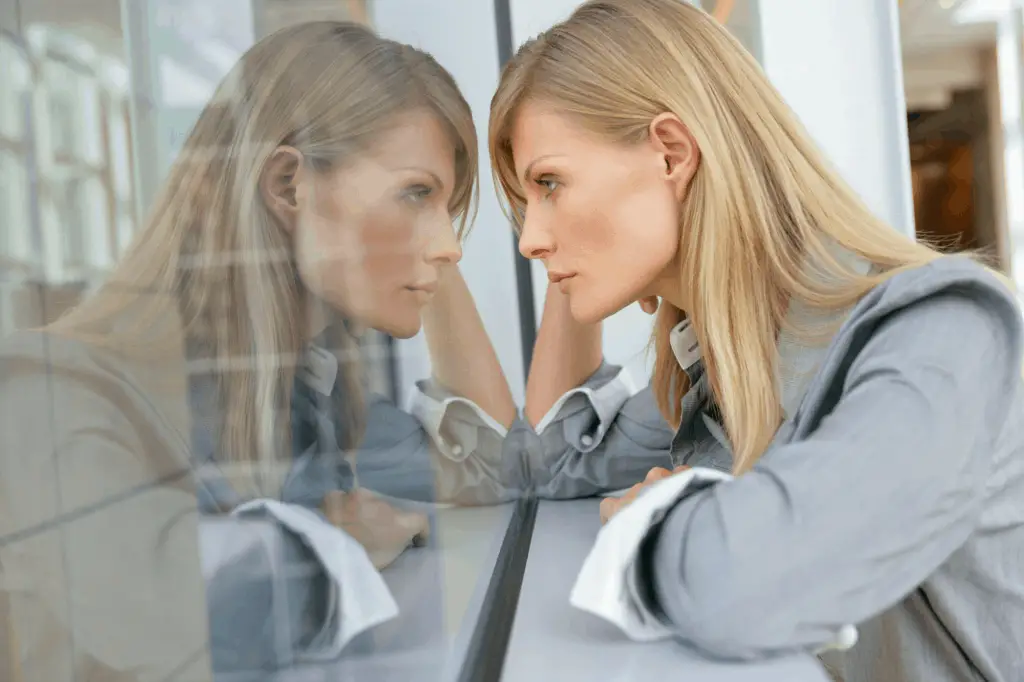 No, you do not need to be certified to be a home stager. All you need as a home stager is the ability to find clients who are willing to pay for your services while you can deliver what they are looking for.
The home staging industry is not being regulated. So there is no official licensing requirement or any governing body. All the certificates are merely issued by individual associations or educational providers.  
Having said that, any entitle could come up with a certificate program and call their graduates a Certified Home Stager. 
Here's what the home staging veteran, Debra Gould, thinks about being certified in this profession.
If you are "certified" or "accredited", it just means you took a particular course. This is a completely unregulated industry and anyone can offer "certified courses" because there is no law or regulation to stop them.

When I started teaching home staging courses in 2005, I deliberately chose to avoid calling Staging Diva Graduates "Certified," because I find this misleading to potential students as well as the general public.

Quote from StagingDiva.com
You could learn more about what she thinks in her article "Choosing Home Staging Courses: 5 Money-Wasting Mistakes To Avoid" (**)
Top 5 Reasons to Become a Certified Home Stager
Although there is not a standard accreditation program, I'm not saying all home staging certificates have no merit. I've talked to several home stagers, and below are why they would choose to obtain such credentials.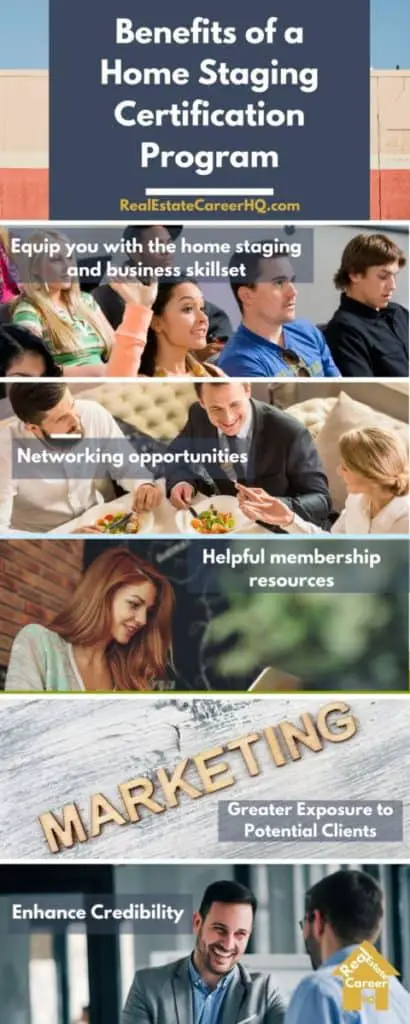 1) Equip you with the home staging and business skillset 
Yes, you might have some creative talent and designing ideas. But being a professional home stager requires much more than your in-born artistic instinct. 
Your job is not just to make a home presentable, but you'll need to account for the functionality of the property, the budget of your clients, and how to run your home staging business profitably. Keep in mind, if your business is not making money, then this is just a hobby. 
When you are new to the industry, you could feel very lost and unsure of what to do. A good certificate program should equip you with the necessary business skillset and save you months or even years of trial and error. 
Even when going back to the staging technique itself, there are practical tips that you could learn in a coaching program. It would teach you how to make the overall home appearance in harmony with just the existing items in the house. 
2) Expand your network
Although you are running your staging practice, you can't do it alone. There are just too many pieces in the business to figure out on your own. Therefore, you must get the help you need from other professionals. For example, if you have trouble filling your pipeline with new clients, then you should connect with real estate agents. That's because they are the ones who have a direct connection with your potential customers. (Well, sometimes, they are your customers since they are the ones paying for the home staging fees.)
Furthermore, you may need to work with other businesses to deliver your staging service — for instance, a furniture rental company, movers, or house cleaning firm. 
Some certification programs would provide you with a platform to connect with these professionals. They may host networking events, educational seminars, or have online groups for members to interact with one another.  
3) Access to helpful membership resources
What you know now is good for today, but might not be relevant five years from now. Therefore, a well-maintained certification program would provide useful updates to their members so that they could stay on top of the game. For instance, what is the latest technology to streamline the business process? Is there any software that could demonstrate the before-and-after staging work?
Once you become a certified member, you should be able to seek advice from the accreditation issuer whenever it's needed. This is a valuable asset especially when you are just starting in the home staging industry. 
Some associations have a large membership base so that they could obtain a group savings rate from different service providers. (i.e., furniture rentals, home decors wholesalers). Their discount programs could be a great perk to your business. 
4) Greater exposure to potential clients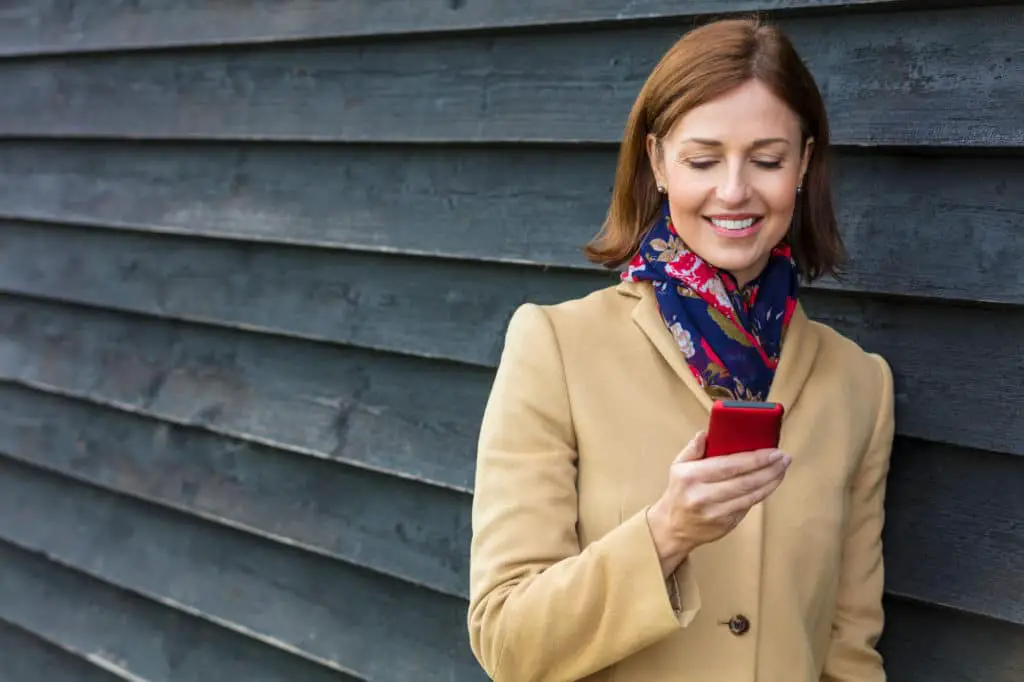 Home staging associations tend to have an online membership directory where they would display the contact info of their Certified members. This could bring you greater exposure to potential customers.
Rather than just bluntly showing your name and phone number, a well-designed directory should allow you to post your photo, brief introduction of your services and a link to your website. It should have a filter feature where viewers could search by different variables such as location, expertise, and price range.
Furthermore, some coaching programs may even offer customers leads to their graduates. This could be a tremendous value if you haven't built up your client base. However, some may charge a fee per lead or will do a split of the home staging fee that you received.
5) Boost confidence
Most home staging certificate issuer would grant a designation to their certified members. So now, you could add a three-letter title next to your name.
Yes, I agree being an accredited home stager is an achievement. But to be honest, the certified title itself might not mean much to your clients because they mostly do not know what does it stands for.
Therefore, you could let them know the training you went through to obtain such recognition and the ongoing commitment to maintaining the accredited status.
Since everyone could call themselves a home stager, this could add credibility in front of clients because they know that you have received proper training from industry experts.
How to Become a Certified Home Stager?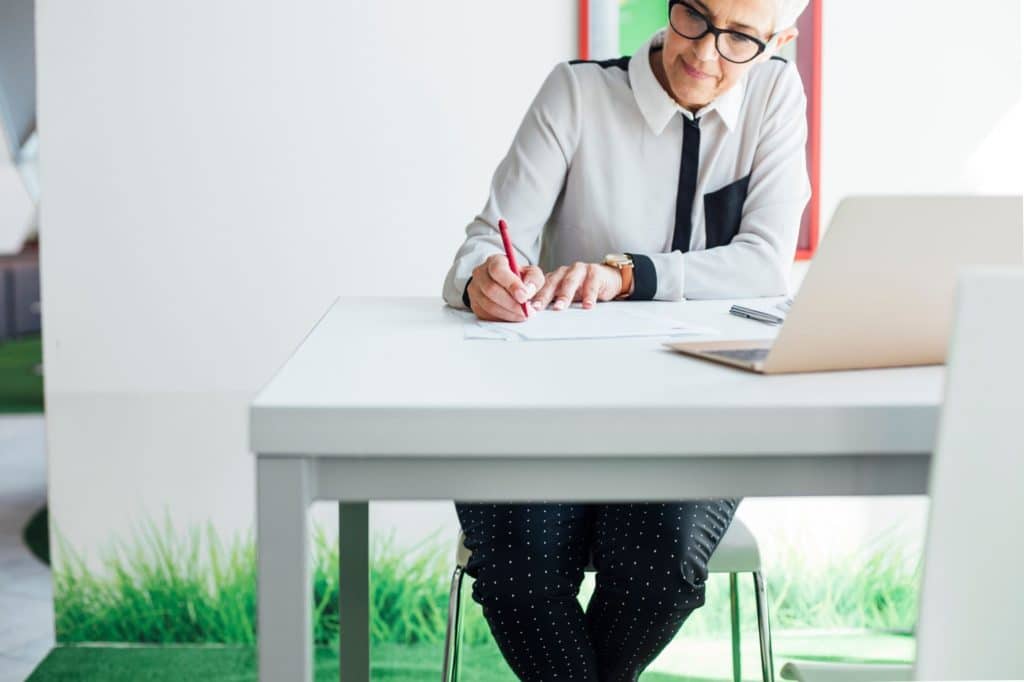 To become a Certified Home Stager, you would complete home staging courses from a certificate issuer. They could be an industry association or individual coaching company.
Then you would pay a fee to receive the "Certified Home Stager" status. This way, you could incorporate the credential into your marketing materials. (i.e., business card, website, social media)
To ensure their members are holding high professionalism, they may require you to comply with their code of standard. For example, you might need to complete certain courses every year.
Since there is no universal standard for the Certified designation, it is important to do your due diligence before you enroll in any coaching program. Below are some questions you should find out from the Certificate issuer.
What will you learn in their coaching program? (i.e., Home staging techniques? Marketing? other business skills?)
Is the instructor an experienced home stager? Are they still active in home staging for clients? 
How can you get a hold of them if you have any questions?
How much do you need to pay? Any hidden fees? 
Is there an ongoing requirement or fee to maintain the accredited status?
Do they have discount programs from other service providers?
Simply speaking, you should find out whether these coaching programs provide you with the top 5 benefits we just discussed earlier.
How Much Does it Cost to Become a Certified Home Stager?
I checked with several home staging coaching programs. It would cost around $1000 to $2000 to become a Certified Home Stager.
The fees typically include the course enrollment and one year of membership. Some education providers have different payment options. Not only that you could pay them by credit card, but you can also spread out into multiple payments.
Here are some home staging certification programs
1) HSR Certified Professional Home Stager & Redesigner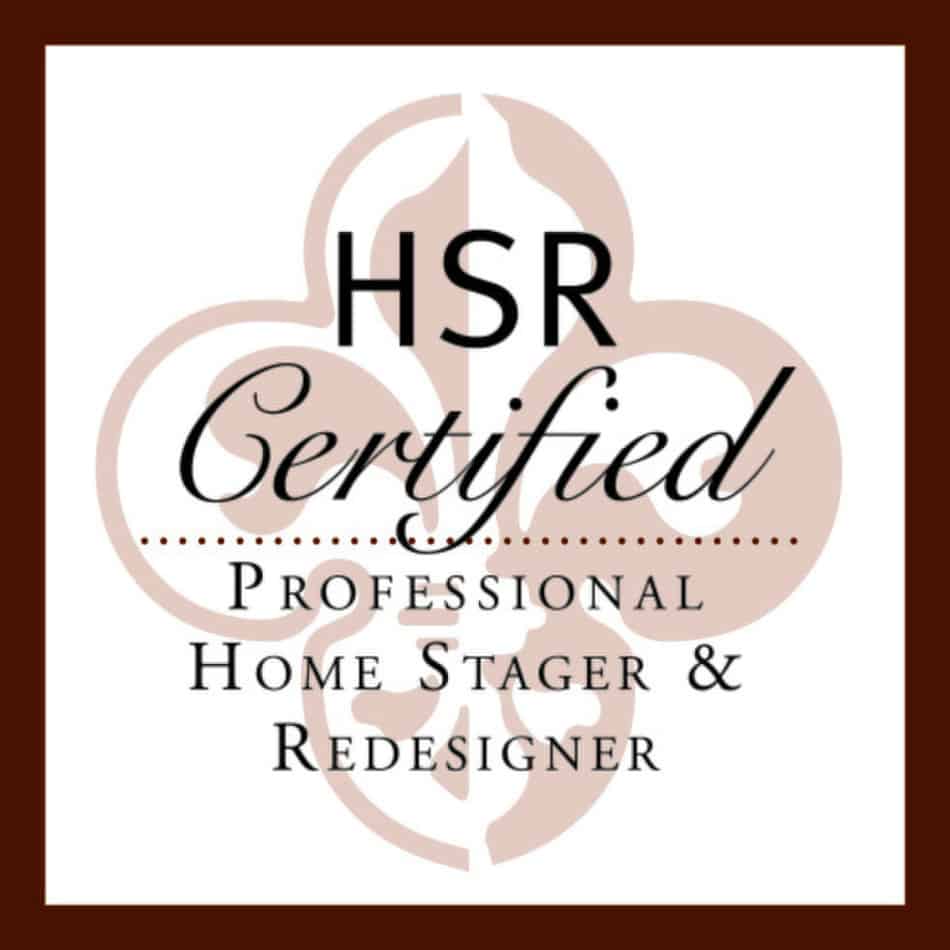 This program is offered by the Home Staging Resouce (HSR). Audra Slinkey is the creator and President of the HSR Training. It is the first home staging and design training program to become a "3rd-party" accredited by the Real Estate Staging Association (RESA) back in 2009.
According to their website, this program consists of a 21-day module which covers everything you need to know about being a home stager. It includes a 300 pages training manual, live webinar sessions, videos, 100+ forms, and a member social network. 
You could hear out what Audra said about their training program:
I just checked their website, the cost to enroll into the Staging Certification Program is $999.
2) Accredited Staging Professional® (ASP®) Home Stager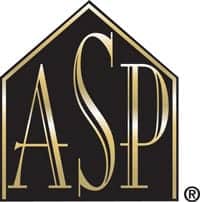 This is a three days training program offered by StagedHomes.com. 
"Curriculum written by Jennie Norris, President & CEO of Stagedhomes.com and the Stagedhomes Leadership Team and based on teachings from Barb Schwarz, ASP®, ASPM®, IAHSP®, The Creator of Home Staging®. The Course is timely, on-trend, and the Stagedhomes Leadership Team and Certified Trainer Staff all own and operate successful Staging businesses and rank among the top 1% of Staging Businesses worldwide." Quote from StagedHomes.com
This is an intense program, where you'll need to attend classes from 9:00 am to 5:30 pm for the full three days. 
Day 1: Learn How to Educate Your Clients and the Real Estate Agents You Work with and Meet
Day 2: Staging Day! Experience the "Magic" of Transforming an actual Home with ASP® Staging!
Day 3: Learn how to Build, Grow, and Run a successful Professional ASP® Home Staging Business! 
The coaching program also provides many other benefits to their graduates. For example, they will give you a one year membership to the International Association of Home Staging Professionals® (IAHSP®). You'll have your own ASP® Stager Profile so that potential customers and real estate agents could learn about you.
At the time I'm writing this post, the fee for this 3 Days Home Stager Course is $1,895.
The Bottom Line to Become a Certified or Accredited Home Stager
When you are starting in the home staging industry, you probably would need some guidance and training to build the business on the right track. At the same time, you could be operating in a tight budget, so setting aside money for certificate programs could be difficult.
Therefore, whether it is a good investment to obtain such designation is a question that only you can answer. However, you should always do your research before you make any investments to the training programs. Here's the educational section of our resource page for your reference.
Furthermore, just because you could obtain a Certified Home Stager status, you shouldn't expect your business will magically thrive due to the extra alphabets next to your title.
After all, the only thing that clients care about is whether you can deliver a high-quality home staging service. You should go back to the basics and evaluate whether the training materials could help you bring better values to your clients.
So would you become a Certified Home Stager? Please share your thoughts with us in the comment section below!
Related questions
1) What education is needed to become a home stager?
There is no official education requirement to become a home stager. However, it would be best if you equip yourself with the proper home staging and designing skills. Being knowledgable in how to operate a business is also essential to your home staging practice. 
Check out our resource page to learn about home staging training programs.
2) Do you need a degree to be a home stager? 
No, you don't need a degree to be a home stager. But it would be a tremendous asset if you have taken home designing courses.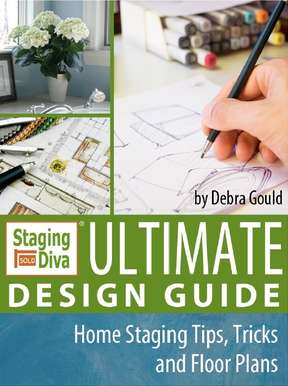 Click here to learn more about this design guide. (**)
Disclaimer: The information in this post is for general information only, and not intend to provide any advice. They are subjected to change without any notice, and not guaranteed to be error-free. Some of the posts on RealEstateCareerHQ.com may contain views and opinions from the interviewees. They do not reflect our view or position.
(**) Affiliate Disclosure: Please note that some of the links above are affiliate links, and at no additional cost to you. Our website, RealEstateCareerHQ.com, will earn a commission if you decide to make a purchase after clicking on the link. Please understand that we include them based on our experience or the research on these companies or products, and we recommend them because they are helpful and useful, not because of the small commissions we make if you decide to buy something through the links. Please do not spend any money on these products unless you feel you need them or that they will help you achieve your goals.
Reference: