(**) Disclosure: This post may contain affiliate links, meaning our company, JCHQ Publishing will get a commission if you decide to make a purchase through the links, but at no additional cost to you.
As a professional real estate stager, in many scenarios, your work may only involve re-arranging the existing items in the subject property. Not only this would create tremendous savings for your clients, but it is also a lot less time-consuming.
But in some staging projects, you may be required to bring in your own furniture or decors. It could be due to that the existing furniture cannot fit into the style or you are dealing with an employ property.
So where do home stagers get furniture? Home stagers could get furniture from local stores, national furniture providers, or through a rental company that is affiliated with a home staging association. 
In this article, I will go over how and where you could locate high-quality furniture rental companies. When should you buy or rent the staged items? Also, the cost to rent furniture to stage a home.
Wondering if you could be a Home Stager? Debra Gould, The Staging Diva, is one of the top-notch coaches for home stagers. You may click here to find out by taking her quiz. (**)
5 Helpful Tips to Find Furniture for Staging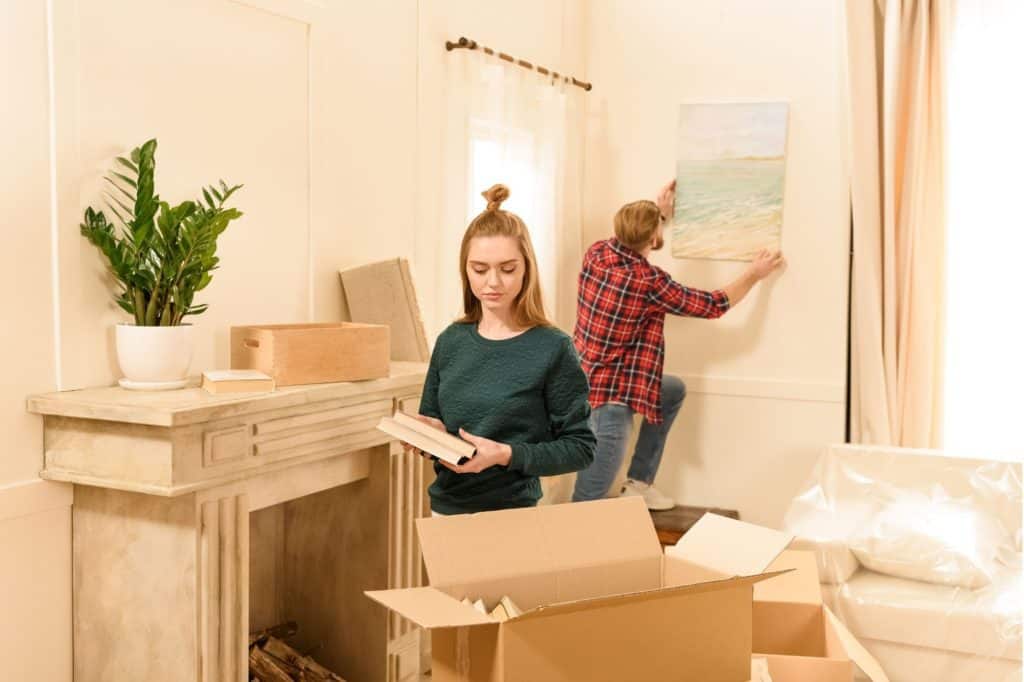 1) Search through local stores and online vendors
For small-ticket decor items, you could check out the craft & furniture stores in your area, such as Marshall, Home Sense, Michael's, IKEA. You could find some terrific deals during Black Friday Sales or Boxing Day.
According to the website, Columbus Underground, they would announce the Best 10 Home Decor Shops every year. Their list was the combined result of the annual Reader Nomination Survey and Editor's Choice picks. Here were their picks in 2021, 
Crate & Barrel
At Home
In there, you could find antique doorknobs, wrought iron outdoor garden pieces, old bricks, and many other unique decors.
Alternatively, you could check on Amazon. I just searched for "staging decor" and able to find some plenty of interesting items. Below are a few decors which you may find it useful for your staging projects. You may click on the images, and check out their details on Amazon. (**)
Regardless of where you shop, make sure you compare the prices or ask for a price match. Also, find out if there's any delivery charge or return policy.
2) Conduct a thorough research of the furniture rental companies
Although you could randomly check out the rental stores in your neighborhood, I wouldn't recommend it. The reason is you need to ensure that their service quality could match your standard. For example, do they have a good track record of delivering furniture on-time? Are they quick in resolving issues? 
If the rental company has poor services, this will not make you look good in front of clients. The first place I would go is to conduct an online search through YELP. Simply type in "furniture rentals in (your city)," then usually there will be a few pages of results. Focus on the ones that have at least four stars rating. The more customers review a company has, the merrier. (Even if a firm has a 5-star rating, but with only one review, then it doesn't really communicate much about their service.)
It would help if you read over the comments to see what do people like or dislike about the rental experience. If there were bad reviews, has anyone from the company try to address the issue? Or they are very defensive and unreasonable. 
You could apply a similar search on Google. But I tried to search through both Google and Yelp for rental companies in different cities. It gives me a sense that Yelp tends to have more customer reviews than Google. 
3) Look for furniture providers with a standard rental process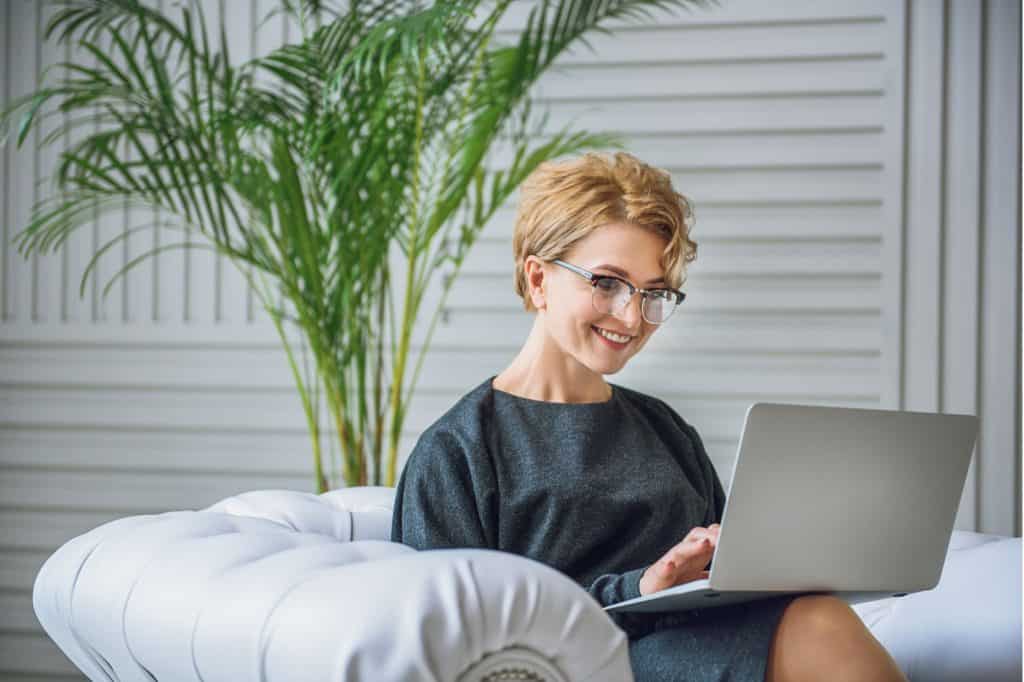 I like to work with businesses that are well-structured so that their service level would be more predictable. For example, if you order a cheeseburger at a McDonald's, regardless of which restaurant you get it from, the taste would be the same. This is the kind of consistency in service level I'm talking about. I searched through several nationwide rental firms. Usually, their process is as follows.
You will find their inventory on their website.
Then there is a spot where you enter the zip code and check whether the furniture is available in your area. If so, then the rental price will be displayed.
You add all your required items to the cart, specify the rental period, and checkout with a credit card.
Your ordered items would be delivered to your designated location within 24 to 48 hours.
If you need the furniture for a longer period than expected, you may renew the lease. Else, you can contact the rental company and schedule for them to pick up. However, some would require you to contact them on days in advance of the pickup. Else, they would automatically renew the terms for you.
CORT is one of the furniture companies where I could find a transparent rental process on their website. They are a nationwide firm with showrooms across the country. On a side note, CORT is part of the Berkshire Hathaway Company, which is owned by one of the greatest investors, Warren Buffet.
Another provider you may want to check out is Brook Furniture Rental. They also state a clear leasing process on their webpage. One thing I like is their "rent by room" package. You simply select your budget range, the type of room you're staging, a sofa choice, then their system will automatically customize the other pieces of furniture for you. Rather than picking each item one at a time, this could save you a tremendous amount of time.
Anyway, I'll leave the links of these two furniture rental companies in the resource section at the end of the post.
4) Check out the affiliated partners with home staging associations
One of the perks in becoming a member of a home staging association is that you could access to their affiliated rental companies. Since the association is bringing in huge business volumes to these furniture providers, they typically would offer a discount to the members. Also, they are more likely to treat your business more seriously and provide excellent services.
The Real Estate Staging Association (RESA) is one of the largest home staging associations in the U.S and they have a buying group for their members. I checked the RESA Buying Group website. They are partnering with a huge list of vendors.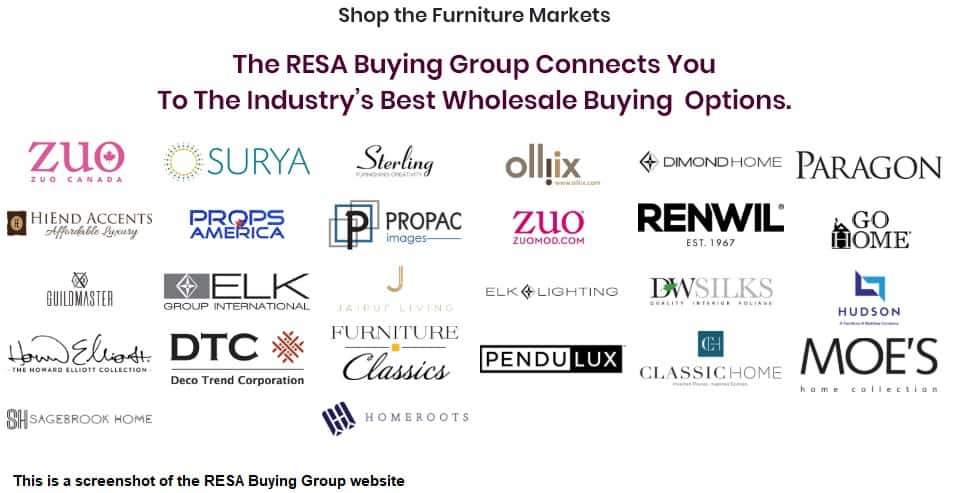 Another association you may want to check out is the International Association of Home Staging Professionals (IAHSP). They also have a Wholesale Buying Program, where they strategically partner with companies that sell furniture, artwork, decor, rugs, and other items you need for your Staging company.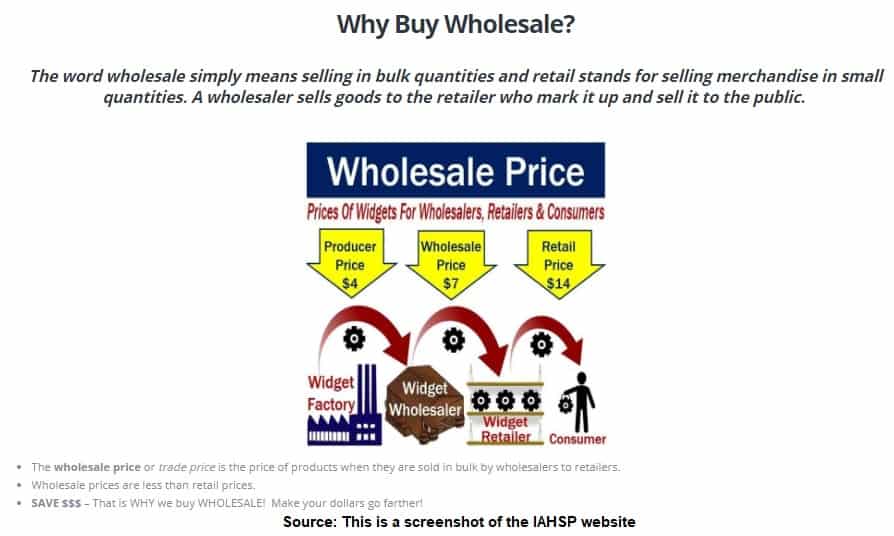 5) Understand the rental terms and conditions
Cost control is a vital part of every business. Therefore, you need to find out exactly how much the furniture companies will charge. Or else these unanticipated fees could eat up your profit margin. Here are a few questions you should ask the furniture providers: 
Does the displayed price include delivery and pickup cost?
How long is the rental period? What is the cost if you need to extend the lease?
Will there be extra costs for moving furniture up or down the stairs?
Does the total charge include all the items you need? For example, when you rent a bed, some rental firms do not include the mattress, pillows, and bed sheets. 
Should Home Stagers Buy or Rent Furniture?
I'm going to answer this question straightly from a business point of view. Whether you should buy or rent a piece of furniture would depend on the expected Return on Investment (ROI). 
There are several important factors you better consider. 
How much does it cost to buy? 
If you buy it, how much will be the storage fee? and how much does it cost to move the furniture to the subject property?
How much does it cost to rent?
Do you expect to use it a lot?
Let's do a scenario:
Suppose there is a piece of furniture that you are considering to buy or rent. You found that the cost of leasing for just a couple of times already exceeds the price of owning it. Based on your staging experience, you expect to use this item at least four to five times per year. Since the style is very neutral and its quality is durable, it should be good for usage for at least the next five years. Furthermore, the item is relatively small, so you could simply put it in your home office and carry it to the property whenever it's needed. In this case, you could consider buying the furniture rather than renting it. 
Generally speaking, I would say to only purchase the small-ticket items such as wall painting, pillow, mirror, bathroom towels, liners, flower vase. If you do not frequently stage empty properties, then for bunky furniture such as bed, cabinet, table, chairs, side table, renting them as needed could be a wiser business decision. 
Especially when you are starting in the home staging business, you don't want to overspend on inventory and result in negative cash flow. Once you have completed an adequate number of staging projects, you could have a sense of what furniture or decor would worth your investments. 
"Sadly, many of these stagers end up broke and out of business with nothing but a warehouse full of furniture and a pile of debt."

Quote from the Staging Diva
Debra Gould also has an article where she shared her experience, whether to buy or rent furniture. Here's the post if you are interested. (**) 
How Much does it Cost to Rent Furniture to Stage a Home?
The cost to rent furniture to stage a home could range from several hundred to thousands of dollars. It depends on the type of furniture you are renting, its quality, and the lease term. To give you a better idea, I visited the CORT.com website. I searched through the monthly rental cost of different items. They are to be delivered to New York Metro, and below is a summary of what I found.
Sofa $140 to $2,210 /month
Chair: $30 to $750 /month each
Head board: $40 to $170 /month
Bed: $130 to $480 /month
Mattress: $140 to $410 /month
Dinning table: $80 to $1,180 /month
Dinning chair: $20 to $300 /month each
TV: $105 to $845 /month
TV set: $85 to $420 /month
Ottomans & Benches: $105 to $315 /month
Chests & Cabinets $120 to $305 /month
Furniture for Home Stagers- Related Questions (FAQs)
1) Is it better to sell a house empty or staged?
In most scenarios, it is better to sell a staged house. According to the NAR 2019 Profile of Home Staging report, 44% of the interviewed buyer's agents have witnessed an increase in property value after it is staged. Also, 83% of them indicated that staging does help a buyer to easier visualize the property as their future home.
2) Do home stagers provide furniture?
Usually, home stagers would work with the existing furniture in the subject property. When they provide furniture for the staging project, then there will be additional furniture charge to the client. 
Here's another article you might be interested. "How Much do Home Stagers Make? (Show me the numbers!)". In there, you'll find info on how to charge for home staging services.
Bottom Line – Where do Home Stagers Get Furniture?
As a home staging, you could either rent or purchase the required furniture. But as I mentioned earlier, you should only consider adding on an item into your inventory only if it makes financial sense for your business. Well, I'm a conservative investor, so I tend to avoid making significant investments unless there is a reasonable ROI. Even if you need to build up the inventory, it's a lot safer to add on gradually. The worst is that you go into huge debt, then find out the purchased furniture has very low-usage.
On a separate note, if you are interested in building a home staging career, here's a resource page for you. You'll find several training courses and trade associations that could be helpful to your real estate staging practice.
So do you like this post? If so, please share it!
Also, please let me know where do you get furniture for your staging business in the comment section below. Thanks!
Disclaimer: The information in this post is for general information only, and not intend to provide any advice. They are subjected to change without any notice, and not guaranteed to be error-free. Make sure you comply with the state laws and regulatory rules.
(**) Affiliate Disclosure: Please note that some of the links above are affiliate links, and at no additional cost to you. Our company, JCHQ Publishing will earn a commission if you decide to make a purchase after clicking on the link. Please understand that we include them based on our experience or the research on these companies or products, and we recommend them because they are helpful and useful, not because of the small commissions we make if you decide to buy something through the links. Please do not spend any money on these products unless you feel you need them or that they will help you achieve your goals.
Resource: