(**) Disclosure: This post may contain affiliate links, meaning our company, JCHQ Publishing will get a commission if you decide to make a purchase through the links, but at no additional cost to you.
If you are considering a career to be a home stager, then it's better to find out whether staging works could bring value to your customers. Clients become more and more well-informed. (Thanks to the shows on HGTV), therefore, it's crucial that you can demonstrate your value proposition. 
Does staging a home help it to sell? Yes, staging a home does help it to sell. The National Association of REALTOR has a survey that shows a staged home could sell faster, with a value increase of 5% to 20%.  
To prepare for this article, I read through numerous studies and talked to multiple real estate professionals. I'd love to share what I found with you.
In this article, you'll learn whether it's better to sell a house empty or staged? Does staging add value to a home or help it to sell faster? And other helpful content related to this topic.
By the way, even if you are not planning to be a property stager, and that you are a home seller, this post would still be a good read. You could go through the figures to determine whether hiring a stager would be a good investment when selling your home. 
Without further ado, let's dive in now!
Is it better to sell a house empty or staged?
Yes, it's better to sell a staged house. Here are the reasons why:
1) Emptied rooms look small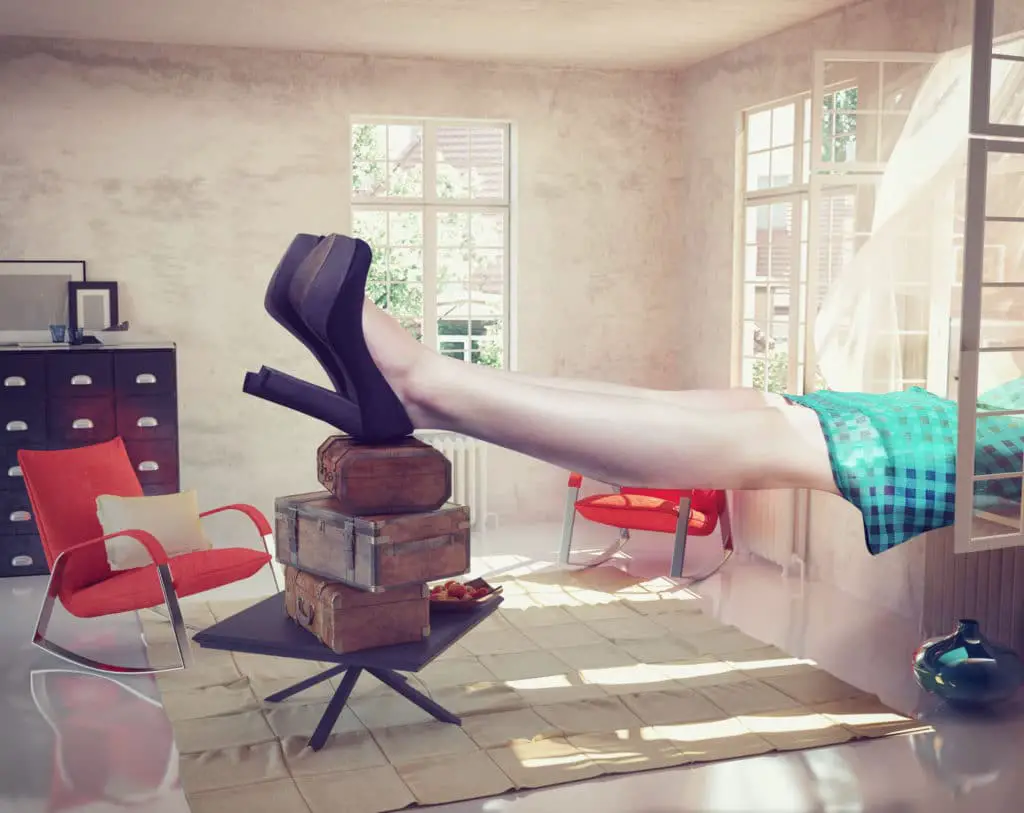 You couldn't tell how tall are most NBA players unless they stand beside average height people. Without the visual comparison, it's difficult for homebuyers to understand the size of the unit. 
If you include furniture such as a bed, dining table, chairs, it could give a vivid idea of what it would be like when people are living in it. Just a side tip, hanging a mirror on the wall could help a room appear more spacious. 
2) Flaws become standout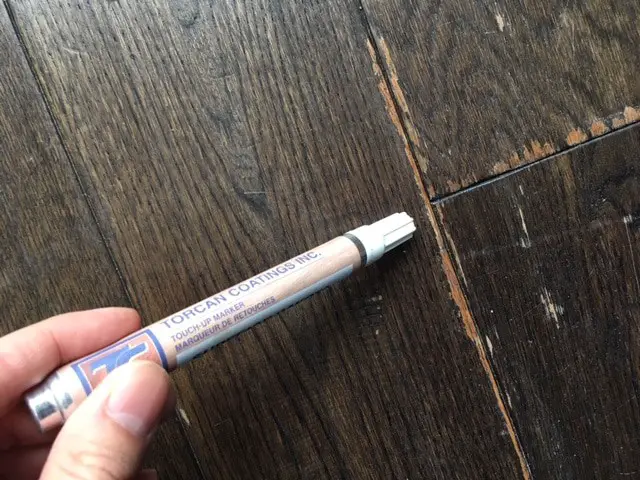 If you have been living in a house long enough, chances are there would be flaws within the property. For example, there could be stains on the carpet, stretches on the floor, or pinholes on walls. From my personal experience, this situation would happen more frequently when you have children or pets. 
Although these seem to be minor issues, every flaw could have a negative effect on the price. Of course, I'm not saying you should hide away potential problems. 
But when the property is staged, the flaws could be less noticeable. For example, you could hang a painting over the pinholes or a rug over the stretches. 
3) More difficult to market
Many people would do an online search of a property before the actual property tour. For example, they would go on sites such as Realtor.com, Trulia.com, or the websites of the listing agents. 
The problem is a vacant house does not look good on photos. It gives a cold and empty feeling. On the contrary, I once went for a property tour. It was a nicely staged home with a crib, a play area, and some colorful paintings on the wall. I could immediately visualize how a family with young children can grow up in it.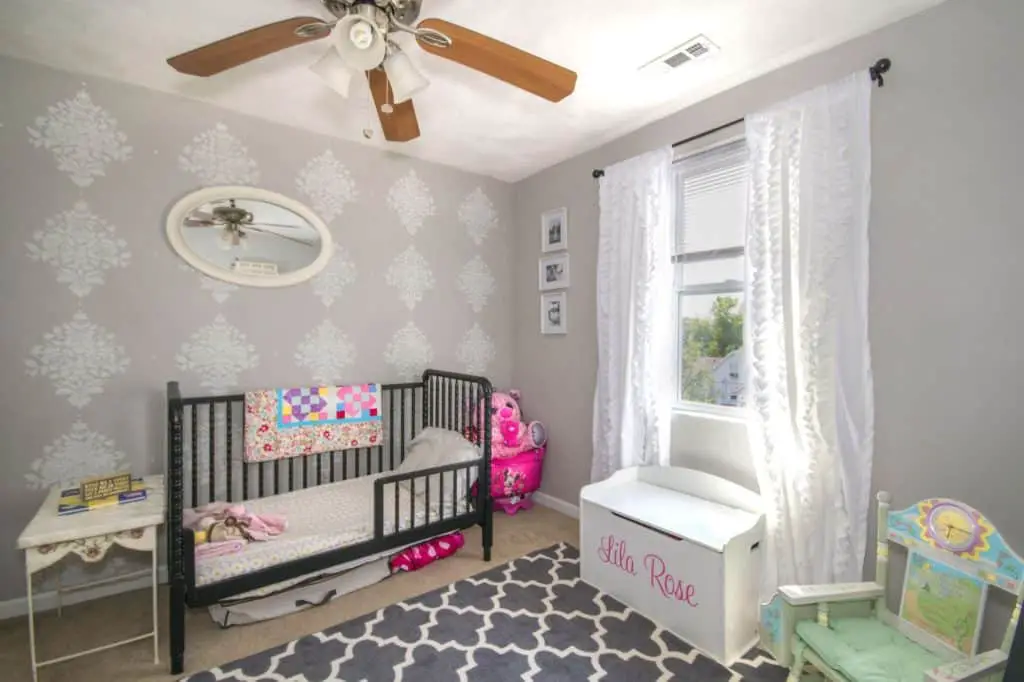 Furthermore, it is challenging to differentiate an empty house with other listing properties, especially when other comparable have a similar layout and are in the same neighborhood. In such cases, you don't have a lot of competitive advantages except for lowering your prices. 
Nationwide, vacant homes sell for $11,306 less and spend six more days on the market than comparable occupied homes.

Redfin.com – Should I Wait to Move Out Until After I Sell My Home?
Does staging sell a house faster?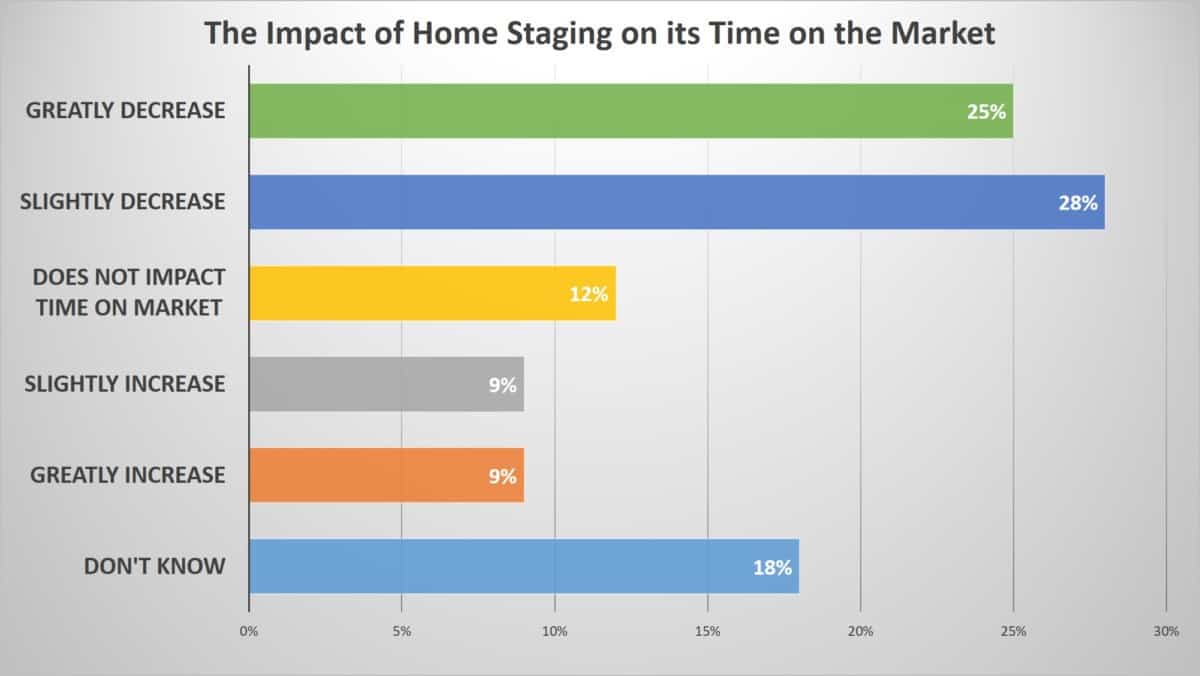 Yes, according to the NAR 2019 Profile of Home Staging, 53% of seller agents said that a house would sell faster when it was staged.
Surprisingly, 18% of the respondents stated that it took longer to sell a staged home. But I couldn't find any detailed explanation in the report. So I'm guessing it is the time to stage the property has lengthened the selling process.
On a separate note, in case you're wondering how the NAR came up with this report. To my understanding, they invited a random sample of 48,728 active REALTORS to fill out an online survey. Then NAR received a total of 2,076 responses. They expect their finding has a high degree of confidence level with a low margin of error.
How much value does home staging add?
In the same NAR home staging report, 44% of seller' agents stated that home staging would add value to a property. The increase is ranged from 1% to 20%.
33% responded they are not sure. I'm guessing these respondents may fall into one of the categories. 
Didn't hire a home stager, so there's no way to tell
There's a lack of comparables in the neighborhood to find out the price difference after a property is staged.
Anyhow, one reassurance is none of the respondents said there is a negative impact on the price for a staged property. Similar results were found from the buyer's agents too.
If you want to learn more about design tips and tricks, here's a design guide from the Staging Diva. (**)
Is staging a house for sale worth it?
To answer this question, we have to look at the potential benefits and costs to stage a property.
The home staging costs may include consultation fees, the actual staging work, rentals of decors and furniture. 
(By the way, if you are planning to become a home stager, and wonder about the potential income, here's an article you should take a look. "How much do home stagers make?")
In the NAR report, it reveals that the average value spent on home staging was $400. I suspect most of these projects do not involve furniture rentals, as it usually would cost a lot more than that. 
As we stated earlier, many seller's agents saw an increased value of 1% to 20% on a staged home. According to Zillow.com, the average home price in the U.S is $244,054.
So even with just a 1% increase in the property value, we would be talking about $2,440, which is significantly more than the $400 median staging cost.  
Based on this aspect, I think it does worth it to stage a house before selling it. But of course, every case is different. For example, the competitiveness in your market, the experience of the home stager, and the cost involved are all important factors to consider. If you are a home seller, you should do your homework accordingly.
Pros and Cons of Staging a House for Sale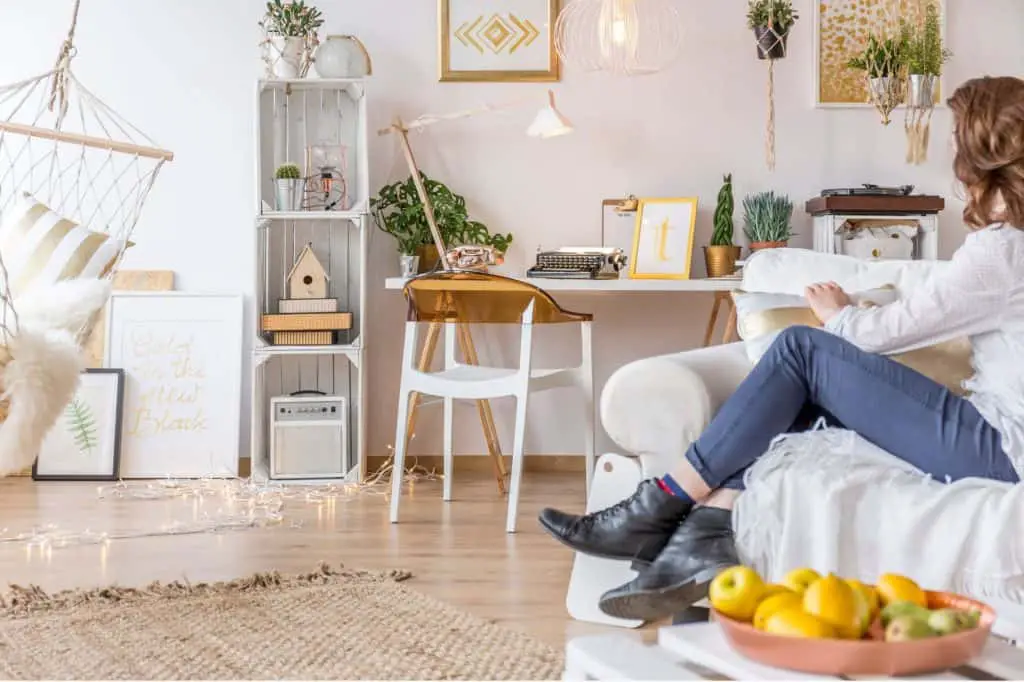 Pros of staging a home
A staged home would be more visually appealing to buyers. It helps them to paint a vivid picture of what it would like if they are living there. 
It would make a home look clean and well-maintained. Having a beautiful curb appeal would create an excellent first impression too. 
During the staging process, it helps property sellers to find out any repairs that may be needed. If a problem is addressed early, it helps to avoid shocks or costly repairs during a home inspection. 
Buying a home, indeed, is an emotional event. The cozy color in a bedroom, floral centerpiece, decorative painting could all create a memory hook to potential buyers.  
It leads to a greater chance of a higher selling price, and make it faster to sell a home.
Cons of staging a home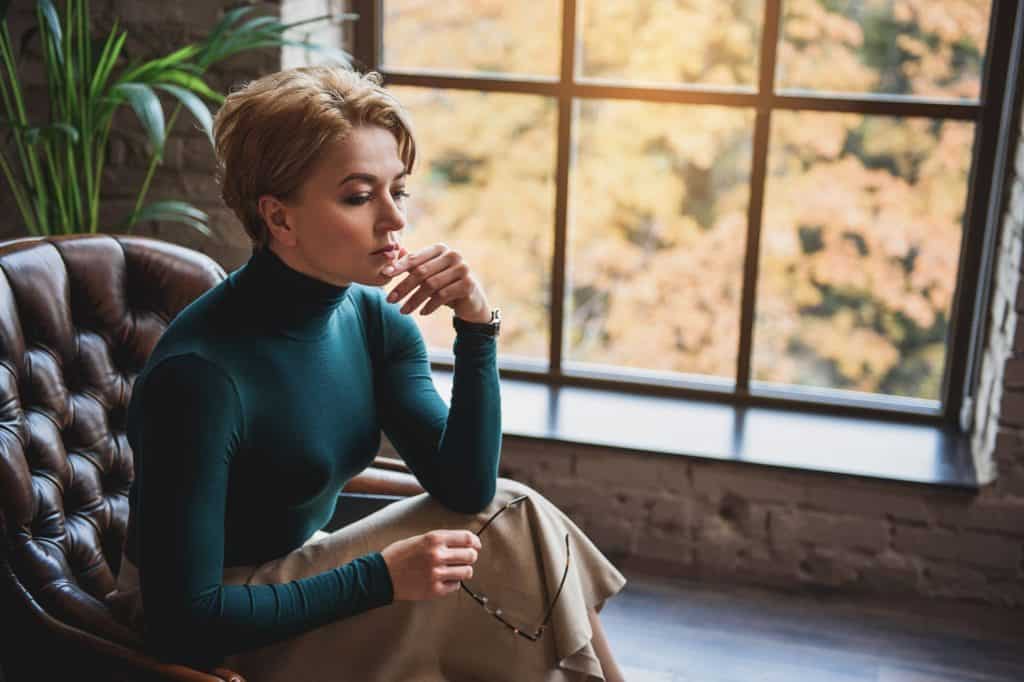 Staging a property could be time-consuming. Especially when it is an empty house or new construction, then the home stager would need to select and deliver furniture to the subject property. 
Some household items are essential in daily living. (i.e., a mob, broom, a toolbox, laundry basket.) But they may not look nice for staging purposes. So if someone is still living in the house, then it could be inconvenient to store away all these items every time there is a property tour. 
Staging is an investment you made toward selling a property. Just like any other investment, there are risks involved. Although many REALTORs stated that there is a considerable increase in values for a staged property, some also expressed they are unsure of the effect, or they do not see any value changes. 
Helpful Home Staging Ideas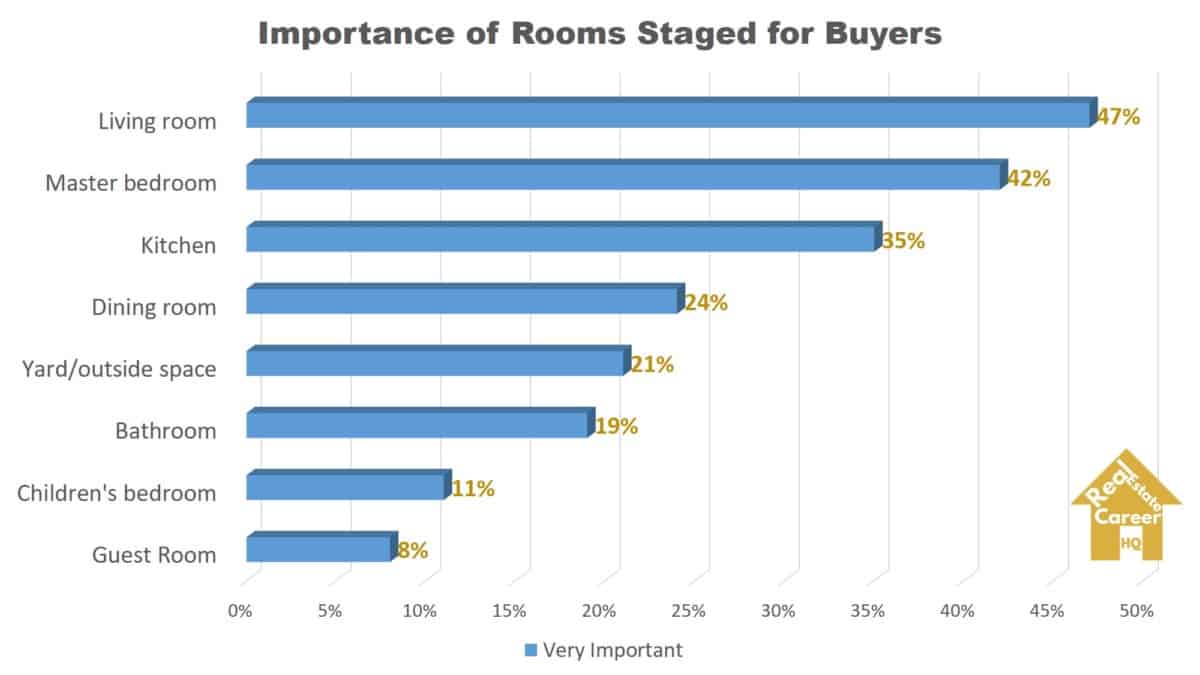 Many buyers' agents cited staging the living bedroom as very important. The level of importance would then followed by a master bedroom, kitchen, dining room, yard/outer space, bathroom, children's bedroom, a guest room. Therefore, when you are deciding on how to allocate the home staging budget, you should focus on improving areas that matter to most potential buyers. 
Staging does not necessarily cost you a fortune. Sometimes, changing small ticket items could display a significant visual effect. (i.e., doorknobs, stair ways handle, light bulbs, shower head, door mat.) 
Decluttering is a key step. Removing unnecessary items would make a room bigger and roomier. But don't take them all out. Leaving a few objects in places such as closets or cabinets could give potential buyers a better idea of the overall dimensions. 
The Bottom Line
If you would tidy up your home when friends and family are visiting, I don't see why you wouldn't want your property to look impressive at the time of selling. 
Based on the figures and charts in this post, a considerable number of real estate agents also agree on the benefits of home staging.  
If you are a home stager, feel free to share this article with your potential clients or colleagues. This way, they can have a better idea of the value of staging a home. 
Also, here's a resource page with practical training materials. It could help you to sharpen the staging and business skills. 
On the other hand, if you are a property owner looking to sell your home. It is important to work with a trustworthy and experienced home stager. 
At the time I'm writing this post, there is no official governing body to regulate the home staging industry. Therefore, before you decide to hire any home stager, you should check out their customer reviews and look through the work portfolio. Make sure you understand what services they are providing and the fee structures.
(**) Affiliate Disclosure: Please note that some of the links above are affiliate links, and at no additional cost to you. Our company, JCHQ Publishing will earn a commission if you decide to make a purchase after clicking on the link. Please understand that we include them based on our experience or the research on these companies or products, and we recommend them because they are helpful and useful, not because of the small commissions we make if you decide to buy something through the links. Please do not spend any money on these products unless you feel you need them or that they will help you achieve your goals.
Disclaimer: The information in this post is for general information only, and not intend to provide any advice. They are subjected to change without any notice, and not guaranteed to be error-free. Some of the posts on this site may contain views and opinions from individual not related to JCHQ Publishing. They do not necessarily reflect our view or position.
Reference: