(**) Disclosure: This post may contain affiliate links, meaning our company, JCHQ Publishing will get a commission if you decide to make a purchase through the links, but at no additional cost to you.
As a property manager, it is your responsibility to collect rent from your tenants. Your company's finance hugely depends on the rental income, and many landlords also need it for paying off expenses such as a mortgage, property tax, insurance, maintenance, and repair.
Property managers collect rent in various ways, including pick up in-person, mail-in, drop-off, and through online payment platforms. The source of funding could be checks, cash, EFT from a bank account or credit card. Once the rental is collected, property managers must deposit them into the appropriate trust account, then disburse accordingly after the associated fees are deducted.
Since each tenant has their own preferred method of paying rent, you should always keep in mind the pros and cons of each when implementing your strategy.
If you are new to being a property manager, the process might seem daunting. This blog post will provide some information about the different ways to collect rent and things to be considered.
But before we start, I want to give a brief disclaimer. This post is for general information only and not intended to provide any advice or real estate training. I'm only sharing what I had researched. The information is subjected to change without notice and not guaranteed to be error-free. Since each state could have different rules on what a property manager can or cannot do, you should always follow the State Laws, Fair Housing Act and real estate best practices.
What set up do you need before rent collection?
1) Set up trust accounts according to the regulation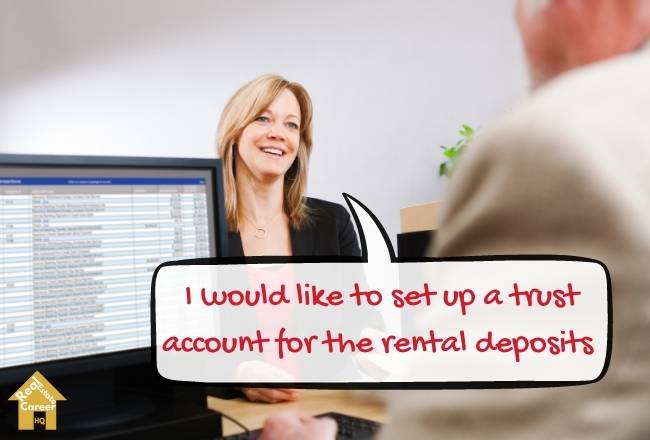 The rent collected does not belong to the property management company. You are merely the collector and temporary keeper. Therefore, most states require property management firms to set up a trust account. This needs to be separated from the operating business account. (i.e., You cannot use that trust account to pay your staff salary.)
Frankly, having a separated trust account is not just to comply with regulations as there are actual benefits of having one for managing rental properties: 
It provides clarity on where the money comes from or goes to 
It creates better records 
It prevents fraud 
It helps protect different parties' interests
It may reduce liability 
It makes compliance easier 
It reduces the risk of audits 
A trust account can be opened at most banks and credit unions for free or for very minimal fees depending on how much you choose to start with.
However, each state has different laws when it comes to trust and escrow account requirements. So it is important to follow the real estate law in your state.
I talked to a real estate broker in Tulsa, Oklahoma. He told me that his property management company has 3 trust accounts – 1 for rent deposits, 1 for security deposits, and another operating account for the property management business.
"Tenants, for example, are typically required to pay a deposit at the start of a lease. This deposit is supposed to be held in a separate account by the owner, landlord or property manager.

If the tenant's deposit funds are mixed with other funds such as rent proceeds, this is considered commingling. Funds such as rent deposits should be held in a trust account that is not used for normal operating expenses. The only time that the trust account should be accessed is when it is time to return the tenant's deposit."

Quote from Century 21 – Commingling
2) Have a specific rental collection policy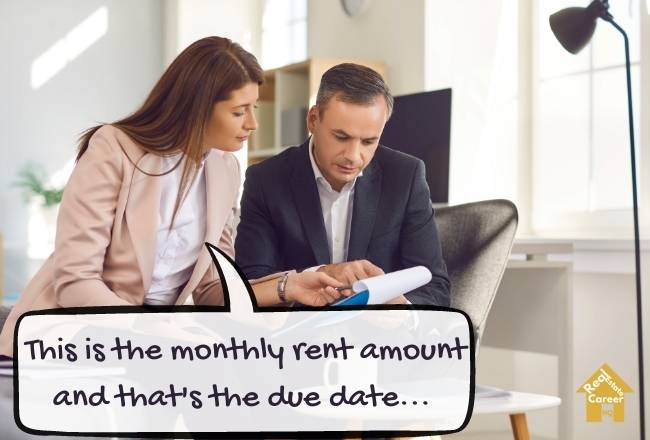 To avoid confusion, it is wise to include specific details in regards to the rent collection. In the lease agreement, you can specify what the amount is, when the rent is due and how will late fees be calculated.
Since you will probably be managing many rental units, you should set a specific day of the month which collections are made for easier tracking. Most rent collections I've seen happen on the 1st or 15th of the month. But I would not suggest it to be at the end of the month since the last date could vary every month. (i.e., 30th, 31th, or 28th)
Traditional Methods that Property Managers Use to Collect Rent
1) Pick up in person
You may drive to the rental property to collect rent. Doing so in person provides you with an opportunity to better understand how the property is being taken care of, and you also get to meet face-to-face with your tenant.
It's important that you maintain good communication with your tenants so you would be aware of any updates within the unit and any other pertinent information, such as repairs that need to be completed before collecting rent.
However, this is the most time-consuming and least preferred method these days. Many property managers' primary reason in driving to the subject property is to collect rent. And doing a quick peek at the property every month is just a "nice-to-have" and really not necessary.
If you are in the same situation, you should find a more effective way to collect rent. As for the inspection, perhaps, a formal one quarterly or semi-annually could be a more suitable choice.
2) Mail-in cheque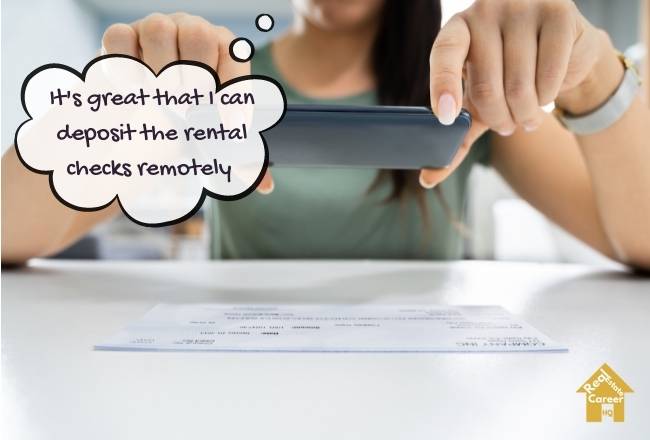 This is more time-saving since you don't have to drive around to collect the rent payment. You merely wait for the cheques to arrive and deposit them accordingly.
If you just set up a property management company and don't have an office, you may rent a virtual office/shared office space. Some have receptionist services which would take care of your mailing. 
Alternatively, you may simply rent a mailbox. I prefer one where the address appears as a regular office address without specifying it as a P.O box.  You may click here to check Anytime Mailbox. (**) Some of them start as low as $5/month. This is where I rent my mailbox for my business too. 
But there are many potential problems with mail-in payments:
the cheque arrived later than expected
the mail got lost
there was a strike at the post office, so no one is delivering the mail
the cheque amount is wrong (tenant forgot about the rent increase)
the date on the cheque is wrong (This happens a lot at the beginning of the year where many people are still used to writing the date of the previous year)
tenant misspell the payable name
insufficient funds in the tenant's bank account
the bank takes days to clear the cheque
Even though many banks allow you to deposit cheques remotely these days, do you really want to scan and deposit a pile of cheques manually one-by-one every month?
3) Drop off in-person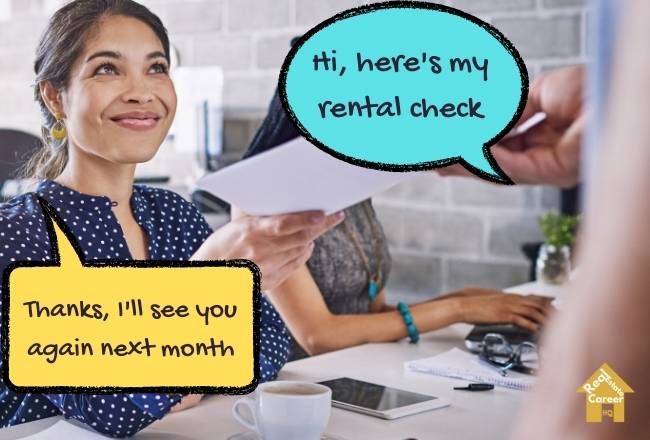 This time, rather than traveling to the managed property, the tenant will drop off the rent payment in person (i.e., check or cash) at a specific location. This usually would be your office or your rented P.O box at the post office.
This way, you don't have to worry about mail carriers losing the rent money. However, the drawback is that the renter needs to travel to a drop-off location that might be inconvenient to them.
After you receive the rental funds, you also have to deposit the cash or check and manually input the transactions into your accounting records.
Should you receive rent payment in cash?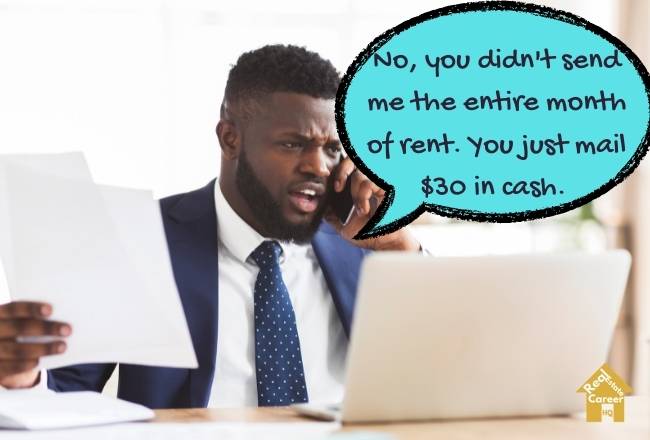 Frankly, I'm really not a big fan of cash payments. First, it's never a good idea for tenants to mail in cash, as this could be lost or stolen. Secondly, it's difficult to prove the exact amount being sent to your company.
If you decide to receive rent payments in cash, you probably need to accept them in person so the tenant can sign a receipt that specifies the exact amount and date being paid. (But you may need to check with your attorney whether this is appropriate.)
Alternatively, your renter may make the cash payments through services such as PayLease or PayNear Me. You can find them at kiosk locations at most grocery stores or convenience stores. Once the tenants make a cash payment, the funds will be electronically deposited into your account. Also, the renter will get a receipt as proof of payment.
On a separate note, financial regulation has become stringent over the years. According to the Financial Crimes Enforcement Network (FinCEN), 29,41% of reported money laundering activities related to commercial real estate were from Property Management Company. Although the study was on commercial real estate, it is still difficult to trace the source of funding when the residential rent is paid in cash.
Therefore, I'm unsure whether cash will still be a permitted method in going forward. You should always keep up to date with the real estate laws in your state.
If you want to scale your business, online rent collection is certainly the way to go.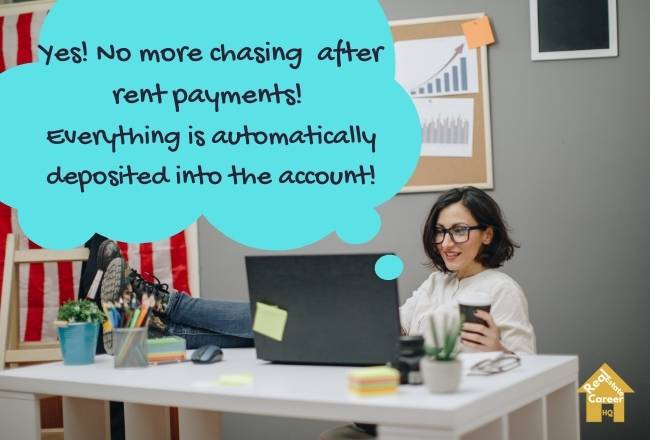 Unlike the traditional methods discussed earlier, digital payments can save you a tremendous amount of time by:
Eliminating the traveling to collect cash or checks;
Scan and deposit each check manually;
Investigate missing mail-in payments;
Chit chat with tenants every month;
It takes just a few minutes to set up. Then the rent can be automatically deposited into your account every month. Since the payment is automatic, there's less chance of late payment, and the transaction is more secure too.
To give you a sense of what's going up in the property management industry, National Landlord Association conducted a study back in 2020. Of all the landlords and property managers they surveyed, the proportion of electronic payments usage rose from 17% in Q4 2019 to 33% in Q4 2020. The increase almost doubled during the period!
Is electronic payment really going to take off in the property management industry? Check out the poll below!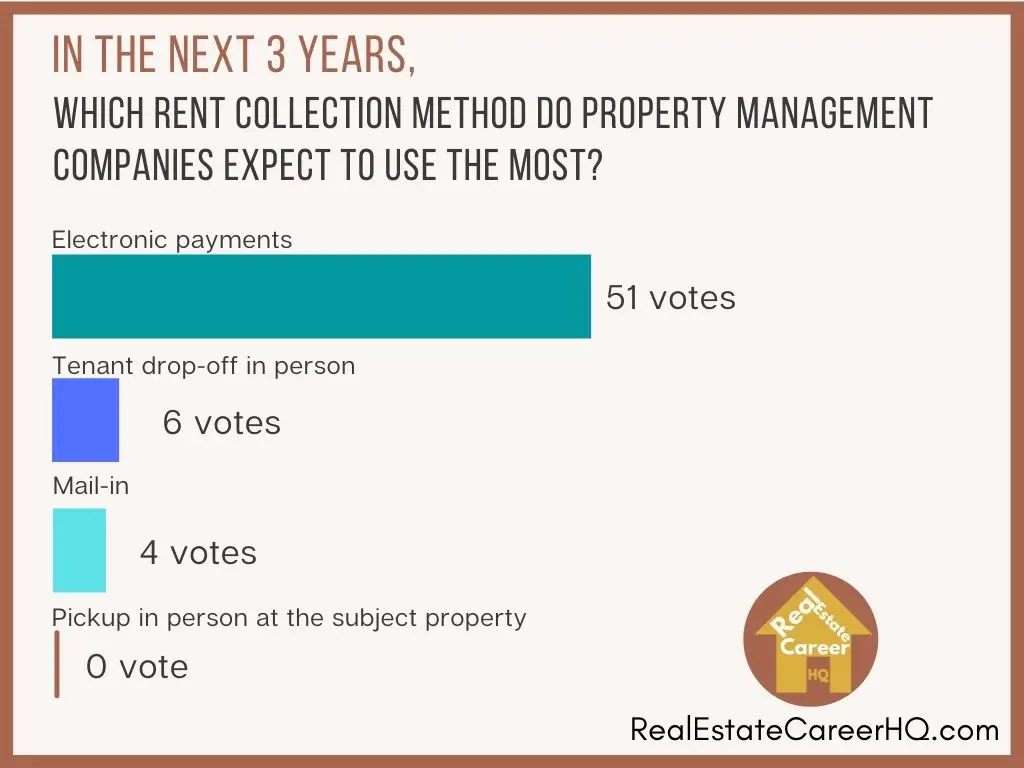 I created polls on several Property Manager groups on social media. Most respondents confirmed that they expect to receive rents electronically in the next 3 years. Some even said they already have a mandate electronic payment policy in place.
Here are a few digital rent collection methods to streamline your process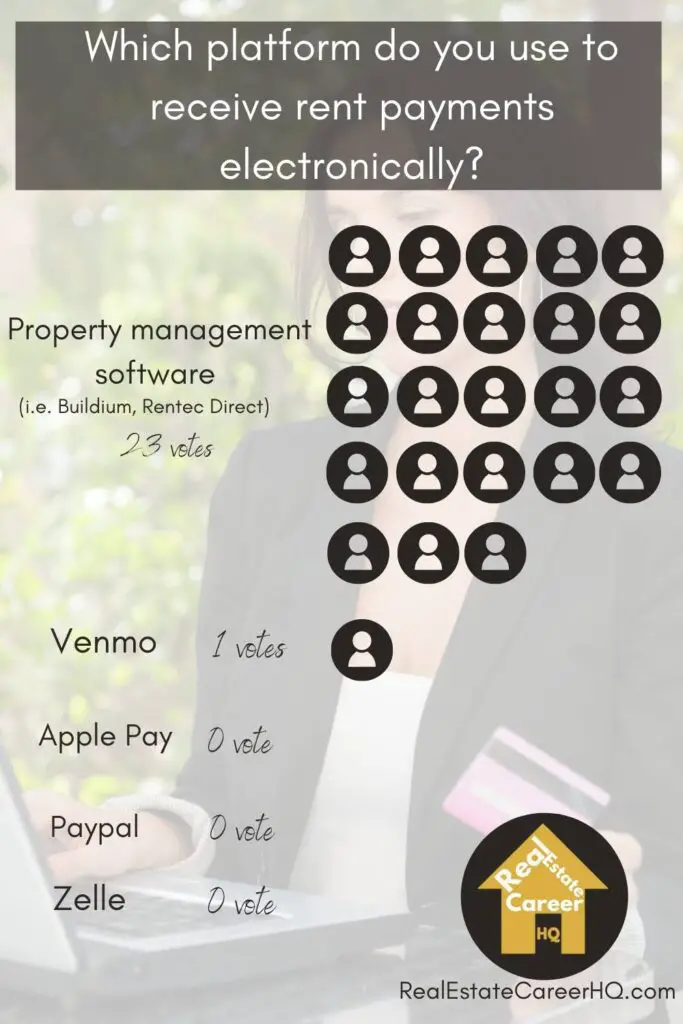 1) Buildium ePay
Buildium is a cloud-based property management software. It is widely used in the real estate industry. You can use it to screen tenants, market your properties and collect rent payments online.
Their ePay feature allows tenants to pay you digitally by EFT, debit, and credit card. They may schedule one-time or recurring payments via chequing or savings accounts, thus helping them to stay on time and avoid late fees.
The benefit of ePay is not just for the tenants. As a property manager, you can also pay the property owners and vendors through the platform. You can even process the rental application fee from prospective renters.
Furthermore, you no longer need to spend time recording each transaction entry manually. When a tenant sends an online payment through ePay, those funds will automatically be transferred from their bank accounts to yours. Then Buildium will automatically bookkeep all of the transaction records for you.
According to the Buildium website, 
the cost to sign up for ePay is a one-time, $99 application fee per bank account. And you are only charged when you use ePay.
The fee for incoming payments by EFT/eCheck is $1.00 per transaction, 
The fee for outgoing payments by EFT/eCheck is $.50 per transaction, 
Incoming payments by credit or debit card cost 2.95% of the total transaction cost.
But if you're on Buildium's Pro subscription plan, your first 5 bank accounts approved for ePay are included for free, and incoming EFT/eCheck transactions will also be free.
Buildium is an ALL-in-ONE software that allows property management companies to manage rental applications, maintenance requests, payment collections, tenant screening, showings coordination, property inspections, renter insurance, and many more. As a landlord, I also prefer the firm that I hire to use such a platform. If you are a property manager and want to streamline your business, you must click here to check out Buildium. (**)
2) Apple Pay
It is a new payment option for Apple users. It lets you make payments in stores, apps, and the web by tapping your device against a contactless reader. The app is already built into iPhone, Apple Watch, Mac, and iPad. So there's no need to download any app separately.
Some property management companies have started using this as one of the ways to collect rent from tenants with an added convenience factor for both parties.
Tenants may add their credit or debit card to the Wallet app on their iPhone. The only information your renters require is your phone number. And there's no hidden fee.
But keep in mind, both you and your tenants must be Apple customers. Since it's unlikely all of your tenants are Apple fans (I also recently switched from using iPhone to Samsung), it's important to offer other payment methods.
3) Venmo
Venmo is a mobile application that allows friends and family to send money back and forth between one another. However, Venmo can also be used by property managers to receive rent from tenants.
The first step in this process is creating an account with Venmo. This could be done through the app or on their website – both are very simple!
Once you have created your account, all of the money will come directly into your Venmo bank account for safekeeping until it's time to distribute it.
You can also set up notifications so that when someone sends money into your Venmo bank account, you automatically get a notified on what was sent to you and who it came from! This way, there's no confusion
As for the fees, when you receive payments in your business profile or that are identified as for goods and services, it will be 1.9% + $0.10 per transaction. 
4) Paypal
PayPal is an online payment system in which users can send and receive money in a variety of currencies. It has been around for over 20 years, so it's safe to say that they know what they're doing when it comes to sending and receiving money online.
You may link your credit card and bank account to Paypal. When you sign up for the Business Account, you can access the subscription feature where your renter can set up recurring payments.
But one of the concerns I have is the tenant can actually file a dispute of the payment. I'm unsure how thorough the investigation would be, so you are really leaving the fate of the rental payments up to PayPal's decision.
As for the fees, the last time I checked, it was 2.9% + $0.30 for each transaction.
5) Zelle
Zelle is an easy-to-use service that allows you to send money between bank accounts without incurring any fees. It can be a quick and painless method to receive monthly rent money as long as you and your renter use banks that accept Zelle.

But there are a couple of issues I found with Zelle.
First, it does not work with every bank. If a tenant's bank or credit union does not support Zelle, then you'll need an alternative method to collect rent from them.

Secondly, the processing time is super quick! Although this should be a good thing, once the money is sent, it's really gone.
"…Once the money is sent, it's gone. There's no pending status, no chargeback mechanism, no buyer protections of any sort. If you send money to the wrong person, you're basically at the mercy of that stranger to send it back." – Ted Rossman, a senior industry analyst at CreditCards.com

Quote from Business Insider – Is Zelle Safe
As a precaution, you might want to ask the new tenants to send you a small amount of money first (i.e., $10). Once confirmed that they did enter the correct payee, they could send you the remaining balance.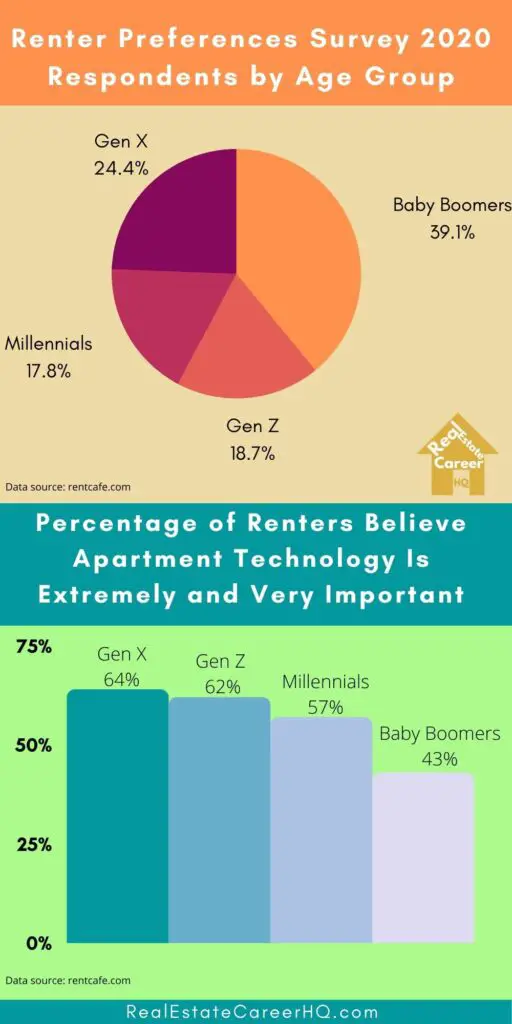 Final thoughts on how do property managers collect rent
There's no doubt that digital rent collection will be the future in the property management industry. You don't have to travel to the managed property, contact tenants about missing checks or those with wrong payment information, and manually keep track of all the transactions.
Online rent payment eliminates all the unnecessary manual work and streamlines your business process.
Although this is the direction our world is heading, we are not completely there yet. According to the National Landlord Association 2020 report, 67% of rent was still being paid with cash, a check, or money order.
Rather than entirely eliminating this traditional rent collection all at once, it's better to phase out this gradually.
Try to encourage existing tenants to use the digital payment platform – for example, you may give them a one-month discount on the management fee, a small gift card, or enter them into a lucky draw with a prize when they set up automatic recurring rent payments. Or charge an extra handling fee if the rent is collected in a non-digital method.
Some tenants merely over-think the complexity of handling online payments. So the best way is to educate them on the proper way to set up. Some may require a bit of hand-holding, but once you show them once, it is very easy for them to get the hang of it.
For those who could learn their own, video tutorials would be a great way to achieve that. Buildium has a library of video tutorials, and one of them is how to set up the ePay.
Of all the digital payment platforms, I prefer those that are designed specifically for property management companies. All the transactions will be neatly organized automatically in one place, and you won't need to input the data across multiple platforms manually.
Buildium is an ALL-in-ONE property management software that allows you to manage rental applications, maintenance requests, payment collections, tenant screening, showings coordination, property inspections, renter insurance, and many more. It also provides you with a professionally designed website so you can effectively build your brand. If you want to streamline your property management business, you must click here to check out Buildium. (**)
(**) Affiliate Disclosure: Please note that some of the links above are affiliate links, and at no additional cost to you. Our company, JCHQ Publishing will earn a commission if you decide to make a purchase after clicking on the link. Please understand that we include them based on our experience or the research on these companies or products, and we recommend them because they are helpful and useful, not because of the small commissions we make if you decide to buy something through the links. Please do not spend any money on these products unless you feel you need them or that they will help you achieve your goals.
Disclaimer: The information in this post is for general information only, and not intend to provide any advice. They are subjected to change without any notice, and not guaranteed to be error-free. Some of the posts on this site may contain views and opinions from individual not related to JCHQ Publishing. They do not necessarily reflect our view or position.
Reference: