(**) Disclosure: This post may contain affiliate links, meaning our company, JCHQ Publishing will get a commission if you decide to make a purchase through the links, but at no additional cost to you.
One of my major degrees in university is in Computer Science. Although I did not pursue this field after I graduated, I still remember a professor once said in a lecture: "If this is a task you will only do once, then it's okay to do so manually. But if you will be doing this many times regularly, then you better have a software program to automate the process."
I believe the same analogy also applies to the property management industry. Property management is no doubt a tough job. You have to juggle your time between different tasks, make sure all the tasks get done on time and always be thinking about what's next.
It can seem like you're never able to get ahead or stay caught up with it all. That's why property managers are increasingly turning to software for help in managing their properties – because it takes some of the pressure off while letting them focus on running their business. Instead of just getting bogged down by the many administrative tasks that need doing every day. 
The property management software provides property managers with an efficient way to manage the property. It is a scalable solution that can be used for one property or hundreds of properties, and it eliminates paperwork throughout the entire process.
Property management software makes it easier than ever before to keep track of tenants' leases, rent payments, maintenance requests, and more–and they're great tools for landlords who want to spend less time handling paper.
There are many benefits to using property management software for your business, which I will discuss in this blog post!
But before we start, I want to give a brief disclaimer. This post is for general information only and not intended to provide any advice or real estate training. I'm only sharing what I had researched. The information is subjected to change without notice and not guaranteed to be error-free. Since each state could have different rules on what a property manager can or cannot do, you should always follow the State Laws, Fair Housing Act and real estate best practices.
Top 9 Reasons Why Property Managers Should Use Software
Reason #1) Automate rent collection
Rent collection is one area where property managers should invest in property management software as early as possible. After all, the livelihood of your business depends heavily on your success in collecting the rental income.
Well-designed software can automate the rent collection from tenants' bank accounts or credit cards every month. The fund will be directly transferred to your business account – no manual deposit is necessary. This surely will save you a tremendous amount of time.
Let's be honest, do you really want to spend a day or two to deposit all the cheques and wait for days for them to clear at the bank? Then repeat the same process every month?
Also, if your company does not accept EFT rent transfers, chances are some renters would mail the post-dated cheques to your company. But did any of your tenants say they have already mailed out the cheques, but you still haven't received them in weeks, and the landlords got really worried and upset.
Having an automatic rent collection system can resolve this issue and prevent late fees for the tenants.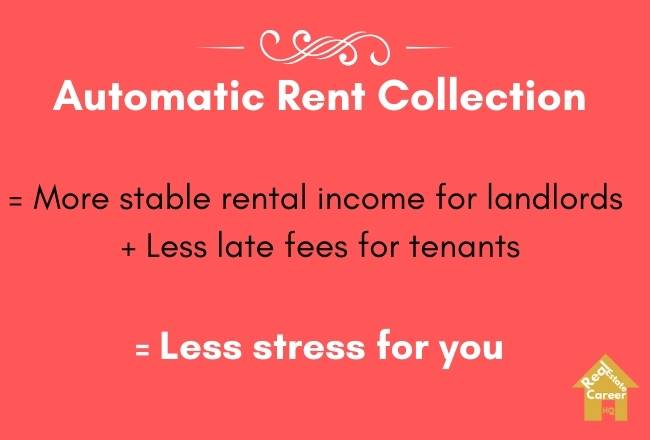 Reason #2) Automate reminders
The modern property manager has a lot of responsibilities. You'll need to arrange for upcoming inspections, rent increases, lease renewals, property tours for prospective tenants.
It's easy to forget about these things when you're overwhelmed with so many tasks. But such negligence can be a missed opportunity for essential repair before it becomes a huge problem, which could lead to unhappy customers or even costly claims down the road.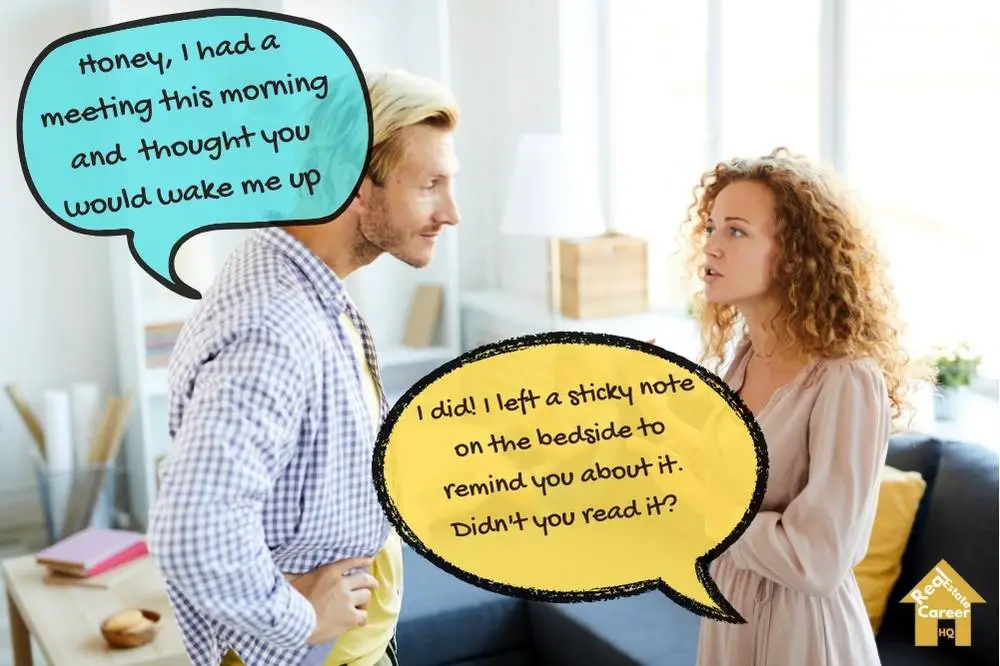 Automatic notification software features are important for this reason because they can remind you via email or SMS text message so that you can always stay on top of the tasks. It also has the feature for you to schedule reminder messages to the tenants or landlords.
With all of these notifications, you can now be more proactive about ensuring that your property runs smoothly without relying on your memory for everything.
Reason #3) Get a complete financial picture of each property
Keeping the financial data complete and accurate for each managed property is crucial in this business. The landlords rely on these figures to determine the profitability of their investments, and they also require them for tax reporting.
The good thing is most property management software can do the job very well these days. It follows every transaction and records payments from renters and homeowners. You'll be able to view all fees, deposits, refunds and get a completed financial view of the managed properties.
Additionally, property managers can print all of their financial reports with just a few clicks; instead of having to spend time doing it by hand over and over again like before!
The property management company that I hire is using the Buildium platform. As a property owner myself, I like how Buildium organizes all income and expenses of my rental properties. My property manager would link each maintenance job with the associated invoice, which is an incredible time-saver for me when it comes to tax reporting. You may click here to learn more Buildium. (**)
Reason #4) Ease to access information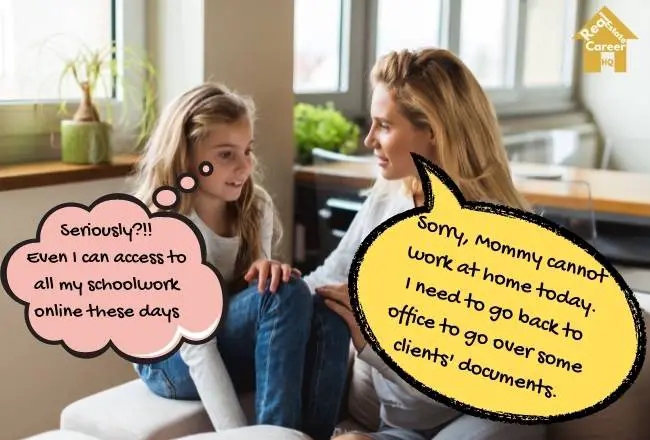 Various property management software is running on a cloud-based platform. So you'll have easy access to all information about each managed property (i.e., the current tenant, rental application, transactions history, invoices).
This is especially a great solution if you or your staff would be working remotely (i.e., home office.). There will be no more searching through paper files or folders! All you need is a tablet/laptop and access to the internet.
Furthermore, have you ever found yourself in a situation all of your files were lost due to a computer crash? Rather than storing the data on a hard drive or USB, cloud-based backup makes restoring data very easy and efficient, as well as secure.
Not only does storing your files on the cloud make them accessible to you from anywhere, but it also frees up space on your device so you can work without worrying about running out of memory.
It's an ideal way for property managers who have a considerable volume of properties to manage at once or for those looking for a less expensive solution than traditional methods of backups. 
Keep in mind that the data you keep could be sensitive information – for example, driver's license, SSN, a void cheque of the tenants. Cloud-based software tends to have encryption to protect them securely.
Reason #5) Track maintenance more efficiently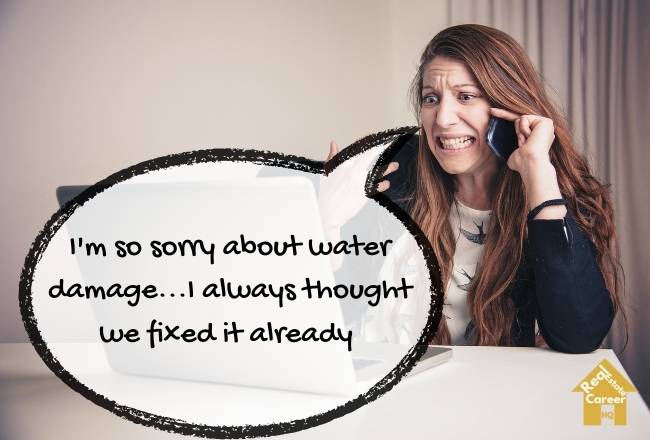 As a property manager, I'm sure you would regularly receive tons of work orders and service requests (trim down an overgrown tree, replace a furnace, gutter cleaning, repair dishwasher, and many more).
Good property management software allows your company, renters, and owners to submit work orders online. You may get status updates from your phone, tablet, or desktop and track how efficiently your vendors perform.
You may key in detailed notes, upload pictures, videos, and documents about the work order. If you have a team of staff, this makes it a lot easier for them to understand what has been done already and what is still pending.
Some maintenance tasks are more routine, like lawn mowing regularly. You may mark them as "recurring items" to stay on top of them and keep vendors in the loop.
In fact, some software has the maintenance tracking feature fully integrated with the accounting system. So you can track the vendor bills and pay them within the system. So you don't have to do it separately through online banking.
Reason #6) Syndicate rental listings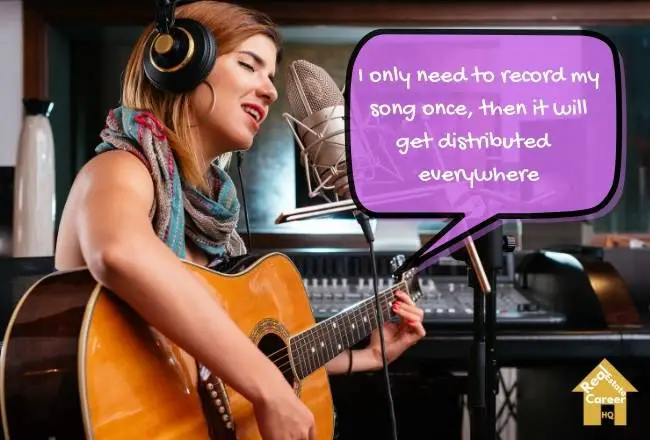 Rather than posting the rental listing separately on each individual site, some property management software has the rental listing syndication feature. 
So you just need to post the listing on your website once (Some platforms even provide you with the website), and it will get posted on sites such as Apartments.com, Apartment List, Zillow Rental Network, Zumper, Facebook Marketplace, PadMapper, and even Craigslist. This helps to get your vacancies in front of millions of prospective renters.
Furthermore, property management software allows you to keep track of all listed and unlisted units and keep an eye on upcoming vacancies.
You may also assign staff to be the leasing agent for specific units. This way, they will be the point of contact for the rentals that they were assigned.
Reason #7) Rental applications and tenant screening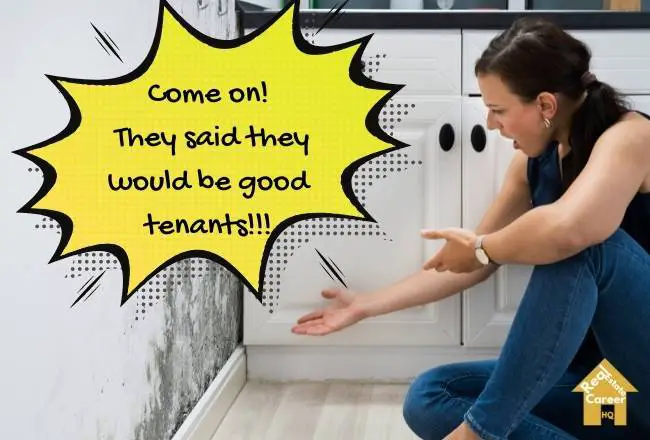 A number of software platforms allow prospective tenants to complete their rental applications online, which means no more extra meetings in person just to fill out the paperwork. (time=money).
The prospective tenants can submit all the required documents (i.e., income proof, copy of ID) and pay the application fees online.
Also, numerous software programs tend to have screening tools to look up an applicant's credit report, criminal records, and eviction history. You'll have all this information at your fingertips to effectively weed out the unqualified renters. Here's a post with the steps that property managers are using to select tenants.
Once you find a qualified tenant, the transmission and signing of the leasing agreement can be done through the system conveniently and securely.
Reason #8) Save time with online portals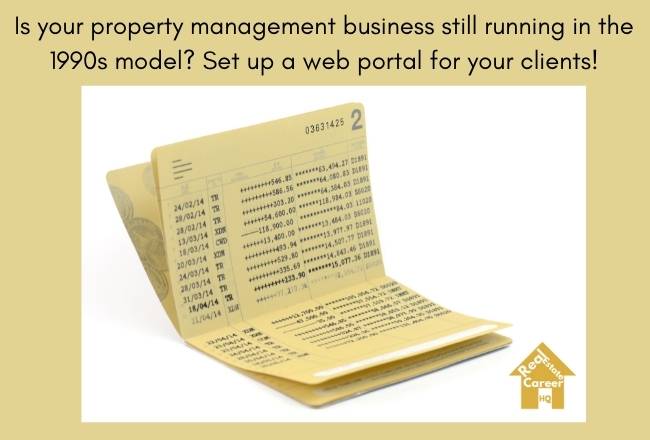 Many years ago, people needed to get their bank book printed or call a banker to know their bank account balance. That is no longer the case nowadays, as we all can access the required details online.
Similarly, a good property management software program should be able to store all the required info in an organized manner. Rather than calling you for every tiny piece of info, tenants and landlords can simply log in to their portal to retrieve the necessary information. 
As a property owner, I rarely call my property manager these days. Once I log in to the Buildium's landlord portal, I can view all the maintenance history, process of the current work order, lease agreement, rental insurance, and all other property management activities. When it comes to tax reporting season, I can also download financial statements and invoices.
As a property owner myself, finding a trusted property management firm is a crucial step for me. This is why I always look for established ones with excellent ratings and satisfying feedback from customers. I also prefer a property management firm that uses technology to streamline the process for the landlords and tenants. Buildium is one that I enjoy using. You may click here to learn more about it. (**)
Reason 9) Standardize communication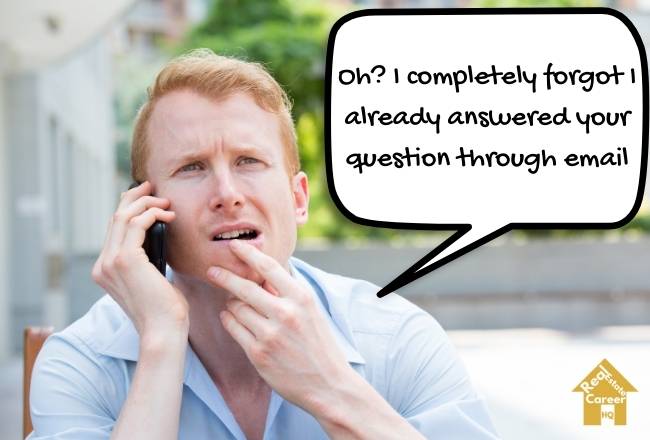 Whatsapp, Facebook messages, emails, SMS text, phone – I just find that there are way too many communication channels these days. As your property management business continues to grow, it would be extremely difficult to keep track of your conversation between tenants or landlords with all these means.
Therefore, a wise decision is to have a standardized communication method. Most property management software already has this feature. Tenants and landlords may submit their requests through the system, and you may respond to them there.
Although some may argue using an email is good enough, email does not organize the communication logs nearly as well as most property management programs. In the software, it will group the messages by the specific property.
So even if a property manager is gone for a vacation, the organized communication log makes it easy for another staff to follow up.
Of course, if you ever want to sell the property management business down the road, all these would be a valuable asset to the potential buyer.
What software features do property managers think it's important to their business?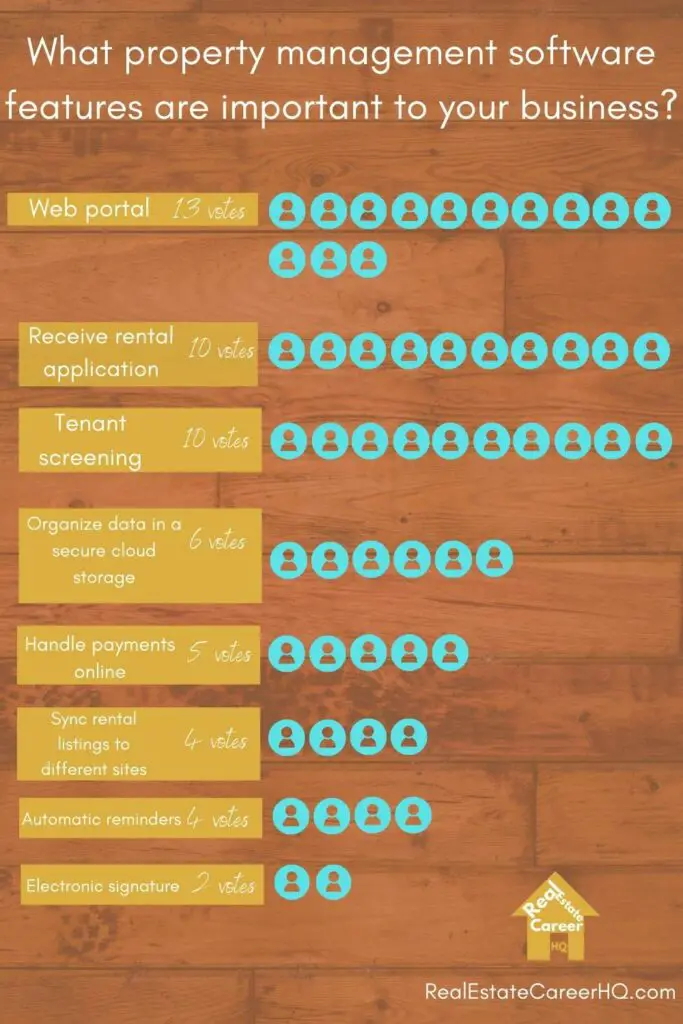 To better understand what property managers are looking for in software, I created survey polls on multiple social media groups. As you can see, most property managers find the web portal feature the most valuable, which I also agree with.
As a property owner myself, I don't like communicating back and forth with the management company and waiting for days just to obtain simple data such as transaction history and invoices.
I'm sure many other landlords would feel the same way, and having a web portal will eventually become a standard requirement in this industry.
Buildium is an ALL-in-ONE property management software that allows you to manage rental applications, maintenance requests, payment collections, tenant screening, showings coordination, property inspections, renter insurance, and many more. It also provides you with a professionally designed website so you can effectively build your brand. If you want to streamline your property management business, you must click here to check out Buildium. (**)
(**) Affiliate Disclosure: Please note that some of the links above are affiliate links, and at no additional cost to you. Our company, JCHQ Publishing will earn a commission if you decide to make a purchase after clicking on the link. Please understand that we include them based on our experience or the research on these companies or products, and we recommend them because they are helpful and useful, not because of the small commissions we make if you decide to buy something through the links. Please do not spend any money on these products unless you feel you need them or that they will help you achieve your goals.
Disclaimer: The information in this post is for general information only, and not intend to provide any advice. They are subjected to change without any notice, and not guaranteed to be error-free. Some of the posts on RealEstateCareerHQ.com may contain views and opinions from the interviewees. They do not reflect our view or position.