(**) Disclosure: This post may contain affiliate links, meaning our company, JCHQ Publishing will get a commission if you decide to make a purchase through the links, but at no additional cost to you.
As a landlord, I'm sure you understand the importance of finding good tenants and keeping them happy. After all, they are the ones who generate rental income for your real estate investment. But this can be difficult to do on your own. You may not have time and skill to handle all the repairs and maintenance, or you may struggle with understanding what kind of tenant would work well for your property.
Luckily, there are professional property management companies out there who specialize in this type of work!
Here are some reasons why hiring a property management company could be beneficial to both you as a landlord and your potential renters:
Effective ways to market your rental listing
A thorough tenant screening process
Hassle-free rental collection
Organizing documents
Handle tenant request
Proper ways to maintain the property
Ensuring the rental property complies with housing regulations and real estate laws
Allow you to build scalable investments
If you are a landlord, this article should help you understand how hiring the right property management company can save you time and make you less stressed. This especially holds if you are planning to invest in multiple units.
If you are a property manager, this post can help you demonstrate the value proposition of your profession. So be sure to share it with your clients, referral partners, and other colleagues in the property management industry. 
I have also hired property management companies to handle all my investment properties, and I'd be happy to share my personal experience here.
But before we start, I want to give a brief disclaimer. This post is for general information only and is not intended to provide any advice or real estate training. I'm only sharing from my personal experience and what I have researched. Result is not guaranteed. The information is subjected to change without notice and not guaranteed to be error-free. Since each state could have different regulations on what a landlord can or cannot do, you should always follow the State Laws and real estate best practices.
1) Effective ways to market a rental listing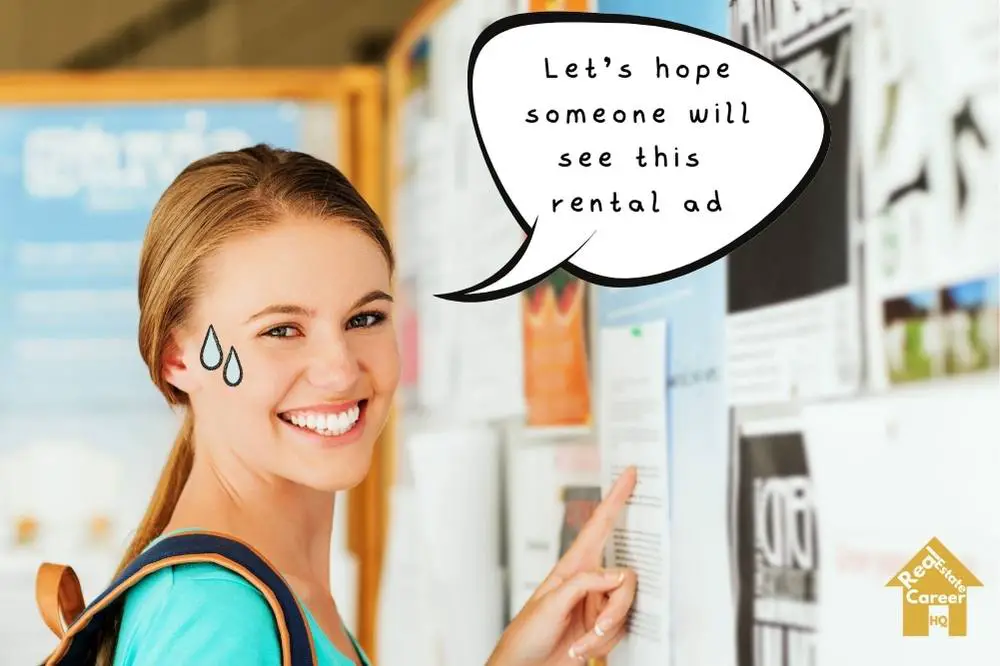 A property management company can handle your rental listing and marketing for you. They usually have access to more data, better technology tools, and bigger networks than individuals.
A well-established property management firm would know well about the local rental market. Whenever I need to find a new tenant, my property manager would provide me with an up-to-date market analysis and suggest the right price for the listing.
Since they deal with rental listing regularly, they would know how to craft the rental ads properly: the wordings, photos, and which advertising channels would yield the best result.
Furthermore, some property managers may have an excellent relationship with other real estate professionals, and they may refer them to high-quality prospective renters.
As a landlord, you obviously do not want the property to be left vacant for too long and not generate money. The same goes for most property managers because they only get paid when your unit is rented out. I like that when both of the parties interests are aligned.
2) Thorough tenant screening process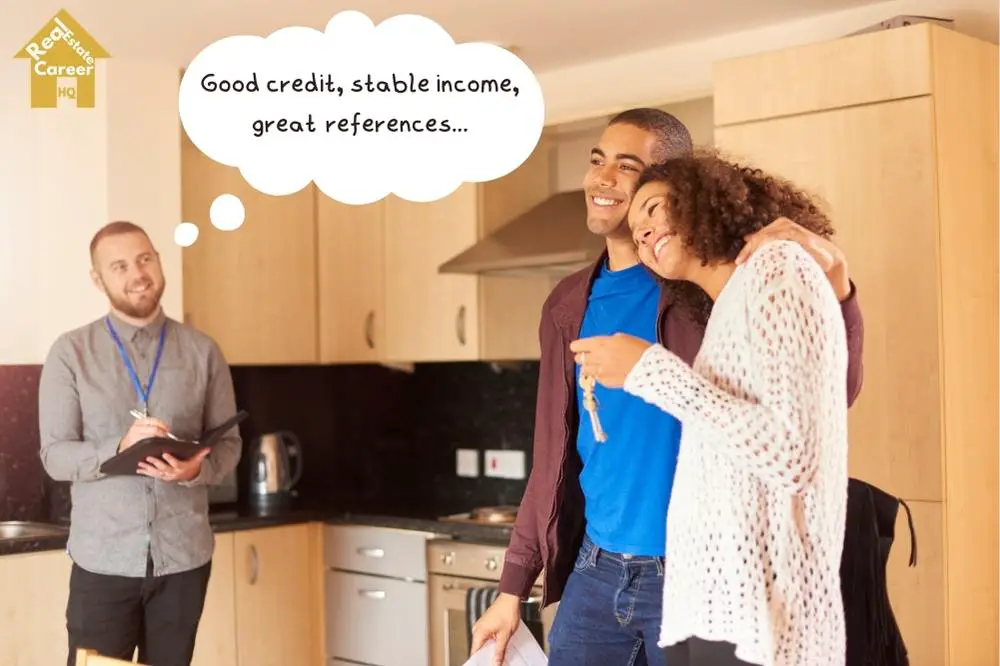 Many inexperienced landlords naively believe they can just rent to whoever said would pay the rent or select a tenant on a first-come-first-serve basis. But this is not a wise decision at all.
Just a while ago, when I visited my parents, and noticed that their neighbor's driveway was all damaged. My parents told me that the neighbor's house was rented out. 
However, the neighbor did not hire a property management company nor go through a thorough tenant screening. As a result, the tenant subleases the property to many strangers without the owner's consent.
The worst part is one of the troubled tenants got into a fight with her boyfriend, and her boyfriend burnt her car. The fire was so severe and burnt to as high as 30 feet. 
Luckily, no one was injured, but the driveway was completely destroyed, which would cost the landlord thousands of dollars to fix it.
A competent property management company would do a thorough tenant screening. This usually requires a rental application, income proof, credit check, criminal background check, employment verification, references, and a 1-on-1 interview.
Tenant screening should be very selective. It is not just about being reliable for paying rent on time, but other aspects such as their reliability to take care of the property and any bad records or history with authorities that may make them an unsuitable tenant.
Although not every case is as dramatic as my parents' neighbor's, trust me, it is also no fun to deal with non-payment of rent and eviction.
If you want to know more about tenant screening, here's a post on "How do Property Manager find the RIGHT tenant?"
3) Hassle free rental collection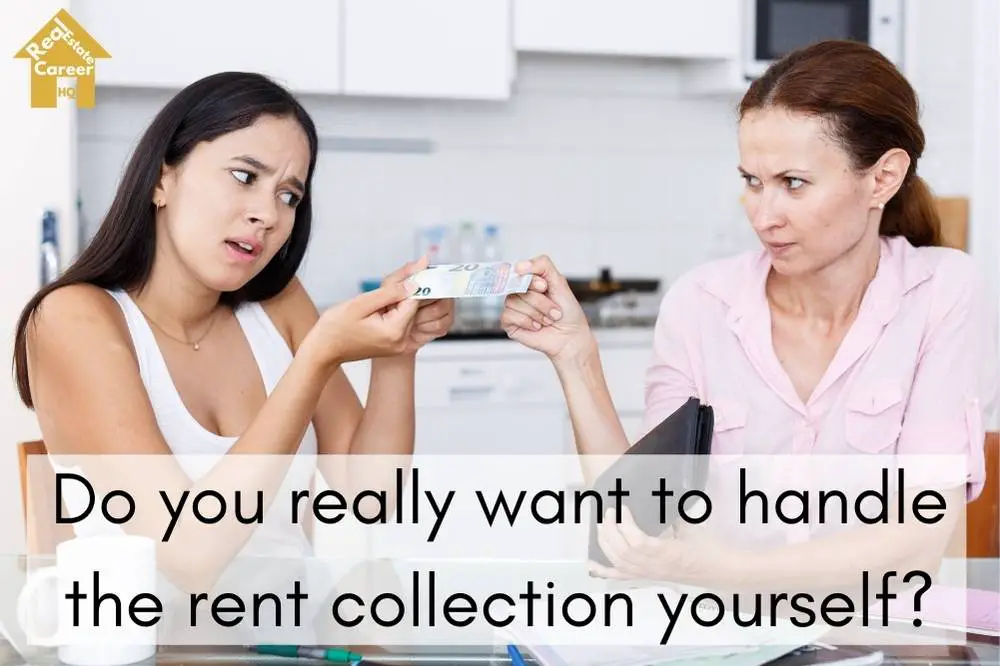 Property managers offer tremendous help in getting renters to pay their rent on time and in full. My tenants are amazing, but there are times they forget to make their rent payments on time.
Rather than worrying about collecting and keeping up with individual tenant payments, the property management company I hire would take care of it. They would contact the tenants on my behalf, provide me with timely updates, and arrange the rent collection.
Usually, my property manager would deposit the monthly rent into an escrow account. Once all expenses are paid for (i.e., management fees, repair, third party vendors.), they would direct the remaining proceeds to my bank account. I usually receive them on the 10th of every month automatically.
If there were any unresolved collection issues that required a collection agency or even eviction, the property manager would take care of this for me. (But touch wood, so far, I haven't had this experience, but it's always good to know a professional team is on my back.)
4) Organized records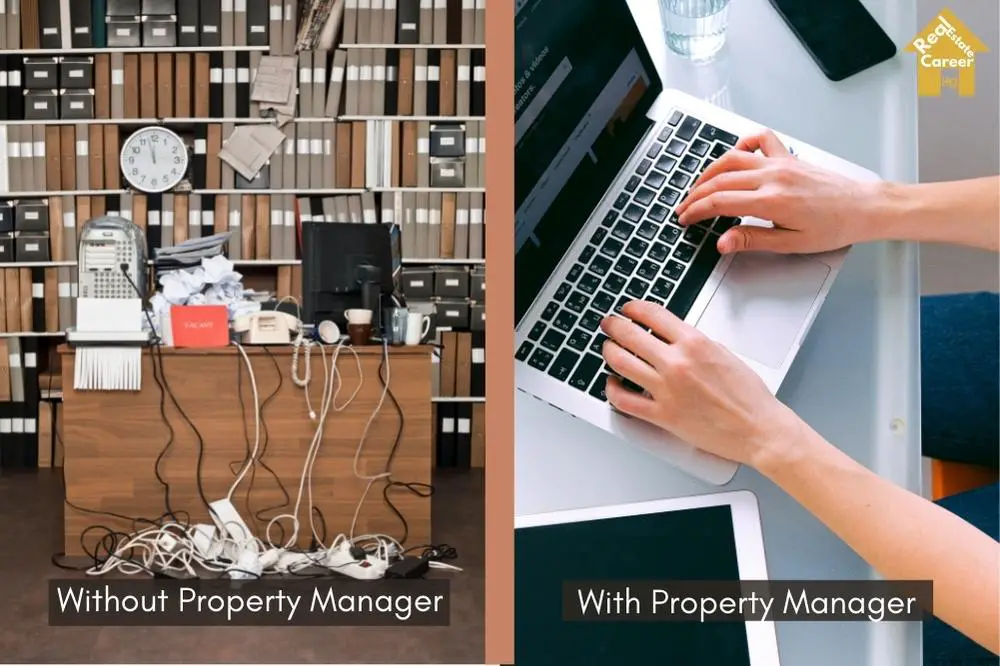 As a smart property investor, it is crucial to keep all of your records organized and accurate. This way, you can make informed decisions about the future of your rentals. You'll also be able to answer any questions about past records that future potential buyers or investors may ask.
The property management company that I hire uses the Buildium platform. It is cloud-based software, which allows me to retrieve all the necessary records and documents with ease.
For example, in there, I can locate my tenant's rental application, lease agreements, renter's insurance, receipts for maintenance and repairs, monthly, quarterly, and yearly financial statements.)
All these are very handy to me, especially during tax reporting. Instead of spending hours trying to retrieve and organize the record, it literally just took me a few minutes.
The Buildium platform allows the property management firm to create an online portal for landlords and tenants. (But of course, the things readable to each party are different.) It even stores all the communication logs, so everything is black and white without any misunderstanding.
And this is why whenever I hire a property management company, I always look for one with such a technology platform.
Buildium is an ALL-in-ONE software that allows property management companies to manage rental applications, maintenance requests, payment collections, tenant screening, showings coordination, property inspections, renter insurance, and many more. As a landlord, I also prefer the firm that I hire to use such a platform. If you are a property manager and want to streamline your business, you must click here to check out Buildium. (**)
5) Handle tenant request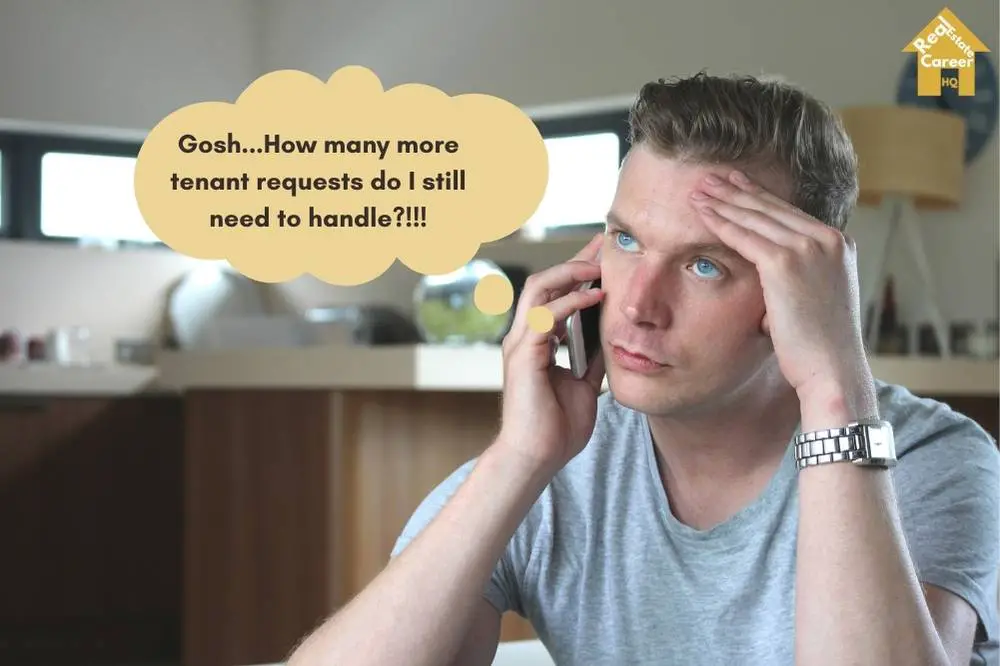 It's not uncommon for landlords to receive many tenant requests. Of the eight years of renting out properties, my tenants have submitted requests to replace the bathroom exhaust van, trim down a tree, repair the dishwasher, install a shed, repair the bathtub, fix the water filter system. 
There are also countless minor requests, such as updating the bank account info, and it is impossible for me to recall them all.
Personally, I don like micro-management and would rather spend more time finding the next investment property. Therefore, I gave limited authorization to my property manager to handle minor repairs that are reasonable and below $200. (i.e., replacing carbon monoxide detector, changing a showerhead or shower curtain.)
But anything over that amount would still require my consent.
I found that property management services are especially essential during an emergency. For example, two years ago, my tenants notified my property manager that the heater was not functioning. It happened in the middle of the night, and the weather was freezing. 
Since no contractor was available during that time, my property manager personally brought two portable heaters to the unit.
Most property management that I came across would have a 24/7 emergency line, and there is just no way I can match that level of services by myself. 
6) Routine inspection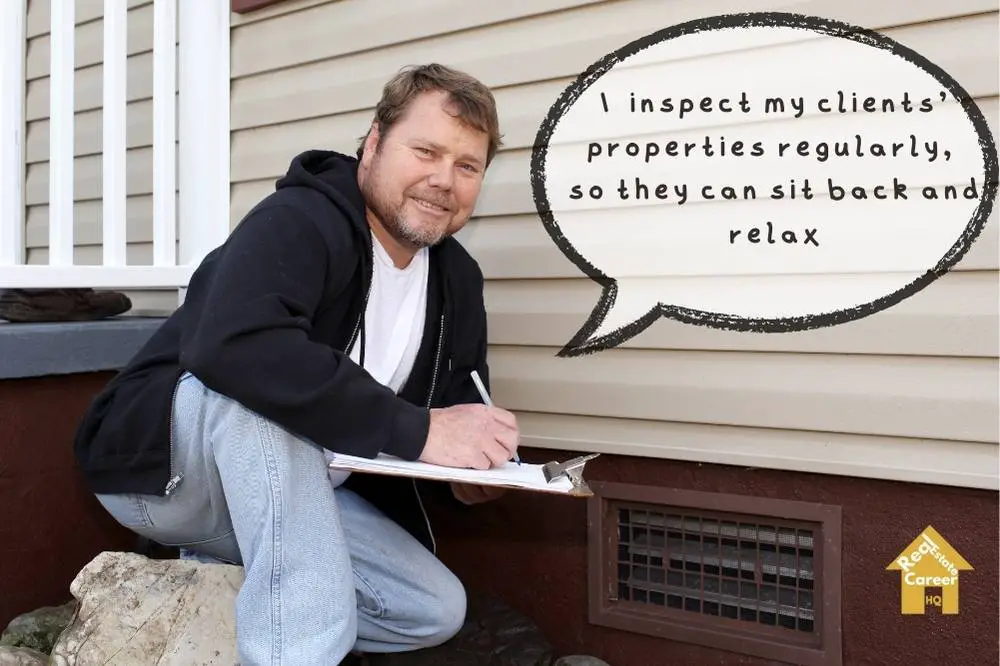 We all know that having the property maintained plays a crucial role to upkeep its value. As a responsible landlord, it's important to regularly inspect the unit to ensure that it can provide a safe and suitable environment for the tenants.
Neglecting can lead to costly repairs and even lawsuits if there are damages or injuries due to that.
Furthermore, regular inspections can send a clear signal to your tenants that you do care about the property's condition, thus leading them to better care for the rental unit.
Tenants will respect what you inspect. When we inspect the property and they know that we're going to inspect it, something interesting happens. They will take better care of the property simply because they know that at some point the landlord, the property manager, is going to be visiting to check on it.

It's that accountability, that checks and balancing with that tenant, that helps to make it a more successful situation. Really important. Oftentimes when we find, when we do inspections and we give them notice, that they are going to do a deep clean. They're going to make it look really nice. Sometimes we've heard that tenants hired professional cleaners to come in to really take care and make it look great, which is awesome.

Quote from KeyRenterTulsa – 7 Reasons to Inspect a Rental Property while Occupied
But frankly, throughout the years, I have only entered my rentals a handful of times. That's because my property managers would inspect the houses quarterly on my behalf.
During each inspection, they would look at the condition of both exterior, interior, yard, landscaping and whether there is any lease violation. If there is any safety issue, (i.e., fire hazard, carbon monoxide detector, smoke alarm, stairs railing, loose steps, garage sensor) they would get them fixed asap.
Also, they would conduct routine maintenance such as changing the furnace filter and replacing smoke detector batteries.
Once the inspection is completed, they would upload the report to Buildium for my review.
7) Proper ways to maintain the property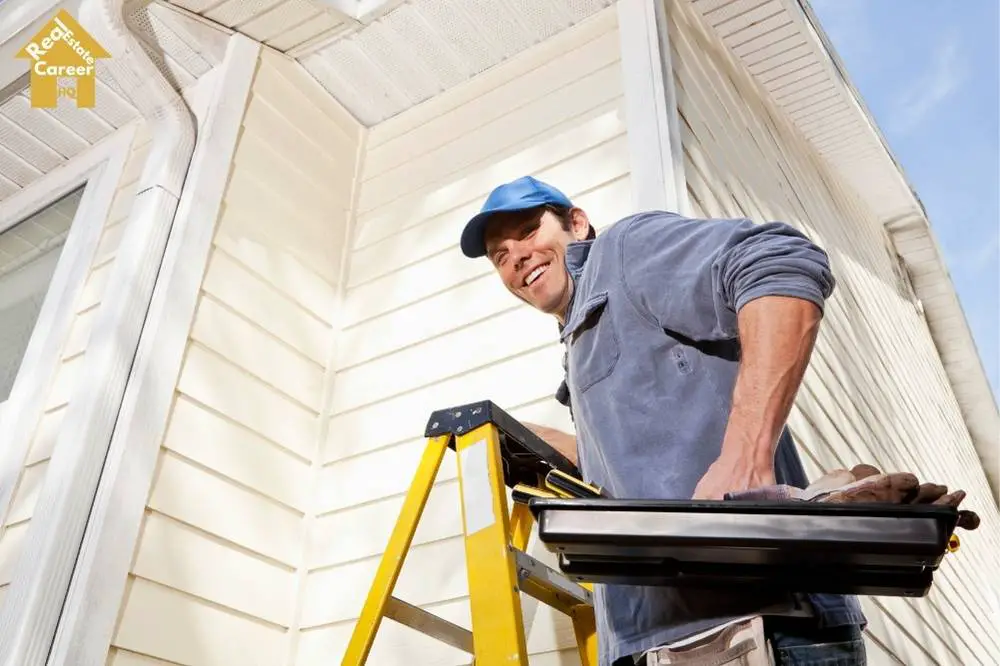 One major advantage of hiring a professional property manager is that they know what needs to be done and when. After all, they have abundant experience in managing many similar properties in the same local area.
For example, they will know how to properly inspect for damages, make basic repairs such as fixing broken windows and leaky faucets, clean gutters, paint and seal the patio.
Also, a well-established property management firm should have a great business relationship with local contractors and vendors. This is exactly the case with the property management company that I hire.
Rather than me searching for a new contractor for each individual job, my property manager has multiple trusted contacts. Since they have been using them throughout the years, there is more assurance on service quality and turnaround time.
Furthermore, because they give a massive business volume to those contractors regularly, my maintenance orders tend to be higher quality and lower rates than what I would typically pay. This is really beneficial for all parties involved.
8) Ensuring the rental property complies with housing regulations and real estate laws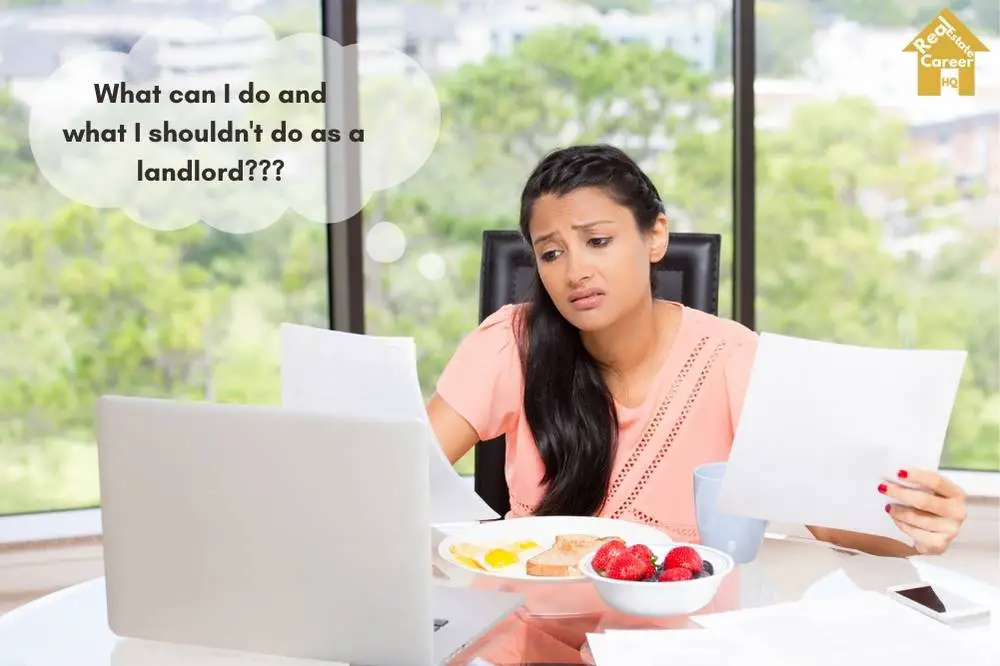 Many newbies landlords think that interacting with tenants is all just based on common sense. They falsely believe that as long as the tenants are okay, they can make any arrangement. Unfortunately, that is far from the standard nowadays.
Without knowing the real estate laws, you could be leading yourself into legal problems and costly mistakes. For example, do you know:
What can be asked during a tenant screening? What would be seen as discrimination?
How often can you increase the rent? Is there a cap on the increase?
What is your responsibility as a landlord? And what are the tenants'?
How much deposit can you request?
How many days in advance do you have to notify the tenant before an inspection?
If the tenant does not pay rent, what is the standard procedure in handling it?
A competent property manager would stay up to date with the State real estate laws and the Fair Housing Act.
In fact, most states require property managers to hold a real estate or property management license. This is mandatory for property managers who handle rental listing, payment collection, negotiation, or discussion of the rental agreement. 
The licensee needs to complete a pre-licensing education and an exam. To maintain the license, they also need to complete the required hours of continuing education.
Some property managers would go the extra mile and obtain professional certification, such as the Accredited Residential Manager (ARM) from the Institute of Real Estate Management (IREM.)
As a landlord, it is important for me to know that my property managers are competently equipped with essential real estate knowledge. If you are a property manager, you may consider taking the following IREM courses – Managing Residential Properties, Managing Commercial Properties, Managing Condominium and Homeowners Associations. (**) Even though they are not part of the pre-license education requirement, your enhanced knowledge will help to set you apart from others in the industry.
9) Allow you to scalable your real estate practice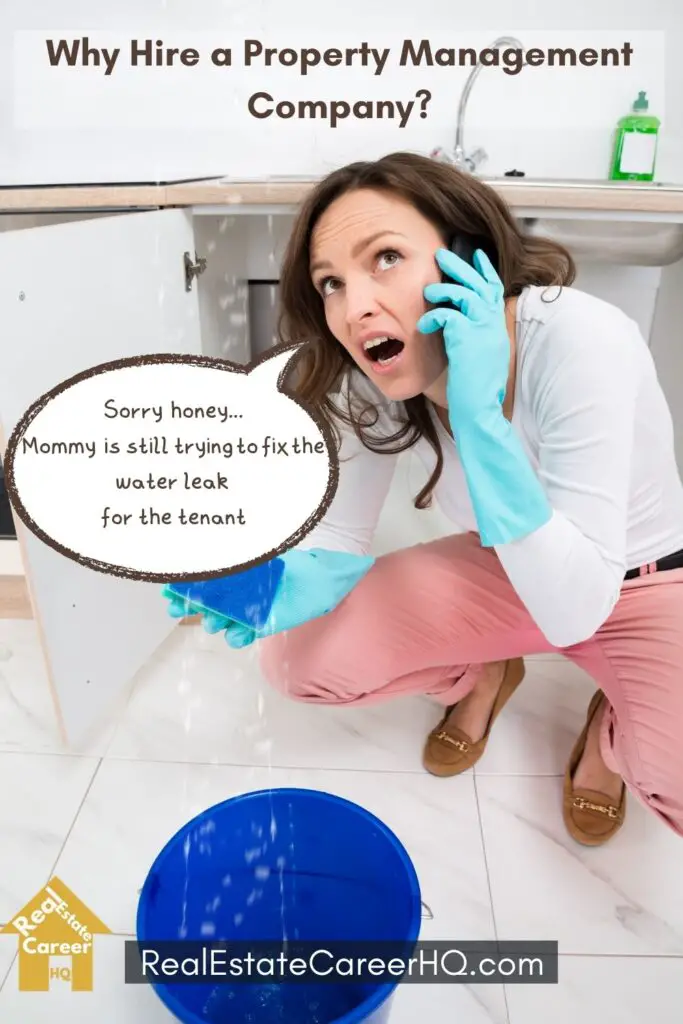 As discussed earlier, managing your own rental properties indeed takes an incredible amount of time and energy just to get by. Most of us have a lot of things on our plate already – another day-time job/business, taking care of family. 
Do we really want to buy ourselves another job? Besides, isn't passive income the original goal for investing in a rental property?
Also, realistic speaking, how many rental properties can you really manage? One? Two? Three? 
But if you were to outsource the management tasks, the number of properties you can own will no longer be limited due to time and energy constraints.
10) Diversified portfolio of real estates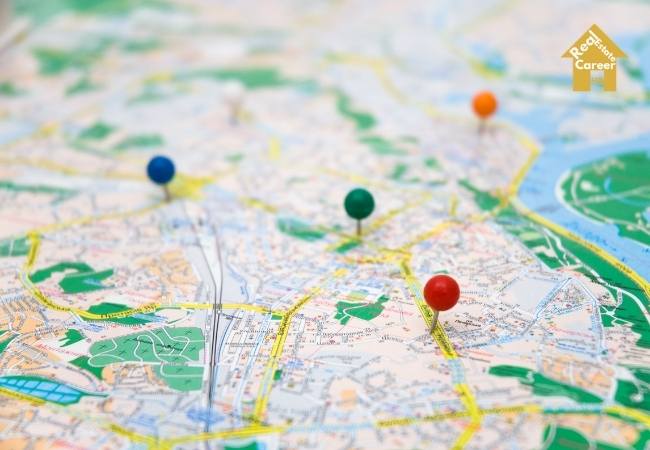 Not every real estate investor is buying properties close to where they live. In fact, having such geographic restrictions would limit the potential in choosing the right investment properties.
For example, the rental yield in my neighborhood is not very attractive. Therefore, I searched outside my city and found two townhouses that were a better deal. However, my invested properties were located in different cities and were nowhere near each other.
Also, they were located quite far away from where I live and require about 2 hours of driving time. (So that would be 4 hours for a round trip.)
If I were to DIY in managing, it could take me a day to complete each little task. For a bigger project that takes more than a day, it would even cost extra expenses for lodging in that area.
But since I hire a property management company, I don't need to be physically there. (To be honest, in the past few years, most of the times I visited the rental properties weren't really for inspection. I was just taking a road trip and happened to pass by the units, so I thought it would be nice to pay a visit.)
Whenever there is any repair or maintenance issue, the property manager and I can always communicate through email or the Buildium online portal. If I want to know the progress, they can always send me pictures/videos of the before and after project.
Final Thoughts
As you can see, hiring a property management company could be a tremendous help in many different aspects. They can handle tenant screening, rent collection, maintenance requests, regular inspections, and other parts of property management on your behalf.
However, I'm not saying this is an entirely hands-off project. A realtor once shared that it is the property manager's job to ensure the unit is upkeep, rent is collected while the tenant is happy. But it is the landlord's job to make sure the property management firm is doing what they are supposed to do.
Therefore, I regularly examine the financial statements, the inspection report, and the before and after repair photos. But this usually just takes 10 to 15 minutes every month, which is insignificant compared to managing the properties myself.
As a property owner myself, finding a trusted property management firm is a crucial step for me. This is why I always look for established ones with excellent ratings and satisfying feedback from customers. I also prefer a property management firm that uses technology to streamline the process for the landlords and tenants. Buildium is one that I enjoy using. You may click here to learn more about it. (**)
So if you are a landlord, I hope my personal sharing can help you understand why hiring the right property management company is a good investment and how their systematic approach can save you tons of time and effort.
On the other hand, if you are a property manager, I hope this post can help you demonstrate the value proposition of your services. Once again, be sure to share it with your clients, referral partners, and other colleagues in the property management industry.
(**) Affiliate Disclosure: Please note that some of the links above are affiliate links, and at no additional cost to you. Our company, JCHQ Publishing will earn a commission if you decide to make a purchase after clicking on the link. Please understand that we include them based on our experience or the research on these companies or products, and we recommend them because they are helpful and useful, not because of the small commissions we make if you decide to buy something through the links. Please do not spend any money on these products unless you feel you need them or that they will help you achieve your goals.
Disclaimer: The information in this post is for general information only, and not intend to provide any advice. They are subjected to change without any notice, and not guaranteed to be error-free. Some of the posts on RealEstateCareerHQ.com may contain views and opinions from the interviewees. They do not reflect our view or position.
Reference: