(**) Disclosure: This post may contain affiliate links, meaning our company, JCHQ Publishing will get a commission if you decide to make a purchase through the links, but at no additional cost to you.
It's not uncommon for people interested in the real estate industry to consider becoming a real estate agent during their college years. 
After all, the real estate market has been booming in recent years, and massive opportunities are available to those with a solid business skillset and experience.
As a real estate agent, you'll be working for a brokerage representing buyers or sellers of properties. Your role is to help people find homes they can afford by providing detailed information and helping them navigate the home buying and selling process. Agents also provide services like staging houses and preparing marketing materials.
There are many advantages to becoming a real estate agent while in college. Getting started early will help you build your career and provide you with the benefit of having an income while still attending school.
Before you jump into this career path, keep in mind that there are always pros and cons to each decision. 
In this blog, I'll go over the pros and cons of starting a real estate career while in college and helpful tips in doing so. I hope these insights will help you make a smart decision when considering whether or not to pursue this profession.
Pros to becoming a real estate agent while in college
1) Earn extra cash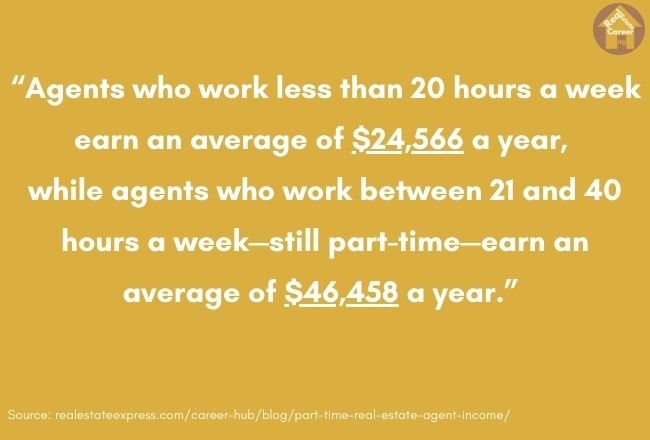 While studying, you can use your free time to earn additional income. The real estate field can provide you with an excellent opportunity to make money. 
Although many college students work part-time jobs, many do not get paid very well due to a lack of work experience.
When I was working toward my bachelor's degree, I also had part-time jobs at a fast-food restaurant, a telemarketer at a bank, and an assembly worker at a factory. And all of them paid me barely a little more than the minimum wage. 
On the other hand, the commission of a real estate sale could be quite lucrative. Especially the real estate market has been booming in recent years. Many agents could earn thousands of dollars in just one deal.  
Rather than spending all the income recklessly, a smart way is to put it into good use, such as financing your college tuition or paying down the student debt. 
2) Flexible schedule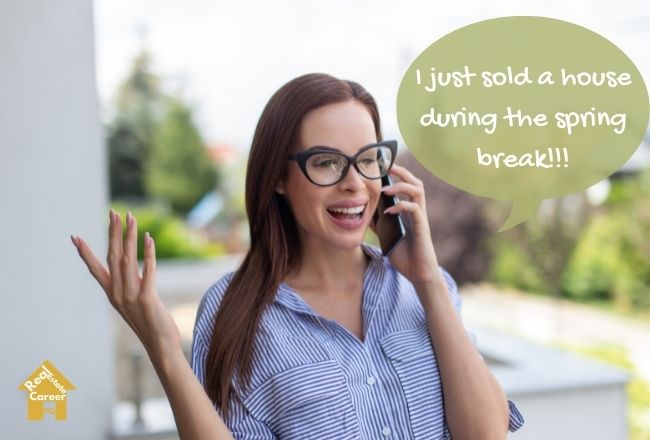 Most part-time jobs require you to commit to a fixed work schedule. This could be difficult for college students who already have so many lectures to attend, assignments, and exams on their plate.
If you miss work too many times, chances are your employers will have no choice but to fire you.
The good news is most real estate agencies offer flexible schedules. You don't have to go to the office every day, and you can choose which days and hours you want to work.
You may prospect for new clients after class time, schedule properties tour in the evening, and handle open houses during the weekend.
When you are really busy with school works, you can even take off from work without getting anyone's approval and resume your business activities when you're ready.
Even if you have some time-sensitive deals, you can always ask other colleagues or your real estate broker to cover for you temporarily. Of course, you will likely need to split the commission of the deal with them. But getting a part of the compensation is always better than none at all.
3) Build a network of potential clients early on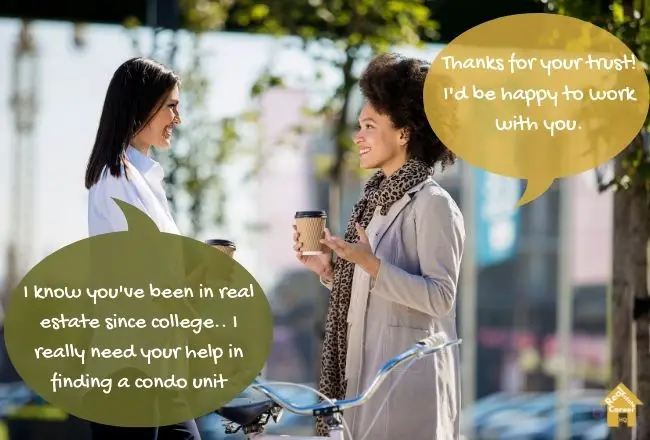 The best place to build a long-term relationship with people is at school. After all, you'll be seeing other students in class almost every day, and you'll be working together with them on projects and assignments. Not to mention, you'll come across those who share similar interests and goals.
Although most of them do not have income and may not generate much revenue for your business at this point, this is exactly why they are much easier to approach since other salespeople would not target them.
Being a student yourself, you would have a great understanding of the needs of others when it comes to student rentals. You may consider starting your real estate practice in this niche.
So if you do a good job in these cases and continue to brand yourself as a trusted real estate agent, you will gain their long-term trust and loyalty. After graduation, some of them could become a great source of clients or referrals for purchasing/selling properties.
For myself, I did meet some of my best clients for my self-employed professional practice during my school years. Even after almost two decades of working together, we still have an excellent business relationship.
4) Deeper understanding of your future career path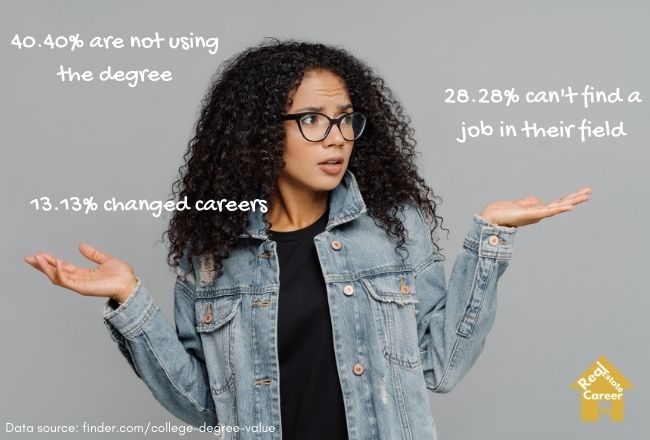 Many students are clueless about their career path after they graduate. Most merely send out hundreds of resumes and hope to land on a job they "might" like.  
Becoming a real estate agent is a fantastic opportunity to explore different aspects of your personality. Although many professions have great earning potential, it doesn't necessarily mean they are all suitable for you.
While you might think you already know what kind of person you are, you can discover new sides of yourself through the real estate business. For example, you will find out whether you enjoy:
Dealing with different people
Driving around and working at different locations 
Prospecting and promoting your business
Being on commission based rather than on a fixed salary
Working on a flexible schedule, but must stay motivated and disciplined 
Willing to constantly learn and keep up with the changes
Even if you find out being a real estate agent is really not your cup of team, the business skills you developed and the network that you built will all be valuable to your future career. 
5) Get ahead of the game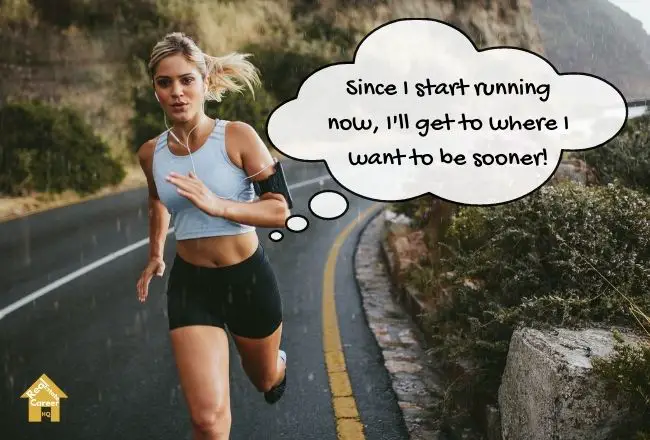 When you begin your career as a real estate agent, you will likely face stiff competition from other graduates who entered the field after you did.
Since you entered the real estate industry early, you would have built up a strong portfolio of loyal clients, and your experience will outshine others.
In fact, you do not always need to treat other new industry entrants as competitors. You may consider recruiting them to your team by getting a real estate broker license.
6) Less stressful time to build a business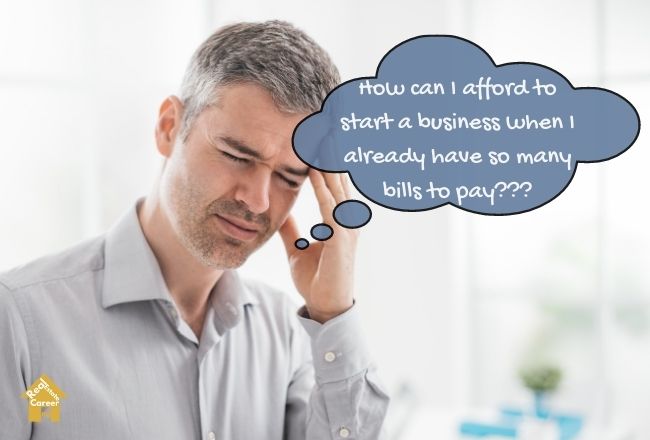 Many people are able to get some sort of financial support from their parents or family when they are still in school. But after they graduate, chances are they need to take up a lot more financial responsibility. For example, paying student loans, car payments, utilities, credit cards, rents, or even a new mortgage.
As much as I like the real estate business, frankly, revenue may not kick in immediately. It does take time to build up your client base and learn the necessary skills to succeed.
Unless you have abundant savings to cover your living expenses, you better consider starting the business when you have less financial stress.
If you are reading up to this point, I bet you must be interested in getting a real estate license. Your first step is to complete the pre-licensing courses. You should select one that has an excellent reputation and long-term track record of satisfying students. RealEstateExpress is exactly that! You may click here to check it out yourself. (**)
What are the Cons to Becoming a Real Estate Agent While in College?
1) Less time to focus on college study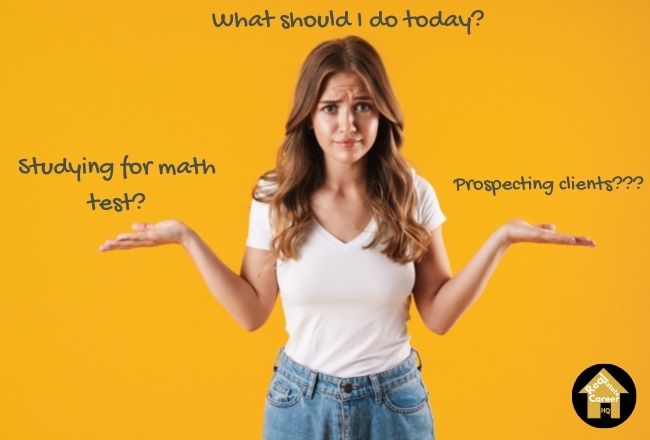 One potential downside to becoming a real estate agent while attending college is that you might not have enough time to focus on your studies.
First, you need to get a real estate license by completing the pre-licensing courses and passing the real estate exam. To maintain the license, you must also complete continuing education (Some states even have post-licensing courses requirements.)
But getting the license is only the start. Then you will have to spend time on business activities such as prospecting for leads, meeting with clients, negotiating deals, closing transactions, and managing your clients.
Therefore, time management is essential, especially if you want to balance your studies and career. 
2) Less time for social life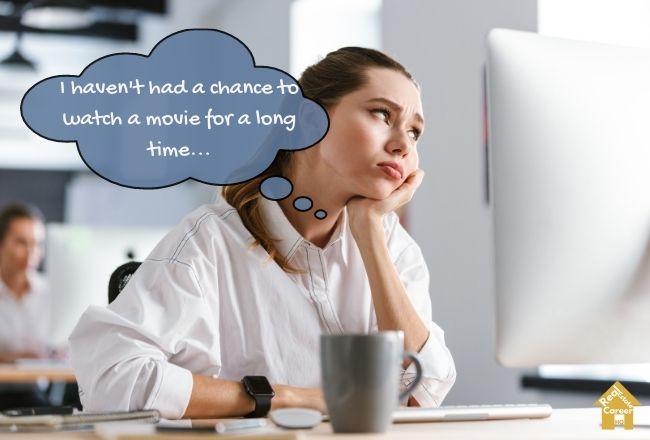 Many students tend to take a break to relax and do something fun after their assignments or exams. While most of your friends could be going out for movies, playing video games, as a real estate agent, you could be spending most of your time prospecting and selling properties.
Although you will network with many different people in school, this might not no longer a pure friendship. Many new agents are eager to earn big commissions, so they fall into the trap of trying to close a deal on every person they meet.
Therefore, you should avoid being too salesy. Instead, you should focus on other people's needs and brand yourself as a helpful professional who is knowledgeable in the real estate industry. 
3) Business expenses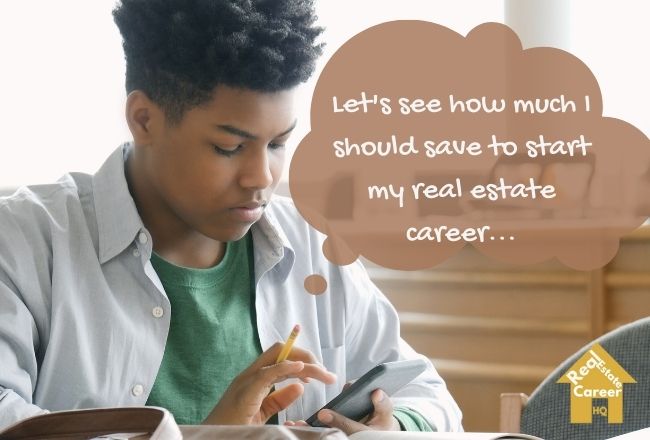 Although the business expense for real estate agents is relatively lower than most brick and mortar businesses, there are still some costs associated with running a real estate practice. For example, pre-licensing/continuing education/post-licensing courses fee, exam fee, license fees, E&O, accounting fees, MLS subscription, desk fees, travel expenses, car payments.
You will also need to pay for things such as advertising, marketing materials, website and invest in tools such as a laptop, cell phone, and other office supplies.
All these expenses could add up to thousands of dollars every year, and that is regardless of whether you make a sale or not. Therefore, it's better to have some savings to account before starting this career and find a brokerage firm that do not charge an expensive desk fee.
I also started my self-employed business while studying at university. Before that, I worked on a couple of part-time jobs for a few months so I could pay for the business expenses.
If you would like to get a part-time job as I did, it's better to find one related to the real estate industry. I have a friend who used to work as a real estate assistant when she was studying at university. Her role was to make appointments, take photos for listing, assist in home staging and open houses for another realtor.
Practical tips for college students starting as a real estate agent.
1) Take online pre-licensing courses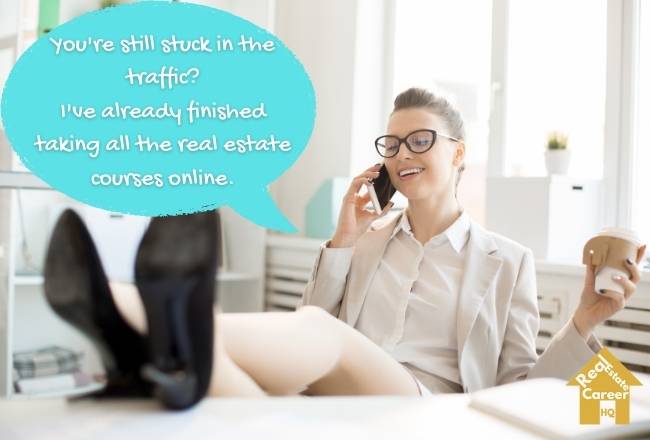 As a college student, you already have so many scheduled tasks to be completed (i.e., attending lectures, completing assignments, writing exams), so taking real estate classes online would be sensible. 
It provides great flexibility and convenience. Whether you want to take a class in the morning or at night, you can easily do so at your fingertip.
We all lead busy lives, so I would try to avoid all unnecessary traveling. Online courses allow students to study from anywhere, whether it's lounging on a couch or preparing dinner in the kitchen.
All the study materials such as lectures, notes, and videos are archived online so that you may get access to it 24/7. You can always pause and pick up where you left off. 
Although some may concern the lack of interaction with real people, many online classes today use online discussion boards or web conferencing tools to engage in conversations through text, audio, or video messages.
However, although online classes provide flexibility and convenience in most cases, they require more self-discipline than traditional face-to-face courses because there is no one there to hold your hand if you fall behind or need help catching up.
You get out of it what you put into it.
When choosing a real estate school, I prefer one where you could take the courses online. This way, you could study at your own pace whenever and wherever. RealEstateExpress is a trustworthy real estate education provider. You may click here to see whether they offer pre-licensing course in your state. (**)
2) Take real estate courses in college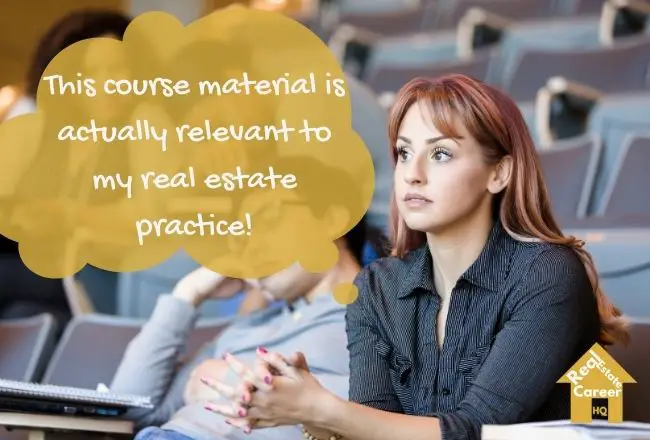 Since you need to complete a certain number of courses to graduate from college, if your program allows, you may as well take some real estate related courses. Rather than spreading your attention too thin on different subjects, focusing as much as possible on real estate topics will help you to excel your knowledge.
In fact, you may even achieve a better grade since you are studying similar real estate materials both in college and in the pre-licensing courses. Also, you will be a lot more motivated to study since you can relate the knowledge to your career path.
On a separate note, if you are pursuing your degree in real estate, then it would be even better! That's because many states will waive the pre-licensing education requirement if you hold a bachelor's degree in real estate.
Here's a blog post covering getting a major degree in real estate. I hope this will be helpful.
3) Join a real estate club
You can start a real estate club or find out if one exists already on campus. This allows you to network with like-minded students and other industry participants. Some real estate clubs will invite panelists to speak at their campus.
They could be important connections to your career down the road.
Syracuse University, Wharton School of the University of Pennsylvania, and Tippie College of Business are some of the educational institutions with a real estate club. 
4) Work with an experienced real estate broker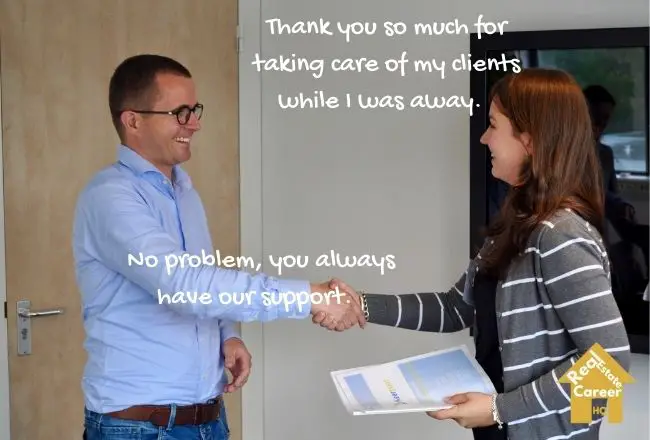 When you're starting out as a real estate agent, you want to work with someone who knows the industry and is willing to give you as much time as it will take to learn everything.
While you can find your own clients as an agent, I don't recommend doing a deal completely alone at first. Especially there could be times you need to swift gear and focus on your college study.
Furthermore, some clients may feel more confident working with someone with more experience and working full-time in the field. So partnering with an experienced sales agent to co-list properties could help ease this concern.
(**) Affiliate Disclosure: Please note that some of the links above are affiliate links, and at no additional cost to you. Our company, JCHQ Publishing will earn a commission if you decide to make a purchase after clicking on the link. Please understand that we include them based on our experience or the research on these companies or products, and we recommend them because they are helpful and useful, not because of the small commissions we make if you decide to buy something through the links. Please do not spend any money on these products unless you feel you need them or that they will help you achieve your goals.
Disclaimer: The information in this post is for general information only, and not intend to provide any advice. They are subjected to change without any notice, and not guaranteed to be error-free. Some of the posts on this site may contain views and opinions from individual not related to JCHQ Publishing. They do not necessarily reflect our view or position.
Reference: