(**) Disclosure: This post may contain affiliate links, meaning our company, JCHQ Publishing will get a commission if you decide to make a purchase through the links, but at no additional cost to you.
Since you are reading this post, I'm guessing you must be interested in pursuing into the appraisal career. The first step is to find a school to complete the required appraisal courses. However, you shouldn't just pick any random education provider. You should find one that is recognized by the appraisal board in your state, with good students feedback, has the tools and resources to equip you with the necessary knowledge and a reasonable price point.
But there are so many choices available in the market, which one should you pick? I have spent days doing the research for you. Below are 5 real estate appraisal schools that worth considering. I'll review over each one of them and share with you what I like or dislike about them.
Disclaimer: This post contains affiliate links. We'll get compensated if you make a purchase. But there is no additional cost to you. We include these links because we believe they could be helpful to our readers, and not because of the commissions we make.
1) VanEd: Pre-licensing Courses and Exam Prep for Trainee Appraiser
Van Education Center (VanEd) is an online school which provides appraisal licensing and continuing education courses. Since 1997, they have successfully serviced over 23,000 licensing students and 48,000 continuing education students.
They are one of the few education providers that have a trainee exam prep program for their students. I believe doing practice questions can significantly increase the chance for students in passing the test.
However, their course selection is not that board. I talked to their customer service rep. She said that most of their courses are focusing on trainee and licensed residential level. Also, for states which they do not cover, they would refer you to their partner, OnCourse Learning, which is another learning institution we'll cover later in this post.
How does VanEd deliver the courses?
All of their courses can be taken online. It is compatible with PC, MAC, iPhone, iPad, and other tablets. Once you login to the student portal, you check your study progress, get access to the courses, receipts, and certificates.
Here's a short clip to demonstrate how to use the student portal.
Some students might prefer to print out the course materials. Many of the VanEd courses have eBooks in PDF available for download. (But unless it's necessary, try not to print too many pages. After all, it's not good for the environment. If you really need to print it, please use double sides)
Test your knowledge
Throughout the courses, there are interactive quizzes to test your knowledge. It will let you know whether your response is correct. If it is not, they will provide you with feedback on which is the right one.
Here's a sample question from the VanEd website: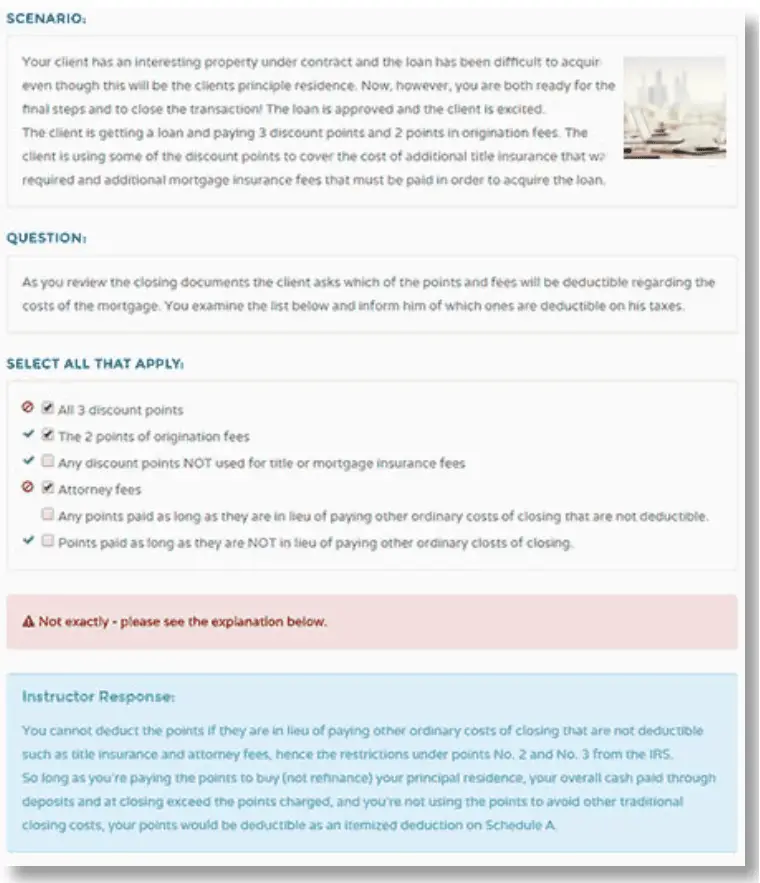 How much are the VanEd appraisal courses?
For individual course, it costs approximately $350 each.
VanEd also has a Basic Education Package for students who are pursuing the trainee license. It contains:
BASIC APPRAISAL PRINCIPLES
BASIC APPRAISAL PROCEDURES
2018-2019 15-HOUR USPAP COURSE
APPRAISER EXAM PREP – TRAINEE/AD VALOREM EXAM
The price is $850. So rather than purchasing each course individually, there is roughly 20% saving. Also, there are two textbooks included.
Some students might already take the prelicensing courses somewhere else, so they can consider getting the Trainee Exam Prep separately for $79. It consists of a massive database of practice questions – 600 questions for each unit, 900 questions for the final exam. This helps you to identify precisely what area you need to focus more time on. With all these helpful resources, I'm confident that this is a reasonably priced product.
They also have two professional development courses:
Market Conditions Addendum 1004MC ($69)
UAD Regulations for URAR Appraisal Reports ($39)
Although those are non-credit courses, they could be helpful if you want to learn more in-depth about the topics.
Furthermore, they offer 15% discount to veterans personnel, their families, and their partners.
What kind of support is available from VanEd?
If you need any customer support, you can contact them through the phone, email, or live chat. Talking about live chat support, their service is superb! I contacted them with this function, and it literally took less than 10 seconds to connect me with their staff. To prepare for this post, I asked them a bunch of questions. They were able to answer all my inquiries immediately.
If you have any questions about the course materials, you check out their Q&A system. This is where students would post their questions and answer by the instructor. You probably could find the answers for some common questions before posting it yourself.
Alternatively, you could also contact the instructor by phone or email during office hours.
Who is the VanEd appraisal courses instructor?
Burton Lee is the appraisal school instructor. According to the VanEd website, he has an impressive qualification with 12 years of experience as an MAI appraiser, and 16 years as a real estate broker.
(MAI is a widely recognized and credible designation. Here's an article that talks about it.)
He also holds an MBA in finance and qualified as an expert real estate witness. (Expert witness could be a profitable appraisal niche, here's a post with more details.)
What do students think of VanEd?
So I just reviewed the VanEd website. They had a page that displayed the students' testimonials, but all of them were positive reviews. To get an unbiased view of the education center, I checked their Google review rating.

This time, I was able to get a broader view. There were 46 reviews, and VanEd received a 4.1 stars rating out of 5. A number of students complimented that the course materials and the instructor were helpful. They also enjoyed the convenience in studying at their own pace.
The rating was not strictly for the appraisal courses, but also the real estate agent courses. However, this was a good reflection on the quality of this learning institution.
Although there were unsatisfied customers, I saw that VanEd also took the time in responding to each one of them.
What can VanEd improve?
I think their courses selection is too narrow. They do not cover many of the prelicensing education beyond residential appraiser license level.
For students in some specific states, (i.e., California), they need to refer them to another institution. I'd be happy to see if they could expand the courses on their product shelf.
What do I like about VanEd?
Their exam prep program is one-of-a-kind in the industry. Even nowadays, I'm surprised that not too many institutions are providing exam practice questions.
Furthermore, as mentioned earlier, their instant response on the live chat is outstanding. I'm confident that they hold high priority to satisfy the needs of their students.
2) OnCourse Learning: Great Option for Corporate Group Training
OnCourseLearning is a collection of education companies. They offer courses across several industries such as real estate, appraisal, and inspection. This is the company where VanEd would refer some of their students to.
For the appraisal education, they have pre-licensing courses for people who want to become a trainee or licensed residential appraiser. In addition, OnCourseLearning also offers continuing education for license renewal purpose.
How does OnCourse Learning deliver the courses?
Students can access to all the course materials in their online portal. In addition to text-based info, they also have other interesting formats such as animation, gamification, videos. An online dashboard is available for easy tracking of your study process, receive notification about a course deadline, and retrieve certificates.
OnCourse Learning utilities the "Learning Management System". This is a unique feature for corporate group learning. It allows you to easily manage the administrative tasks for your employees and review their study progress. This system could be particularly useful if you are running an appraisal firm or AMC, and you want to provide training to your staffs.
Here's a 3 minutes video about the Learning Management System:
How much are the OnCourse Learning appraisal courses?
Most of their 15-hours pre-licensing courses are priced at $139.30 except for the USPAP course ($202.30). The 30-hours courses are $244.30.
However, if you enroll in their package plan, there could be some savings versus purchasing the courses individually. Their 75-hour Trainee Package is $629.30, whereas the 150-hour Trainee & Licensed Package is $839.30.
As for obtaining your CE credits, they have two 14-hour renewal packages with $153.30 each.
What kind of support is available from OnCourse Learning?
For customer and technical support, you could call or email them during office hours (Monday – Friday, 7:30 a.m. – 6 p.m. CT).
If you have any questions about the course materials, they have interactive chat boards for their students. This is where you could share questions and information with other peers and instructors.
Who are teaching the appraisal courses at OnCourse Learning?
When I reviewed their website, most of their instructors are professionals in the real estate field. Some have extensive experience as home inspectors, sales agents, or even real estate attorney.
However, I could not locate any detail which shows their appraisal-related qualification or experience. Although I do not doubt their qualification, (well the Appraisal Qualification Board already recognizes their courses), I still prefer instructors to be continuously active in the appraisal field.
What do students think of OnCourse Learning?
I found that there were five appraisal student reviews on the onCourse Learning website. They complimented that the courses were easy to follow and good use of their time.
Since all the reviews were positive, I tried to find other sources from third parties. However, I couldn't locate any Google, Facebook, or other reviews about them.
I look forward to hearing more student experience with this education provider.
What do I like about OnCourse Learning?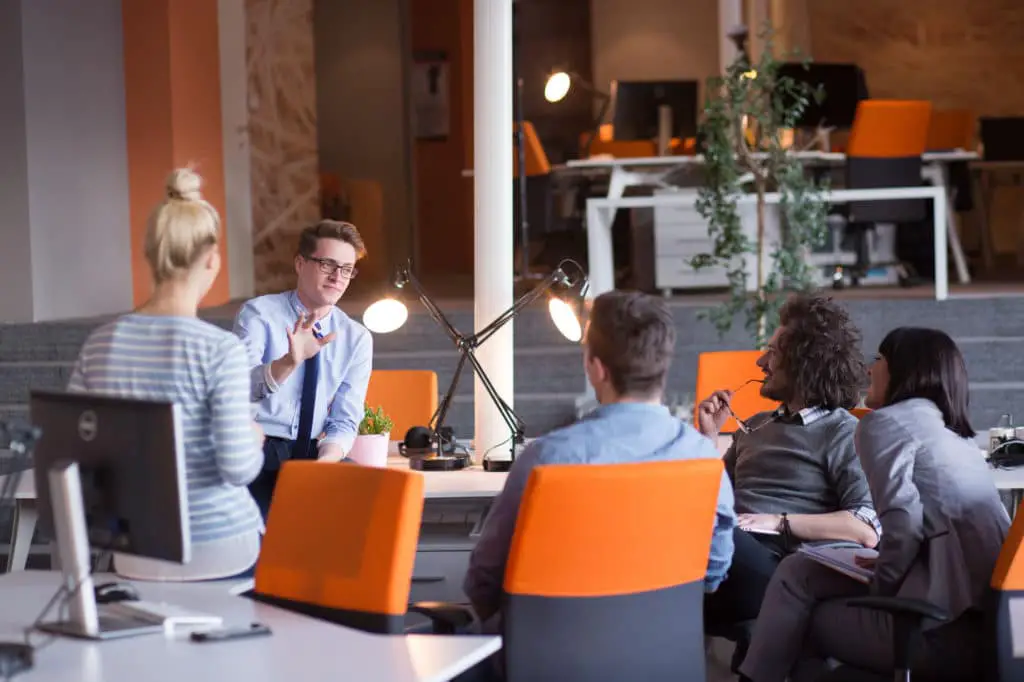 Their Learning Management System is something that can distinguish them from competitors in the market place. It eases the administrative process for companies. If you are running an appraisal firm or AMC, this could be a good perks to include for your employees.
[Read: How to start a real estate appraisal business?]
Their pricing is also very competitive – for instance, when comparing to other education providers, their trainee package of $629.30 is the lowest priced one I have seen so far.
I also like their corporate culture. They seem to place great emphasis on treating their employees well. As Richard Branson said, when you treat your employees well, then they will treat your customers well too.
Here's a virtual tour of their headquarter.
What improvement can OnCourse Learning make?
Their courses can only upgrade you in becoming a Licensed Residential Appraiser. However, in today's competitive landscape, becoming Certified is really the new minimum standard if you want to stay in the appraisal field in the long haul. Therefore, they should seriously consider offering courses in the certified residential/general levels.
Another issue which I remain concern is whether their instructors have any professional appraising experience. After all, inspecting properties and valuing them are two different kinds of beasts.
I already left OnCourse Learning an email to inquire about this. I'll update this post if I receive any clarification from them.
3) McKissock Learning: Best All-rounded Appraisal School
Some online schools can only provide courses to a handful of states. Some cater to only offering CE courses. Even if they have pre-licensing courses available, many of them do not have the qualifying classes to pursue the Certified General Appraiser License.
McKissock Learning is one of the few that offers such a board selection of courses. It provides pre-licensing courses for all level of appraisal licenses, and CE courses. The best is they are available to most of the states.
McKissock has a long track record in providing appraisal education. They were one of the pioneers who started back in early 1990.
How does McKissock deliver the appraisal courses?
You can complete all the courses online. Depending on which specific lesson you enroll in, some would have audio tracks, video explanations, and downloadable course materials (i.e., handouts, checklists).
Some of their bundle packages even include a series of webinars, content library, access to appraisal community where you could share your thoughts and questions with other students.
With an extra fee, they also have the option to include printed textbooks.
How much does McKissock charge?
You can take the courses individually or order them in a bundle. For individual course, most of the 15-hours ones are priced around $209.95. (Except for the National USPAP course, which is $299.95). While 30-hours courses are $409.95.
McKissock also offers bundle plans. For example, they have a 75-hours Trainee Education Package, which prices at $799.95. You could have significant savings with this plan rather than buying each course separately.
Some students might not have the entire tuition upfront, so McKissock comes up with a payment plan option. It allows you to spread the payment into four months. The best is there is no extra charges or interest.
If you want to find out more about the latest pricing structure, here's a link to their website. (This is an affiliate link) Once you get to their website, you could start off by choosing the state, then select the license level you are pursuing.
What support does McKissock provide?
For customer or technical support, you can contact them either through the phone or email. Due to the heavy call volume, I found that it takes a longer wait time to get a hold of them. (I'm actually calling them now as I'm writing this post. But unable to reach anyone after a 15 minutes wait time.) You could leave your number and request a callback. Usually, I just send them an email, and it would take a day or two to get a response.
After you enroll in their lesson, if you have any questions regarding the course material, you can always send an email to their instruction. Some courses would have live Q&A session too.
Who are teaching the appraisal courses in McKissock?
One thing I'm very impressed is most of the MsKissock instructors are active appraisers with hands-on experience. Therefore, they are not just there in teaching you textbook knowledge, but to equip you with practical skills to excel in the appraisal field. After all, how can a person teach you cooking if they haven't made any meals before?
Let's take a look at the amazing credential from one of their instructors.
What do students think of McKissock?
At the time I'm writing this post, McKissock received an outstanding number, 423405 of reviews. Of which over 87% were positive comments. This educational provider had an excellent 4.3 stars rating out of 5.
There was a student from Oregon who just took the Supervisor-Trainee Course. She applauded that the course was easy to understand and work through.
Another student took the Residential Property Inspection for Appraisers course. She said that the course selection was good, and the content was relevant. She can complete the course conveniently at her desk at work. Overall speaking, she was very satisfied with the learning experience.
What can McKissock Improve?
Despite McKissock Learning is a top-notch appraisal education provider, there are several things they could improve upon.
Currently, their courses do not offer any Exam Prep. I'm a huge fan to begin studying with an end-goal in mind. Practice test questions can reinforce the topics I need to spend more time. We already raised this concern to their manager. Hopefully, they would come up with this study materials soon.
Another issue is there is no live chat feature on their website. Although I could email them my questions, I prefer instant interaction. However, waiting on the phone line is too time-consuming. I rather wait for them through live chat, while working on other tasks on my computer.
What I like about McKissock?
Besides the benefits mentioned above, I also like the blog on their website. It's a great platform to provide students with updates about the appraisal industry and regulatory changes.
In addition to the prelicensing and CE courses, McKissock also has non-credit mini-courses and webinars to sharpen your knowledge at an affordable price. For instance, they have a 1-hour webinar on "Appraisal Company Marketing Strategies that Work," which only costs $35.95.
Lastly, I like they have the Unlimited Learning Subscription. This package contains all the 300+ required education for all levels of appraiser licenses. (i.e., Trainee, Licensed, Certified Residential, Certified General). You'll have a 12 months access to the course materials, webinars, content library, and their appraisal community. The price is $1299. I know that this might sound expensive, but if you purchase all the required courses individually, it could easily be more than $4000. I think this is a good option for those who want to turbo up their studying pace by doing so full-time in the next 12 months.
4) Appraiser eLearning: Providing Practical CE Courses
Appraiser eLearning is created by three appraisers who work and live in Nashville, Tennessee. Their philosophy is to create fun and interactive classes, so that appraisers will take them because they want to, rather than they need to.
Unlike other education providers, Appraiser eLearning does not offer pre-licensing courses. Instead, they focus mainly on providing CE appraisal lessons to across 29 states. So far, I could find seven CE courses available on their website.
How does Appraiser eLearning deliver the courses?
You can access all their appraisal CE courses through the online portal. Since everything is cloud-based, you do not need to download any software. You can simply learn from your web browser. (i.e., Chrome, Internet Explorer, Firefox, Safari).
There is a quiz at the end of every chapter, where you are required to achieve a score of 70% to proceed further. After you complete the course, you will be asked to fill out a brief evaluation form, then you could proceed to download your CE certificate.
What is the pricing of the Appraiser eLearning CE courses?
The more condense the course materials, the higher the price. A 3-hours course costs $69.95, whereas a 7-hours lesson is $ 119.95.
They also have bundle packages where they pair up the two courses for extra savings. The price ranges from $119.95 to $229.95, which are about 15% cheaper than buying each class separately.
What support does Appraiser eLearning provide?
You could call them during office hours Monday – Friday from 9:00 AM to 5:00 PM CST. Alternatively, you could contact them through email, in-app instant messaging and the course announcement board.
We haven't tried their customer service yet. On their website, it says that have 7 employees. However, they don't seem to run a huge operation at this point, as they are only 2777 students. So I guess the work volume in handling inquiries should be manageable.
Who are teaching the appraisal courses in Appraiser eLearning?
I see that there are six instructors at Appraiser eLearning. I'm very impressed that all of them have an outstanding credential and extensive experience in the appraisal field. They have a wide range of appraisal knowledge – for instance, expert witness, FHA, compliance, divorce, relocation, lending, and pre-listing appraisals.
What do students think of Appraiser eLearning?
I searched through their website and other online channels, but I'm unable to locate any meaningful feedback about their services. They do have a Facebook page with five ratings. Despite they are all five stars, I don't think they are all feedback from students. Of which, one left a comment that he had a great experience recording the online course materials.
I look forward to reading more of their student feedback in the near future.
What do I like about Appraiser Learning?
I think their focus on providing CE courses is brilliant. Rather than going after pre-licensing education, which is challenging to differentiate from others in this market place, offering quality CE could be a profitable niche.
The two courses, Appraising 2-4 Unit MF Properties and Commercial Property Valuation is something that I find intriguing. I believe some students would feel the same too.
However, currently, there is only a handful of courses on their product self. They should consider adding more unique CE courses. (i.e., expert witness, farm appraisal, relocation appraisal).
I also enjoy the free webinars and podcasts on their website. They certainly bring tremendous value to the audiences.
5) Appraisal Institute: Pursue Professional Designation
The Appraisal Institute (AI) is one of the largest global associations for real estate appraisers. They have over 18,000 members across 50 countries. In addition to providing networking opportunities to their members, AI also offers prelicensing education for all license level, CE courses, and professional designations.
How does the Appraisal Institute deliver the courses?
You can access their courses and webinar online. AI has a web platform called "Knowledge Center" where you could download the e-materials, forms or applications.
However, in addition to online courses, many of their lessons are also available in a traditional classroom setting. This is something that the previously mentioned institutions do not offer.
How much are the AI appraisal courses?
Although the tuition for each course varies, to give you an idea, I could show you some examples. The Basic Appraisal Principles (30 hours), which is one of the required pre-licensing courses to become a Trainee Appraiser, its fee is $389 for AI members and $459 for non-members.
The Appraisal Institute also offers bundle plan for each license level. The tuition for the Appraiser Trainee Licensing Package (75 hours) is $880.00 for AI members and $ 1,040.00 for non-members. The saving is about 15% versus enrolling each course individually.
Designation programs are one of the key highlights offered by AI. Since the courses required for each designation is different, the total fees are different as well. A few months ago, I reviewed the MAI program. The full tuition was around $4000 to $4500.
Here's an article with more details about the MAI designation.
What kind of support is available from the Appraisal Institute?
Since AI is such a big scaled organization, for each category of inquiry, they have a specific department to respond to your needs. For example, they have teams for admission, CE courses, online courses delivery, and classroom courses delivery. Each department has a separate phone line and email address for you to reach.
I just called the Online Education Delivery. It took less than one minute to get a hold of their staff. I asked her if students have any questions about the course materials, how can they reach the instructor? She said that once you login to the online course, there will be a link with the instructor's email. Alternatively, you may talk to the instructor over the phone.
Who are the Appraisal Institute courses instructor?
Their instructors are some of the top-notch Certified Appraisers in the industry. Many of them are holding multiple designations such as SRA, MAI, AI-GRS, AI-RRS.
What do students think of AI designations?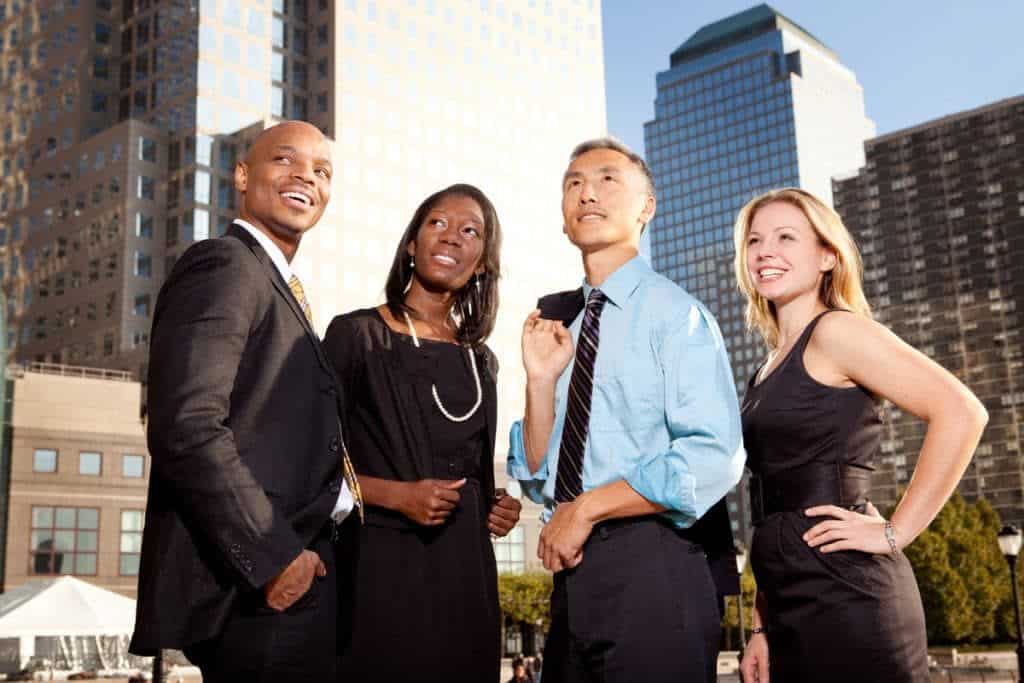 Rather than talking about individual courses, I want to spend more time discussing their designation programs. After all, this is an incomparable advantage they are providing to their students.
I have talked to many MAI designation holders, and they all expressed it undoubtedly enhance their knowledge and credibility in front of their client. In fact, some clients only considered hiring them for large scale projects because of the designation they were holding.
However, each designation is not the same. Not every client appreciates the value of such a professional title. Some residential appraisers said that their line of work mostly involves ordinary cookie-cutter properties. Their designation did not lead them to higher fees or increased work volumes.
What do I think about the Appraisal Institute?
Appraisal Institute has excellent resources for its members. Not only it offers a wide range of educational resources, but it also has local chapters for you to network with other peers.
Furthermore, AI would advocate for the appraisal industry and voice out their needs to the regulatory agency. I'm delighted that they have scholarship programs for people who want to pursue a better career, but are require financial assistance.
However, in terms of pricing, the AI's pre-licensing courses are more expensive than the other education providers that we have just discussed. Even if you become their members, their tuition is still relatively higher than the others.
I would focus more on their designation programs because they are being widely recognized. This credential could be extremely helpful if your clientile demands a high standard of professionalism and expert appraisal skills.
Conclusion
As you could see, each appraisal education providers have their unique advantage in the market place. It's difficult to say with certainty which one is the best. After all, it depends on what education resources you are looking for.
(Here's our education resource page, it contains details which could be helpful to enhancing your appraisal knowledge)
However, a rule of thumb is that you must be able to access the course materials online. This gives you flexibility in studying at your own pace while eliminating the hassle in traveling to a classroom.
In summary, you may consider:
VanEd's exam prep if you are pursuing the trainee license
OnCourse learning if you want to provide corporate training to your employees
McKissock if you're going to obtain pre-licensing or continuing education
Appraiser eLearning if you are looking for unique CE courses
Appraisal Institute if you plan to pursue a professional appraisal designation
If you do not have any idea, you may start with McKissock Learning. As you could see in my review, they have a comprehensive selection of appraisal courses; their instructors are experienced appraisers, and many students gave an excellent rating to their services. If you want to find out more about McKissock, here's a link to their website. (Affiliate link)
(**) Affiliate Disclosure: Please note that some of the links above are affiliate links, and at no additional cost to you. Our company, JCHQ Publishing will earn a commission if you decide to make a purchase after clicking on the link. Please understand that we include them based on our experience or the research on these companies or products, and we recommend them because they are helpful and useful, not because of the small commissions we make if you decide to buy something through the links. Please do not spend any money on these products unless you feel you need them or that they will help you achieve your goals.
Disclaimer: The information in this post is for general information only, and not intend to provide any advice. They are subjected to change anytime without notice, and not guaranteed to be error-free. For full and exact details, please contact the Appraisal Board in your state, the education or service provider.