(**) Disclosure: This post may contain affiliate links, meaning our company, JCHQ Publishing will get a commission if you decide to make a purchase through the links, but at no additional cost to you.
As you are about to begin your career in the appraisal industry, you probably would hear other real estate appraisers talk about Appraisal Management Company or AMC in short.
So what is an Appraisal Management Company? An Appraisal Management Company is an independent entity that acts as the middleman between lenders and real estate appraisers.
It handles the administration and communication work between the parties throughout the appraisal process. AMC is also responsible for screening appraisers and distributing work to them accordingly.
Although you might not notice, AMCs have actually been around for over 50 years. However, it just became more commonly used after the financial crisis in 2007-2008.
Why Lenders Would Use an Appraisal Management Company?
Since the mortgage meltdown, the Home Valuation Code of Conduct (HVCC) appraisal guidelines were established.
To ensure that the appraisal work is independent, the HVCC and the regulatory agency aim to reduce the amount of direct contact between appraisers and lenders.
This is where the Appraisal Management Companies come into the play. It can create a level of oversight between them. The AMCs would contract with a pool of licensed or certified appraisers, and then assign lender's requests to them accordingly.
Note that appraisers will not be communicating directly with lending institutions, all communication is done through the AMC.
Role of an Appraisal Management Company
Interviewing and screening appraisers
Confirm that their appraisers hold the proper state license to conduct appraisal work.
Gather details about the appraisal requests
Assign work to appraisers
Act as a communication hub between appraisers and lending institution
Resolve issues when there is any disagreement
Ensure the assessment complies with the regulatory standard and fulfills the lender's requirements
Deliver the appraisal report securely to the lenders
Collect appraisal fees
Compensate appraisers
How Does AMC Choose an Appraiser for Fulfilling an Appraisal Assignment?
AMCs could use a number of criteria when it comes to assigning a project. For example, they may evaluate the appraiser's experience in the local housing market, education, license level, and distance to the subject property.
AMCs would also consider how well the appraiser has been working with them, their ability in meeting the timeline, the quality of the appraisal report, their availability to complete this assignment, and their fees.
Is there any Regulation for Appraisal Management Company (AMC)?
The Regulatory Agency is promoting rules and minimum requirements for states to register AMCs. Although some states already passed the legislation, others are still working on the finalization.
All state legislation must fulfill the minimum federal requirements. However, individual states can also impose their own additional AMC requirements.
Generally speaking, there is regulation in most states that requires AMCs to have a procedure in place to assess appraisal quality.
You could find out more details at the Appraisal Subcommittee's Bulletin.
Are Lending Institutions Mandatory to Use an AMC?
No, lenders are not required to hire AMCs.
But the appraisers they recruit must work independently that their assessment is objective and unbiased. The appraisers' opinion of the property value must comply with the industry standard, purely based on fact and research, and not influenced by others.
Due to this stringent requirement, some lenders prefer to use an Appraisal Management Company to handle the appraiser selection process.
Despite that, when we reviewed the U.S Valuation Profession Fact Sheet in December 2017, we were surprised to see that AMC only made up of 2% of the type of companies/organization in the appraisal industry. The majority were still Appraisal Services Firms which represented 76%.
However, the study did not indicate how much volume of appraisal orders went to each type of company. Perhaps, we could discuss more in the future once we can find out more information.
What do Appraisers Think of AMCs?
AMCs act as the firewall to prevent lenders from influencing the outcome of appraisal work. The ultimate goal is to prevent consumers from overpaying for the properties.
Although the intention is good, it does come with a cost.
We talked to some appraisers. They expressed a significant amount of their fees went to the AMCs so that they would need to increase the rate to make their time worthwhile for a project.
Also, due to the additional party involved, the back and forth communication could actually slow the appraisal process.
So How can an Appraiser Benefited from an Appraisal Management Company?
Some appraisers do not enjoy interacting directly with the lenders, and they want others to handle the administrative duties for them (i.e., collecting appraisal fees, and arranging appointments).
They just want to focus their time working on appraisal reports. Therefore, AMC could be a good fit for them.
Furthermore, AMCs can be beneficial to appraisers who want to take on more assignments but lack the motivation in finding their own clients. This is especially helpful to newbies who just enter the industry, and haven't built a large enough client base.
Although AMCs inevitably take away part of the appraisal fees, some appraisers view this as a way to outsource their administrative duties. As you build up a good working relationship with the AMC and prove that you are valuable to their company, you could negotiate for a higher fee split.
What to Look for When Working with AMC?
Before you decide to contract with any AMC, you should have a thorough discussion regarding each of the item below.
Will this working relationship constitutes an employee and employer relationship? Or you'll still be a self-employed individual?
What is the rate of the fee split? 50%? 60%? 70%?
Can the rate be adjusted as your experience is built up?
Does the AMC guarantee with the minimum volume of appraisal works every month?
Will they cover some of the expenses such as license fee? E&O insurance? software subscription? others?
Will you be allowed to service your own appraisal clients? Or fulfill orders from other AMCs? Or you must be working exclusively for them?
There is no right or wrong setup. It really comes down to what terms you and the AMC are comfortable in agreeing to. Generally speaking, the more things they could offer you, the more appraisal volume they would expect you to commit.
What to Prepare when Contacting AMC?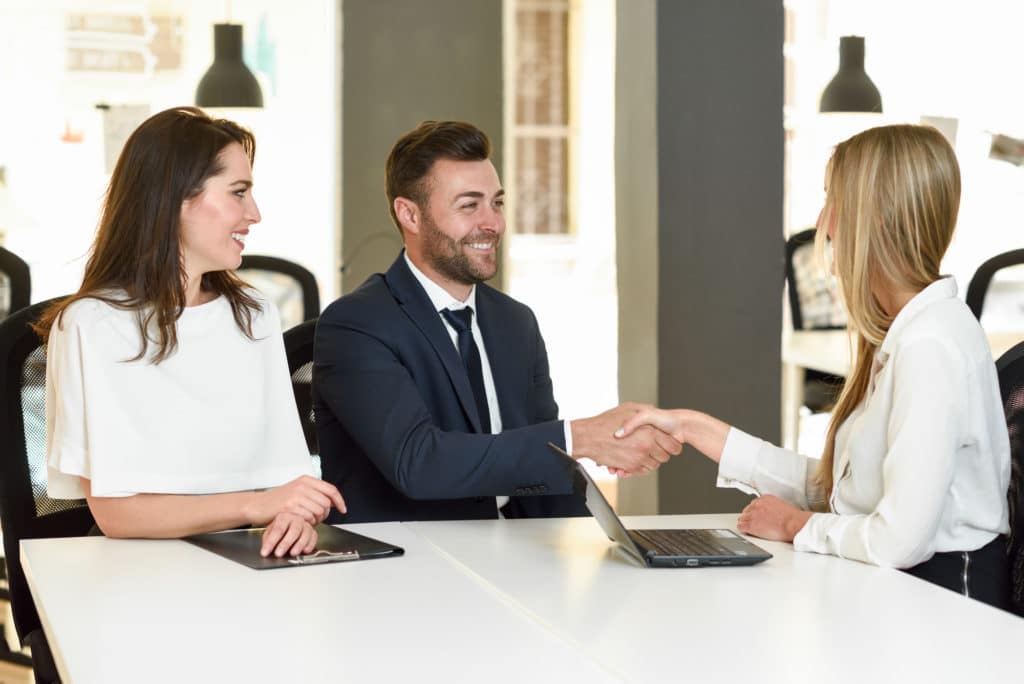 If you want the AMCs to treat you seriously, then you should always be well prepared during the first interaction. In most scenarios, you'll need to provide the following:
Copy of the state appraiser license
Copy of work samples
Resume which outlines

Your qualifications
Type of properties that you can appraise
The property niche you specialize in working
Service area
Typical fee for each assignment
List of Appraisal Management Companies
These are the lists of Appraisal Management Companies we could locate at this time. If your state does not show up in this table, you could try contacting the Real Estate Appraisal Regulating Agency in your state for more details.
Disclaimer: The information in this post is for general information only, and not intend to provide any advice. They are subjected to change without any notice, and not guaranteed to be error-free. For full and exact details, please contact the Real Estate Appraisal Board in your state.
Reference:
https://www.investopedia.com/terms/a/appraisal-management-company-amc.asp
https://www.nar.realtor/appraisal-valuation/nar-issue-brief-appraisal-management-company-qa