(**) Disclosure: This post may contain affiliate links, meaning our company, JCHQ Publishing will get a commission if you decide to make a purchase through the links, but at no additional cost to you.
Appraiser plays an important role during a real estate transaction. They provide the most accurate analysis of the property by providing current market data, comparable sold properties in your area, and other pertinent information like zoning regulations.
As an appraiser, you want to be sure that you are delivering accurate assessments for your clients so they can make an informed decision.
A good real estate appraiser must have excellent research and analytical skills, be good in math, and have expert technical knowledge of the subject property and real estate market. They can articulate an opinion of the property value that is independent, objective, and unbiased.
Although each appraiser could have distinct work practices, some common qualities go into being an effective and successful property appraiser.
I connected with many real estate appraisers and gathered their first-hand feedback on this topic. If you're interested in becoming a professional property appraiser, this post will cover what it takes to be one!
What does it mean to real estate appraisers to be competent?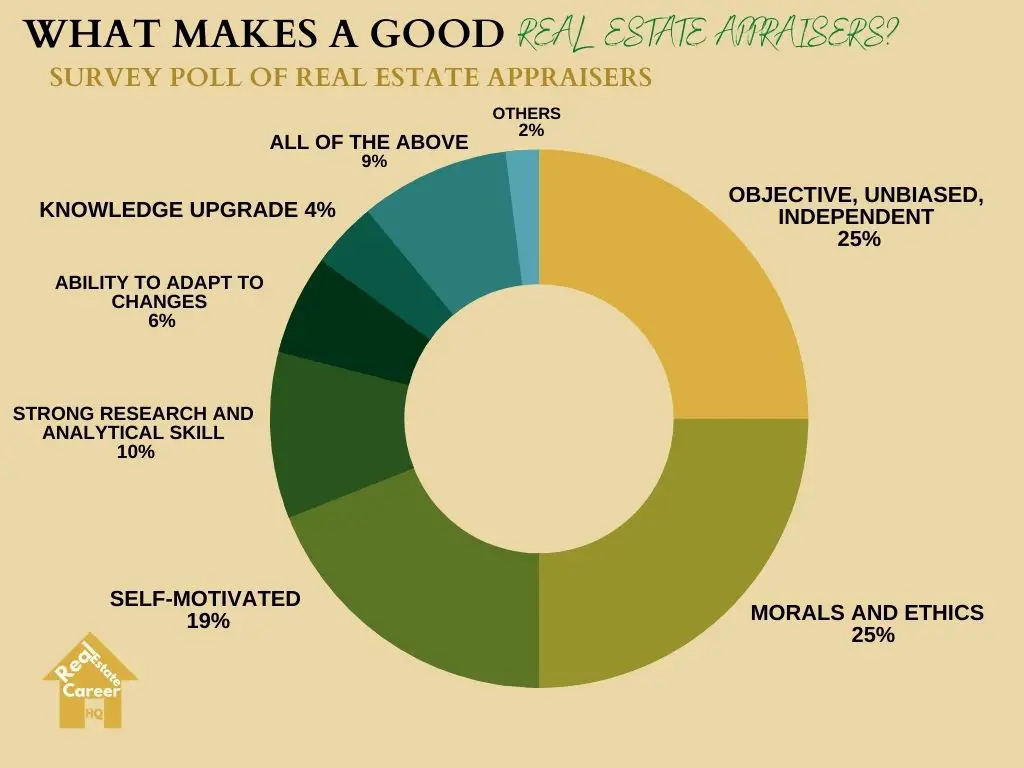 I created a poll on social media and received 47 votes from real estate appraisers. As you can see, being a professional in this field is not just about appraisal knowledge and skills. Rather it is more about the principle when working on appraisal assignments. (i.e., To be objective, unbiased, independent, have good morals and ethics.)
Here are the key attributes that make an outstanding real estate appraiser
1) Be firm, Be independent
Sometimes, real estate appraisers could be facing tough situations. They are often under pressure to value property at a certain price or risk losing future appraisal assignments. It's not unusual for them to face criticism from homeowners who think that the home is worth more than the appraised value.
A sale may fall apart because a buyer cannot get an adequate mortgage due to a lower property valuation. In that case, the real estate agents involved may also be unhappy because their commission depends on whether the deal can be closed.
Some appraisers, especially those new to the industry and who have not built up their confidence, found it difficult to resist this pressure and do their due diligence in valuing homes fairly.
Appraisers also need patience and thick skin. Sometimes, you may need to ask tough questions to find out relevant details about the property.
But keep in mind that your ultimate responsibility is not to please others but to assess a property value accurately. Inaccurate assessment could mislead buyers and lenders down a wrong path and may result in an unwise financial decision.
2) Be unbiased and objective
A professional appraiser will not let their own biases or preconceived notions affect the value they give out.
Below are some scenarios you should avoid doing:
An appraiser gives a high appraised value to a property because it is located in a neighborhood where she grew up.
An appraiser is proud of his years of experience and quickly jumps to a conclusion without doing a detailed fact-finding of the subject property. 
Remember your appraisal work must be derived from factual figures and not influenced by your sentiment. You should not be rushed to a conclusion.
Although I admit it is important to be independent, it doesn't mean you cannot accept information from other real estate professionals. Just that you must verify the information through a third-party independent source.
Regulations allow real estate agents, or other persons with an interest in the real estate transaction, to communicate with the appraiser and provide additional property information, including a copy of the sales contract.

Quote from the National Association of REALTORS – Residential Appraisal Process – FAQs for Agents
Furthermore, don't automatically act defensive when other people disagree with your appraisal. We are all human, and there could be times when things are really being overlooked.
The requirements of subsection (b) shall not be construed as prohibiting a mortgage lender, mortgage broker, mortgage banker, real estate broker, appraisal management company, employee of an appraisal management company, consumer, or any other person with an interest in a real estate transaction from asking an appraiser to undertake 1 or more of the following:

(1) Consider additional, appropriate property information, including the consideration of additional comparable properties to make or support an appraisal.

Quote from 15 U.S. Code § 1639e – Appraisal independence requirements
3) Strong research skill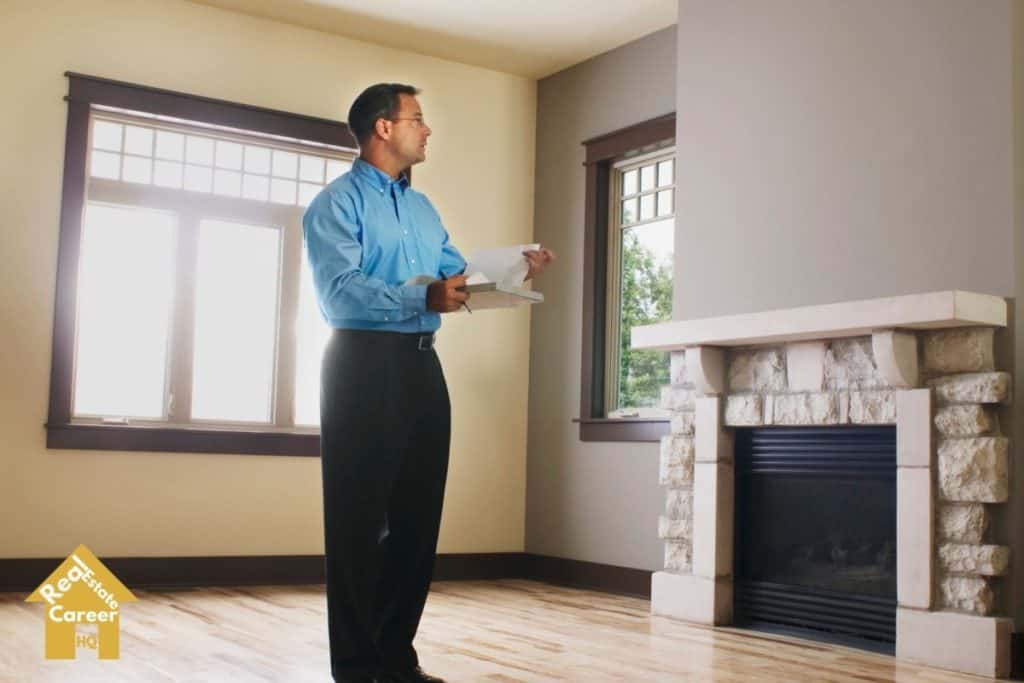 To develop a fair valuation, a real estate appraiser must consider different aspects of the property. (i.e., comparables, pricing trends in the market, condition of the property, external obsolescence, functional obsolescence and others.)
But not all assignments are not cookie-cutter deals- for example, complex properties, farmlands.) A good real estate appraiser will spend extra effort and creativity to locate the necessary information. They'll keep pulling on a dangling string until getting to the end of it.
3) Excellent analytical skill
Undoubtedly, you need to be familiar with the basic appraisal techniques such as the cost approach, income approach, and sales approach.
However, some aspects may require more careful analysis. 
How much adjustment should be added for a kitchen countertop upgrade?
Will having a deck or swimming pool affect the valuation in this market?
Does a detached garage versus a detached one have an impact on the appraisal?
A real estate appraiser with a strong analytic mindset will consider the different factors when developing a reasonable and objective property valuation. They also have the judgment to determine which factors are significant and which are irrelevant to the appraisal.
4) Self-motivated and Self-discipline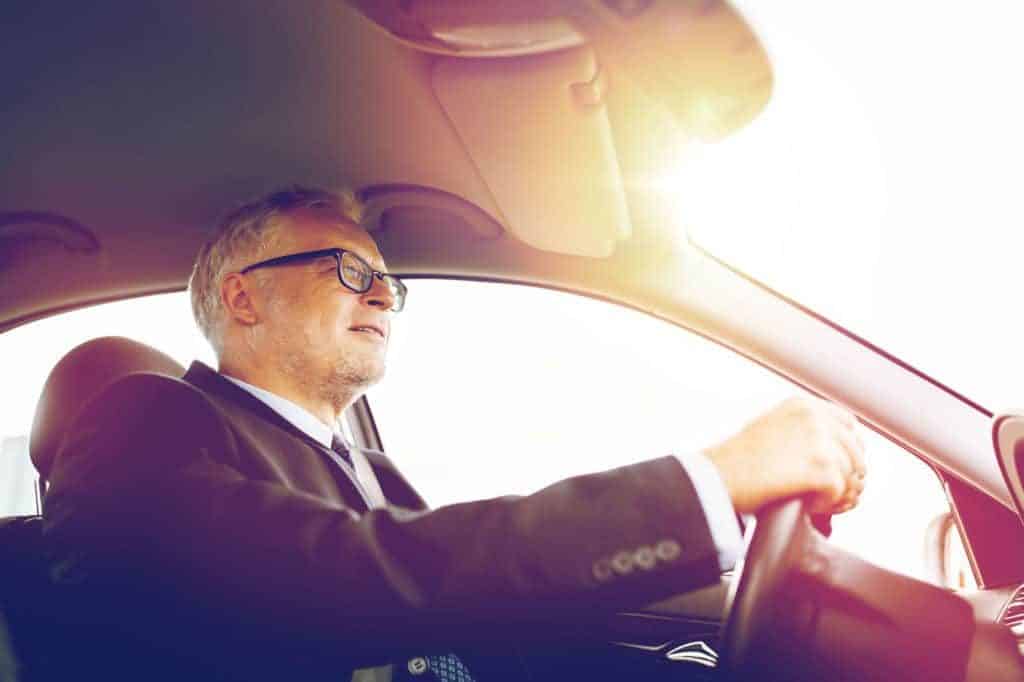 Many real estate appraisers are small business owners. According to a study from the Appraisal Institute, 45.8% of real estate appraisers are sole proprietors of their own appraisal business.
As a business owner, no one will tell you how you should schedule your day. Many people may easily slack off and spending all day doing non-income generating activities.
A successful real estate appraiser will understand the importance of being self-motivated. The amount of time you spend on your business will directly correlate to the level of success it achieves. They know that they are their own boss and need to take responsibility for what happens in their life. Be proactive by doing something that can grow your business every day, even just a tiny step.
However, being self-motivated doesn't mean that you have to work 24/7 and exhaust yourself. An experienced appraiser will understand that growing a successful appraisal business is a long time journey. With self-discipline, they will know when to hustle and when to take a break.
5) Great communication skill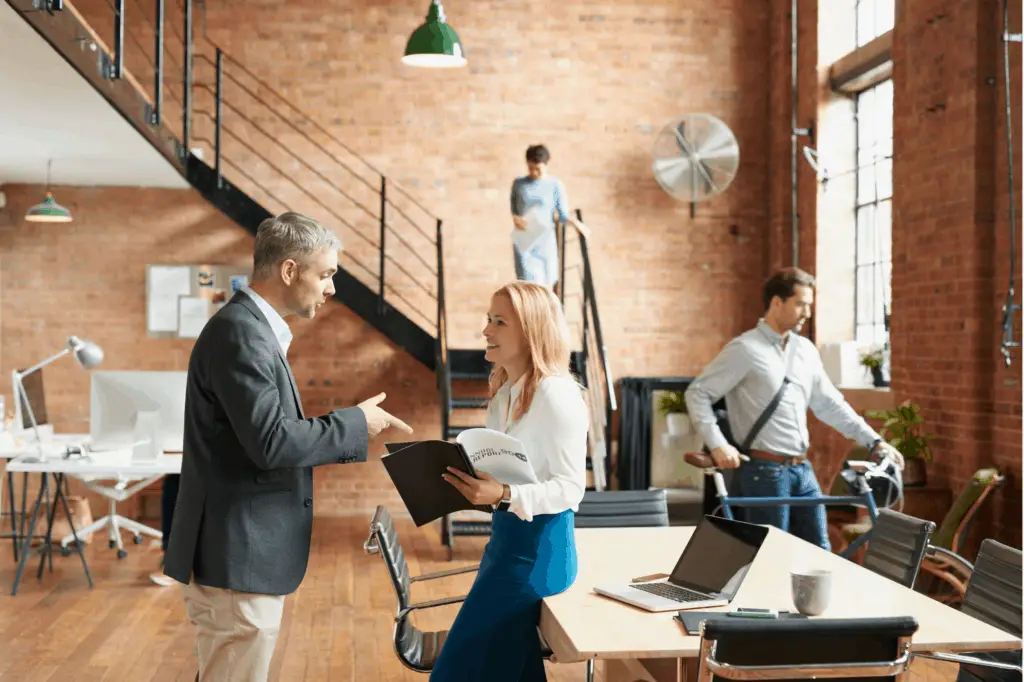 It's not uncommon for an appraisal to get scrutinized by different parties. According to the 15 U.S. Code § 1639e, you are required to provide further detail, substantiation, or explanation for the appraiser's value conclusion.
For highly priced commercial properties, you might have to present your findings to the clients and answer any questions they may have about your work. If you are an expert witness appraiser, you may even need to illustrate your appraisal work in court.
As a competent real estate appraiser, it is essential to have excellent communication skills to get your message across. Your writing skills need to be sufficient to distill complex problems into explanations that laypersons can understand.
An experienced appraiser can foresee the potential questions any reader of their work may have. They will answer them upfront, making the report more "readable" and reducing the time in going through clients' questions back and forth.
6) Have a repeatable process
Do you know why so many franchise companies are so successful? The secret is a repeatable and effective process. The same goes for the appraisal business.
The systematic approach can help appraisers eliminate the effort to reinvent the wheel for each assignment, thus increasing their efficiency. This also set the expectation of clients and avoid confusion.
If you want to run a successful appraisal business, it is better to figure out the following:
What type of assignment will you accept? 
What is your servicing area?
What is your fee for each assignment? Is it based on the number of hours you'll spend? 
Do clients make the appraisal order online?
What is your standard turnaround time to complete the appraisal? Can clients pay an extra fee to speed up the process?
How will your appraisal report be delivered?
7) Constantly upgrade appraisal knowledge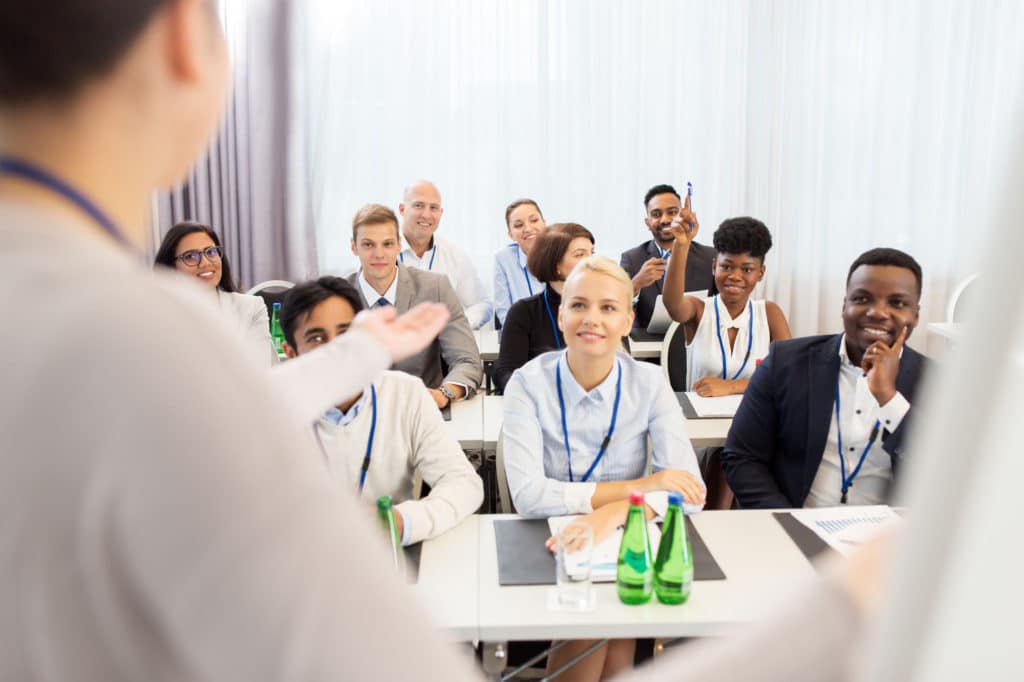 With the market constantly changing, every appraiser must keep up-to-date with the latest appraisal techniques and knowledge to stay competitive in this field.
There are plenty of ways you can stay on top of these changes – from attending conferences or webinars to studying new publications. You may join an association such as Appraisal Institute and get access to their resources. (Here are the Top 10 Resources for Real Estate Appraiser.)
Taking continuing education appraisal courses is another great option. Since you need to complete the required CE courses to renew the license, you may as well take the ones that could really benefit your appraisal practice or topics that you may be interested such as managing appraiser liability, complex properties, expert witness.
When choosing a real estate school to complete the CE requirement, consider one where you can take the courses online. This way, you could study at your own pace whenever and wherever. McKissock is a trustworthy real estate education provider. You may click here to see the CE courses offer in your state. (**)
8) Meet the high standard of excellence
Getting a state license is only the minimum requirement to become a real estate appraiser. Obtaining professional designation can help to validate your appraisal skills and provides a broader range of advancement opportunities.
For example, the MAI designation is offered by the Appraisal Institute. It takes a lot of hard work and years of appraisal experience and is one of the most prestigious titles you could get in the real estate valuation field.
I talked to several MAI appraisers. After they obtain the MAI designation, they are able to land on more higher-priced and challenging assignments.
9) Know your real estate market
I talked to a Certified Residential Appraiser and he stresses the importance of knowing the real estate in your market. As he continuously witnessed many city appraisers doing a poor job on rural, mountain, and complex waterfront assignments, he suggested not to accept work for areas you are unfamiliar with.
If you want an example of a professional real estate appraiser who truly knows his market, you can check out the SacrmentoAppraisalBlog. Ryan Lundquist is the appraiser behind it, and he regularly shares helpful real estate stats on his servicing areas.
What makes a good real estate appraiser? Here's the viewpoint from a Certified Residential Real Estate Appraiser, Jamie Owen.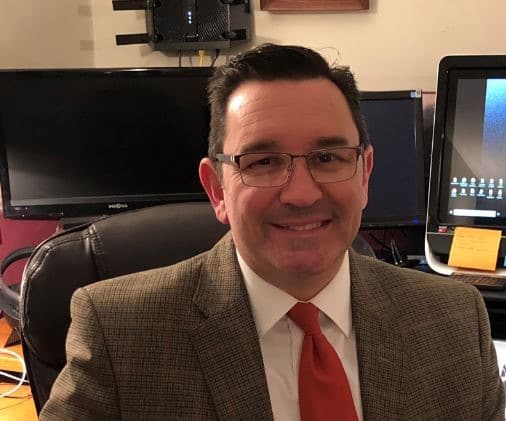 "In my opinion, a good appraiser is one that cares about providing quality work, and who is constantly trying to improve their skills. There is a lot to learn. New appraisers can certainly complete a good appraisal. However, as time goes on, they will learn a lot more about how to analyze data and to think critically, as they encounter different types of assignments.
I know that I am a much better appraiser today than I was twenty years ago. I am still learning! In fact, I was just visiting with a colleague who is a well-known and highly respected appraiser across the country, who has been appraising for much longer than I have.
We both feel like the more we learn, the more we realize how much there is still to learn. So, appraisers should never feel like they know it all. There is always something new to learn. Good appraisers are always striving to improve our skills.
Additionally, I think that it is important for us to make sure that we are really analyzing the market and clearly explaining what we see in the market, in our appraisal reports. A good appraiser is not one who simply fills out some boxes on a form to get the report through underwriting. A good appraiser takes the time to really do the research and analysis needed to complete a credible report.
One of the things that I see that distinguishes a good report from a bad one is the commentary, or lack thereof. A good appraiser will explain what we did and why we did it."
– Jamie Owen, Certified Residential Real Estate Appraiser at Aspen Appraisal Services
(Here's an exclusive interview with Jamie. He shared with us his journey and valuable experience in the appraisal industry. You'll also learn what it is like to be a real estate appraiser nowadays.) 
The Bottom Line on What Makes a Good Real Estate Appraiser
In short, a competent real estate appraiser must be able to produce a high quality appraisal.
A good appraisal includes adequate information related to market trends, any zoning issues leading to possible highest and best use problems, pros and cons about the subject property, verified sales information, and the real estate appraiser's analysis.

The information is presented in a logical, unbiased, and easy to understand manner that makes sense to regular intended users.
On the other hand, a bad appraisal requires the clients to take a "leap of faith" about the result. It could be full of contradictions and missing data. It did not discuss the positives and negatives of property and failed to verify the data used to conclude a value opinion.
Taking high-quality appraisal courses allows you to keep up with the best practices and remain competitive in the industry. When choosing a real estate school to complete the CE requirement, selecting one with an excellent reputation is important. McKissock is a trustworthy real estate education provider. You may click here to see the appraisal courses offer in your state. (**) 
(**) Affiliate Disclosure: Please note that some of the links above are affiliate links, and at no additional cost to you. Our company, JCHQ Publishing will earn a commission if you decide to make a purchase after clicking on the link. Please understand that we include them based on our experience or the research on these companies or products, and we recommend them because they are helpful and useful, not because of the small commissions we make if you decide to buy something through the links. Please do not spend any money on these products unless you feel you need them or that they will help you achieve your goals.
Disclaimer: The information in this post is for general information only, and not intend to provide any advice. They are subjected to change without any notice, and not guaranteed to be error-free. Some of the posts on this site may contain views and opinions from individual not related to JCHQ Publishing. They do not necessarily reflect our view or position.
Reference: