(**) Disclosure: This post may contain affiliate links, meaning our company, JCHQ Publishing will get a commission if you decide to make a purchase through the links, but at no additional cost to you.
In today's real estate market, a property's aesthetic appeal can greatly influence a buyer's decision. Expert staging has become more than just a nicety—it's essential for homes to stand out among the multitude of listings.
Selling a home is more than just a transaction; it's about sharing a story. In the vast sea of listings, every home has its narrative, but how do you ensure that your home's story is not just heard but deeply felt by potential buyers? It's not just about bricks and beams; it's about the laughter, the memories, and the cozy mornings that a space promises. Enter the transformative world of home staging.
Staging a home to sell for top dollar involves enhancing its appeal by strategically arranging furniture, introducing aesthetic upgrades, and highlighting unique features. This process focuses on showcasing the property's best attributes, creating a desirable ambiance, and aligning with the lifestyle aspirations of potential buyers. Effective staging amplifies a property's strengths, making it more attractive to a wider audience and optimizing its market value.
According to the NAR home staging report, 44% of seller' agents stated that home staging would add value to a property. The increase is ranged from 1% to 20%.
As we delve deeper into this guide, we'll explore how to use smart staging techniques to make your property stand out and truly resonate with those who walk through its doors.
8 Tips to Stage a Home to Sell for Top Dollar
1. Know Your Audience: Understanding Buyer Expectations
A key aspect of successful staging is tailoring the home to the preferences and expectations of potential buyers. This involves more than just being aware of current trends; it's about understanding the lifestyle aspirations and practical needs of those who might be interested in the property.
You should conduct local market surveys or collaborate with real estate analysts. Identifying whether buyers in your area prioritize tech-smart homes, energy efficiency, or spacious garden areas can inform your staging strategy, aligning homes with potential buyers' visions.
2. Upgrades that Impress: Luxury Touches that Make a Difference
Even minor luxurious enhancements can significantly uplift the ambience of a home. While major renovations may not always be feasible, introducing subtle luxury elements can convey sophistication and attention to detail.
Consider investing in signature fixtures or decor pieces. Upgrading the kitchen faucet to a high-end model, introducing a designer lamp in the living room, or accentuating a bedroom with plush, premium bedding can instill a sense of opulence without breaking the bank.
3. Perfecting Furniture Placement
Furniture placement can dramatically influence a room's perceived space and functionality. Thoughtful arrangement can guide potential buyers through a home, allowing them to imagine how each space can be utilized while appreciating the flow and spaciousness.
Use the 'floating furniture' technique, where furniture is positioned away from walls in cohesive groupings. This can enhance room spaciousness and promote fluidity in movement and conversation.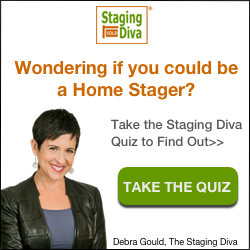 (**)
4. Showcasing Unique Features: Making Distinctive Elements Shine
Homes often come with distinct attributes—a quaint window nook, a vintage fireplace, or a uniquely patterned backsplash. Leveraging these can transform them from mere features to memorable selling points.
For a home with a beautiful fireplace, consider creating an inviting seating arrangement around it. Highlight bay windows with stylish seating or cushions, making them standout relaxation points.
5. Designing for Dreams: Lifestyle-Centric Staging
When staging a home, it's beneficial to think beyond the property's physical attributes. Successful staging tells a story, offering a glimpse into the lifestyle the home promises.
If a property is in a bustling urban area, integrate elements of urban chic into the decor. For more suburban homes, elements that evoke family comfort can be more fitting.
6. The Power of Professional Photography
With most home searches starting online, the images of a property can greatly influence first impressions. High-quality photos can enhance the appeal of your staging efforts, making each room appear even more inviting.
It's better to schedule photography sessions during the 'golden hour' for optimal natural lighting. Use wide-angle lenses to capture the entirety of spaces, ensuring the property is presented in its best light.
7. Mastering Focal Points: Commanding Buyer Attention
Well-chosen focal points in a room can captivate attention and emphasize the home's best features. By guiding a viewer's eye, you can ensure they appreciate every strength of the property.
Consider placing a statement art piece above the mantle or using a bold, contrasting centerpiece on a dining table to capture and guide attention.
8. Striking the Balance: Minimalism Meets Luxury
In contemporary home design, the blend of minimalistic simplicity with touches of luxury strikes a chord with many buyers, offering a sense of serenity without sacrificing opulence.
Opt for neutral tones for large furniture pieces but sprinkle in luxury with high-end decor items or rich fabric textures, seamlessly integrating elegance into simplicity.
As part of the requirement to stay in good standing with the Licensing Commission, you must complete the required Continuing Education. The CE Shop is an online school that I like and received excellent feedback from its students. You may check out their CE courses here. (**)
Expert Home Staging Tips from the Santa Clara Real Estate Guy
I recently stumbled upon a video by Vinicius Brasil, an experienced REALTOR also known as the Santa Clara Real Estate Guy. He provides some compelling insights on home staging that I think you'll find valuable.
Here are some key takeaways I got from this video:
The Power of Staging: Walking through a well-staged home can make buyers instantly feel at home.
Local Market Insights: In Santa Clara County, more homes on the market are staged than not. Buyers often expect homes to be staged.
Benefits of Staging:

Staging showcases a home's potential by minimizing negatives and emphasizing positives.
It helps buyers visualize how they might use each room.
A staged home helps potential buyers see themselves living in the space.
Helps sell homes faster and for more money by building an emotional connection.

Key Spaces for Staging: Focusing on the living room, kitchen, primary bedroom, and primary bath can make the most significant impact.
Online Presentation: Properly staged homes make property photos stand out online, looking more inviting and appealing to buyers.
Cost of Staging: In Santa Clara County, staging a 3-4 bedroom, two-bath home might cost between $3,000 to $4,000.
Virtual Staging: While virtual staging (adding furniture and decor to photos) is cheaper and can look authentic, it may not provide the same emotional impact as actual staging.
Staging in Different Markets: Whether in a buyer's or seller's market, staging can be beneficial. In a hot market, it can attract multiple offers, while in slower markets, it helps a home stand out from the competition.
One thing I agree with Vinicius is that for top value, homes should resonate with buyers emotionally. Therefore, staging can significantly help in achieving this connection. A well-staged home gives the impression of being move-in ready, making it more desirable to potential buyers.
Conclusion: Beyond Selling—Creating Experiences
Selling real estate is as much about selling experiences as it is about selling physical properties. Expert home staging allows potential buyers to imagine their lives unfolding within the walls, making every viewing not just an inspection but a journey into possibility. Embrace the deeper layers of home staging, crafting spaces that resonate with dreams, aspirations, and futures waiting to be realized.
Other articles that may be helpful to you:
(**) Affiliate Disclosure: Please note that some of the links above are affiliate links, and at no additional cost to you. Our company, JCHQ Publishing will earn a commission if you decide to make a purchase after clicking on the link. Please understand that we include them based on our experience or the research on these companies or products, and we recommend them because they are helpful and useful, not because of the small commissions we make if you decide to buy something through the links. Please do not spend any money on these products unless you feel you need them or that they will help you achieve your goals.
Disclaimer: The information in this post is for general information only, and not intend to provide any advice. They are subjected to change without any notice, and not guaranteed to be error-free. Some of the posts on this site may contain views and opinions from individual not related to JCHQ Publishing. They do not necessarily reflect our view or position.
Reference:
NAR Profile of Home Staging (Source)