(**) Disclosure: This post may contain affiliate links, meaning our company, JCHQ Publishing will get a commission if you decide to make a purchase through the links, but at no additional cost to you.
Most real estate agents are self-employed and do not receive a fixed salary. Instead, they receive a commission upon successfully closing a real estate transaction. This can be a purchase, sell, or leasing out a property.
Real estate agents in Hawaii earn an average yearly income of $45,664, typically range between $44,609 and $58,083. Top earning real estate sales agents are making $69,391/year or higher.(*)
At the beginning phase in your real estate career, you probably would not make a lot, because it takes time to build up the client base and established trust with prospects. As you continue to gain experience and refine your business process, you should be able to notice a significant improvement to your earning.
In this guide, I will uncover how much do Hawaii real estate agents make per sale, the areas with top-earning salespeople, and whether being a commercial or residential agent has any effect on the income.
(*) Source: Salary.com (Nov 29, 2021)
How much commission do real estate agents make in Hawaii?
Clever Real Estate surveyed 915 local agents and found that the average real estate commission rate in Hawaii is 5.2%. This is usually split between the buyer's broker and the seller's broker.
How much do real estate agents make per sale in Hawaii?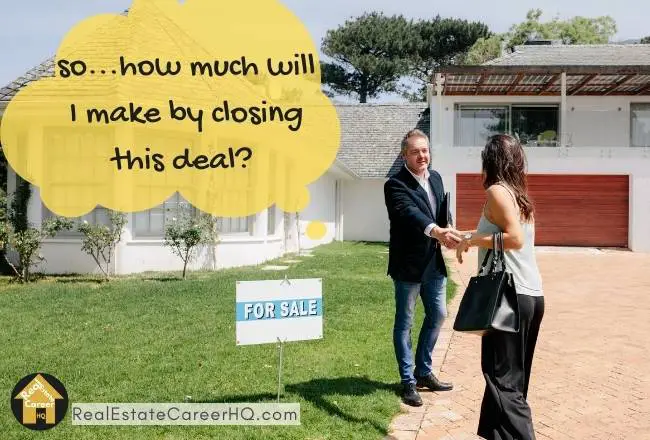 Real estate agents make an average of $3,246.25 per sale in Hawaii.
Here's the calculation.
According to RedFin, the median sale price of houses in Hawaii is $700,000.
The commission generated from such a real estate transaction will be $700,000 X 5.2% = $36,400.
Assume it is split equally at 50% between the brokers, so each brokerage firm will receive $36,400 X 50% = $18,200.
For starter agents, many firms would offer them a 50/50 commission split. So the amount of commission that ends up in a real estate agent's pocket will be $18,200 X 50% = $9,100.
As your business volume grows, you may negotiate a higher commission rate with your broker. This usually happens when you already have an effective business process and require less support from your brokerage.
Furthermore, how much you can earn per sale also depends on the price range of the properties that you work with.
What is the hourly wage for a real estate agent in Hawaii?
The average hourly wage for a real estate agent in Hawaii is $22. But as explained before, you won't be receiving a fixed hourly payout. Rather this figure is calculated by taking the average annual commission divided by the number of work hours.
Your business activities are not limited to just completing real estate transactions. You also need to account for the time you spend on prospecting clients, networking with referral partners, training, and taking continuing education classes.
What factors would affect the income of real estate agents in Hawaii?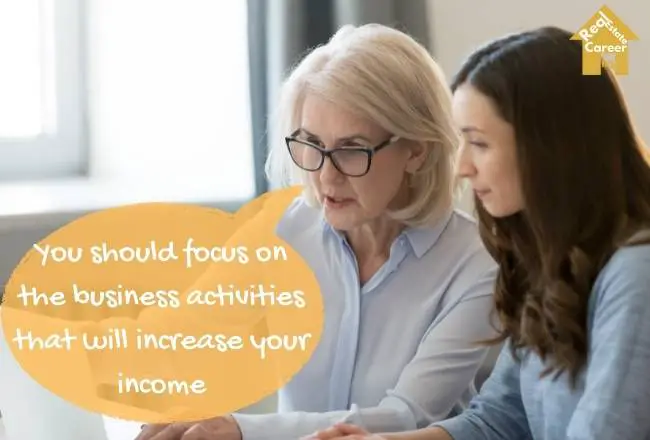 As discussed earlier, most sales agents earn between $44,609 and $58,083 per year in Hawaii. But some are making over $69,391 per year. So what makes one agent earn more than the other?
Salary.com has a tool that allows you to select input variables and see the effect on the average income. Here's my finding.
Will higher education lead to more income?
If you're talking about traditional education, such as getting a college degree, there isn't any noteworthy impact on real estate agents' income.
For agents with a high school diploma (which is the minimum education requirement to obtain a real estate license), sales agents earn an average of $45,475 per year. But when I change the education level to a Bachelor's degree, the average yearly income only increases to $45,585.
So if you are trying to earn a higher income by getting a post-secondary education, that might not be a wise investment. After all, most real estate agents told me that not a single client had asked them about their GPA in school.
However, I'm not saying education is useless. In fact, relevant real estate knowledge will be a huge competitive edge to your business.
For example, as more and more home buyers are looking for high-performance, eco-friendly homes, getting the NAR's Green Designation could be worth considering. Here's a post on how to become a green real estate agent.
Do experienced real estate agents make more in Hawaii?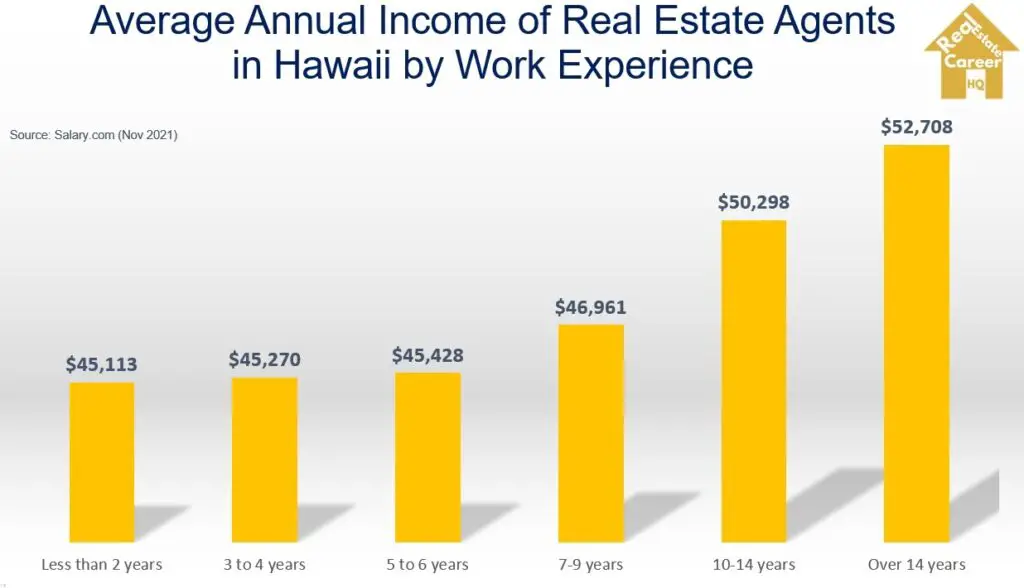 Real estate agents who have been in the business for a number of years generally earn more than those who are just starting out. Additionally, most sales agents do not start earning commissions until they have been on the job for six months or more. This means that new agents may not see any real income from their work for some time.
It takes time to develop your business process, sharpen the skills, and build up the client base. But once you get the hang of it, your income should improve.
Here's a "REAL AGENT INCOME GUIDE," which covers the different factors that could affect your income significantly.
How much do commercial real estate agents make in Hawaii?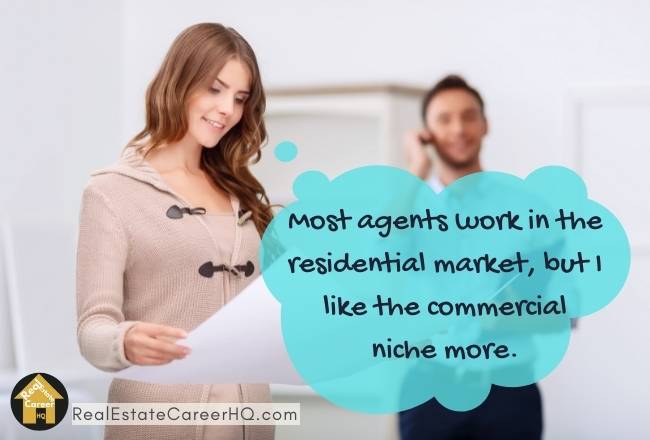 Commercial real estate agents work with business owners to find them the right property for their business. They could be working in a variety of industries, from retail and commercial office space to warehouses and industrial properties.
Many businesses prefer to rent office space rather than buying it, especially for small startup businesses. Therefore, CRE agents also help clients in managing the lease. They receive a percentage of the total lease.
Once the lease is signed, the CRE agent is usually paid a portion upfront and the remainder when the tenants move into a property.
Commercial Real estate agents in Hawaii earn an average yearly income of $107,325, typically range between $89,664 and $119,748.(*)
When comparing the average income of the overall real estate agents in Hawaii, those who focus on the commercial market have a significantly higher income.
However, this is not saying one niche is better than the other. After all, many different factors could affect the earning of a real estate salesperson, and the type of properties is only one of them.
Source: Salary.com (Nov 29, 2021)
Do you want to learn more about the profession to be a Commercial Real Estate Agent? Here's a complete career guide for you. You'll learn what it takes to be a commercial real estate agent, the salary info, licensing requirement, and valuable insight from a professional CRE agent about the industry.
Here are more helpful resources about the Hawaii real estate career
This article is part of the "Hawaii Real Estate Career Series." If you want to know more about being a real estate agent in Hawaii, I invite you to check out the following articles: 
Looking to succeed in the real estate industry? Subscribe to our exclusive email list today and gain access to expertly curated real estate guides from industry leaders, as well as discounted CE courses and the latest industry updates. From marketing strategies to virtual staging techniques, our handpicked resources cover everything you need to know to stay ahead of the game. Click here for more details!
(**) Affiliate Disclosure: Please note that some of the links above are affiliate links, and at no additional cost to you. Our company, JCHQ Publishing will earn a commission if you decide to make a purchase after clicking on the link. Please understand that we include them based on our experience or the research on these companies or products, and we recommend them because they are helpful and useful, not because of the small commissions we make if you decide to buy something through the links. Please do not spend any money on these products unless you feel you need them or that they will help you achieve your goals.
Disclaimer: The information in this post is for general information only, and not intend to provide any advice. They are subjected to change without any notice, and not guaranteed to be error-free. Some of the posts on this site may contain views and opinions from individual not related to JCHQ Publishing. They do not necessarily reflect our view or position.
Reference: