(**) Disclosure: This post may contain affiliate links, meaning our company, JCHQ Publishing will get a commission if you decide to make a purchase through the links, but at no additional cost to you.
I joined a number of appraiser groups, and one of the things I have heard a lot recently is that business is slowing down. As the interest rate environment changes, we could see some areas has lower housing sales volume when compared to the previous year. Also, homeowners would think twice before refinancing, as the cost of borrowing is more expensive. Thus some appraisers could feel the slowdown of their business.
However, this is not the first time a real estate market has slowed down, and I'm pretty sure this won't be not the last one. This is normal for a business cycle of ups and downs. 
The key is not what happened to your business but how you react to it to make it thrive again. All successful appraisers I've met are being proactive and nimble. And they constantly make the necessary changes to adapt to new market conditions.
In this article, I'll go over some constructive things you can apply to your business during a slowdown. I also did a survey poll asking appraisers what they would do in this period. So if you're feeling lost or defeated, be sure to read on, as some of these tactics could be helpful to you in moving forward.
Table of Contents
Poll on what do real estate appraisers do when business is slow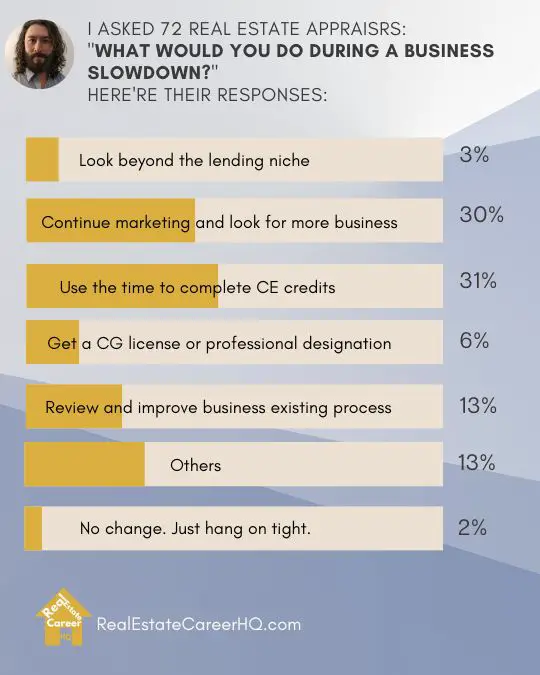 7 things that help your appraisal practice during the business slowdown period
1) Go beyond lending work
Although I have nothing against working with AMC, many appraisers overly depend on it in bringing them business. When the real estate market is hot, that's not a huge problem. In fact, many had more than enough workflow in their pipeline.
However, as the market condition has changed, a lot of appraisers try to take on whatever assignment they can land. They would compete head-to-head with others by lowering their fees and promising lenders a faster turnaround and a lower revision rate.
Rather than swimming in a red ocean, some appraisers had long prepared and transitioned their appraisal practice into private works. 
For example, Timothy S. Evan, a Certified General appraiser I have connected with, already started taking on attorney work for his book of business years ago. I guess although the real estate market has its ups and downs, litigation, marriage dissolutions, and estate settlement don't have the same time frame.
(Here's a post where Timothy shared his journey to transition his appraisal practice into 80% private work.)
2) Continue marketing your services
You want to be at the forefront of your potential client's mind regardless of market conditions. By staying active and consistent with your marketing efforts, you will remind them that you exist and are always ready to serve them.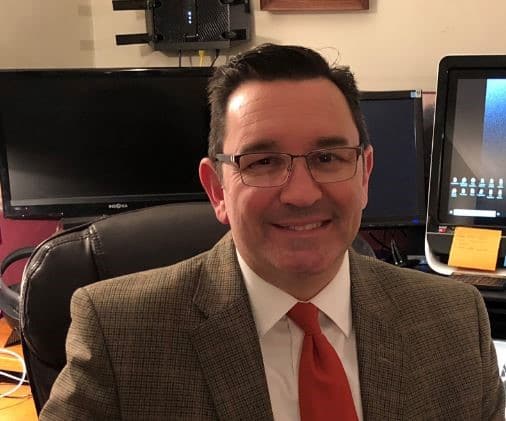 Jamie Owen is a Certified Residential Appraiser in Ohio with over 20 years of experience. He recently wrote a post on "Attracting More Appraisal Business."
In there, he suggested appraisers to get a website, start a blog, send out monthly newsletter.
(On a side note, here's an interview I've done with Jamie before, where he shared his journey and viewpoints on the appraisal industry.)
Furthermore, if you are an appraiser focusing on luxury homes, this could be a good time to market your service to high-end real estate agents. 
As many of their clients would put their purchases on pause, those agents would have more free time on their hands. 
They would need someone like you to provide them with market value of their listing inventory, so they can be more competitive when the market rebound.
3) Complete the CE requirement
In most states, all appraiser licensees are required to complete continuing education courses for each licensing cycle. 
Since you need to complete them anyway, why not get them done when you're relatively free? This way, you can focus on the fieldwork when business picks up again.
Moreover, some courses could be more beneficial to your practice than others. You may want to consider taking the ones that offer new perspectives and fresh ideas – for example, expert witness appraisers, valuating green homes and complex properties.
Taking high-quality appraisal courses allows you to keep up with the best practices and remain competitive in the industry. When choosing a real estate school to complete the CE requirement, selecting one with an excellent reputation is important. VanEd is a trustworthy real estate education provider. You may click here to see the appraisal courses offer in your state. (**) 
4) Upgrade your license
If the market for residential properties dips again, it helps to have other business sources. For example, industrial properties, commercial properties, and farmland could be less correlated to the residential market.  
If you are a licensed/certified residential appraiser looking to upgrade your license to Certified General, this could be a good time to get started. 
After all, it could take some time to complete the CG pre-licensing courses, obtain the non-residential work hours and pass the exam.
5) Take on other types of appraisal assignment
If you're a residential appraiser who only does 1-4 family homes, you may want to add condos, PUDs, or mobile homes to your scope. And if you're currently doing fieldwork only, consider adding desk reviews into the mix.
6) Obtain a professional designation
While the process of getting a designation could take lots of effort, it would be very helpful to your practice in the long run. 
It helps solidify your expertise and make you stand out from the crowd – especially if you want to take on a more complex and sophisticated assignment, such as becoming an expert witness.
Many attorneys and big corporations like to work with real estate appraisers with letters behind their names. After all, not only does it give more reassurance to the work quality, it may make their testimony in court more credible.
The Appraisal Institute offers a few different designations, such as MAI, SRPA, SRA, and AI-GRS. Also, if you are interested in farmland appraisal, the ARA designation offered by The American Society of Farm Managers and Rural Appraisers could be another great option.
7) Review business system and process
This is a good time to evaluate your business system and process and see if there's any room for improvement. Perhaps, let's try working on streamlining your assignment workflow or developing a better way to communicate with clients.
Whenever possible, automate tasks that are currently being done manually. For instance, if you're still using paper and pen to complete inspections, why not try out some of the best mobile apps for appraisers?
Also, segment your clients and referral partners to see which are the ones that bring the most revenue to your practice. This way, you can allocate the time and resources accordingly. 
I just watched a video on how to recession-proof an appraisal business. This is where Joan Trice, Founder of Allterra Group, LLC, had an online interview with Blaine Feyen, Chief Evangelist at True Footage. 
In there, they also talked about the importance of having a business process in place. 
I like how Blaine said appraisers should always "dug your well before you are thirsty." And this logic never gets old, regardless of which business cycle we are in.
He also talks about how some young appraisers could help in revising the business process because they often are open mind and their ideas are refreshing. Also, if they are more advanced in technology or website design, perhaps, they can bring value to the table in those areas.
Final thoughts when appraisal business is slowing down
These are just a few ideas on how you can stay productive during downtime. The most important thing is to stay positive and keep your eye on the future. The market will rebound eventually, and when it does, you want to be ready.
When you scroll back to the beginning of the post, you should see the poll I did, where I asked over 50 real estate appraisers what they would do during a business slowdown. 
60% of the respondents said they would use the time to complete the CE credits or look for more business. This seems to be a very positive attitude as they are still hustling for their goal. 
19% choose others. There are diverse comments within this group of respondents. Some appraisers are about to retire, so they have taken things slowly, even before the slowdown of the real estate market. In fact, they treat this as an opportunity to take more vacation trips. 
On the other hand, some are not in such a well financial position a. t the moment. They take on part-time work to make up for the reduced income. 
Other helpful posts for appraisers:
Disclaimer: The information in this post is for general information only, and not intend to provide any advice. They are subjected to change without any notice, and not guaranteed to be error-free. Some of the posts on this site may contain views and opinions from individual not related to JCHQ Publishing. They do not necessarily reflect our view or position.
(**) Affiliate Disclosure: Please note that some of the links above are affiliate links, and at no additional cost to you. Our company, JCHQ Publishing will earn a commission if you decide to make a purchase after clicking on the link. Please understand that we include them based on our experience or the research on these companies or products, and we recommend them because they are helpful and useful, not because of the small commissions we make if you decide to buy something through the links. Please do not spend any money on these products unless you feel you need them or that they will help you achieve your goals.