(**) Disclosure: This post may contain affiliate links, meaning our company, JCHQ Publishing will get a commission if you decide to make a purchase through the links, but at no additional cost to you.
Property management can be a long-term sustainable business because landlords always look for professionals to manage their investment property. Florida has a population of 21.48 million with 65.4% of owner-occupied housing units (+). In other words, rental units made up about 34.6% of the housing market which could be a huge business potential for the property management industry.
(+) Source: United States Census Bureau 2015- 2019
Furthermore, when running a property management company, you get to make your own schedule, work with different clients, and visit properties every day, which could be exciting for many people.  
If you are considering to start your own property management company in Florida, this guide will provide the information that you need.
To start a property management company in Florida, the applicant must obtain a real estate broker license from the Florida Real Estate Commission, register the business entity, set up a business bank account and insurance coverage, establish an office space, have a detailed business plan with practical action steps. A well-designed property management software and accounting system are also essential to the business operations.  
In this guide, I'll go over step by step on how to get started, the list of business expenses, and what licenses you might need. You will find out the tools to streamline your business, screening tenants, collect rent payments, maintain property records, make sure properties are up-to-date on safety inspections, and more!
But before we start, I want to give a brief disclaimer. This post is for general information only and is not intended to provide any advice or real estate training. I'm only sharing what I have researched. The information is subjected to change without notice and not guaranteed to be error-free. Since each state could have different regulations on what a property manager can or cannot do, you should always follow the State Laws and real estate best practices.
Buildium is an ALL-in-ONE property management software that allows you to manage rental applications, maintenance requests, payment collections, tenant screening, showings coordination, property inspections, renter insurance, and many more. It also provides you with a professionally designed website so you can effectively build your brand. If you want to streamline your property management business, you must click here to check out Buildium. (**)
Step 1: Determine the business model
DIY or Delegate?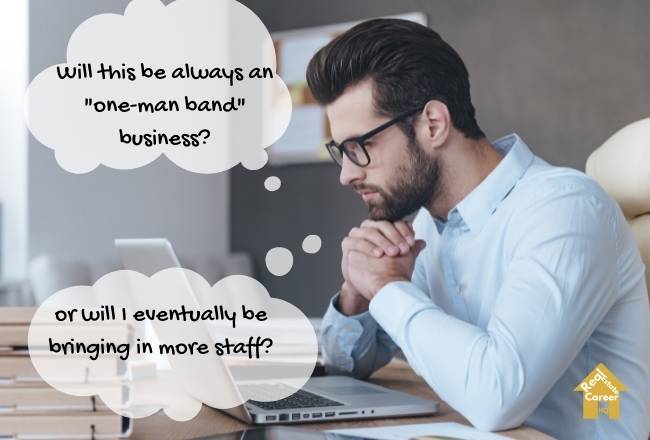 Let's start with the end goal in mind. What do you want to achieve ultimately? Will you be DIY the business? Or will you be outsourcing and bringing other staff onboard? There's no right or wrong way to manage a property business.
If you are starting with a small property portfolio and would like to have full management on every part of the business, then DIY could be your best option. On the other hand, if you want to grow fast or just simply don't feel like doing it alone, then delegating tasks to staff will be better for you in that case.
Determine your niche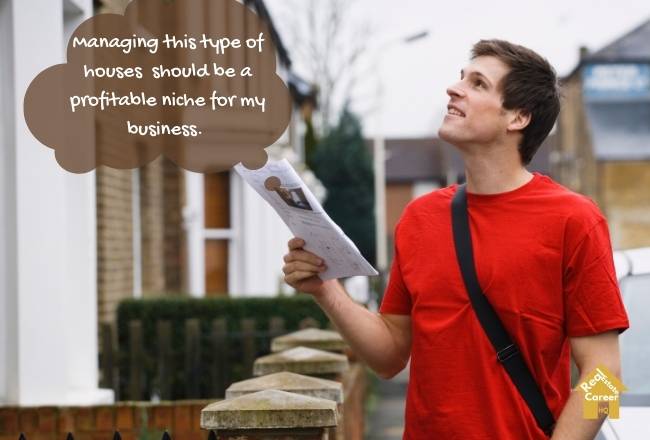 The importance of choosing a niche for your startup business is often overlooked. Many small businesses are trying so hard to become everything to everybody and hoping for the best. Unfortunately, this is part of the reason why 50% of small businesses cannot survive the first five years.
Instead, it's better to define your target market so you can allocate your time and resources to areas that can make your services stand out from the competitors. 
For example, you may target your business in managing certain properties types (i.e., single-family units, multi-family units, condos) or properties within a particular geographic location.
Also, as you are trying to decide on the niche, it would be wise to consider the rent amount. That's because most property management firm will charge their fee based on a percentage of the monthly rent. (We will go over the fee structure in more details later in the post.)
Top 10 County with the Highest Fair Market Rent in Florida
For 4 Bedrooms – Rent range from $2,030 to $2,996; (Monroe, Broward, Miami-Dade, Palm Beach, lake, Orange, Osceola, Seminole, Manatee, Sarasota )
For 3 Bedrooms – Rent range from $1,686 to $2,257; (Monroe, Broward, Miami-Dade, Palm Beach, Collier, Lake, Orange ,Osceola, Seminole, Manatee)
For 2 Bedrooms – Rent range from $1,321 to $1,744 (Monroe, Miami-Dade, Broward, Palm, Collier, Lake, Orange, Osceola, Seminole, Manatee)
For 1 Bedroom – Rent range from to $1,040 to $1,344 (Monroe, Miami-Dade, Broward, Palm, Lake, Orange, Osceola, Seminole, Collier, Hernando)
Studio/ Efficiency – Rent range from to $989 to $1,301 (Monroe, Broward, Miami-Dade, Lake, Orange, Osceola, Seminole, Hernando, Hillsborough, Pasco)
Source: rentdata.org – Florida Fair Market Rent for 2021
Know your market
Just because you want to target a specific niche does not necessarily mean it is a blue ocean for your business. You must find out whether there is really a need for your property management services. 
For example, suppose you want to focus on managing student rentals units, but no college/ university is nearby, then you must rethink your target audience.
Also, how much competition do you expect? Is this an over-saturated market?
I have come across neighborhoods where most housing units are owner-occupied, so there is very little demand for rental units and property management services. As you are planning for your business, consider areas with a lower owner-occupied rate.
The average owner-occupied rate in Florida is 65% and it ranges between 53.1% (Leon) to 89.8% (Sumter).
I also checked the figures for some areas with highest average rent and here are their owner-occupied rate – Monroe (59.6%), Broward (62.1%), Palm Beach (68.6%), Lake County (74.3%), Orange County (54.7%).
Source: indexmundi – Florida Homeownership rate 2014-2018 by county
Step 2: Plan for your company's finance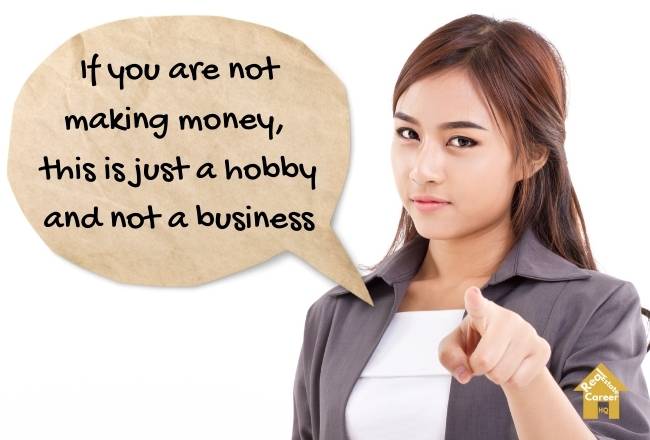 You need to know how much money you are expecting in order to determine if it will work out financially for your company. It would help to do a revenue forecast for your property management business. Keep in mind that although this is just an estimate, the financial goal must be realistic.
Do an analysis and review other property management firms in your local area. How many properties can they usually take on? and how much are they charging each?
I did some research, and a number of property managers confirmed that the maximum number of doors they can handle is about 100 to 130, and the average fee they are charging is $100/month. (This is for a DIY business model.)
So the estimated annual revenue would be around $120,000 to $156,000.
During the start-up period, your firm may not be making much money. It could take months or even over a year to see any significant business revenue.
Therefore, it is important to have enough reserve funds to pay for the regular expenses. At this stage, I would try to keep the business expenses low and expand only when more cash flow is coming in.
The expenses to start a property management company may include license fee, business registration fee, accounting and legal fees, bank fees, travel expenses, software subscription, office rent, industry association, utilities, phone and cable.
Of course, you should also have enough personal savings to cover your living costs.
Step 3: Obtain the Florida real estate broker license
Florida requires property managers to have a real estate broker license, especially when engaging in property showing, listing, lease contract negotiation and explanation activities.
To obtain a real estate broker license in Florida, you need to:
Have at least 24 months of full-time licensed salesperson experience within the last 5 years

Complete 72 hours of approved pre-licensing course and 60 hours of post-licensing course
Pass the real estate broker exam
Go through a criminal background check
Submit an application and fees to the Florida Real Estate Commission
Here's a guide to obtain the Florida real estate broker license.
Put in extra effort to enhance your professionalism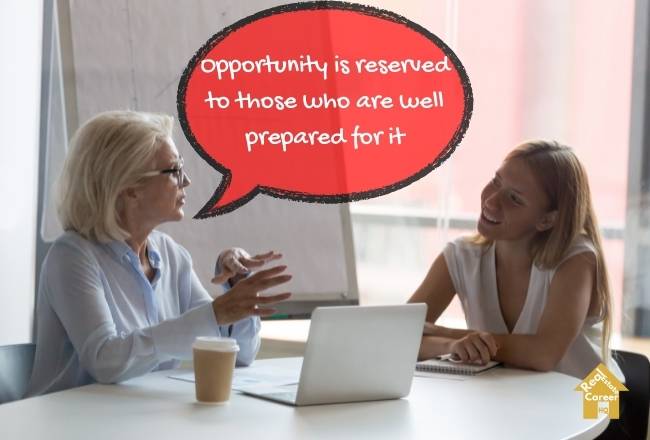 You may also consider taking the following courses to equip yourself with the property management knowledge. They are offered by Institute of Real Estate Management (IREM). IREM is an affiliate of the National Association of REALTORS®.
Even though they are not part of the pre-license education requirement, your enhanced knowledge will help to set you apart from others in the industry.
Step 4: Establish an office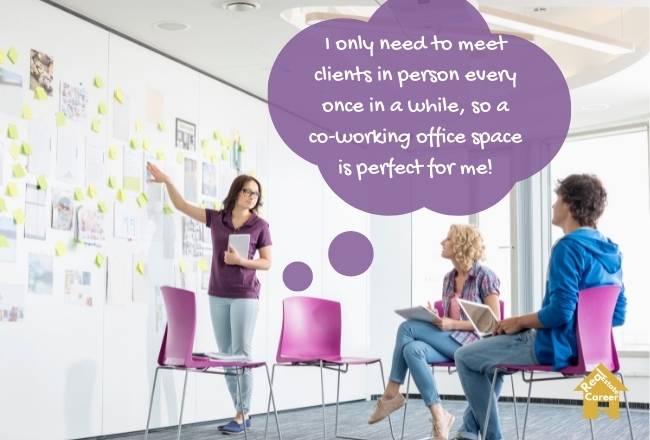 Determine the office location
The office will be the place you conduct business and meet clients. This will also be the address registered in the official documents such as the business registration, bank account, insurance policy.
There are many options for office space. The obvious ways would be to rent or buy one. But as you are starting out, you probably don't want to spend too much on it.
On the other hand, many starting property managers run their business in a home office. (i.e., a study room or basement) After all, most of the tasks can be coordinated virtually these days.
However, I do not recommend using your home as a business address. It may appear unprofessional to your customer. And if the client relationship turns south, the last thing you want is an angry customer knocking on your home door and getting your family worried.
So what other options do property management firms have? Well, you can consider workspace sharing. Co-working spaces have sprung up in many cities around the world. These are offices with shared resources such as conference rooms, kitchens, desks, chairs, and other amenities fully equipped for independent business professionals to rent by the hour or day at affordable rates.
Some also have receptionist services so they can take care of all your mailing. Workspace sharing can give property managers some flexibility until their revenue is justified to their own office space or hire employees of their own.
Where can you find co-working spaces for your property management business?
I just did some research online, and there are virtual office spaces located across different cities of Florida – for example, Aventura, Fort Lauderdale, Miami, Tampa, Orlando, Jacksonville and many more.
Some plans start as low as $49/month, where you can use it for the mailing address, business license, and bank account.
If you want to use their meeting room, you can subscribe to an upgraded plan. I see a Virtual Office in Aventura is now offering a Platinum Plus plan, where you can use their meeting room for 16 hours for just $240/month.
Anyway, here's a site with the listed virtual offices. You can check there to find a suitable office space for your business. (**)
Setup a business phone number and email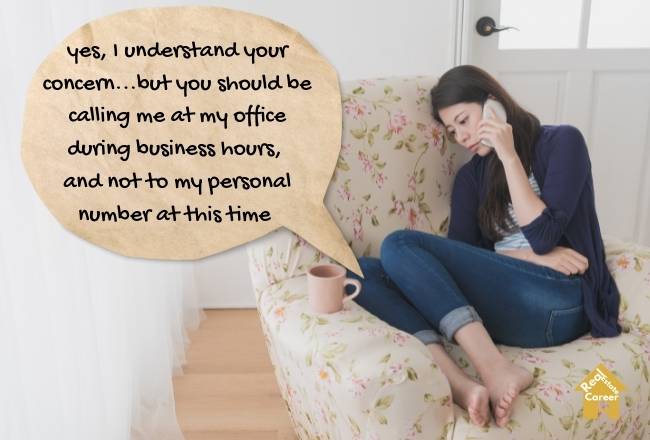 Due to similar reasons, I don't advise using your personal number or email for your property management business.
VOIP (Voice Over Internet Protocol) is a great solution. It's cheap, and you can set the number to forward calls to your cell phone or business line.
You can get started with NumberBarn! It costs only a few dollars to purchase a phone number, and for a low monthly fee, it allows you to dial, receive calls and voicemails.
As for email, I prefer Hushmail (**). It works just like a regular email account, with added security features to help keep your data safe. You can send and receive encrypted emails through this platform.
Since the communication and the client documents may contain sensitive information (i.e., tenant and landlord application), protecting them should be on the top of your mind. 
Step 5: Register the property management company
Decide on the business structure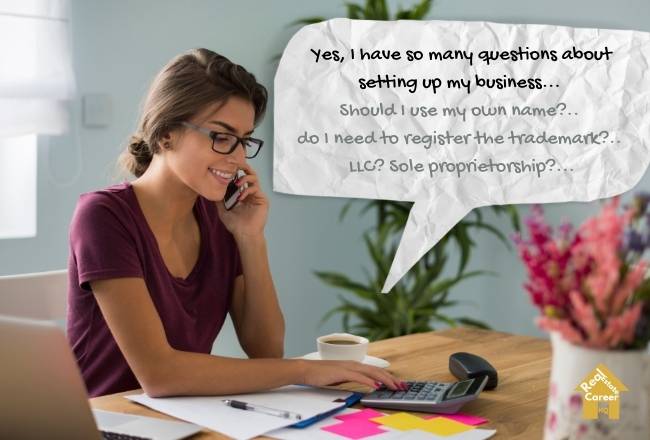 There are different business structure to register your property management company. This includes Sole Proprietorship, Partnership, Limited Liability Company (LLC), Corporation (C Corp, S Corp, B Corp).
Each one of them have different tax treatments and owner's liability.
Here's a comparison table summarizing the common characteristics of these company structures, but bear in mind that each business structure's ownership rules, liability, taxes, and filing requirements may differ by state.
| Business structure | Ownership | Liability | Taxes |
| --- | --- | --- | --- |
| Sole proprietorship | One person | Unlimited personal liability | Personal tax only |
| Partnerships | Two or more people | Unlimited personal liability unless structured as a limited partnership | Self-employment tax (except for limited partners)Personal tax |
| Limited liability company (LLC) | One or more people | Owners are not personally liable | Self-employment taxPersonal tax or corporate tax |
| Corporation – C corp | One or more people | Owners are not personally liable | Corporate tax |
| Corporation – S corp | One or more people, but no more than 100, and all must be U.S. citizens | Owners are not personally liable | Personal tax |
| Corporation – B corp | One or more people | Owners are not personally liable | Corporate tax |
Source: sba.gov – Choose a business structure
Once again, I'm not a tax expert, you should consult with a professional accountant.
ZenBusiness provides low-cost solutions to set up your business quickly and accurately. They can help register the company, prepare and file LLC, obtain the Employer ID Number (EIN), and many more.
Choose a Business Name
The next step is to choose a company name that reflects your brand identity. It should be easy for customers to remember and set your company apart from competitors. For example, I recently came across an ad from a residence management company called "Properly." The name is catchy and just one letter off the word "Property." I can immediately relate that they will manage their client's unit "Properly."
After you've decided on the business name you like, you'll need to ensure it's protected. There are four distinct ways to register it and each method has its own purpose. In some cases, they may be required depending on your company structure and location.
Entity name protects you at a state level
Trademark protects you at a federal level
Doing business as (DBA) doesn't give legal protection, but it could be legally required
Domain name protects your business website address
Before you register the company's name, you should do a name search to ensure it is not already been used, especially not by another property management company in your area. The key is when a customer look at the name, they will not get confused which one is the business they're looking for.
You can do this on the internet or at your local county clerk's office. Alternatively, you may search the USPTO's trademark database. As for the domain name, you may search through web hosting companies like Bluehost (**) and see if that is available.
However, if someone else is already using that name, it's better to consider coming up with a different one because changing it later will be difficult and costly.
Step 6: Set up a business bank account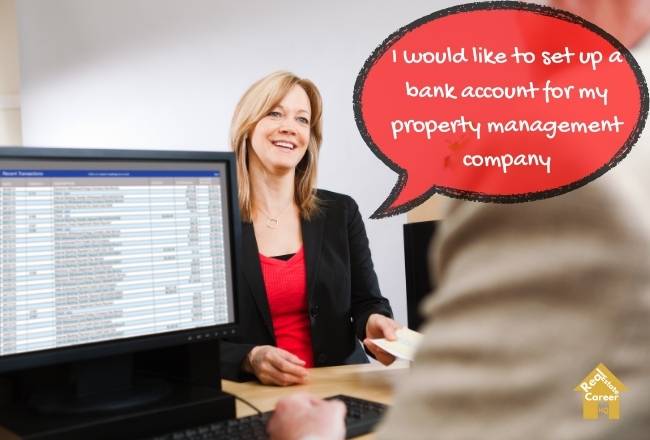 At this point, you should have an Employer Identification Number (EIN), so you can set up a business bank account. Depending on the business structure of your property management firm, having a separate bank account might give some protection to your personal assets if the company incurs any debts.
If your company is collecting rents or security deposits, you may require a separate trust account just for that purpose. To my understanding, this needs to be different from the one you're using for your daily business operation.
In other words, the trust account should be strictly for handling the matters related to the managed property. It should be mixed up with the funds you use to pay staff's salary, phone bills, and other business expenses.
Step 7: Obtain the proper insurance coverage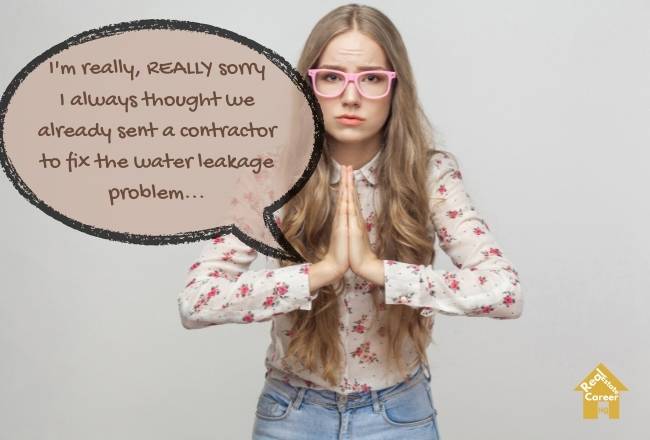 Every single business needs insurance, and it's just a matter of which. The most common type is general liability insurance. This covers any damages you may cause to someone else's property or person while they were on your premises.
Another one is the E&O (Errors and Omissions) liability insurance covers errors in the property management process, such as when you don't manage rental properties properly or provide information about tenants to landlords incorrectly. This type of policy can help protect your company from claims if mistakes are made in the property management process.
There are also other coverage options such as health and dental, disability, life insurance for employees. You should check with a licensed insurance agent to determine the insurance needs of your company.
Property managers have many high-risk responsibilities, such as screening tenants, establishing rental rates, and collecting rent. Meanwhile, the processes of handling leases, arranging for maintenance, scheduling repairs, and dealing with evictions come with their own unique risks for professionals in this line of work.

You could even be sued for bodily injury and property damage claims that have nothing to do with your professional services — types of claims that, without a proper plan in place, put small businesses at risk.

Quote from HISCOX – Who needs property manager insurance
Step 8: Determine the pricing structure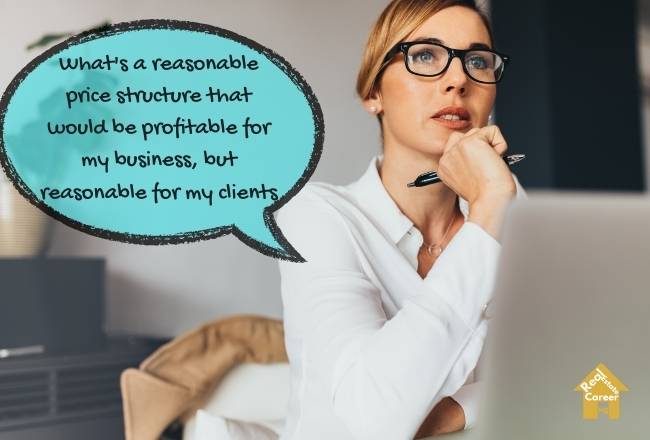 When deciding on the price structure of your services, you should review what your competitors in your local area are charging. I'm not saying you need to be the cheapest firm, but if you charge a premium over your competitors, you better have a compelling reason to justify your value.
Furthermore, nowadays, many clients demand fee transparency. Many landlords are concerned that property management firms would propose costly repairs so they could make a profit on the markup or receive a referral fee from the contractors.
Therefore, it is wise to disclose your position on that upfront.
Below are the pricing structure most of property management companies:
1) Flat fee
I hired a property management company before. They charged me $100/month for a single-family unit. This includes coordinating maintenance, handling inquires from me and the tenants, rent collection, regular inspection.
2) Percentage of rental income
Most property management companies are charging around 7% to 8% of the monthly rent. This model assures the landlords that their interest is aligned because the higher the rental income, the more revenue for the property management company.
I also came across a firm that charges only 5%. They provide most of the services as the Flat fee model but will charge separately for an inspection. Each inspection is somewhere around $60.
3) Fees for finding a new tenant
Filling a vacant property with a new tenant indeed requires lots of hard work. Not only that there will be costs to market the listing, but you also need to review the tenant application, credit history, do a criminal background check, interview, and coordinate a property tour.
To compensate for all the leg work, many property management companies would charge 50% to 100% of the first month's rent.
4) Eviction fees
The process of evicting a tenant can be tedious and costly. There could be legal fees for hiring an attorney to handle the eviction proceedings. According to TransUnion SmartMove, property managers spend an average of $3,500 on eviction-related fees and may take up to 3-4 weeks for the eviction procedure to run its course.
Therefore, this fee will help compensate for the time and work as the property owner's representative during the legal process.
Step 9: Prepare a service agreement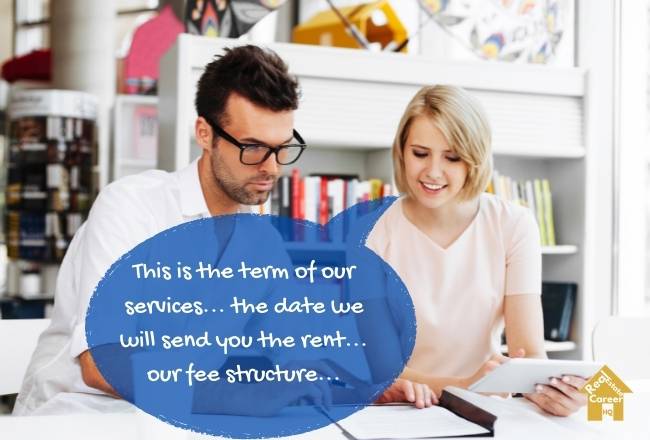 It is important to draft a contract that clearly defines the terms of service for your customers. A well-written contract protects both parties in the event of litigation or unforeseen circumstances.
A property management service agreement should include information about what is included in the service (e.g., rent collection) and what isn't included (e.g., snow removal, lawn mowing, gutter cleaning). It should also define when and the amount of fee you will charge. Also, who is responsible in making payments such as mortgage, property tax, maintenance fees. (Typically, it would be the owner.)
I've read through many sample contacts, many of them will have a clause where the landlords give limited authorization to the property management company to perform small fixes that are below a certain dollar amount (i.e. $200.) After all, both you and the landlord might not want to communicate go back and forth on small repairs such as changing a light bulb.
For expensive repair, property manager will need to obtain consent from the landlord, but with the exception for emergency – for example, water pipe burst, heater when off during freezing cold winter.
It's better to get an attorney who specializes in working with property management firms in your state to review or draft the contract.
Step 10: Prepare the essential business tools
Property management is a business that requires great organization. To remain competitive in the industry, here are some tools that can streamline your daily operation.
A top-notch property management software that helps to organize, automate and save time on routine tasks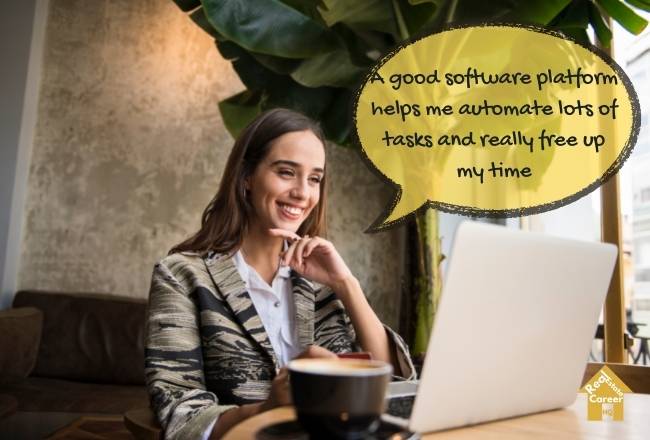 This is a must-have for all property managers and it would be a tremendous help if you have a software that allows you to:
Receive rental applications;
Perform tenant screening: credit check, eviction history, and criminal background check;
e-signing of documents;
Receive and process payments;
Coordinate showing, property inspections, maintenance requests;
Organize receipts and create financial reports for the managed property;
Set up an online portal for landlords and tenants
Buildium is a cloud-based platform that does exactly the above. It provides a complete solution for property management companies, so you can streamline business and make it scalable. Property managers will also be given a professionally designed website to build your branding.
Buildium is now offering a free trial period. You may click here to learn about them. (**)
Accounting software that keeps track of the business
The Buildium is a great for organizing the managed properties and landlords, but you also need an accounting software to keep track of your business operation.
Many small businesses use Quickbooks. It allows you to keep track of all of your company's revenue and expenses, which will come in useful during tax reporting time.
More tools to make your business productive
There are a lot more helpful business tools. For example, you can replace the bulky printer and scanner with just an app. You can secure your clients' data with an encrypted laptop or storage device.
Here's another post I wrote on how to run a paperless office. Be sure to check it out.
Step 11: Get to know the local contractors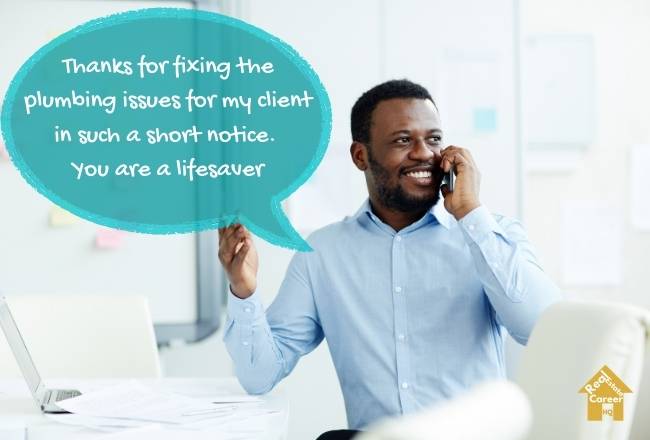 Managing a house indeed requires lots of maintenance work. Unless you are a very handy person, you will likely outsource the repair jobs to third-party contractors. (Even if you probably want to focus your time and energy on expanding the property management business and not so much on doing the odd jobs.)
They may include electrician, plumber, roofer, handyman, door smith, painters, HVAC services, landscapers, home inspectors, locksmiths, pest and termite control, plumbers, pool services, roof inspectors.
However, many aspiring property managers don't know who to call when they need a contractor. Rather than randomly searching for one only during a maintenance request, it's better to keep in contact with the qualified and responsible ones on a regular basis.
If you refer business to them regularly, some would give out discounts and provide a higher quality of work, which translates to more happy clients for your company.
You may try to connect with different types of contractors in your area through LinkedIn. (This is where I made most of my professional connections.) Let them know that you are a property manager looking for reliable contractors to work together down the road.
I would focus on the ones with excellent ratings and good reviews. Usually, there would be clients' feedback on their Google business profile. You may also talk to them directly to understand their work. A good contractor should be able to clearly explain their standard procedures, turnaround time, and pricing structure.
After all, you don't want to look bad in front of your clients because they screw up the maintenance project.
Step 12: Getting clients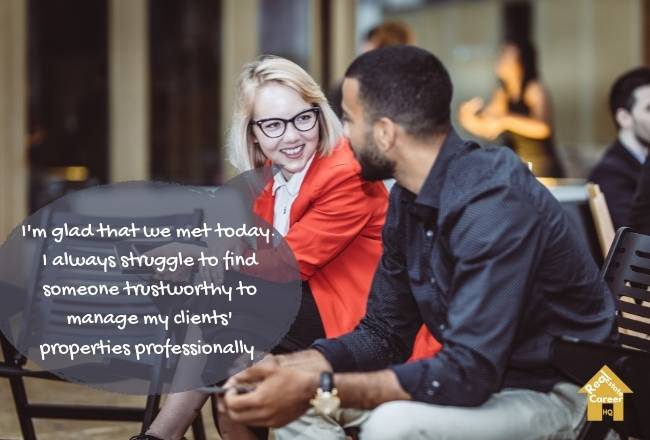 This is one of the most significant aspects to your company in the early business phase. After all, to have a growing business, you must fill your pipeline with clients.
Property managers get new clients by word of mouth from existing clients or develop a referral network with other real estate professionals and investors. Here are some associations to expand your professional network.
Furthermore, you can acquire clients through online promotion such as Facebook ads or Google Ads, content marketing. In some instances, it may make sense to purchase another property management business.
Here's another post with "9 Mind Blowing Ways for Property Managers to Get Clients QUICKLY."
Step 13: Building good relationship with property owner and tenants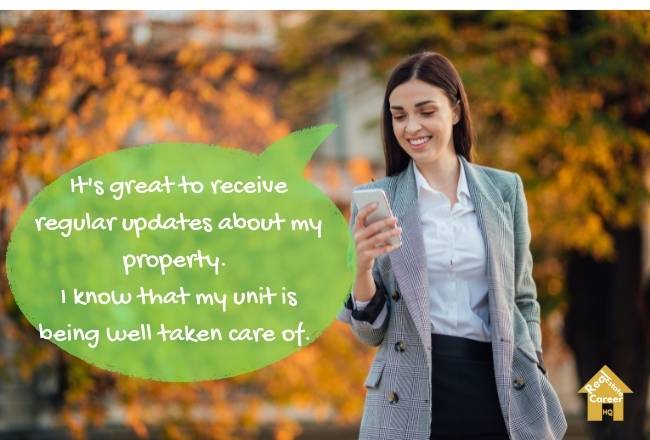 Create a constant update method to communicate about property condition & tenant's feedback. It can be done through SMS, email, phone call or any other preferred medium by the property owners/tenants. This helps building trust and smooth communications between you and your clients.
However, contacting every clients and tenants individually may be challenging, especially when your business has grown to a certain size. Therefore, you may consider sending group emails or e-newsletter. For example, at fall time, you may send out a group email to see who would like to arrange a gutter cleaning or quarterly inspection. You can also remind them when it is time to do a rent increase.
(**) Aweber is the email platform that I use. It allows you to schedule the email ahead of time, produce professionally looking emails, and segment the clients based on your needs.
If you don't think you're ready to start your own business but are interested in working in the property management industry, here's another guide for you. In there, I talked about how you can start by joining a property management firm in Florida, income updates, and a snippet of what a property manager thinks about this career path.
(**) Affiliate Disclosure: Please note that some of the links above are affiliate links, and at no additional cost to you. Our company, JCHQ Publishing will earn a commission if you decide to make a purchase after clicking on the link. Please understand that we include them based on our experience or the research on these companies or products, and we recommend them because they are helpful and useful, not because of the small commissions we make if you decide to buy something through the links. Please do not spend any money on these products unless you feel you need them or that they will help you achieve your goals.
Disclaimer: The information in this post is for general information only, and not intend to provide any advice. They are subjected to change without any notice, and not guaranteed to be error-free. Some of the posts on this site may contain views and opinions from individual not related to JCHQ Publishing. They do not necessarily reflect our view or position.
Reference:
SBA
USPTO (source)
TransUnion Smart Move – The True Cost of an Eviction (source)
All Property Management – Property Management Laws by State (source)
indexmundi – Florida Homeownership rate (source)
rentdata.org – Florida Fair Market Rent for 2021 (source)
United States Census Bureau – Florida Quick Facts (source)
Florida Real Estate Commission (source)

Real Estate Broker Requirements for licensure in the State of Florida (source)

Florida Department of State – Types of Business Entities/Structures (source)