(**) Disclosure: This post may contain affiliate links, meaning our company, JCHQ Publishing will get a commission if you decide to make a purchase through the links, but at no additional cost to you.
A Certified General Appraiser is the highest license level you could obtain in the appraisal industry. Your scope of work is huge. Not only you could assess residential properties, but you could also work on commercial properties, industrial properties, hotels, golf courses, wind generating plants, land acquisition and many more. This license truly makes you stand out from other license types holders.
What can a Certified General Appraiser appraise?
As a Certified General Appraiser, you could appraise for any type of real estate regardless of transaction value or complexity.
You could be taking on jobs that require sophisticated skill and years of experience. For example, you could be employed by REIT, pension fund, fund managers or institutional investors to analyze the value of their investment properties.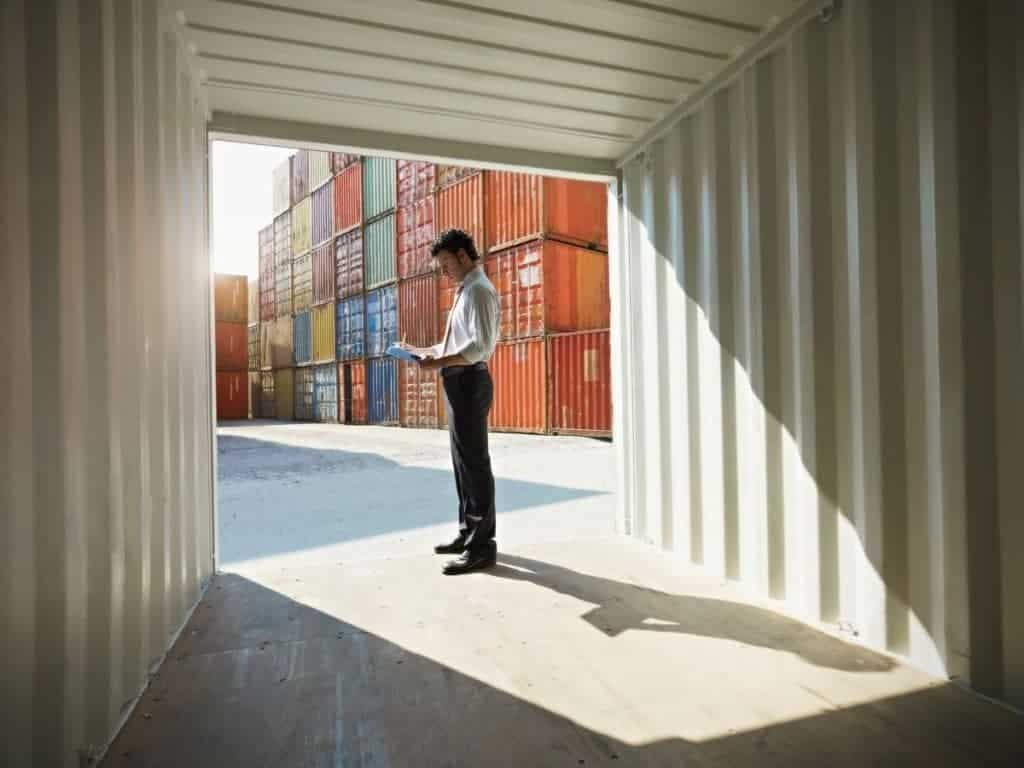 Since the transaction value involves could be huge, your work is expected to have a low margin of error. This is why the requirement to become a Certified General Appraiser is the greatest among all license types.
What kind of jobs are available for a Certified General Appraiser?
Here's the description of a job posting for your reference. It is a job from a government department in California. They are looking to hire a Senior Appraiser for one of their counties.
The primary duty is to conduct research and appraise complex residential, agricultural, commercial, and industrial properties for tax assessment purposes. You would also be responsible for supervising and reviewing valuation work done by staff appraisers.
Other duties could involve:
Assigning projects and provide training to appraisal staffs;
Communicate appraisal techniques and County policies with real estate agents, bankers, property owners, contractors, and others as a representative of the Assessor;
Evaluate special and complex properties that have a high value such as industrial manufacturing, commercial, and agricultural;
Provide assistance to supervising appraiser to evaluate personnel
Research, collect and analyze data regarding appraisals that are going through the resolution of appeals progress;
Presents appeals before the Assessment Appeals Board;
Keep up to date of latest market trends, construction costs and land values;
To apply for this job, you must hold a Certified General Appraiser license, become a Member of the Appraisal Institute (MAI), and have a valid California driver's license.
(Is commercial real estate appraisal a good career? Check out this complete guide. In it, you'll find the type of work involved as a commercial real estate appraiser, the income potential, and the training you need to have to become one.)   
5 Steps to Become a Certified General Appraiser
To become a Certified General Appraiser, you must:
Complete the required qualifying education
Fulfill the appraisal work experience
Register with the appraisal board in your state
Pass the National Uniform Licensing and Certification Examination.
As of May 1st, 2018, the Appraiser Qualifications Board (AQB) lowered the bar to obtain the Certified Residential Appraiser license. (Here are the changes for your reference.)
Here are just the minimum requirement set out by the Appraiser Qualifications Board (AQB). Keep in mind that every state could impose extra requirement for their real estate appraisers.
Let's go through the steps to become a Certified Residential Appraiser.
Step 1: Meet the Basic Requirement
At least 18 years old
Have a valid Social Security Number
Hold a Bachelor's Degree or higher
Step 2: Complete the Qualifying Education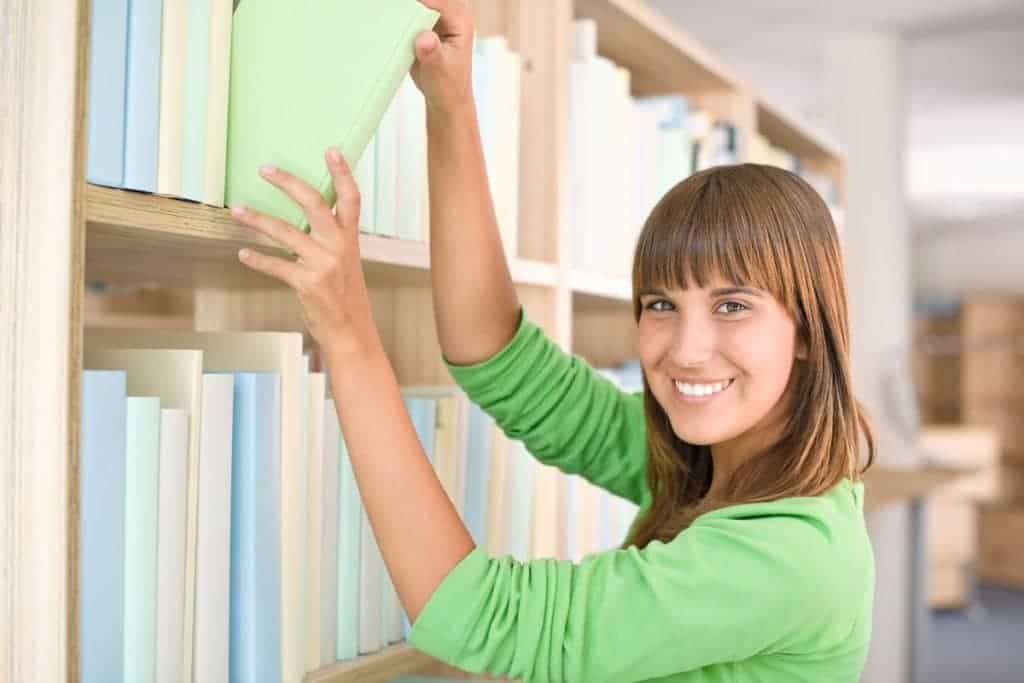 Complete 300 hours of appraisal courses from an approved education provider. You should have taken some of them when you were becoming a Trainee, Licensed Residential Appraiser or a Certified Residential Appraiser. Therefore, you just need to make up for the extra courses.
Here are the courses that you need to take.
| | |
| --- | --- |
| National USPAP Course or Equivalent | 15 hours |
| Basic Appraisal Principles | 30 hours |
| Basic Appraisal Procedures | 30 hours |
| Statistics, Modeling and Finance | 15 hours |
| | |
| --- | --- |
| General Appraiser Market Analysis and Highest & Best Use | 30 hours |
| General Appraiser Sales Comparison Approach | 30 hours |
| General Appraiser Site Valuation and Cost Approach | 30 hours |
| General Appraiser Report Writing and Case Studies | 30 hours |
| Appraisal Subject Matter Electives | 30 hours |
| General Appraiser Income Approach | 60 hours |
Study tip: Whenever possible, I prefer to take online courses. You can study at your own pace at the convenient of your home, library, or wherever there is internet access. Here's an article review of an online school that I like.
The Real Estate Appraisal Board in most states do recognize online courses. However, there are a few exceptional ones that have limitation for distance education.
Just make sure to check with the education provider or the Appraisal Board in your state before enrolling to a course.
Step 3: Fulfill the Appraisal Working Experience
The AQB minimum requirement is to complete 3000 hours in no fewer than 18 months. Of which, at least 1500 hours must be for non-residential work.
Some states do impose additional hours of work requirement. For example, Nevada require their applicants to have at least 3600 hours of appraisal work experience obtain in on less than 36 months.
Step 4: Register at the Real Estate Appraiser Board
Once you fulfill all the requirement, you should submit the Certified General Appraiser Application to the Appraiser Board.
Each state has its own regulatory board that is responsible for issuing appraiser licenses.
In addition to the application, they mostly would require you to provide:
Evidence for the completion of the qualifying appraisal courses (i.e.: Official Transcript)
Experience logs
Application fee
Legal documents (i.e.: fingerprints to conduct a background check)
Step 5: Pass the Certified General Appraisers Exam
After the Appraisal Board accepts your application, they will provide you with instructions to register in writing for the exam.
An approved testing company such as PSI, Pearson-Vue or AMP will administer the exam. There will be an exam fee. It typically costs around $100 to $200.
Each state would have an Exam Candidate Handbook which contains details specific to the test in its state. You could click on this link to find out the state licensing requirement.
Here's the Appraiser Examination Candidate Handbook for your reference.
The Certified General Appraiser Exam is a 6 hours exam, which consists of 125 questions. Only 110 questions will be counted, the other 15 are just pretest questions.
The required passing score is 75. Since this will be a computerized exam, you will immediately know the result once you complete the test.
Statistics on the Certified General Appraiser Exam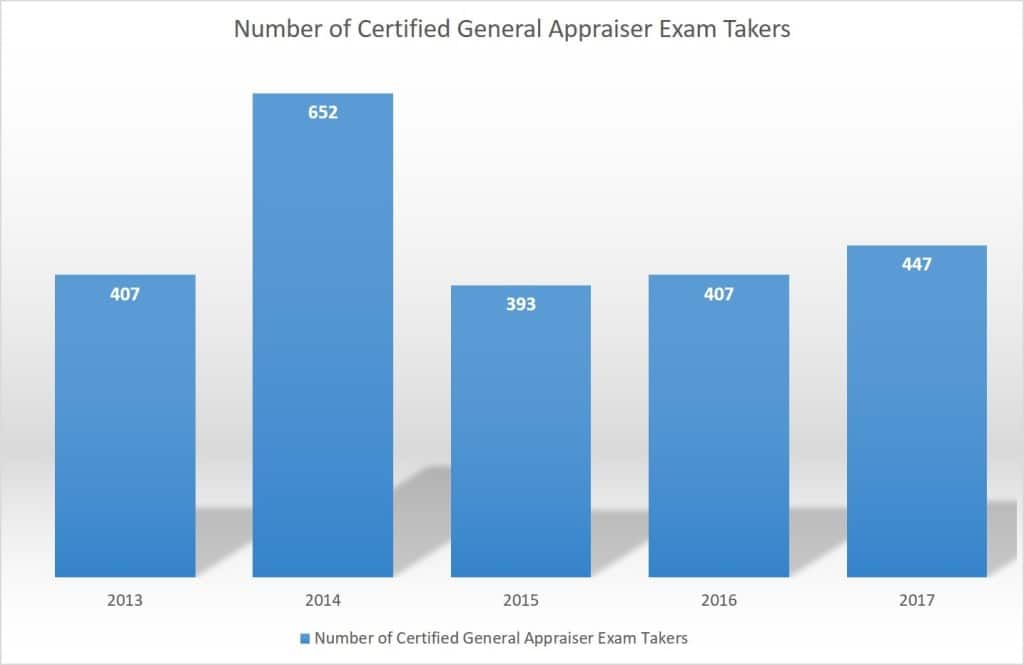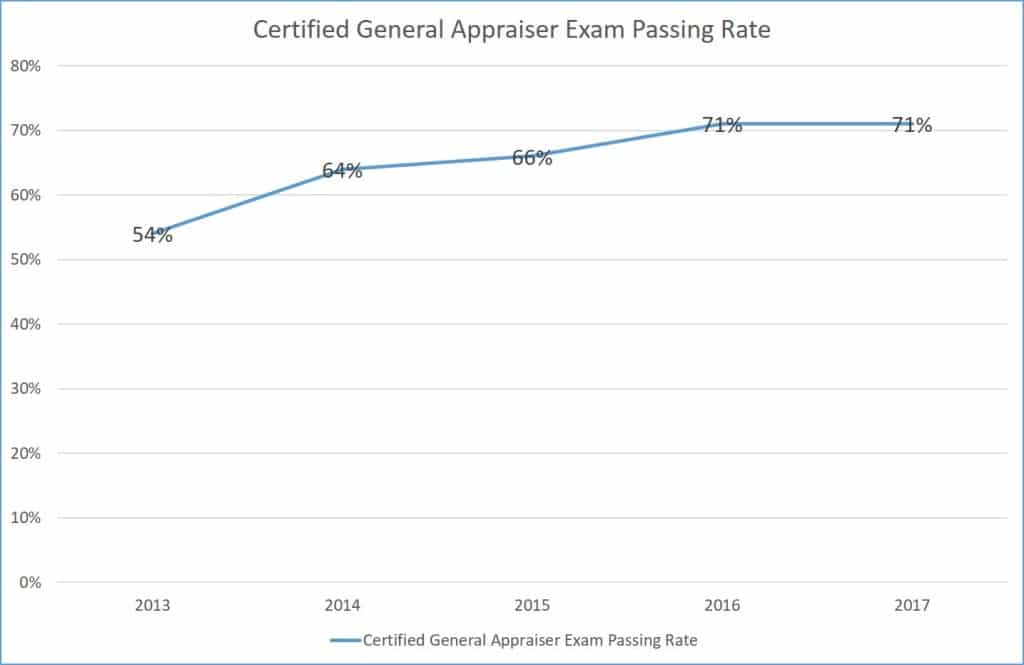 It's great to see that the exam passing rate increased significantly from 54% to 71% over the years. Here are some tips to help you increase your appraiser exam passing rate.
Similar to the situation of the other appraiser exams, there had been a sudden spike to the number of the exam writers in 2014. We believed that should be due to the stringent rules change in 2015, so more people tried to pass the test before it.
Is it a Wise Decision to Become a Certified General Appraiser?
We talked to several Residential Appraisers. Despite there is a shortage of appraisers across different states, there are times they would face the pressure in lowering their fees in trying to win business.
Especially when you are working for Appraisal Management Companies (AMC), most of them prefer assigning work to appraisers with the most affordable fees.
However, competing with prices is just a race to the bottom. The blue ocean is to differentiate your skill set in appraising more complex real estates.
So How Much do Certified General Appraisers Make?
When we read the figures on Salary.com (Dec 01, 2018), the average salary for commercial real estate appraiser is $98,346. The range generally falls between $84,590 and $112,816.
This is significantly higher than the average salary of overall real estate appraiser of $57,796. (Source: Sokanu.com Dec 2018)
Our Final Thought about Being a Certified General Appraiser
According to the number from the Appraisal Institute (Dec 2017), only 36.3% of all appraisers are Certified General Appraisers, while the rest are Licensed/Certified Residential Appraisers.
Becoming a Certified General Appraiser is an ideal choice. Not only you would have a competitive edge on appraisal knowledge, but its intense workload of licensing requirement would naturally filter out those who are unwilling to devote the time and effort as you do.
We hope you'll find this article informative. If you do find it useful, we truly appreciate if you could share it. Thanks!
(**) Affiliate Disclosure: Please note that some of the links above are affiliate links, and at no additional cost to you. Our company, JCHQ Publishing will earn a commission if you decide to make a purchase after clicking on the link. Please understand that we include them based on our experience or the research on these companies or products, and we recommend them because they are helpful and useful, not because of the small commissions we make if you decide to buy something through the links. Please do not spend any money on these products unless you feel you need them or that they will help you achieve your goals.
Disclaimer: The information in this post is for general information only, and not intend to provide any advice. They are subjected to change without any notice, and not guaranteed to be error-free. Some of the posts on this site may contain views and opinions from individual not related to JCHQ Publishing. They do not necessarily reflect our view or position.
Reference:
https://www1.salary.com/Appraiser-commercial-Real-Estate-Salaries.html
https://www.sokanu.com/careers/real-estate-appraiser/