(**) Disclosure: This post may contain affiliate links, meaning our website, RealEstateCareerHQ.com, will get a commission if you decide to make a purchase through the links, but at no additional cost to you.
Now that you probably have the real estate appraisal license, and are looking for work in the appraisal field.
How do appraisers find work? Appraisers could find work through online job searching, AI career center, join appraisers roster and build connections with other real estate professionals.
However, the strategy you apply could differ significantly depending on whether you are a self-employed fee appraiser or you are looking to be hired by a company. After all, working for a firm and running your business are two different ballgames.
There's no right or wrong which path you choose. You just need to pick one that fits into your character, and hopefully could fulfill your career expectation.
In fact, according to a study from the Appraisal Institution, the number of self-employed personnel and employed appraisers make up a similar proportion to the appraisal workforce.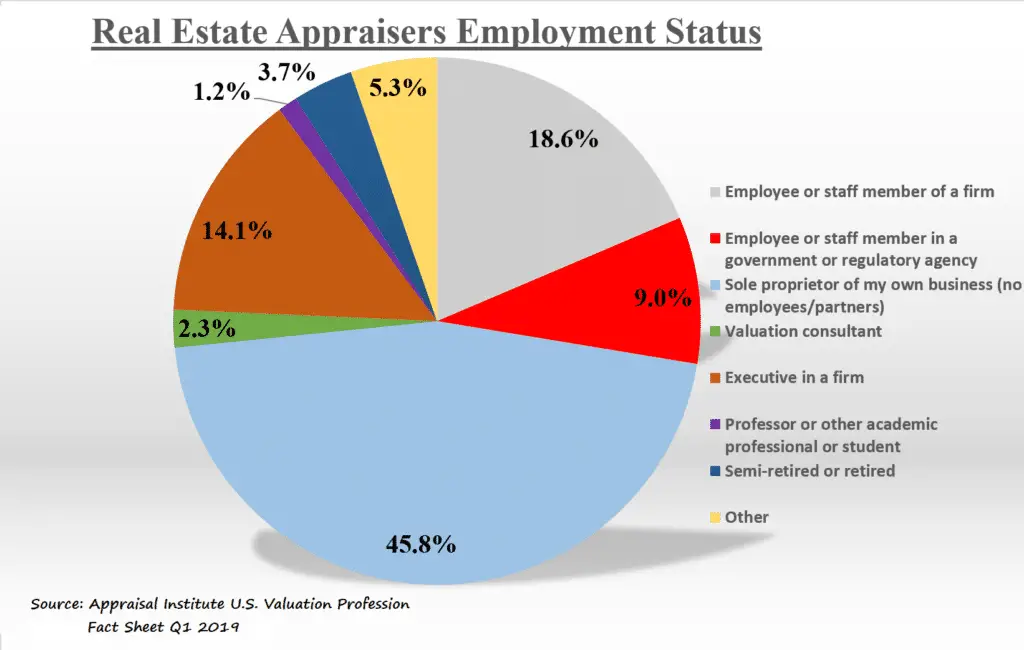 In this post, I'll go over some platforms and methods you could apply in finding work opportunities for your appraisal practice.
Cool Tips for Appraisers Who Are Looking for Salaried Employment
Tip#1: Search through online job sites
You probably are thinking this is such an obvious thing to do, and there doesn't seem to be any value in this tip. The truth is there are so many jobs searching websites out there. Which one could give you the most relevant result and increase the chance for you in landing the right job?
I have conducted months and months of researching work for you. Rather than wasting your time in going through different job search sites, you should seriously consider looking at Indeed.com.
Highly relevant results
When I entered the phrase "real estate appraiser" in the search box on different job sites, most of the time, I would end up with irrelevant job postings such as hiring for real estate agents, property managers, administrative assistant for a real estate firm.
On the other hand, Indeed.com did return relevant results. For instance, they have job postings from companies looking for Residential Real Estate Appraiser, Commercial Real Estate Appraiser, Trainee, etc.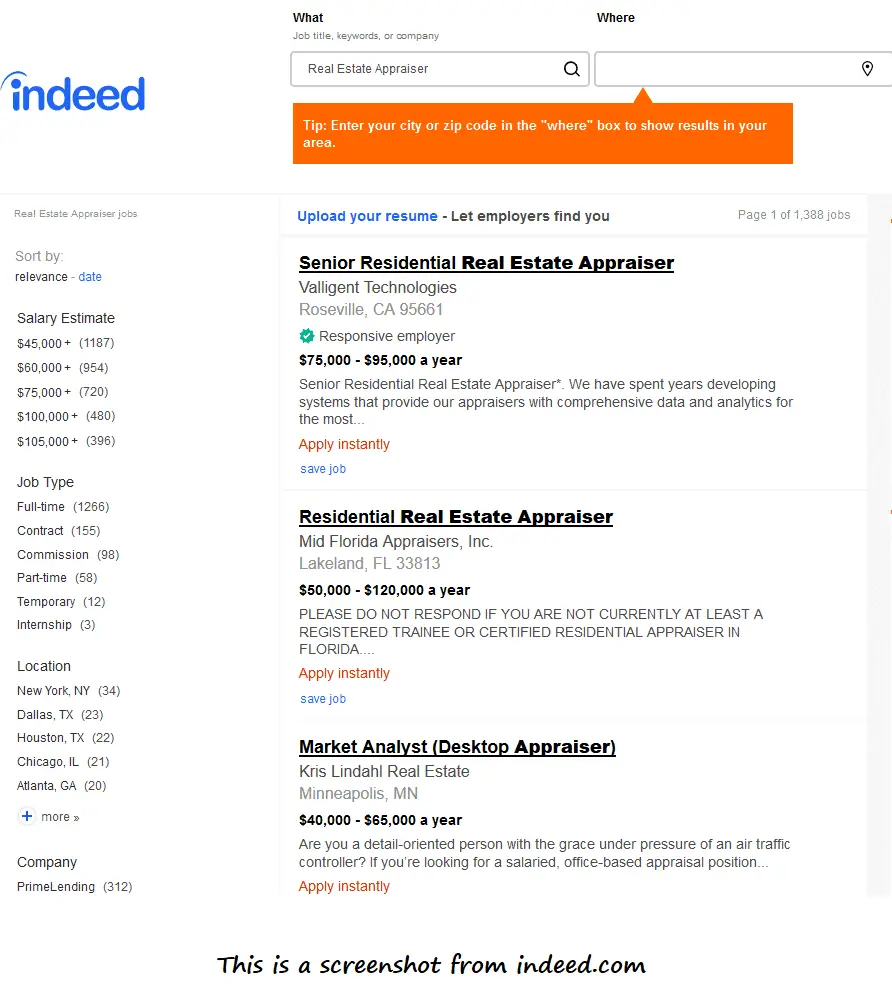 Helpful filtering tools
One thing I really like about Indeed.com is that it allows you to narrow your search query very specifically. You could filer your search based on job type (i.e. full time/part time), salary estimate, location, experience level.
The salary estimate is an extremely helpful feature. Somehow, many other job sites do not provide this info. I'm unsure whether the job sites hide them, or the employers are reluctant in disclosing it. However, this is such an important detail to be neglect. I prefer to start a working relationship with full transparency up front.
Tip#2: Search on Appraisal Institute Career Center
Appraisal Institute is one of the largest professional associations for real estate appraisers. They have nearly 18,000 members throughout the world. To help out job seekers in the appraisal industry, they developed a career center. Since this association is especially for appraisers, you can rest assured that their job postings are appraisal related.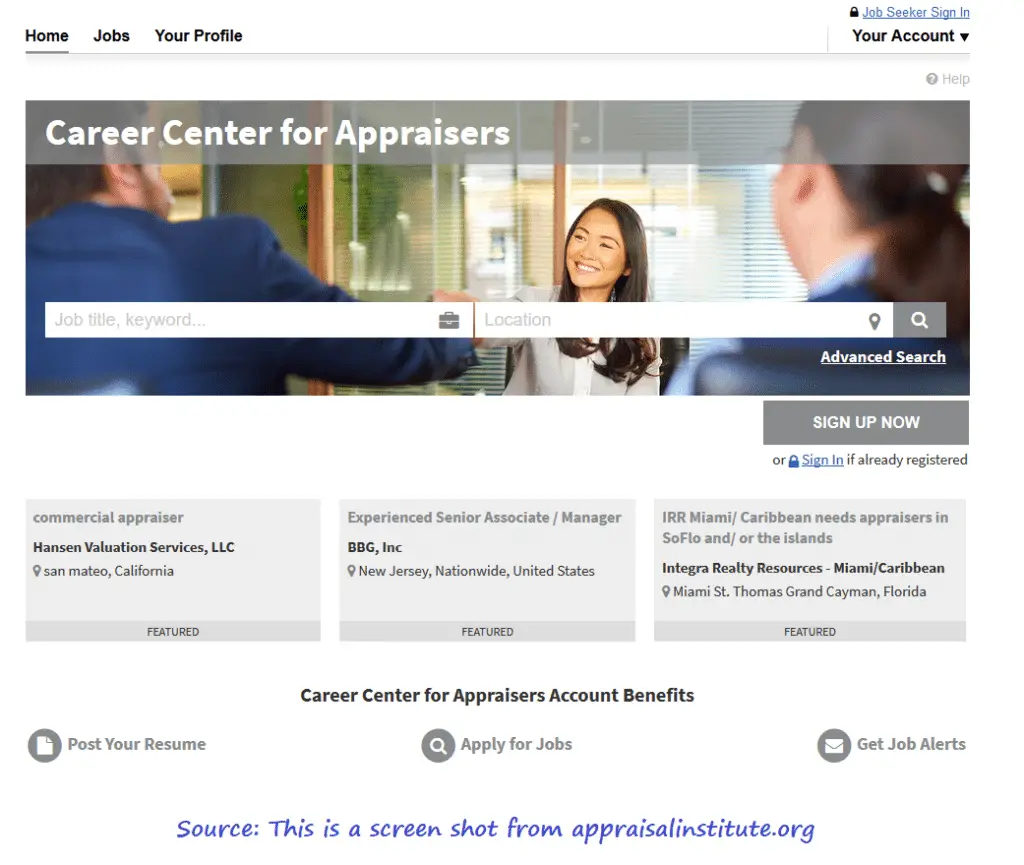 Similar to Indeed.com, you can narrow your searches based on location, job type, and experience. In addition to those, they also categorize jobs into a specific occupation. For example, Appraisal Review & Management, Appraiser Trainee, Certified General Appraiser, and Commerical Appraiser.
You might be wondering is this for AI members only. I was thinking the same thing too, so I just called them to verify. They confirmed that the career center is free for use for job seekers. You just need to register a free account on their website, and then you could start the job search.
Once you created the account, you could upload your resume. This way, potential employers may contact you if they find you to be a good fit for their company. You'll also receive job alerts through email.
Tip#3: Utilize LinkedIn
LinkedIn is a great platform to connect with people professionally. If you try applying using the above two methods, but still have no luck, then here is what you can do.
Many firms have a Company Page on LinkedIn. From time to time, they would post their job openings on it. That is why you should follow the ones that you are interested in working.
Not only that, through their LinkedIn page, you could see who are the employees of the company. If possible, try to make a connection with their HR or recruitment staff.
Begin with a casual conversation and ask them what they are looking for in a candidate. Then explain to them your situation and see if they have any job opening. Even if not, it's a good idea to keep in touch with them. So they would immediately think of you when the timing is right.
Another advantage is that LinkedIn would automatically recommend jobs for you. Although I'm not exactly sure how do they determine the suggestions, I guess it would be based on the type of connections you are making and your activities on the LinkedIn platform.
How do Fee Appraisers Get more Appraisal Orders?
Unlike a salaried employee, running an appraisal business is a totally different model. If you were looking to be hired by a company, you only need to sell yourself during the job searching phrase. Whereas, running a business requires constant marketing exposure for your appraisal services. Here are some ways that could help you bring in more clients.
(If you are interested in setting up an appraisal business, here's another article you might want to check it out)
1) Get listed on Appraisers Directory
Instead of you chasing for appraisal orders, listing your services in high traffic platform could help to bring customers to you.
AppraiserUSA.com
This website has been running since 1999, and it's an online directory for real estate appraisers. They continue having a nice amount of web traffic.
There is no fee to be listed on their directory. All you need is to register a free account, and then create a profile which helps your potential clients to understand your services better.
In additional to the usual contact details, you can specify your specialty skills (i.e., FHA, Commerical, Industrial, Expert Witness) and whether you accept credit cards for the appraisal orders.
However, they only accept listing from state licensed/certified appraisers, but not trainees. You'll need to disclose the state license number so that clients can verify your license on the Appraisal Subcommittee website.
Register in Official Appraiser Rosters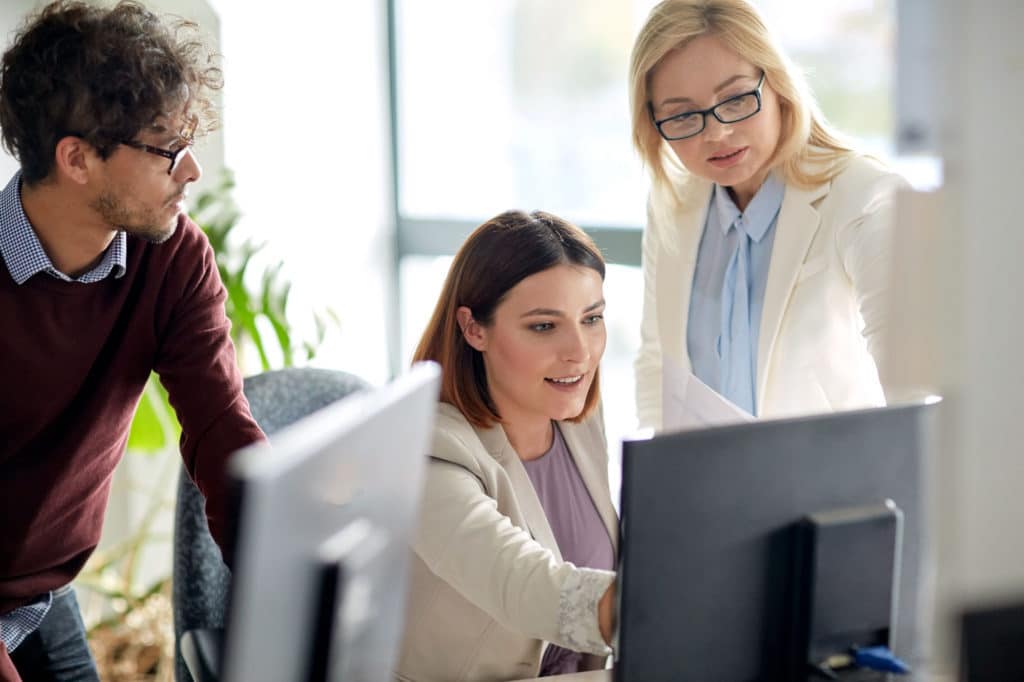 Certain types of appraisal assignments would require you to register in their rosters before you can work on them.
For instance, to take on FHA appraisal orders, you must register yourself on the FHA roster. FHA appraisal is not designed for any particular property type. Rather it is for homeowners who are looking for an FHA insured loan. Therefore, it could actually happen to anyone who cannot apply for a conventional mortgage, which is a massive market of business opportunities. (Here's an article on how to become an FHA appraiser)
Another market you should consider getting on is the Veterans Affair (VA) roster. The appraisals are particularly for veterans or their families who are obtaining a VA loan. VA Home Loans indeed provide a massive opportunity to the real estate industry. In 2018, the total number of VA loan was 610,512 with a dollar amount of $161,295,413,406!
To my understanding, it could take a long time to successfully being listed in their system. However, once you are in their list, they would contact you directly when there is VA appraisal order. (Here's a Complete Guide on VA Appraisals)
2) Build a referral network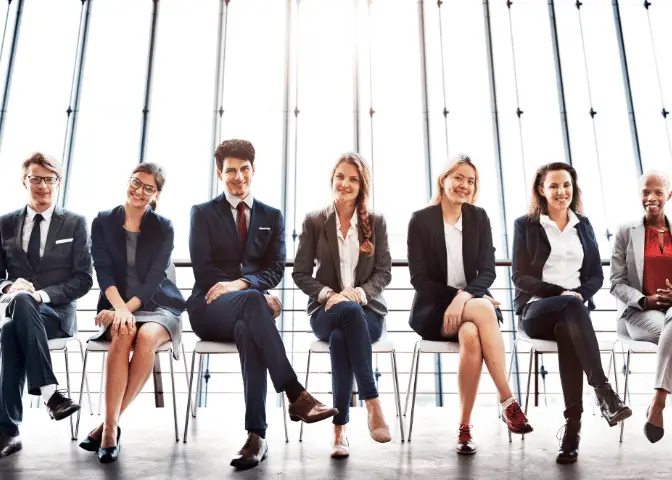 Creating a circle of trust is an art. You shouldn't recklessly contact random people and expect them to refer business to you. Instead, you should focus on partnering with like-minded real estate professionals, especially those who have similar clientele as yours.
Let's start thinking about what professionals would involve during a real estate transaction.
There will be a real estate agent showing the property to the homebuyer; a mortgage agent who helps clients in getting the finance; a lender who actually finances the deal; a home inspector who examines the condition of the subject property; an attorney who goes through the purchasing agreement.
All these professionals could be an ideal candidate for your referral network.
Where can I connect with other real estate professionals?
The first connection you should make are the professionals that also worked at the same subject property as you did. (i.e., agent, home inspector, lender). Since they were involved during the process, they would have a pretty good idea of how you work. Vice versa, you could tell whether they are someone trustworthy in forming a referral relationship in the long run.
Making a connection with attorneys is also a good option. I'm not just referring to the ones who handle real estate transactions, but also those who work with clients on their divorce or estate settlement. They could be a good referral source if you are pursuing the expert witness career path. (Want to know more the expert witness appraiser niche? Check out this post)
Furthermore, joining real estate associations could provide you with excellent networking opportunities. You should take a look at the National Association of Realtors (NAR). It is one of the greatest trade associations in the world. They have over 1.3 million members, with approximately 1,200 local associations/boards in 54 states and territory. Their members consist of a wide array of real estate professionals. (You can also find other networking groups on our resource page)
Related Questions
1) Do appraisers work for banks?
Yes, some real estate appraisers do work for a bank. However, I notice that some of them are not the actual appraisers who write the report. Instead, their role is to review appraisals that are conducted by another independent appraiser.
In addition to working at a bank, appraisers could be recruited by other different organizations such as appraisal firms, government agency, or lending institution.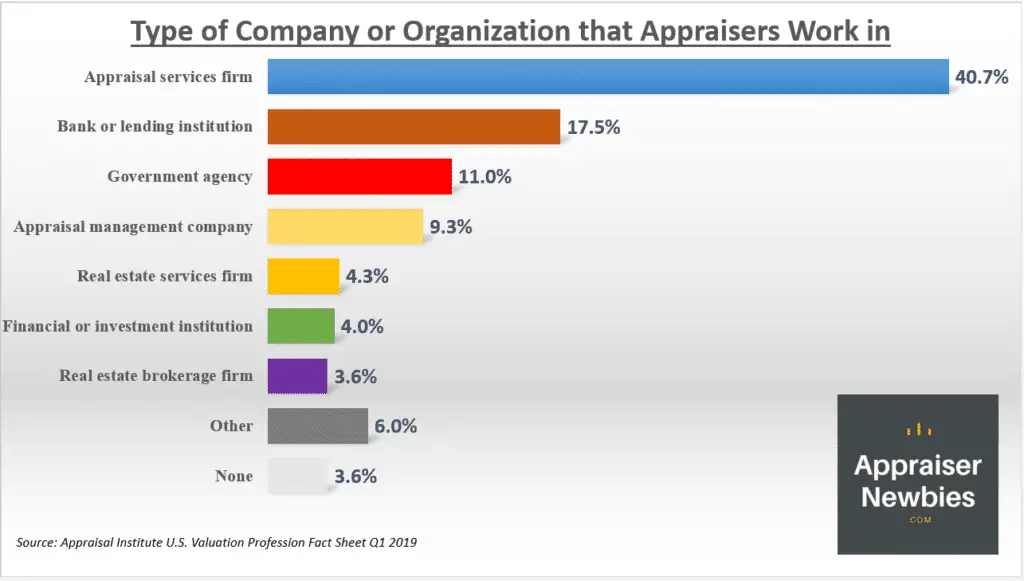 2) How do trainees find a supervisory appraiser?
Some trainees find it difficult to search for a supervisory appraiser because not all certified appraisers are willing to take the mentoring role.
To find a supervisory appraiser, you need to understand the causes of their hesitation, how can you be useful to their appraisal team, and effective ways in locating the potential supervisors. (Here are 10 practical tips in finding a supervisory appraiser)
My Final Thoughts
Some appraisers are able to find a job right after they get the license, while some could take more time and effort. I admit that there is a certain degree of luck when it comes to job searching. However, I do believe the more effort you put in, the luckier you will become.
Opportunity is reserved for those who are well-prepared, therefore you should also equip yourself with the skill set and appraisal knowledge that your clients demand. With the right strategy, you could significantly increase your chance of success in the appraisal industry. (If you haven't visited our education resources page, make sure you check it out. There are great resources to enhance your appraisal knowledge)
So that's all I have to share for now. I hope you find this article helpful. If so, please share it!
Disclaimer: The information in this post is for general information only, and not intend to provide any advice. They are subjected to change anytime without notice, and not guaranteed to be error-free. For full and exact details, please contact the Appraisal Board in your state, the education or service provider.
Reference: