(**) Disclosure: This post may contain affiliate links, meaning our company, JCHQ Publishing will get a commission if you decide to make a purchase through the links, but at no additional cost to you.
There is a lot of overlap between property management and real estate sales, but there are some important distinctions. Property managers ensure that the units they oversee are properly maintained and rent is collected, while real estate agents assist home buyers or sellers during the selling process.
So can you work on both businesses at the same time?
An individual can be both a property manager and a real estate agent. As long as the state licensing requirement is met, a proper disclosure is done, and there isn't any conflict of interest. Most states require a real estate agent to have a real estate salesperson license, which is also one of the paths to being a property manager. However, several states have a standalone property management license requirement. 
This article will help you understand if you can be both a property manager and a real estate agent and what to consider before making your decision.
But before we start, I want to give a brief disclaimer. This post is for general information only and is not intended to provide any advice or real estate training. I'm only sharing what I have researched. The information is subjected to change without notice and not guaranteed to be error-free. Since each state could have different regulations on what a property manager can or cannot do, you should always follow the State Laws and real estate best practices.
Do a lot of property managers come from the real estate sales field?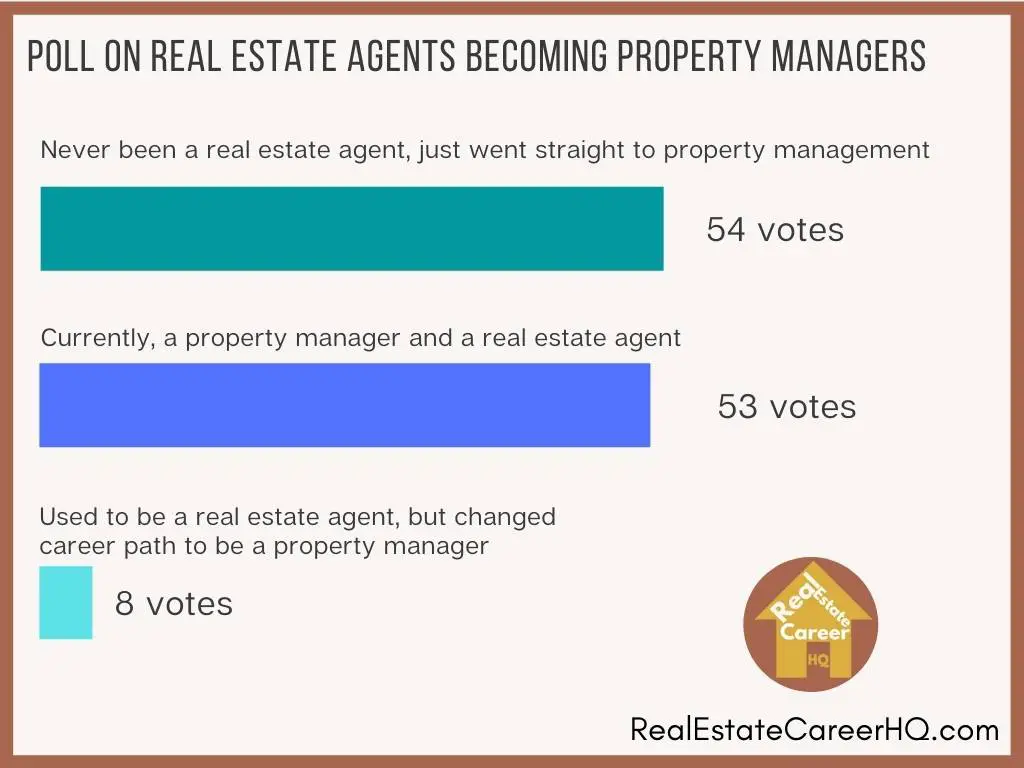 I created polls on several property management groups on social media to get a sense of the two professions.
As you can see,
Almost half of the respondents are working as a property manager and a real estate agent simultaneously.
The other half of the property managers have never become a real estate agent, they just went straight to the property management field.
A few quit being a sales agent and choose the career path to be a property manager.
What is the difference between a property manager and a real estate agent?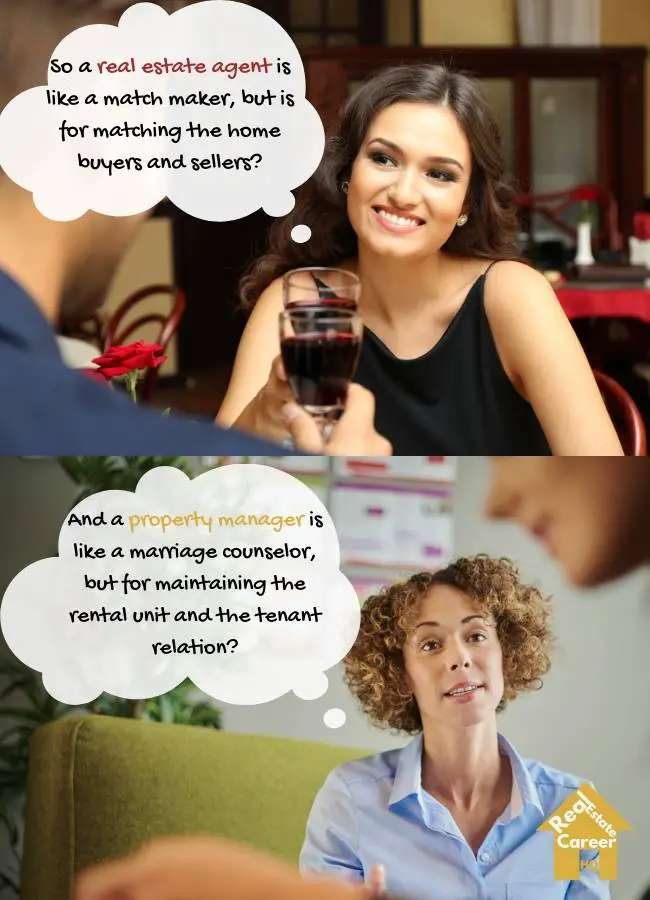 The key difference between a property manager and a real estate agent is that property managers work with clients after they own the property, and real estate agents offer their services mainly during a sales transaction.
Property managers are responsible for most aspects of the property, including finding and screening tenants, handling maintenance requests from residents, keeping an eye on day-to-day operations. Property management companies may also take on duties like resident relations, security systems installation/maintenance, marketing services, and more. 
In contrast, a real estate agent is responsible for the sale or purchase of a property. They offer advice and negotiate on behalf of their clients throughout the sales cycle. 
When assisting prospective buyers, agents usually will arrange property tours, go through financing and costs with clients. The seller's agent would assist in home staging, property showing, marketing, and bringing in prospective buyers.
Some agents would also provide comparable market analysis so their clients could have a better understanding of the market.
What is the licensing requirement to be a real estate agent? property manager?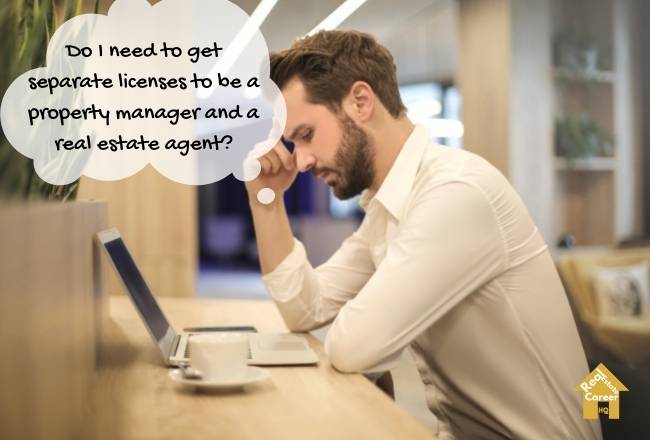 In most states, the requirement to be a real estate agent and a property manager is similar. You need to get a real estate salesperson license, which requires completing the pre-licensing real estate course and passing the salesperson exam. 
Typically speaking, the topics covered include property usage, forms of ownership, real estate laws, financing, contract, agency, value and appraisal, real estate practice.
Once you pass the exam and submit the application to the Real Estate Commission, you'll need to work with a real estate broker who would sponsor your license.
However, some states, such as Oregon, would issue a separate license for property management. In Maryland, you can even become a property manager without any license.
When choosing a real estate school, I prefer one where you could take the courses online. This way, you could study at your own pace whenever and wherever. RealEstateExpress is a trustworthy real estate education provider. You may click here to see whether they offer pre-licensing course in your state. (**)
What kind of skills are needed to be a real estate agent? property manager?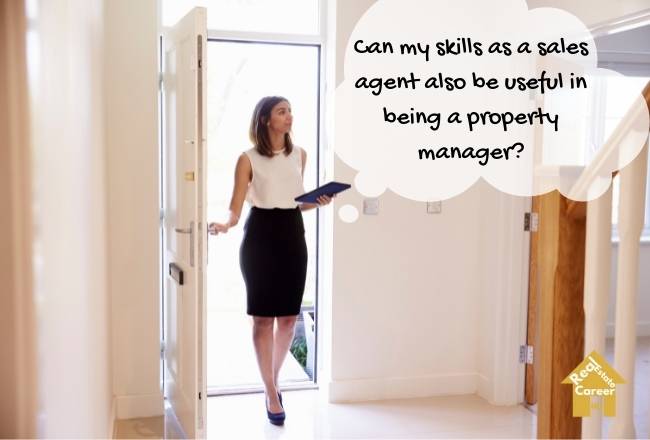 Agents are required to be knowledgeable about all aspects of the real estate industry, including finance, law, contracts, and negotiations. They also need to be able to communicate effectively with their clients and keep them posted with any updates in the sales stage.
Since you'll be working with different properties, there will be lots of driving around. As a sales agent, your compensation depends on whether you can close the sale. 
In nowadays market, housing supply is such a scarcity. Buyer's agents may need to go through many offers before they can close a deal. (If a seller receives ten offers, that means there will be nine disappointing selling agents.) Therefore, it is important to have a strong mind to constantly deal with disappointment.
On the other hand, property managers need to be experts in the local rental markets – for instance, the average rent for different types of properties, their vacancy rate, and effectively finding the right tenants. 
They must be familiar with the rule and regulations such as the security deposit laws, landlord and tenants act, Fair Housing act.
Property managers must have strong organizational skills. After all, you need to properly record all the rent payments, invoices, maintenance inquiries, and communication logs. (Well, this can be easily streamlined with property management software these days.)
You may constantly deal with different people on rent collection, late payment, maintenance requests. (Sometimes, eviction as well.) Therefore, patience with people is essential in this profession, and so is being firm to enforce the agreed terms and conditions.
Some people who work as property managers may have a background in business administration or real estate law, while others might come from a customer service background that helps them manage all those different personalities they encounter on a daily basis!
Do property managers make more than real estate agents?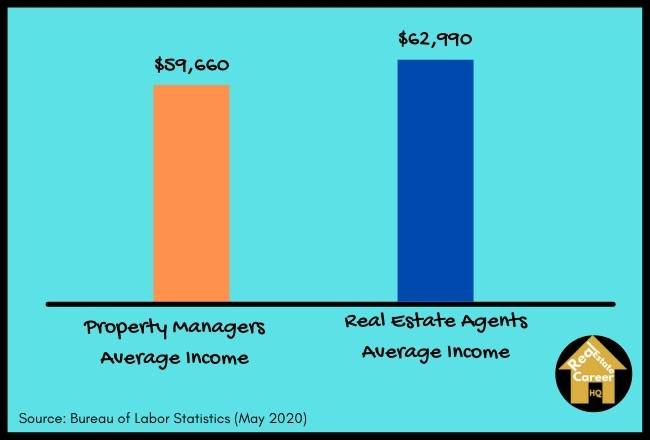 On average, real estate agents earn $3,300 more than property managers per year.
According to the Bureau of Labor Statistics, property managers earn an average of $59,660 per year. This includes property, real estate, and community association managers who look after residential, commercial, or industrial properties.
In comparison, real estate sales agents earn an average of $62,990 per year.
However, most real estate sales agents work on commission-based. This means they only get paid if they can successfully close a deal, and sometimes, it could take months to complete one. Although the commission seems attractive (given how high the housing price has surged these days), the income uncertainty could be stressful for some sales agents, especially those new to the industry.
On the other hand, property managers could have a more stable income. They would charge a monthly fee to manage the property. Typically speaking, this would be a fixed amount or as a percentage of the rent collected.
Although the fee charged for each individual client may seem incomparable to a real estate sales commission, as you grow the client base of the property management business, all these service fees would be significant.
There are many factors could impact the earning of these two professions. Here are 2 income guides that could be helpful to you.
Is it a good idea for a real estate agent to be a property manager? Or vice versa?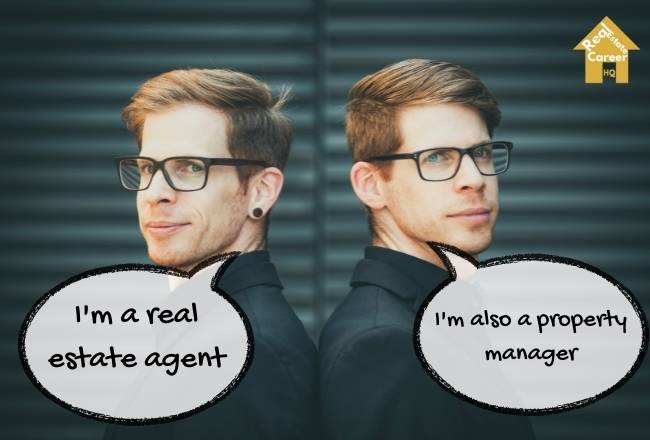 The business model of being a real estate agent and a property manager could be an excellent complement.
Suppose you already are a sales agent adding property management to your line of business. After you sell the investment property to your clients, you may help them find tenants and manage the unit. 
Frankly, some clients may not trust their agents entirely and suspect that they would sugar-coat the property condition or the rental market just to make a sale. 
However, if you are the one who will be managing the property, they know that you will also be on the hook. This actually could bring more credibility to your words during the sales cycle. 
Conversely, if you are currently a property manager, you would know the unit better than any other real estate agent. For example, what type of people would love living in it? What needs to be fixed before taking to the market? 
Therefore, by becoming a real estate agent, you may help the property owners sell the unit more effectively. Of course, if the new owner also looks for property management services after the sale, you would have a better chance over other firms to continue managing the unit. 
Diversified income sources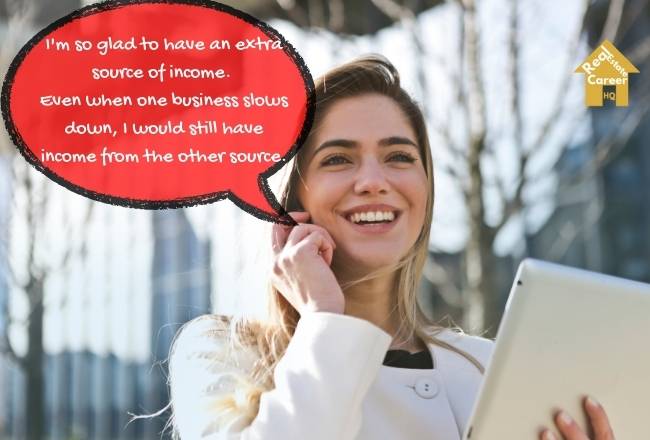 Most property management companies tend to receive a monthly fee from the landlords. Though they are relatively stable, you rarely would see a considerable increase in revenue on a month-to-month basis. However, if you could close a sale as a real estate agent, this could up a sweet bonus income to your business.
In contrast, in some months of the year, real estate sales activities could be slowing down. It could be extremely stressful when a realtor cannot make any sales and have no income. But if you also have a property management business, this extra income flow can offset some of the revenue uncertainty for the sales practice.
Why do most real estate agents not want to get into property management?
Here's a 5-minute short clip from Matt Easton, Leasing University. He shared that many people choose to become real estate agents instead of property management because they do not even know such an opportunity exists.
Many career seekers are heavily influenced by the media, which I personally agree with him. Just think about all the reality tv show on selling real estate. (Selling Sunset, Property Brothers, Love it or List it, Million Dollar Listing, and many more.)
Conversely, I really don't recall there's one that talks about property management. I'm guessing a show on property management could be way down-to-earth and would be challenging to attract viewers.
But I don't think media influence or lack of awareness is the only reason why many realtors are not joining the property management forces.
After all, although both professions have some similarities, their terms of commitment and job nature could be quite different. (Actually, some real estate agents also helps their clients to find tenants, just that they don't take care of rent collection and maintenance afterward.)
Some sales agents may only want to service a client during the sale process but do not prefer the long-term commitment in the property management relationship.
I find that being a real estate agent is like being an actor in a movie, where you work hard for several months on a project, then you forget about it and move on to the next project. At the same time, a property manager is like those who sign a contract to film in a TV series continuously.
Furthermore, some realtors are already overloaded with real estate sales activities. So they might not want to spread themselves too thin by expanding into another line of business.
Therefore, there is no definite answer whether a real estate agent should also become a property manager or vice versa. It really depends on what is the stage of your business, your goals, and your expectations.
Here's another post you may be interested: "Is Being a Property Manager a Good Career? (Let's hear from actual property managers)"
Other consideration for real estate agents offering property management services
First, you should check out what is the requirement to become a property manager in your state. Keep in mind that there are differences between being employed as a property manager and starting your own property management company. (You may click here to check out the requirement in your state.)
Then it would be best to find out whether your existing real estate broker is okay with that. Most brokerage firms do not offer property management services, so some might not prefer you to do so. If that's the case, you may need to decide whether to move your business to another brokerage.
Furthermore, although having a one-stop-shop service for your clients is great, you should be aware of the rule of "tied selling." For instance, you cannot tell your clients that you will help them find an investment property only if they use your property management services afterward.
Anyway, I'm not a lawyer, so please don't take this as legal advice. It's better to consult an attorney in your state about this. I'm just throwing out some ideas for you to consider.
So that's all I have to share on this topic. What do you think of being a real estate agent and property manager at the same time? Is it a good idea? Or something that you would avoid?
Feel free to let us know in the comment section below!
(**) Affiliate Disclosure: Please note that some of the links above are affiliate links, and at no additional cost to you. Our company, JCHQ Publishing will earn a commission if you decide to make a purchase after clicking on the link. Please understand that we include them based on our experience or the research on these companies or products, and we recommend them because they are helpful and useful, not because of the small commissions we make if you decide to buy something through the links. Please do not spend any money on these products unless you feel you need them or that they will help you achieve your goals.
Disclaimer: The information in this post is for general information only, and not intend to provide any advice. They are subjected to change without any notice, and not guaranteed to be error-free. Some of the posts on this site may contain views and opinions from individual not related to JCHQ Publishing. They do not necessarily reflect our view or position.
Reference: