(**) Disclosure: This post may contain affiliate links, meaning our website, RealEstateCareerHQ.com, will get a commission if you decide to make a purchase through the links, but at no additional cost to you.
Many people confused between the role of a home inspector and a real estate appraiser. It is not surprising, after all, they both deal with real estate. You'll see them inspecting the property in person. Then they will provide their clients with a detailed report.
However, there are major differences between the two occupations. As you are trying to decide which profession to pursue, it is undoubtedly important to know the distinction.
So what is the difference between a home inspector and an appraiser? A home inspector is to evaluate the health and functionality of a property while an appraiser provides an unbiased opinion about the value of a real estate.
In this article, I'll go over the job nature of each profession, the training needed, and their salary info. Hope this could give you a better understanding of being a home inspector or a real estate appraiser.
Let's Go Through the Duties of a Home Inspector and an Appraiser
Job duties of a home inspector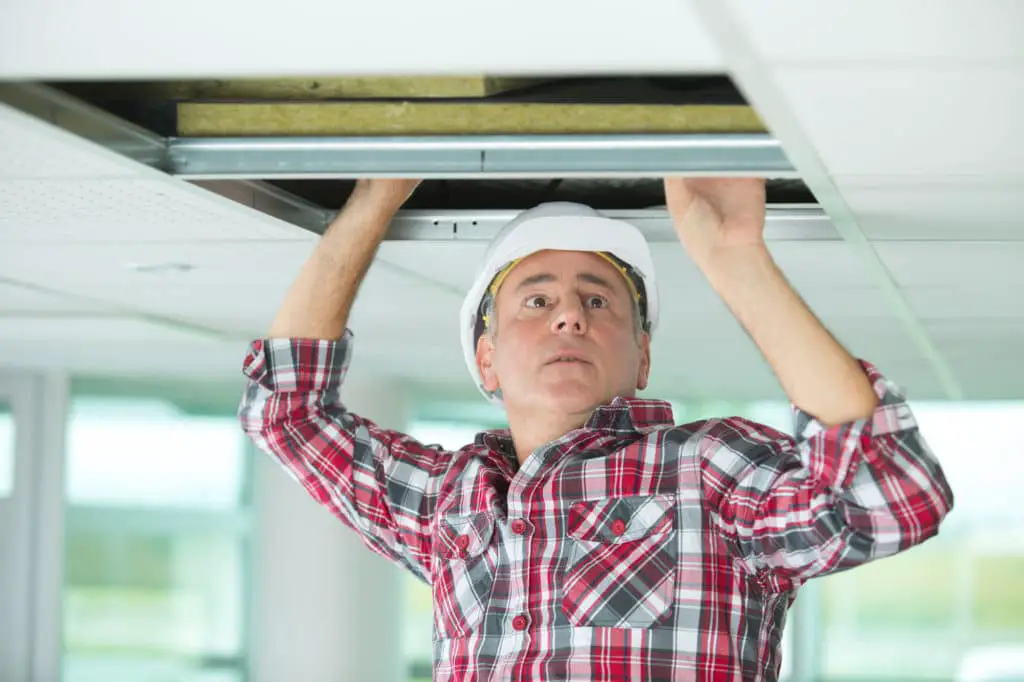 The primary role of a home inspector is to find out the health and functionality of a property. Rather than giving a general rating for the entire house, you are expected to provide a detailed description of the different parts. Here is a list of items you would examine:
Heating and cooling systems
Electricity
Plumbing
Water system
Insulation
Fireplaces
Roofing
Wells and septic tanks
Garage
Local building codes
Indoor air quality
Foundations and basements
Windows
Ceiling and walls
Deck
Shed
Yard fences
Your inspection needs to be as thorough as possible. The property walk through time should take around 1.5 to 2 hours, but it would vary depending on its size.
Furthermore, there could be some physical work involved – for instance, if weather permits, you might need to go onto the roof to examine the quality of the shingles. To review whether there is any mold or adequate insulation, you are also required to climb to the attic or crawl space.
That's why it's a good idea always to leave a ladder in the trunk of your car.
Inspections that many home buyers are not aware
As most home buyers are not a real estate professional, they tend to overlook some critical inspection that needs to be done. For example, radon test, pest inspection, chimney inspection, septic inspection, and a structural inspection are something you should examine.
That's why it's a good idea always to leave a ladder in the trunk of your car.
Writing the home inspection report
Once you have physically examined the property, you should start writing the inspection report. There is software with default templates. It includes diagrams and requirements of a specific part of a house. (i.e., What is the safety standard of an electrical system). You don't need to write everything from scratch, but just input the details you gathered during the visit.
A proper inspection report would include details about the condition of each item, its remaining lifespan, and the estimated cost to repair/replace it. If there are items that the homeowner should pay close attention to, you should include the photos for easier understanding.
Job duties of a real estate appraiser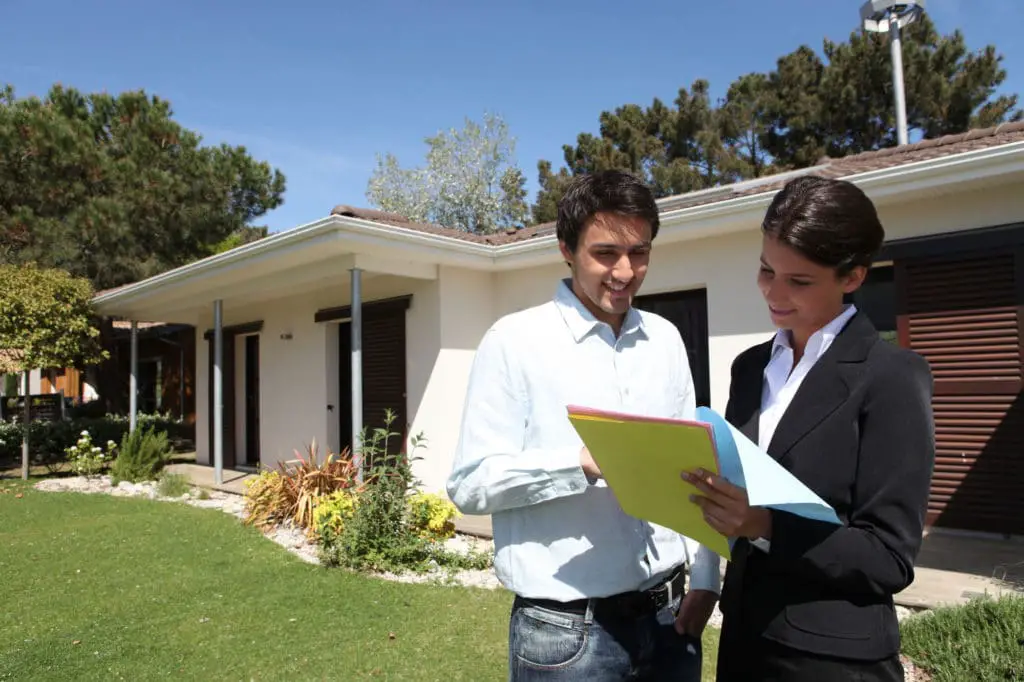 As a real estate appraiser, your key objective is to develop an unbiased opinion for a property value.
Conducting research
There is extensive research involved as you would need to analyze information such as the property size, lot size, number of rooms, comparable sales, quality of the neighborhood, zoning, property tax, adjustments between comps, external obsolescence, functional obsolescence, and revenue streams.
[Here are two posts on how do external obsolescence or functional obsolescence affect the property value. You can simply click on the links to read them.]
Some info is not easily accessible. You would need to contact different parties such as tenants, real estate brokers, tax county, homeowner association, to obtain the details.
Walk-through property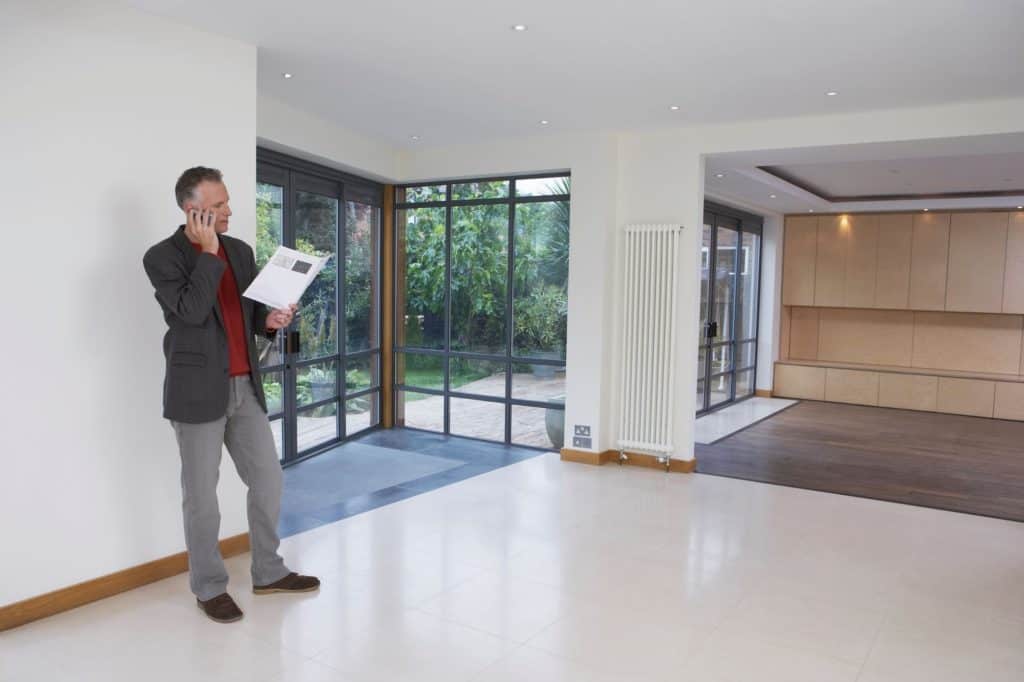 A full appraisal would require you to inspect the property in person. Although the walk-through time depends on the property size, it typically takes roughly 45 minutes to 1.5 hours. In addition to examining the subject property, you would make measurement and take photos during the walk-through. (Here's a post on how long does an appraisal take)
Some appraisal types have a more stringent rule which requires you to check for the health condition of a property. (i.e., FHA appraisal). For these assignments, you need to climb to the attic and crawl spaces to confirm whether there is mold or water build-up problem. Here's an article about FHA appraisal.
However, some assignments are desktop appraisals. You are not required to physically visit the property. You merely evaluate the house based on the research or the details provided to you. (MsKissock Learning has a course on limited scope appraisals. Here's a brief summary of that course.)
Creating the appraisal report
In your appraisal report, you need to demonstrate the approaches that you use to come up with the appraisal value. (i.e, the sales comparison approach, the cost approach, and the income approach.)
You would include all the relevant details you use in your analysis. Invoices for upgrades/home improvement are an essential piece of supporting documentation. Most appraisal reports would require photos of the interior and exterior of the subject property. Some would even request for the pictures of comparables.
If there is any portion which is not easily self-explanatory, then you would include some description in helping the readers to understand your approach.
After you submit the assignment to your clients, if they have any questions, you are required to go through with them. Some end-users ordered the appraisal through an Appraisal Management Company (AMC), where you are prohibited from discussing the report directly with the clients. However, if the AMC has questions about your appraisal work, you still need to respond to the AMC.
[If you want to know more about "What is an Appraisal Management Company (AMC)?", I have just the right post for you]
Different Usage of Home Inspection Report and Appraisal Report
How will a home inspection report be used?
When a potential buyer is planning to make a home purchase, they need to know whether the house is in good condition. If not, they need to know what kind of fixture and when the repair is required.
Although they have already visited the house in person, most buyers often lack the professional skills, experience, and equipment to properly evaluate the condition of a property. This is why they hire a home inspector to do the job.
Despite a home inspection is important, it is not a mandatory requirement for a real estate transaction. However, I've seen many real estate agreement with the clause that the offer is subjected to a home inspection.
Even though a buyer and a seller agreed on a price, if the buyer found out there are too many unexpected fixtures needed, then they could renegotiate the terms or void the offer. But of course, this clause is only valid for a pre-defined period.
Furthermore, some property management companies would hire home inspectors to examine their client's investment property. It gives them and their clients a thorough understanding of what needs to be fixed.
How will an appraisal report be used?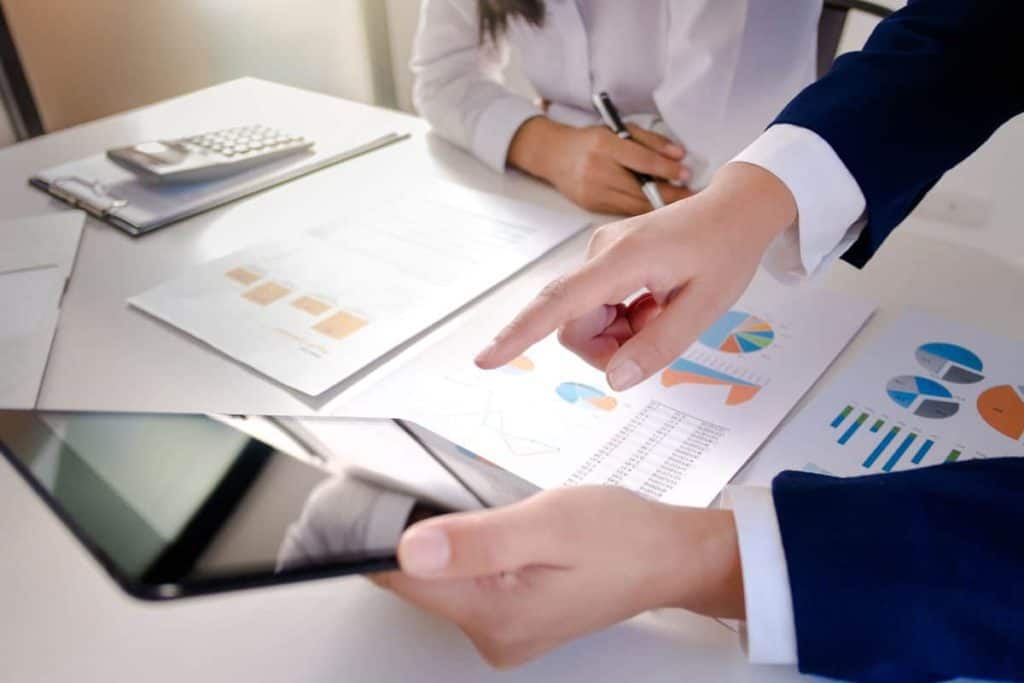 Unlike a home inspection report, an appraisal is often a mandatory document if a buyer needs to obtain a mortgage or the homeowner are looking for refinancing. It provides reassurance to the lender whether the subject property value can justify the amount of loan.
The appraisal report is meant to be read by a particular lender. If a client wants the appraisal to be used by another lender, then most appraisers would charge a fee to re-assign the report to another institution.
There are also situations where the appraisal is not used for the financing purpose – for example, a property investor who wants to know the updated portfolio values. This could be used for their own understanding or reporting purposes for their clients.
Let's Compare the Training Required to Become a Home Inspector and Appraiser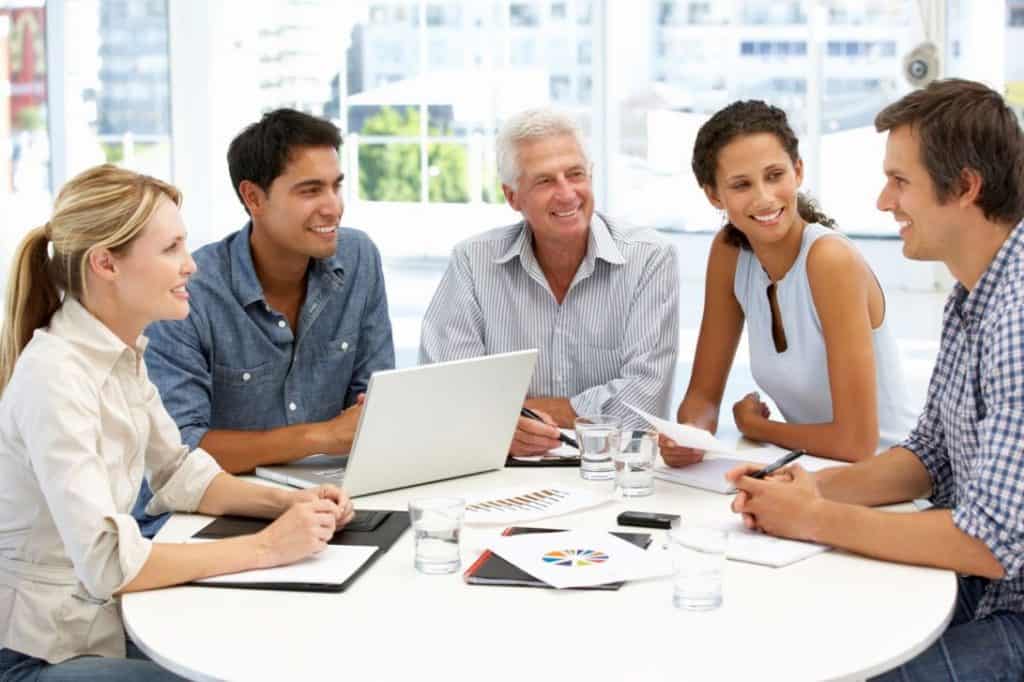 Training needed to become a home inspector
Becoming a home inspector is arguably easier than being a real estate appraiser. There are 13 states which do not even require a home inspection license (CA, MT, WY, CO, NM, NE, KS, MO, MN, IN, MI, GA, ME).
For the states that require a license, they have all have different rules. Some states require you to complete 200 hours of education, while some only need 60 hours. In some states, you must pass the national exam, while others would have their own exam version.
Therefore, you should check to see what are the licensing rule in your state. A good place to start is by joining the American Society of Home Inspectors. This is a non-profit association for home inspectors. Their mission is to promote high standards for property inspections, to provide education programs, and to fulfill the needs of their members.
Mandatory requirements to become a real estate appraiser
Becoming a real estate appraiser has a more stringent requirement. There is a national standard imposed by the Appraisal Qualification Board (AQB), while each state could add on their extra requirement.
There are four levels of real estate appraiser license:
Above are clickable links. They are posts with helpful details about each license level.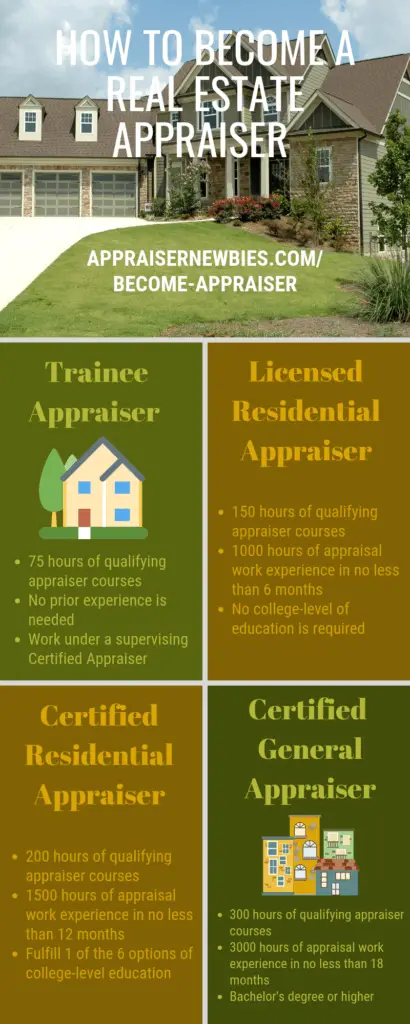 To obtain an appraiser license, you need to complete the required hours of appraisal courses, work experience, pass the exam, and register with the Appraisal Board in your state. You could check out the state licensing requirement on this page.
Furthermore, when you are starting as a trainee, you must work under the supervision of a Certified Appraiser. This allows you to gain hands-on working experience in the appraisal field.
Most state would require you to renew the appraisal license every one to two years. To do so, you need to complete the required hours of continuing education. It is to ensure that you keep up-to-date with the appraisal techniques and regulatory changes. Here's a list of CE courses that we like.
Do Home Inspectors or Appraisers Get Higher Pay?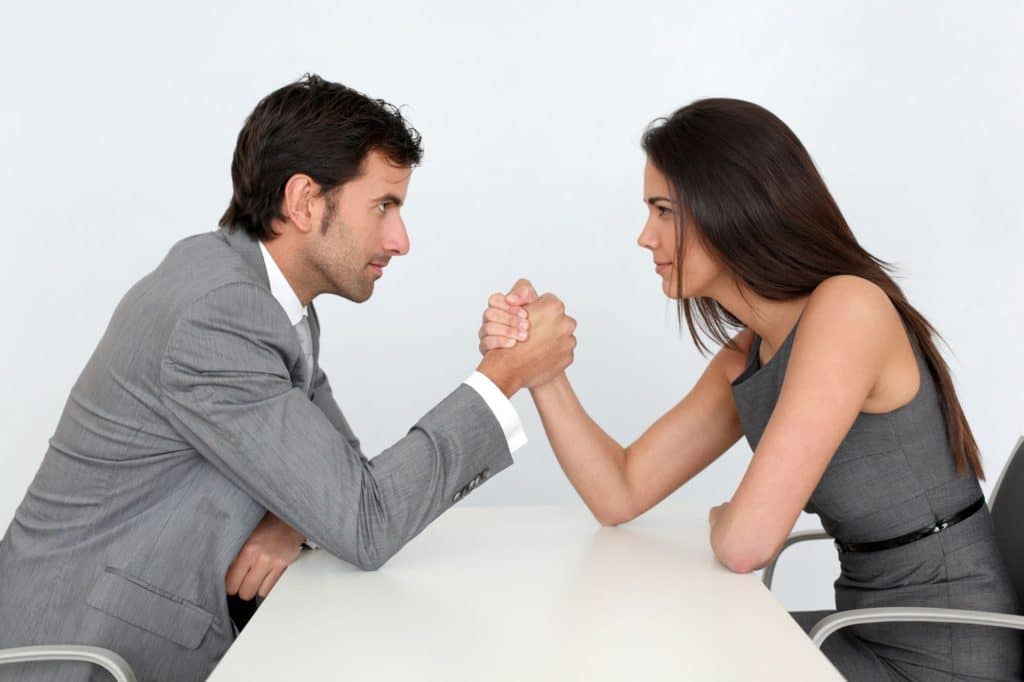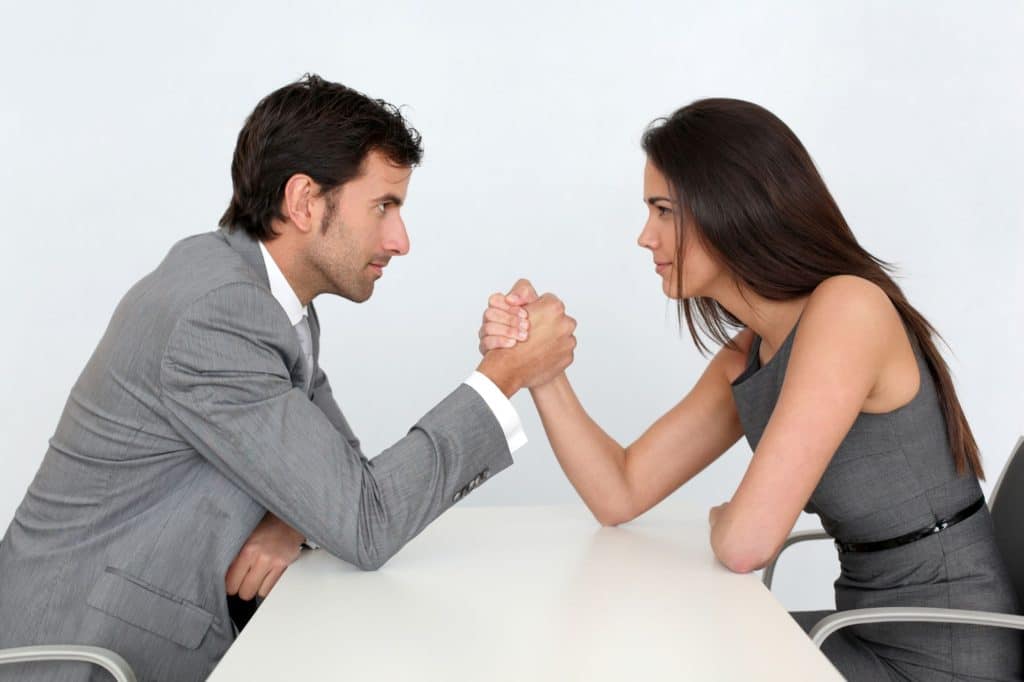 I want to make sure we are doing an-apple-to-apple comparison. Therefore, I will narrow down to inspectors and appraisers who focus on residential properties.
According to payscale.com, the average salary of a home inspector is $48,771. Most fall into the range of $31,000 to $85,000. Typically speaking, the compensation would increase as you become more experience in the field.
On the other hand, the average salary of a residential real estate appraiser is $53,587. It generally ranges between $44,157 and $61,913. Your compensation would depend on your experience, type of license, most importantly, the volume of appraisal orders you can fulfill.
[Remember to check out our Complete Salary Guide for Real Estate Appraiser.]
If being a residential appraiser is the career path you are pursuing, I strongly suggest you in getting the Certified Residential Appraiser license.
In term of the actual rules, being certified allows you a broader scope of appraisal works when comparing to being a licensed residential appraiser. You can appraise properties with greater value and complexity. Also, more and more lenders are only accepting assignments from a Certified Appraiser.
Related Questions
1) What is some commonality of an appraiser and a home inspector?
Both appraiser and home inspector are paid regardless of whether there is a real estate transaction or not. It is why clients have confidence that your work is unbiased and independent.
In many instances, the fees are paid upfront before you start the work.
2) Can you be a home inspector and appraiser?
You can be a home inspector and appraiser at the same time. Even for the same subject property, I don't see what would be the conflict of interest.
If you are a real estate agent, then lenders or buyers could concern that you have an incentive in hiding problems of a property. After all, you'll get paid commission when a real estate transaction successfully goes through.
However, this is not the case for a home inspector or real estate appraiser. As mentioned earlier, you'll get paid in these professions regardless of the transaction outcome.
Final Thought
Despite both a home inspector and an appraiser are servicing the real estate industry, their job nature, training requirement, and salary outlook are different from each other.
A home inspector focuses on evaluating the condition and functionality of a house, whereas an appraiser's job is to develop an unbiased property value. However, they both serve an important role in providing helpful information about the subject property to the clients.
If you like to explore the real estate career, but do not prefer the sales aspect, then being a home inspector or appraiser could be a great option.
So that's all I have to share for now. If you like this article, please remember to share it.
Reference:
Disclaimer: The information in this post is for general information only, and not intend to provide any advice. They are subjected to change anytime without notice, and not guaranteed to be error-free. For full and exact details, please contact the Appraisal Board in your state, the education or service provider.