(**) Disclosure: This post may contain affiliate links, meaning our company, JCHQ Publishing will get a commission if you decide to make a purchase through the links, but at no additional cost to you.
Before you decide to start a new career, you probably want to know about how much money you could make from it. After all, you are not doing it as a hobby or volunteer work. Building an appraisal practice does require investments of your time and resources.
According to the Bureau of Labor Statistics (2019), real estate appraisers make an average of $57,010 per year. It typically falls between the range of $41,980 and $78,670. High earning property appraisers are making $104,540/year.
The annual income of a real estate appraisers depends on many factors — for example, your skills, experience, the type of appraisal license you have, whether you specialize in assessing for residential or commercial real estate, working part-time or full-time, employed or running your own appraisal business, and many others.
In this article, I will show you the income figures of appraisers in different states, the factors that could influence it. You will also find out how to become six figures earning real estate appraiser.
So let's check it out now!
The first step to begin in this career is to complete the appraisal education requirement. McKissock has years of experience in providing high-quality appraisal courses. Here's the link to their online classes. (**)
How Much do Appraisers Make in Different States?
Below is a table that summarizes the income details of appraisers in different states. You could type in the "Search Box" to find the specific information in your state.
| | Starting Annual Salary of Real Estate Appraisers (*) | Average Annual Salary of Real Estate Appraisers (*) | Residential Real Estate Appraisers Average Annual Salary(+) | Commercial Real Estate Appraisers Average Annual Salary (+) |
| --- | --- | --- | --- | --- |
| Alabama | $28,170 | $52,040 | $48,266 | $89,943 |
| Alaska | $51,630 | $76,820 | $58,451 | $108,922 |
| Arkansas | $24,610 | $44,200 | $48,006 | $89,457 |
| Arizona | $24,520 | $53,650 | $50,469 | $94,047 |
| California | $45,230 | $79,670 | $57,693 | $107,508 |
| Colorado | $36,580 | $71,720 | $51,698 | $96,338 |
| Connecticut | $27,350 | $66,860 | $57,608 | $107,351 |
| Delaware | $38,990 | $63,150 | $56,305 | $104,922 |
| Florida | $22,420 | $49,220 | $49,678 | $92,573 |
| Georgia | $22,830 | $49,320 | $49,781 | $92,766 |
| Hawaii | $38,530 | $59,280 | $54,820 | $102,155 |
| Idaho | $28,440 | $44,210 | $48,811 | $90,958 |
| Indiana | $24,730 | $42,860 | $49,555 | $92,344 |
| Illinois | $19,570 | $57,450 | $51,332 | $95,655 |
| Iowa | $32,940 | $68,720 | $48,373 | $90,142 |
| Kansas | $25,600 | $48,840 | $49,986 | $93,147 |
| Kentucky | $16,920 | $42,120 | $48,088 | $89,611 |
| Louisiana | $33,170 | $47,900 | $48,834 | $91,000 |
| Maine | $19,170 | $55,040 | $49,893 | $92,974 |
| Maryland | $19,370 | $58,750 | $55,591 | $103,592 |
| Massachusetts | $24,660 | $66,520 | $56,693 | $105,645 |
| Michigan | $19,190 | $49,990 | $51,109 | $95,240 |
| Minnesota | $37,670 | $69,000 | $50,677 | $94,434 |
| Mississippi | $24,870 | $45,310 | $46,586 | $86,812 |
| Montana | $18,100 | $45,390 | $46,778 | $87,169 |
| Nebraska | $23,840 | $51,980 | $47,872 | $89,208 |
| Nevada | $31,680 | $61,790 | $53,114 | $98,976 |
| New Hampshire | $38,530 | $62,870 | $54,501 | $101,561 |
| New Jersey | $41,000 | $73,880 | $59,478 | $110,834 |
| New Mexico | $18,870 | $40,350 | $47,780 | $89,036 |
| North Carolina | $30,140 | $57,070 | $49,693 | $92,600 |
| North Dakota | $22,940 | $49,740 | $47,676 | $88,842 |
| Ohio | $24,420 | $58,670 | $50,371 | $93,865 |
| Oregon | $28,140 | $57,310 | $52,042 | $96,979 |
| Pennsylvania | $24,750 | $56,460 | $51,464 | $95,901 |
| Rhode Island | $39,010 | $59,580 | $55,943 | $104,248 |
| South Carolina | $27,400 | $44,800 | $49,187 | $91,659 |
| South Dakota | $33,380 | $60,190 | $45,095 | $84,033 |
| Texas | $31,300 | $61,610 | $49,793 | $92,788 |
| Tennessee | $31,010 | $54,270 | $47,988 | $89,425 |
| Vermont | $26,390 | $44,680 | $52,373 | $97,596 |
| Virginia | $26,290 | $58,170 | $51,762 | $96,457 |
| Washington | $34,510 | $67,970 | $54,613 | $101,769 |
| West Virginia | $26,570 | $42,760 | $48,003 | $89,451 |
| Wyoming | $32,310 | $55,890 | $47,946 | $89,346 |
| Wisconsin | $32,240 | $61,600 | $50,707 | $94,490 |
| Utah | $31,930 | $49,860 | $48,882 | $91,090 |
Sources: (*) sokanu.com, (+) salary.com. Data obtained in Dec 2018
As you could see, the earning gap among appraisers could be significant. This situation could be due to whether they are residential or commercial appraisers, and whether they are just starting out in the appraisal career.
On the high earner's spectrum, the average annual salary could be in the six figures for commercial real estate appraisers in a number of states.
(If you are interested the commercial real estate appraisal career, here a complete guide for you. I'll go through the type of work involved as a commercial real estate appraiser, the income potential, and the training you need to have to become one. You'll also find the perspective of a CRE appraiser about this profession.)
Most of the lower income earners are those who just started their salary. According to payscale.com, the average income of trainees in the US is $35,044.
Which is reasonable, as in the early phase of your career, you are pretty much learning the appraisal tactics, and you have not developed the necessary skillset to contribute meaningfully to the company. Therefore, some supervising appraisers might give you a lower splitting rate for each appraisal projects.
I had a conversation with some appraisers in different states. They suggested that trainee jobs at assessor's offices in your local county, commercial real estate firms, or investment institutions might provide better compensation.
Another factor for the wage differential could be due whether they are a part-time or full-time appraiser. As I read the statistic on sokanu.com, 79% of real estate appraisers are working full-time, whereas 21% are part-time.
Do Most Appraisers Earn Very little? Decent or High Income?
So now we know some appraisers are earning high income, while some are not. So what percentage of them are high, average and low earners? Let's review the chart below.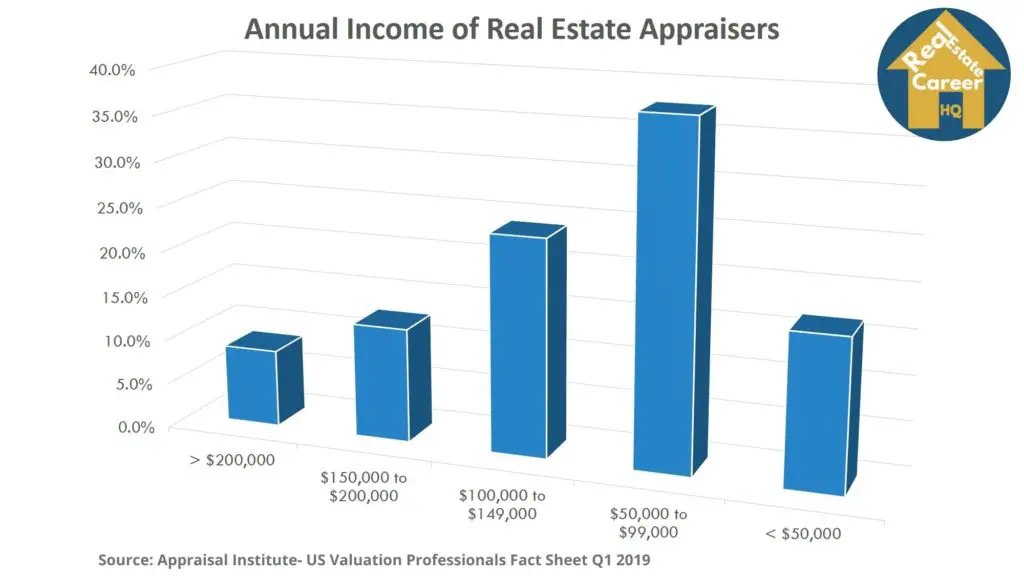 As illustrated from the above figures, there is a considerable percentage 45.4% of real estate appraisers who are earning six figures of annual income and a significant portion of 37.8% who are making between $50,000 to $90,000 per year.
Although it didn't specify the line of works the appraisers are specializing, you might be able to have some insights by looking at the appraiser licenses distribution in 2019:
Certified General Appraiser 41.4%;
Certified Residential Appraiser 50.7%,
Licensed Residential Appraiser 7.9%
When I collaborate the different figures, although it is not definite, it would be safe to assume that a significant number of the high earners could be Certified General License holder, while Certified Residential Appraisers would make up a huge portion of the middle-income class.
Source: Appraisal Institute December 2019
Is there any Earning Difference Between Self-Employed Appraisers and Salaried-Employed Appraisers?
There are different ways you could deliver your appraisal services. You could be employed by companies such as appraisal firms, government agency, banks, investment institutions, AMC and others.
Alternatively, you could set up your appraisal business, and enjoy the freedom to operate the practice in the way you like. Each option has its pros and cons, while they also could be a determining factor on your income. So let's go through more details about them.
Employed as an In-House Appraiser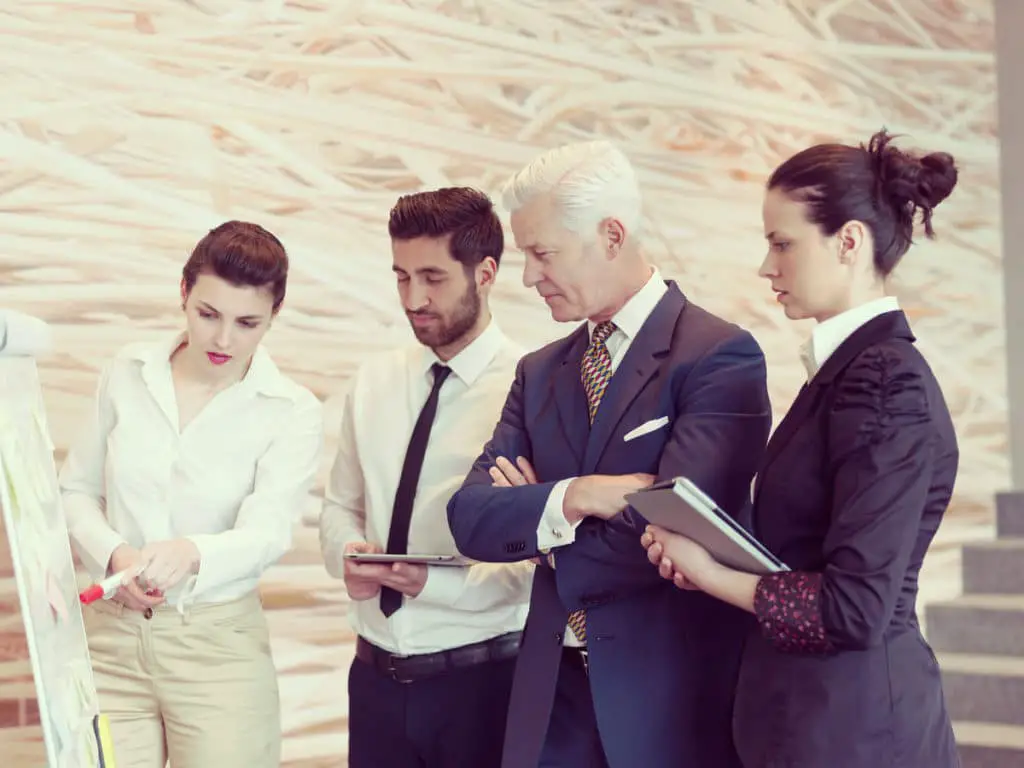 This is a more straightforward career path. You could be working as an in-house appraiser where you can enjoy a stable salary and employees benefits such as medical coverage, and other insurance coverage. Many companies would also cover the appraisal business-related expenses, such as your license fee, and E&O insurance premium. They might also reimburse the tuition for your continuing education courses.
There are different types of companies or organizations that recruit appraisers — for example, appraisal services firm, the government assessor's office, financial institutions, AMC and others. You could view a breakdown in the following pie chart.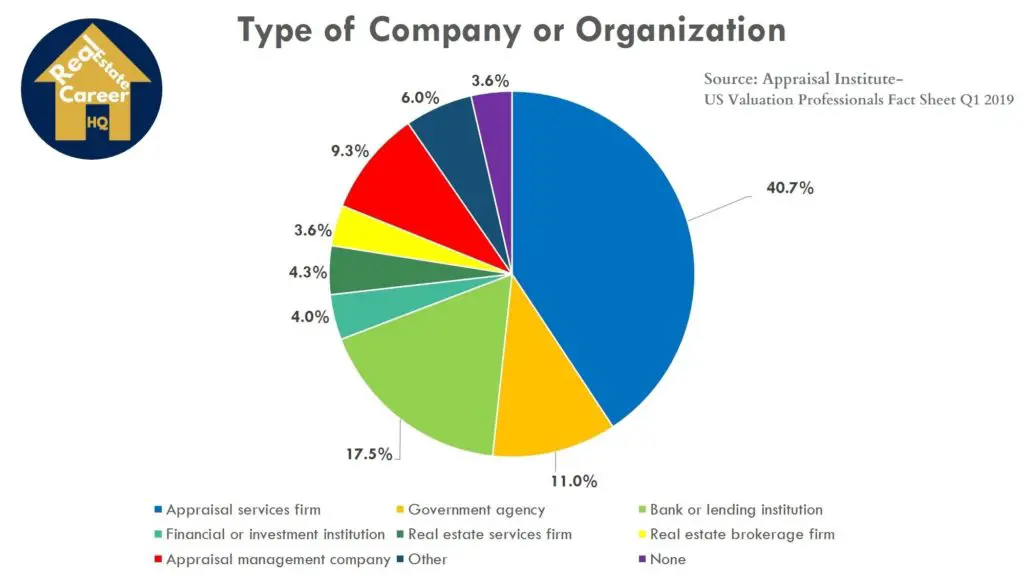 Here's an example of job offer:
I saw a job posting which might give you a better idea. It was from a large independent valuation and consulting firm in Chicago. They were looking for a Senior Analyst Commercial Real Estate Appraiser.
The job duties would include evaluating real estate and conducting market analysis for a portfolio of commercial real estate.
In the assessment, it must contain market studies, analysis of historical figures, revenue and operating expenses projection for the subject properties.
This was a full-time position with attractive compensation and benefits. Their offered annual income was ranged from $69,000 to $120,000.
To apply for this job, you need to be a Certified General Appraiser and have a minimum of 3 years of commercial appraisal experience.
Self-Employed Appraiser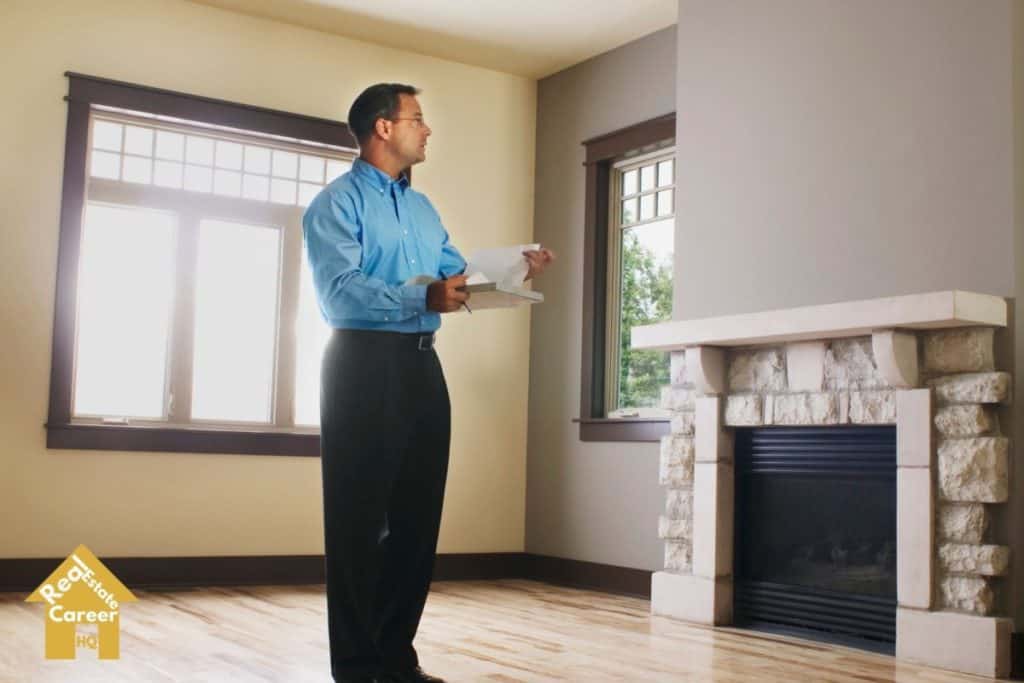 Since you'll be running your appraisal business, you have the flexibility to set out your working schedule and decide on how you run your practice. Your income is depended entirely on your effort and performance. To give you an idea, let's go through some calculations together.
The average number of appraisals an appraiser would complete over 12 months is 243 appraisals.  (Source: Appraiser Trends Study by the National Association of REALTORS)
A typical residential appraiser fee for a full appraisal in an urban area is $450. (Source: Nevada Customary and Reasonable Appraisal Fee Study)
When you multiply 243 by $450, then the annual income would be $109,350. We find this number to be very reasonable. You'll just be looking at doing 5 to 6 appraisals every week.
However, let's not forget you are now a business owner, there are different things you need to take care.
(Here's another article you may be interested: How to Start a Real Estate Appraisal Business? In there, I covered a clear plan of executions, the necessary license and insurance coverage, essential office equipment and software to operating the day-to-day activities. Be sure to check it out!)
Unlike an employee, you would not be assigned with projects to handle. Therefore, it is your responsibility to prospect for clients to keep the appraisal orders pipeline full. You'll probably need to spend time networking with potential clients, or referrers. Some appraisers would also pay marketing fees to brand their services.
Furthermore, you'll need to handle all the business expenses — for example, the license fees, E&O premium, continuing education tuition, software license, office rent, laptop, furniture, car expenses, accounting fees, and many others.
Some appraisers want the flexibility to schedule their working hours, but they do not want to handle all the business administrative work. They just want to focus their time working on appraisals. Therefore, some would choose to work with an appraisal firm.
They are not an employee of the firm, but they have a contract agreement to do a fee split on every completed order. In this setup, the appraisal firm would provide you with support and pass on their customer orders to you.
We talked to many appraisers, the splitting rate is usually between 50% to 70%, but this would depend on your experience, the volume of appraisals you could complete, and the amount of support you'll need.
Does the Level of Education Affect Appraiser's Annual Income?
It actually does to a certain extent, but this is more of an indirect consequence due to the licensing requirement.
For instance, to become a Certified General Appraiser, you would need to hold a Bachelor's degree or higher. Without the degree, you can't even obtain the license to appraise commercial real estate.
(Read: "Do You Need a College Degree to be a Real Estate Appraiser?")
In some states, the Board would waive the college-level education requirement in becoming a Certified Residential Appraiser. However, you'll need to be a Licensed Residential Appraiser for at least five years, where your license is in good standing. There hadn't been any disciplinary action against you.
Having a higher license level allows you to have a broader scope of appraisal practice. In other words, you will have less chance of turning down a client because the work is beyond the scope of your license.
Will the license level make a difference to the appraisal fees? We interviewed some appraisers about this. They expressed if both a licensed/certified appraiser could assess the same property, then it is unlikely the client is willing to pay extra simply because one has a higher credential.
However, we do notice that many reputable lenders and financial institutions would only accept assessment from Certified Appraisers.
(Here's a complete guide which covers in-depth about appraisal fees.)
How to Make Six Figures in the Real Estate Appraisal Career?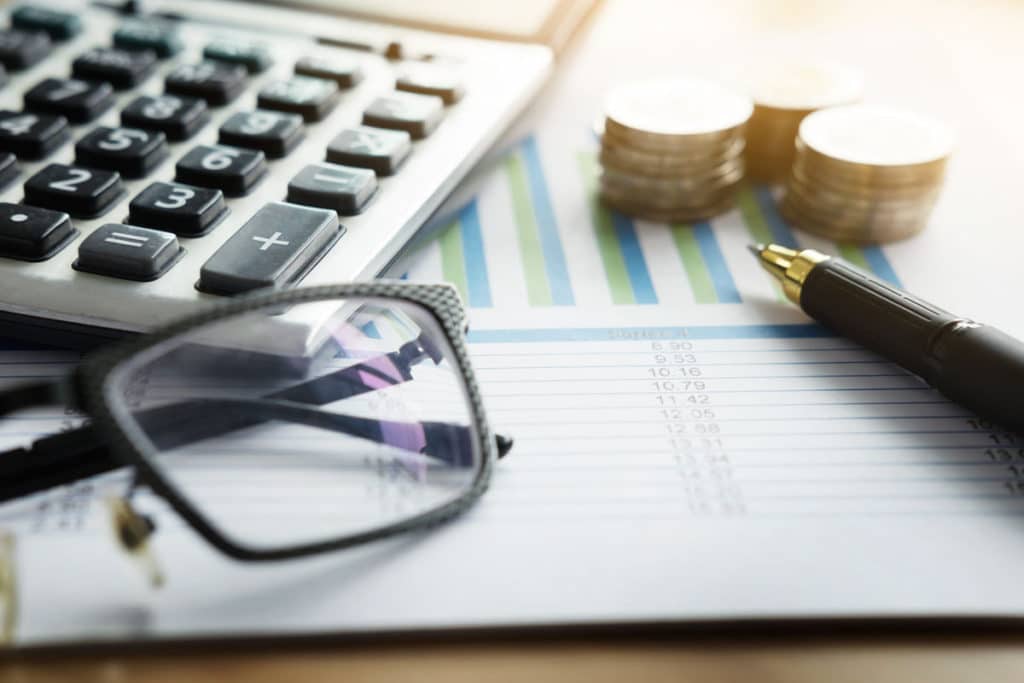 Here's the way to earn more as a salaried appraiser!
If you choose the employee path, then you should seriously consider getting the Certified General Appraiser license. As you could witness in the above figures, the average income for commercial real estate appraisers is indeed significantly higher than residential appraisers.
Many senior positions also require you to hold this license while having at least 7 to 8 years of experience working in the appraisal field.
As you progress in your career, you could be advancing into positions where the duties do not only involve working on appraisals. Instead, you could be giving supervision to a team of junior appraisers. Or you could work as a compliance officer to implement the internal procedures to make sure all the appraisal works are meeting the regulatory rules.
Here's another example of a job posting I saw:
It was a government job offer from in a City Assessor's Office. They were recruiting a City Assessor.
This was a managerial role where you would need to oversee a department of 17 full-time employees.
The primary duties this position include:
Developing an appraisal procedures and manual for appraisers peers to follow
Conducting appraisals for special projects such as industrial plants, apartment complexes, and other large development
Attending all board meeting regarding real estate assessment
In some cases, you would be required to testify in court as an expert witness.
The office required you to have at least 6 to 9 years of commercial, industrial and residential appraisals experience.
The responsibility and requirement for this position were tough, but the compensation was also very lucrative. Their offered salary was up to $212,000 per year!
How to gain more business revenue running an real estate appraisal firm?
If you choose to run your appraisal business, then doing more appraisals would be the obvious ways to increase your income. Especially, in the residential side of the market, there is really no magic trick to increase your revenue. It is purely based on volume.
However, there is only so much time you could work during a day. Besides, you wouldn't want to affect the quality of your assessment because you were trying to get more reports done.
Therefore, as you build up the clients base, you could consider expanding your practice by recruiting other appraisers. You could either pay them a fixed salary or a fee split arrangement with them.
This is how your business could become scalable. Your goal is to free up yourself from the daily operation, while you'll focus on strategic planning in growing the appraisal business.
But of course, you would need to do the math to see what would make sense in your particular situation.
Huge income potential by becoming an expert in a specialized appraisal niche
Regardless of whether you are employed or running your appraisal firm, don't present yourself as "JUST ANOTHER APPRAISER." If you want to have a better profit margin, you can't just be providing the same services as your other competitors. Too many appraisers are chasing after cookie-cutter residential deals.
Since there isn't much differentiation between their services, often it would lead to a price war. In other words, the appraiser who charges less would get the job.
However, you don't want to end up in that space. Therefore, you should equip yourself with appraisal skills that others do not have. There are many profitable niches not too many appraisers are looking into – for instance, farm appraisal, relocation appraisal, or become an expert witness appraiser.
But of course, just because there are only a few appraisers in this niche does not necessarily mean it is a profitable one. It has to be justified with reasonable demand for it to be a blue ocean for your appraisal business.
Tip for Success: Rather than being just another appraiser, consider specializing in a specific niche. (i.e: expert witness, farm appraisal, re-location appraisal). Here's an article which covers 7 profitable appraisal niches.
Final Thoughts about the Appraisal Career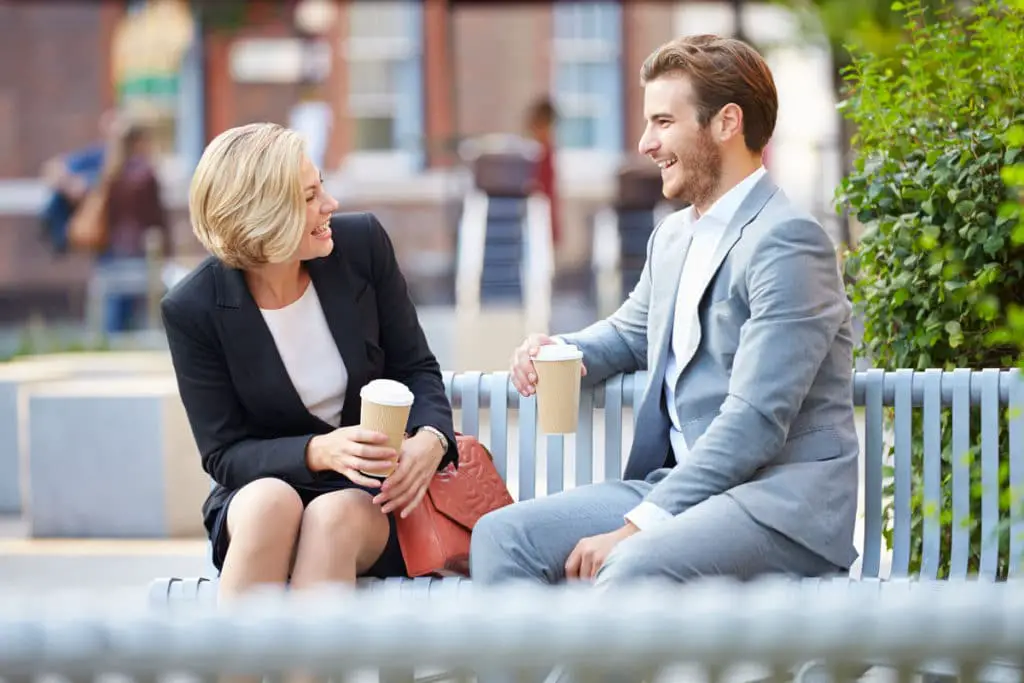 I believe being a real estate appraiser could be a financially rewarding career in the long run. Especially that there is a shortage of appraisers in many states so that there could be excessive demand to drive the fees higher.
But keep in mind that there is really no shortcut to becoming successful in this field. Persistence and hard work are the key ingredients to your success.
Of course, knowledge and experience would always be your greatest competitive edge. Your first step would be to take the appraisal classes from an approved education provider. To assist you in the selecting the right one, here's a review of the appraisal courses provider that I like.
I hope you find this post useful and wish you have a prosperous career in the appraisal industry!
Related Questions
1) How to become a real estate appraiser?
To become a real estate appraiser, you must complete all the qualifying courses, obtain the required hours of appraisal work experience, pass the exam, and register at the Appraisal Board in your state.
When you first start as a Trainee, you'll be working under the supervision of a Certified Appraiser.
Here's post with step-by-step instructions in becoming a real estate appraiser.
2) How are appraisal fees determined?
Generally speaking, the appraisal fees would depend on the complexity of the property, its location, and value. The more complex the property, the higher the appraisal fee. Distance is another factor that determines the cost of an appraisal.
If you are reading up to this point, I bet you must be interested in the real estate appraiser profession. Your first step is to complete the pre-licensing courses. You should select one that has an excellent reputation and long-term track record of satisfying students. McKissock is exactly that! You may click here to check it out yourself. (**)
(**) Affiliate Disclosure: Please note that some of the links above are affiliate links, and at no additional cost to you. Our company, JCHQ Publishing will earn a commission if you decide to make a purchase after clicking on the link. Please understand that we include them based on our experience or the research on these companies or products, and we recommend them because they are helpful and useful, not because of the small commissions we make if you decide to buy something through the links. Please do not spend any money on these products unless you feel you need them or that they will help you achieve your goals.
Disclaimer: The information in this post is for general information only, and not intend to provide any advice. They are subjected to change without any notice, and not guaranteed to be error-free. For full and exact details, please contact the Appraisal Board in your state.
Reference: